Search this site
Site navigation, college of arts and sciences.
Department of English
How can you build a better world if you can't imagine one?
In the English Department, we offer small classes staffed by experts with a passion for discussing the most important issues of our times (and past ones, too) raised in poems, novels, plays, TV, movies, and comics. We teach exciting courses in argumentative writing, critical thinking, and ethical dialogue—all skills employers and professional schools desire from new graduates. Our major, minors, and graduate programs include distinctive offerings in environmental humanities, comics and cartoon studies, medical humanities, disability studies, digital humanities, and the study of race and ethnicity.
PERCENTAGE OF SOPHOMORE STUDENTS WHO REMAIN IN THE MAJOR PROGRAM AFTER DECLARING
What you can do with a degree in English
The future looks bright for English grads, with many employers reporting that a humanities education is just as relevant for the modern job market as any STEM degree despite a perceived "Crisis in the Humanities" . In fact, a 2018 study by the Association of American Colleges and Universities polled 501 business executives and 500 hiring managers. The study found the top five priorities in job applicants across all job fields were:
Ability to effectively communicate orally.
Critical thinking/analytical reasoning.
Ethical judgement and decision making.
Ability to work effectively in teams.
Ability to work independently (prioritize, manage time).
Majors and minors in the English Department receive extensive training in writing, speaking, and critical thinking skills that extend the values of a traditional liberal arts education and provide vital preparation for business and professional careers. The experience of our graduates proves that English is an excellent background for medicine, teaching, management, publishing, advertising, and advanced technology fields. While the number of paths available for your future careers may be daunting at first, by identifying an area of interest and working to gain the right skills, experiences, and credentials to enter that field will help your time working towards your English degree set you up a fulfilling professional career.
Undergraduates
Graduate Students
How English Opens the Door to Your Career
"During my time as a graduate student in English, faculty allowed me to explore eclectic interdisciplinary possibilities, attending seminars and workshops in the Knight Library to develop skills in digital humanities. My dissertation advisor provided me with support and encouragement to write an experimental dissertation applying sociological theory and network analysis to literary studies, which opened the door for opportunities to advance the mission of digital humanities at UO as a postdoctoral fellow and pursue careers in the field of DH. I would not be successful in my current work as an assistant professor of digital humanities at Purdue University without this early encouragement at Oregon."
—Matthew Hannah, English PhD, 2016
Our Degree Programs
Undergraduate and graduate programs in the English Department feature courses in traditional fields and techniques as well as distinctive offerings in environmental humanities, comics studies, medical humanities, disability studies, digital humanities, and the study of race and ethnicity.
Faculty in the Composition Program teach lower- and upper-division writing to more than 7,000 students per year in more than 100 classrooms per term. Required of all UO students, our foundational writing courses are taught by award-winning teachers comprised of both graduate employees (GEs) who have completed an intensive year-long training and experienced instructors from writing-related fields.
Composition Program
We have world-class faculty experts bringing the innovations of their research into the classroom. English Department faculty are passionate about storytelling, making strong, ethical arguments, and debating literary arts of all kinds. We have noteworthy strengths in comics and cartoon studies ; the study of race, ethnicity, (post)coloniality and indigeneity; and in the environmental humanities. Our faculty foster a lively culture of independent and collaborative research through our senior thesis option, our chapter of Sigma Tau Delta, and our small seminar programs. Our faculty are eager to offer supportive mentorship, helping students to find their way into rewarding career paths.
Faculty Directory
We offer a variety of ways to expand your learning about English into the local community and across the world. We have community literacy classes that feature internships with a wide variety of community partners, including K-12 schools, the Serbu Juvenile Justice Center, the Boys and Girls Club, the Center for Teaching and Learning Reading Clinic, Nearby Nature, and Mt. Pisgah Arboretum. Our Galway program combines an unparalleled location for the study of the Irish past and present with a rich array of classroom speakers, field trips in the west of Ireland, and opportunities to sample the delights of Ireland's premier film festival and arts festival. This program offers a variety of courses in history, music, theatre, literature, and Gaelic.
Hands-On Learning
Scholarships & Funding
In addition to university-wide opportunities for funding and scholarships, the English Department offers three essay prizes to its undergraduate students. Master's students are eligible for Graduate Employee (GE) positions in the English Department after their first year, and first-year doctoral students may be chosen for one of four fellowships that can supplement a GE appointment.
Academic Support
Our faculty advisors are here to help undergraduate students map out a path through the English major based on your goals and connect you with the rich culture of student groups in our department. We offer The Writing Associates Program, which provides both tutoring and internships for English majors, as well as a network of alumni mentors who can discuss career options. In addition to advising, support for graduate students comes through classes focused on professionalization for the academic job market and on writing for publication, and via our comprehensive, annually-published graduate student handbook.
Give to the English Department
The English Department depends on gifts from donors to enhance our academic programs for English majors and graduate students. Only with gifts from friends and alumni can UO English preserve excellence.
Donations are used to support a variety of academic projects such as: undergraduate scholarships, visiting speaker series, faculty fellowships, faculty and graduate student research awards, and faculty recruitment.
A number of exceptionally generous friends of the department have created permanent endowments to support specific programs and initiatives. If you would like your gift to support a specific activity, please indicate your preference in a note to the Department Head, Mark Whalan .
What We Do With Your Gifts
Capstone Seminars for junior and senior English majors
The Fund for Excellence in Graduate Studies (to support first-year graduate students while they train to become teachers)
Travel to academic conferences, libraries, and job interviews for graduate students
Lectures by visiting speakers
Symposia and conferences hosted by the English Department
Prizes for distinguished undergraduate writing
Awards for outstanding graduate student teachers of composition
English News and Events
All events »
Composition Program Composition Program
First-year writing.
Inside the Writing Classroom
Program Policies
Student Resources
Teacher Resources
Located in Tykeson Hall, the Composition Program serves thousands of students across campus each year. At the University of Oregon, all undergraduate students are required to pass two writing courses (WR 121 and WR 122 or WR 123) with the minimum grade of C- or P at the start of their undergraduate degree.* Fulfilling the writing requirement ensures that students are prepared for the college-level writing that will be demanded of them in their respective fields and disciplines.
*Students are strongly advised to complete these courses by the end of their sophomore year.
Course Descriptions
WR 121: College Composition I – Written Reasoning as Discovery and Inquiry
WR 122: College Composition II – Written Reasoning as a Process of Argumentation
WR 123:  College Composition III – Written Reasoning in the Context of Research
Writing Requirement
All University of Oregon undergraduate students are required to pass two writing courses ( WR 121 and WR 122 or WR 123 ) with the minimum grade of C- or P. Students are strongly advised to complete these courses by the end of their sophomore year. See information about placements, exemptions, petitions, and waivers.

Contact Information
Composition Program Department of English 118 Prince Lucien Campbell Hall 1286 University of Oregon Eugene, OR 97403-1286
Phone: (541) 346-3911 Fax: (541) 346-1509
The Composition Program operates within the English Department. For more information about the English Department, visit https://english.uoregon.edu
The Composition Program welcomes gifts from donors to support our mission of providing high-quality and engaging writing instruction to all undergraduate students at UO
Donations are used to directly support students and faculty in the following areas:
annual exemplary student writing awards
curricular innovation
development of career-relevant writing courses
experiential and service learning opportunities
guest speakers and symposia hosted by the Composition Program
travel related to pedagogical research and professional development for faculty and graduate instructors
Donate Here!
Site Navigation
Testing center, undergraduate tests, university course placement tests, math placement.
The University of Oregon Department of Mathematics uses the ALEKS Placement, Preparation and Learning (PPL) assessment to determine readiness for mathematics courses.
ALEKS PPL is a web-based program that uses artificial intelligence to map a student's strengths and weaknesses. It is approximately 30 questions. Students report spending anywhere from 60–90 minutes to complete the assessment, but the test is open for 24 hours once begun. If the assessment is not completed after 24 hours, students will have to start over.
New students are expected to take a math placement assessment prior to attending IntroDUCKtion. These students will need to claim their Duck ID . Continuing students needing to register for a math class will need to meet course prerequisites which could require them to take the ALEKS math placement assessment.
The assessment results will be used to determine the most appropriate course(s) for each student as they begin their college coursework in mathematics.
There is no cost for the first year to students taking the ALEKS math placement assessment. After that one-year period, if students wish to retake the ALEKS math placement or use the learning modules, they will have to pay a small fee.
Learn More About ALEKS PPL
Back to top
Chemistry Placement
The University of Oregon Department of Chemistry and Biochemistry offers a placement assessment to help students decide which introductory course is right for them. This assessment is administered through ALEKS and is accessible via the Chemistry Department website. Note that this is separate from the math placement that is also administered through ALEKS. 
Students wishing to enroll in General Chemistry I (CH 221) or Advanced General Chemistry I (CH 224H) are required to take the assessment prior to registration.
The assessment is not required for students wishing to enroll in Introduction to Chemical Principles, CH 111.
Students who already have credit for CH 221 (either through AP or IB) are not required to take the placement assessment and are encouraged to register for CH 224H.
Please note that the placement is free to students. After registering, students will have 18 weeks of free access to complete the placement. We encourage you to complete the assessment within that 18-week period. 
Important: In addition to the chemistry placement, the appropriate math level must be attained for each course either by credit or math placement. The prerequisites for each course are listed on the Department of Chemistry website . 
For more detailed information and instructions on how to take the Chemistry Placement Assessment, please go the Department of Chemistry website .
Learn More About Chemistry Placement
Second Language Placement
To protect the health and safety of the University of Oregon community, most of the language placement tests are available to complete at home on your personal computer, laptop, or other device. Please see below for the language you wish to place into, for more information.
No books, notes, or other resources should be used for these assessments. To use assistance is a violation of the university's student conduct code. The purpose of the placement assessment is to obtain feedback on a student's skills and knowledge, in order to recommend courses where the student will be able to benefit from instruction and have the best chance for success. There is no benefit to cheating on the language placement assessment—the only result will be that you enroll in a class that is too difficult, or not challenging enough, potentially costing time and money.
Students who have earned college credit for French, German, or Spanish, either with coursework or through the AP, IB, or CLEP programs may not need to take a placement test. For example, a student who has earned credit for SPAN 101, 102, and 103 would be recommended to register for the next class in the sequence, SPAN 201, and would not need to take a placement test. Information on credits and course equivalencies awarded through the AP, IB, and CLEP programs can be found at the  Office of the Registrar .
Students who have earned prior credit, either through coursework or the AP, IB, or CLEP programs, need to be sure that an official transcript has been sent to the university. Until the official transcript has been received and the credits posted to the student's academic record, a student may not be able to register for the appropriate class. Students can check on DuckWeb to be sure that their transcripts have been received and credits posted. Log in to  DuckWeb  and select the Student Menu. From the Student Menu select View Transfer Evaluation Report. The Transfer Evaluation Report will list the credits and course equivalencies for any academic work transferred to the University of Oregon as well as credits awarded through the AP, IB, and CLEP programs.
There is a $10 fee for the placement test which will be billed to the student's account. Billing occurs the first week of each month for the previous month's testing.
Students should also take the math placement assessment. 
Students with questions about placement into languages not listed below should contact the appropriate department.
French, German, and Spanish
Students who studied French, German, or Spanish in high school and wish to continue their study of the language are asked to take a placement assessment prior to registering. These languages are available to test from home on your own personal computer anytime. No proctor is required at this time, and there is no need to come to campus. If you do not have a computer or prefer to test in person, please call the University Testing Center and we will be glad to help you make an appointment for an in-person test. 
The French, German, and Spanish placement tests are un-timed computer adaptive assessments that are designed to help a student to determine readiness for first- or second-year language study. These assessments on average take 30 minutes or less. Results from the placement will provide guidance and options for registration. To take the French, German, or Spanish placement, please click the link below. You will create an account and then log in with your newly created account. We ask that you use your UO email address when creating your account.
Students who have learned Spanish in their household, family, or community (primarily outside of the classroom) should take the Spanish Heritage Language Program Placement Survey ; no fee will be charged for this assessment. Afterward you will be contacted with a placement recommendation.
Take French, German, or Spanish Test
Students with previous background in Japanese, as well as those wishing to register above JPN 101, are required to take the Japanese placement test. The test is un-timed and consists of a listening section and reading, grammar, vocabulary and writing section. The Japanese placement is completed online through Canvas. After completing the placement assessment, an oral interview with the Japanese program faculty is required. Students will need to contact the Department of East Asian Languages and Literature, 541-346-4041, to set up an appointment for an oral interview.
To make an appointment for the Japanese placement, please contact the UO Testing Center directly at [email protected] or 541-346-3230. Appointments must be made at least two (2) business days ahead of time. We are offering testing in person or remotely through Zoom.
The Chinese placement assessment is currently only available in person. If you are not on campus you will need to contact the Department of East Asian Languages and Literature to discuss other options (541-346-4041).
Students with prior background in Mandarin Chinese, either as native speakers or through prior course work, are required to take a placement exam before enrolling for any Chinese classes. The Chinese placement test is a three-part, 55-minute, multiple choice test consisting of a listening, grammar, and reading comprehension. After completing the placement, an oral interview with the Chinese program faculty is required. Students will need to contact the Department of East Asian Languages and Literature at 541-346-4041 to set up an appointment for an oral interview.
To make an appointment for the Chinese placement, please contact the UO Testing Center directly at [email protected] or 541-346-3230. Appointments must be made at least two (2) business days ahead of time. We are offering testing in person ONLY for the Chinese placement.
Students with previous experience in Korean or who wish to register above KRN 101 are required to take the Korean placement test. The test has three parts: a 45-minute multiple-choice test consisting of grammar and reading comprehension, a 20-minute writing section, and an oral interview with the Korean program faculty. Students must complete the multiple-choice test and writing section before they are able to meet with Korean faculty for an oral interview. After they have met with the Korean faculty, students will receive their final placement results.
The Korean placement is completed online through Canvas. There are two versions of the Korean placement:
Level 1 is for students that know how to read and write the Korean alphabet but have not yet taken any Korean language classes or students that took a beginner-level Korean class or self-studied Korean for less than 1 year .
Level 2 is for students that took a beginner-level Korean class or self-studied Korean for more than 1 year . 
To make an appointment for the Korean placement, please contact the UO Testing Center directly at [email protected] or 541-346-3230. Appointments must be made at least two (2) business days ahead of time. We are offering testing in person or remotely through Zoom.
Students with questions about placement into other languages should contact the appropriate department.
Writing Requirement and Exemptions
Students are required to complete two terms of writing in order to receive their degree, and can satisfy this requirement by completing WR 121 and either WR 122 or 123. Consult with your advisor to determine the appropriate section of WR 121 for your needs.
Students who believe their writing skills to be in advance of what they would learn in WR 121 and/or WR 122 can take a waiver exam during the first week of the fall, winter, and spring terms. See below for more details.
Some students will be exempt from WR 121 based on SAT-CR or ACT-English scores. Students who have taken and received qualifying scores on either the AP or the IB English exam may receive credit for WR 121 and WR 122. Please refer to the Registrar's Office for information on standardized test scores and exemptions for writing courses .
Transfer students who have completed writing courses elsewhere should consult the Registrar's Office  for information about equivalency.
Non-native English speakers can consult the American English Institute (AEI) for more detailed information about placement in writing courses. AEI places students in oral skills, reading, and writing courses according to Accuplacer placement tests administered by the UO Testing Center during registration. AEI offers courses in oral skills (AEIS 101 and 102), reading (AEIS 107) and writing (AEIS 110, 111 and 112) to prepare students for academic writing at the university level. 
We strongly recommend that students complete the AEIS courses before taking WR 121 because they introduce students to important conventions about American academic writing. Developing these skills in AEIS courses will prepare students to be more successful in composition program courses.
Writing Waiver Exam
This exam is for students who believe their writing skills are in advance of what they would learn in WR 121 or WR 122 and wish to be exempt from one of the university's required writing courses by demonstrating writing proficiency.
The exams must be taken in sequence. To take the WR 122 waiver exam the student must have completed the WR 121 requirement in some fashion. The writing waiver exam is limited to a waiver of one course per term. Students wanting to take the WR 122 exam should be prepared to furnish proof of successful completion or waiver of WR 121. Students who do not pass their waiver exam may attempt the exam one additional time in any subsequent term. Please let the Testing Center know if this is your second attempt at one of the waiver exams when scheduling.
The writing waiver exam is given during the first week of fall, winter, and spring term. Waiver exam results will not be available until after week five of each term. Please speak with your advisor about how dropping a course this late in the term may affect you. There is a $10 fee for the writing waiver exam.
The essay exams are read anonymously by three members of the Composition Committee of the English Department and graded pass or no pass. No record is placed in the official files of students who do not pass the exams. Such students are expected to take the appropriate writing course(s) and may not retake the same exam. Students who pass the exams will have an exemption by exam notation (for either WR 121 or WR 122) placed on their transcripts. No credit is awarded for either examination.
The English Department does not return the exams to students, and they do not use them as a teaching device by offering explanations of why essays did or did not pass.
Each exam will require the student to read a brief selection of prose and write an essay that addresses a question the student creates based on the reading. A two-hour time period is allowed for each exam. Computers are available for word processing the exam.
Each reader makes an independent assessment of the overall quality of the essay according to these standards:
Does the essay have a clear, reasonable, and thought-out thesis? Is the logic of the argument reasonable and valid? Does the stated thesis represent the actual argument of the rest of the paper?
Is the thesis developed adequately, consistently, and effectively with appropriate supporting evidence? Does the essay progress in such a way that the ideas build on each other between paragraphs?
Does the essay demonstrate critical reading ability by analyzing the source reading? Does the writer successfully draw on the article for support or counterarguments, while still maintaining an independent argument?
Are the sentence and paragraph structures, diction, grammar, and mechanics of the essay correct and effective?
Because a passing essay demonstrates proficiency in the control of writing skills which WR 121 and WR 122 are designed to teach, the WR 122 exam is assessed with these additional criteria in mind:
Does the logic of the argument include a reasonable and valid reason? 
Is the writer able to identify not only the main argument in the source reading, but also the logical structures or assumptions in the source reading? Does the writer address the source reading in an ethical fashion?
Does the style of the writing demonstrate sufficient clarity, sophistication, and individuality? 
Register for the Writing Waiver Exam
College Admission Tests
The ACT® test assesses high school students' general educational development and their ability to complete college-level work.
The multiple-choice tests cover four skill areas: English, mathematics, reading, and science. The optional writing test measures skills in planning and writing a short essay. The ACT® is a paper and pencil test that is offered six times throughout the year.
Information on test dates, test centers, registration, and fees can be found  here .
The SAT Reasoning Test is the nation's most widely used admissions test among colleges and universities. It tests students' critical thinking skills and knowledge of subjects that are necessary for college success: reading, writing, and mathematics.
The SAT is typically taken by high school juniors and seniors. It tells students how well they use the skills and knowledge they have attained in and outside of the classroom—including how they think, solve problems, and communicate. The SAT is an important resource for college admission.
Each section of the SAT is scored on a scale of 200–800, with two writing subscores for multiple-choice questions and the essay. It is administered seven times a year in the US, Puerto Rico, and US territories, and six times a year overseas.
SAT Subject Tests
SAT Subject Tests are designed to measure students' knowledge and skills in particular subject areas. Students take the Subject Tests to demonstrate to colleges their mastery of specific subjects like English, history, mathematics, science, and language. The tests are independent of any particular textbook or method of instruction. The tests' content evolve to reflect current trends in high school curricula, but the types of questions change little from year to year.
Many colleges use the Subject Tests for admission, for course placement, and to advise students about course selection. Used in combination with other background information (high school record, scores from other tests like the SAT Reasoning Test, teacher recommendations, etc.), they provide a dependable measure of academic achievement and are a good predictor of future performance.
Some colleges specify which Subject Tests they require for admission or placement, others allow applicants to choose which tests to take. 
All Subject Tests are one-hour, multiple-choice tests. There are five general subject areas:
English Literature
History US History World History
Mathematics Mathematics Level 1 Mathematics Level 2
Biology E/M Chemistry Physics
Languages Chinese with Listening French French with Listening German German with Listening Spanish Spanish with Listening Modern Hebrew Italian Latin Japanese with Listening Korean
Find more information about registration, test dates, test fees, and test preparation materials here .
Credit by Exam
Credit by examination allows formally admitted undergraduate students to challenge undergraduate university courses without registering for the courses. Students seeking to receive credit by examination must be registered for the term in which the exam is given. Credit by examination may be earned only in courses whose content is identified by title in the University of Oregon catalog.
Students should contact the Office of the Registrar to complete an Academic Requirements Committee petition to determine eligibility for credit by examination. Students must then obtain faculty and departmental approval before the exam can be scheduled. Students are billed an examination fee of $25.00 per credit hour. Find the most current and up-to-date information on the credit-by-exam policy here .    
Successful credit by examination is shown as transfer credit on the UO transcript and may be recorded as a pass (P) or graded (A, B, C, D), consistent with the options listed in the class schedule. Credit by examination may not be counted toward the satisfaction of the graduation residency requirement or for fulfillment of the requirement to complete 45 credits graded A, B, C, D at the University of Oregon. However, credit by examination may be counted toward the requirement to complete 168 credits graded A, B, C, D, P* from all institutions attended.
The following are not available for credit by examination:
Courses numbered 0–99; Field Studies (196); Workshop, Laboratory Projects, or Colloquium (198); Special Studies (199); courses numbered 200 or 399–410
First-year second-language courses
100-level mathematics courses and MATH 211, 212, 213
English composition courses (WR 121, 122, 123)
An elementary language course taught in the student's native language
A course for which a CLEP examination is available
A course that substantially duplicates credit already earned
A course that is more elementary in nature than credit already earned
A course in which the student is already enrolled for credit
A course for which the student has received a grade of A, B, C, D, P, P*, I, X, or Y
A course for which the student has already taken and failed an examination for credit
Contact the Office of the Registrar , 541-346-3243 for more information. See also CLEP exams to gain credit and bypass classes. 
General Education Development Certificate (GED)
The University of Oregon Testing Office serves as an official test site for the General Educational Development Certificate (GED). The GED allows individuals without a high school diploma to earn a high school equivalency certificate. Successful completion of the GED can enhance a person's employability as well as qualify them for admissions to community college, university, or other post-secondary educational programs.  You can take the GED online. Register and schedule tests through the  MyGED® portal .
Watch tutorials in English and Spanish on the 2014 GED test:
Computer Skills Tutorial—English Computer Skills Tutorial—Spanish Mathematical Reasoning—English Mathematical Reasoning—Spanish Reasoning through Language Arts—English Reasoning through Language Arts—Spanish Science—English Science—Spanish Social Studies—English Social Studies—Spanish
Questions? Email us at [email protected]
WR 122: Written Reasoning as a Process of Argument
Begin Your Research
1. Research Topic or Question
2. Find Background Information
Finding Scholarly Articles
Finding Books & Materials
Finding Images
Theme: Ecology of Place: Finding your Voice
About This Course
Recommended databases for wr 122 ecology of place, related uo research guides, ways to read or listen to the book.
4. Read & Evaluate
5. Organize, Write & Cite
Biology & Environmental Studies Librarian
This page was created for Ana Zalyubovskiy's WR 122 course in Spring 2020. Please contact Bronwen Maxson with questions or concerns.
Ecology of Place: Finding your Voice. WR 122 Written Reasoning as a Process of Argument
About Writing 122
Writing 122 will extend existing skills derived from Writing 121 to explore various genres that can be used in argumentative and academic writing. The course theme is "Ecology of Place: Finding your Voice." WR 122 focuses on specific ways to develop argumentative essays in response to the challenges of complex contexts, which include increasingly sophisticated competing arguments and issues, as well as an expansion of enthymeme-based arguments. Students practice further how to develop effective theses and compose essays in various genres and modalities, in which they control the reasoning that supports their theses. The course emphasizes critical reading of more intellectually demanding essays.
Required Materials provided in Canvas
Reading, Reasoning, and Writing , by James Crosswhite
Ecology of Place Reader
Supplementary Materials
Purdue OWL - MLA Formatting and Citations The Purdue Online Writing Lab provides examples and explanations of how to write and cite using the MLA style.
UNC Writing Center Handouts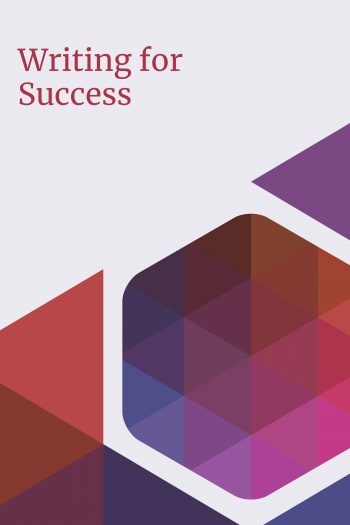 Common Reading 2021-22: Listen. Learn. Act. Braiding Sweetgrass by Bronwen Maxson Last Updated Feb 2, 2023 59 views this year
Environmental Studies by Dean Walton Last Updated Sep 26, 2022 119 views this year
eBook Options
For those who would like to access an electronic version of the book.
Need help accessing the e-book? Check out the Tech Help page of this guide for a video tutorial
Print Copies
For those who would like a physical copy of the book.
Audiobook Options
For those who would like to listen to the book.
Audiobook on CD
Streaming Audiobook from EPL
Braiding Sweetgrass copies at Eugene Public Library (including Spanish translations)
Audiobook through Multnomah County Library
Borrow the audiobook from Multnomah County Library
Copies near OIMB at Coos Bay
Braiding Sweetgrass copies at Coos Bay Public Library
Need an Accessible Alternate Format Version?
If any of the available formats do not meet your needs, please email [email protected] with an accessible alternate format request that specifies your preferred format.
Having Trouble?
For any access issues or questions, please get in touch with your librarians here at UO Libraries!
Ask a Librarian Contact us via chat, email, phone, or text.
<< Previous: Finding Images
Next: 4. Read & Evaluate >>
Last Updated: Feb 24, 2023 1:50 PM
URL: https://researchguides.uoregon.edu/wr122
Library Accessibility
Privacy Policy
Facebook Twitter YouTube Instagram
The Center for Teaching Writing
At the university of oregon.
WR 121 Tutorial
WR 121 is the first course in the University of Oregon's writing requirement. The course helps students build the writing, reading, and reasoning skills that will help them in future college courses and throughout their lives.
The WR 121 Tutorial is designed to help students in WR 121 whose entrance exam scores indicate that they will need additional support to succeed as writers in college. In order to receive credit for the tutorial, students must prepare for and attend seven one-hour sessions with an experienced writing tutor, and write self-assessments based on what they learn.
Tutors are English PhD students trained to help students with the concepts, strategies, and skills taught in WR 121. Each term, these tutors provide more than 1000 hours of one-on-one tutoring to more than 100 WR 121 students.
Serving an Important Need The students we tutor have the potential to be top-notch writers and communicators. The WR 121 Tutorial helps them to meet that potential:
The WR 121 Tutorial serves primarily students admitted to the university with SAT reading scores below 480, ACT English scores below 19, or EBRW scores below 26.
Many of the students served in the WR 121 Tutorial are second-language speakers of English. Our tutors are trained in strategies for helping English language learners develop their writing and communication skills.
Benefits Across the Community
Students in the Tutorial benefit from focused one-on-one tutoring in concepts and strategies that will help make them better writers. Tutors help students at all stages of their WR 121 coursework: from brainstorming ideas for arguments, to structuring essays, to revising drafts for clarity and correctness.
Writing 121 Tutors gain experience working with the theory and practice of the University of Oregon's writing pedagogy. Tutors are also being trained to teach their own sections of WR 121; their training and experience as tutors helps build a strong foundation for successful teaching.
WR 121 Instructors benefit because their at-risk students are receiving extra support that helps them produce better written work. Tutoring supplements the instruction and feedback that instructors provide in the WR 121 classroom.
How Does the Tutorial Work? Each term, before registration begins, students are notified that they qualify for the WR 121 Tutorial. After they enroll:
Students will log in to our fully automated, confidential, web-based scheduling system, where they can set up their tutoring appointments each week.
Students meet with tutors in 269 PLC, which has been designed to offer a welcoming and comfortable professional learning environment.
After each session, students receive an email assessment of the session from their tutor. That email also goes to the student's WR 121 instructor, so that they can help track the student's progress. Students also write a self-assessment, describing what they learned.
Students who complete the tutorial can choose to take it a second time for credit, to help them in WR 122, College Composition II.
Leave a Reply Cancel reply
Your email address will not be published. Required fields are marked *
Save my name, email, and website in this browser for the next time I comment.
Search this site
Site navigation, college of education, american sign language.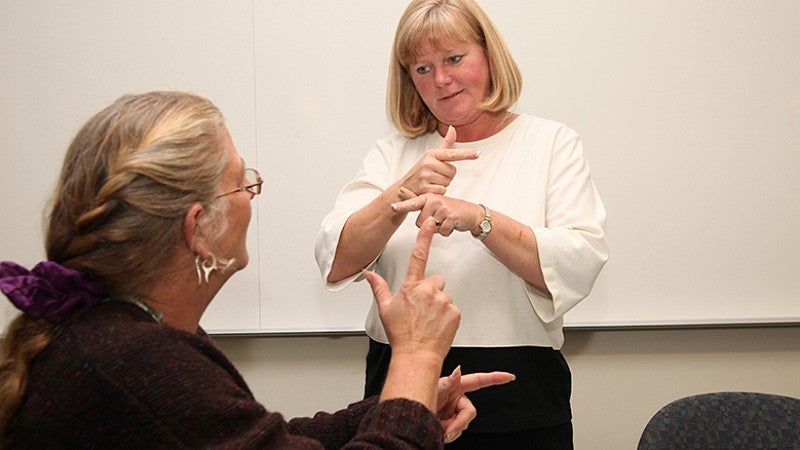 Frequently Asked Questions   |   ASL Courses
American Sign Language (ASL) is offered as a 2-year language sequence and meets the second language requirement for the university bachelor of arts requirement.
Every/one art installation.
ASL instructor Chad Catron collaborates with artists Carla Bengtson and Jessie Rose Vala on Public Art Project in Unthank Hall.
The installation, titled Every/One, offers a shared social experience across sensory modalities and bodymind variations. Five plaques sign EVERY WORD WAS ONCE AN ANIMAL in ASL, interwoven with jasmine flowers, coco pods, lizards and bees, while camo patterned wallpaper containing local landscape references is transformed into low relief tiles that can be experienced through touch. Thirty species of camouflaged native bees fly in and out of the window. Bees are one of many animals that, like humans, use a highly symbolic gestural language. With this public art project we celebrate all beings' rich creativity and love for communication.
Frequently Asked Questions
Due to the overwhelming interest in our ASL sequence, we have answers to many frequently asked questions below.
The ASL 101 class keeps filling up and I cannot get in:
Classes fill up quite regularly, BUT you should always check Duck Web, as student schedules change during the summer months and the first weeks of class.    
Do you have a waiting list for ASL 101?
At this time, we are utilizing the DuckWeb computerized wait list. You may register through the UO computer system only. Contacting the department and/or the instructor of record will not place you on any waiting lists, nor can the instructor override the computerized wait list system. Sitting in class during the first week will not give you a spot in class.    
I took ASL in high school/other college and think I can test into a higher level  of ASL
Our small faculty has limited time to meet with each individual student (especially during the final 2 weeks of the term). In order to begin the process of assessment and placement , please contact both Valentino Vasquez at [email protected] and Chad Catron at [email protected] to request the assessment to determine your placement in our ASL sequence. We will assign you to either of us as we work with a number of students equally.
We will contact you with instructions about the prompts you need to respond to in ASL and the submission will need to be via email with the video link (YouTube, Google Drive, or Office 365 with your University of Oregon account).
After evaluating the video, we will contact you to arrange a conversational ASL session with us for several minutes. You will be video recorded which will be used to evaluate your comprehension and production skills in ASL.
You will be contacted for placement recommendations. We can override the pre-requisite restriction so that you may register if space is available.
I know enough ASL or I took enough ASL to be able to test out of the 2-year sequence, do you have proficiency exams?
As with all second language offerings at a University level, ASL proficiency examination is structured to test at a native-like proficiency level. Traditionally, students with Deaf families, or those who have been through an interpreting program will be able to test out of the ASL sequence. The examination is meant to be quite rigorous, and would be equal to testing the skill levels of a fluent signer in American Sign Language which is the score of " Intermediate/Intermediate Plus " for the Sign Language Proficiency Interview in American Sign Language (SLPI: ASL) rather than any form of English based signing. It is available at the University Testing Center at University of Oregon.
Please contact the Director of the University Testing Center, Jeff Bulkley, at [email protected] for more information.    
I want to major/minor in American Sign Language, can I do that?
The University of Oregon does not currently have a major/minor in American Sign Language. We offer a 2-year second language sequence including American Deaf Culture course. The University of Oregon does not have an ASL/English interpreter training program or ASL/Deaf Studies program.  
What is the sequence we offer at UO?
The ASL sequence is as follows: 100 level = 1st year and 200 level = 2nd year
As ASL is offered in a sequence , it is likely that all spaces will be taken by the current cohort. You will need to work on securing your space in class through Duck Web.  
Please Note:  Special circumstances do not help in overriding the computerized wait list system. No one will be admitted to a class above entry level ASL unless they pass the assessment and placement arranged by the ASL instructors.    
What is the graduation requirement for 2nd language at the UO?
Two years of a second language: equal to successfully completing ASL 203 with a grade of C- or better.   
What is the pre-requisite for this course?
Successful passing of Writing 122 or Writing 123 is necessary to register for ASL sequence coursework, in order to aid students in their success in a second language course. There are Honor's College courses that meet these basic prerequisites at the UO.  
Where can I go for more information about ASL classes in other areas or about becoming a Sign Language interpreter?
There are many websites that can direct you into programs. The most common referral is the Registry of Interpreters for the Deaf .
If you do not see the answer for your question above you may certainly email the ASL instructors at the UO: Valentino Vasquez:  [email protected]  or Chad Catron: [email protected] .
Successful passage of WR 122 or WR 123 is necessary to register for ASL 101, in order to aid students in their success in a second language course.
Taking writing classes in the same term as ASL will not override the prerequisite for the course.
ASL 101 First-Year American Sign Language 5 Credits — Prerequisite: WR 122 or WR 123 or HC 221H or HC 231H Study of basic grammatical structure and vocabulary of American Sign Language, expressive and receptive finger-spelling, and introduction to American deaf culture.
ASL 102 First-Year American Sign Language 5 Credits — Prerequisite: C- or better or P in ASL 101 or equivalent Increased receptive and expressive communication skills in ASL, and study of cultural values and behavioral rules of the deaf community.
ASL 103 First-Year American Sign Language 5 Credits — Prerequisite: C- or better or P in ASL 102 or equivalent Concentration on understanding and acquiring advanced conversational proficiency. Emphasis on ASL classifiers. Continued study of deaf culture as a linguistic minority.
ASL 201 Second-Year American Sign Language 4 Credits — Prerequisite: C- or better or P in ASL 103 or equivalent Applied conversational use of ASL through literature, narratives, poetry, and plays. Explores various underlying metaphors found in ASL literature.
ASL 202 Second-Year American Sign Language 4 Credits — Prerequisite: C- or better or P in ASL 201 or equivalent Emphasis on more abstract and challenging conversational and narrative ranges. Lab and readings cover historical aspects of deaf community and culture.
ASL 203 Second-Year American Sign Language 4 Credits — Prerequisite: C- or better or P in ASL 202 or equivalent Further emphasis on more abstract and challenging conversational and narrative ranges. Explores broader political and social activities of international deaf community.
ASL 301 American Deaf Culture* 4 Credits Study of the relationship between small groups and dominant culture in the United States. Explore issues of language, culture, self-representation, identity, and social structure.
*ASL 301 American Deaf Culture fulfills a multicultural course requirement in Identity, Pluralism, and Tolerance (IP).

WR 122: English Composition
Offers focused preparation for academic communication. Provides opportunities for practice in academic writing and conventions with an emphasis on independent research, thinking, and learning necessary for self-guided academic projects. Prerequisites: WR 121 or equivalent. Audit available.
All courses in the composition sequence (WR 115, 121, 122) teach writing as a process, requiring revision over multiple drafts; require 2 instructor conferences; and include principles of citation.
Upon completion of the course students should be able to:
    ADAPT: Negotiate academic genres with purpose and control.
    INQUIRE: Locate multiple and various information sources that are appropriate to the given process of inquiry.
    CONNECT: Craft an argument in conversation with others who are thinking about the same subject.
    REFLECT: Analyze their own learning in writing.
Information for: Future Student Current Student Graduate Student Faculty/Staff Alumni and Donors
Life at WOU

English Studies
Home » First-Year Writing
First-Year Writing
Welcome to first year writing.
Western Oregon University recognizes the key role that writing plays in your success, both in college and your future career. To promote your long-term development, WOU is a writing-intensive campus, which means that you will be writing in most of your classes. With this in mind, we view your time in WR 121 and WR 122 as just a beginning: our instructors will help you to develop writerly habits of mind, which will support you as you tackle a range of writing assignments you will be given in your major and minor.
Program Goals
It is our hope that by the time you finish WR 121 and WR 122, you will have developed a strong foundational understanding of the theory and practice of writing in the following ways:
in your theoretical and practical knowledge of key concepts from writing studies
in your ideas about writing and how it works in the world
in your understanding of the communal and conversational nature of academic research
in your understanding of writing as a social activity
in your ability to articulate and assess the effects of your language and structure choices
in your understanding of the reasons behind conventions and citation systems
in your development of writerly habits of reflection
in your ability to transfer your writing knowledge to other contexts
NOTE: We recommend completing WR 121 and WR 122 within your first year at WOU and prior to enrolling in upper-division writing-intensive courses. Ideally, these courses are taken in consecutive quarters.
What Can I Expect to Learn in WR 121?
The foundation of this course is reading about writing and writing about writing. As writing scholars Adler-Kassner and Wardle argue, writing is not only something people do but also something people study. By examining writing as an object of study, this course creates opportunities for students to understand their writing as situated within a variety of contexts—personal, professional, academic, and civic—and invites students to consider the identities and practices they adopt within those contexts. The reading and writing tasks students encounter in this course will help them examine the role writing plays in their lives and the many functions it serves.  
In the process, students will navigate familiar and unfamiliar writing processes, analyze and practice strategies for writing in varied situations and genres, develop new habits of mind and reflective practices as writers and learn how best to help themselves when writing challenges emerge for them in college, professional, and even personal contexts.
This course partially fulfills the general education foundation skills writing requirement with a C- or better.
What Can I Expect to Learn in WR 122?
Building on the concepts of writing emphasized in WR 121, this writing course delves further into the work that writing and research do in the world and includes the completion of an original inquiry project. Students are expected to ask difficult questions and explore them using appropriate research methods and source material. These inquiry projects involve both primary and secondary research and challenge students to examine the ways writing, rhetoric, and/or literacy/language functions within a particular community (academic or nonacademic). Throughout this project, students are invited into the research conversation on their topic and are asked to carefully consider what others have said before they begin crafting their own original contribution.  
In the process, students will learn how to find, evaluate, and read difficult material. They'll learn how to use this material to frame their own research question, and how to integrate this material carefully into their own arguments.    
Prerequisite : WR 121 with a grade of C- or better or demonstrated competency.
Determining Competency
Students  can demonstrate competency in two ways:
Transfer in appropriate, equivalent courses from other institutions to fulfill either WR 121 or WR 122.
Use standardized test scores to place directly into WR 122.
The chart below details the necessary scores.
The First-Year Writing Program is no longer offering the challenge exam.  
What is the   First-Year Writing Award?
Students are encouraged to submit their outstanding writing projects from their WR 121 and WR 122 sections for consideration. Four awards are given each spring, and the winning papers receive a monetary prize. In addition, the students and their papers are featured in Unbound: An Anthology of First-Year Writing .
Each year, the First-Year Writing program publishes a new edition of First-Year Writing Unbound . This digital anthology includes a variety of outstanding essays written by students in our WR 121 and WR 122 class. These essays can be any genre (narrative, researched essay, multimodal composition, etc). Students that submit an essay to be considered for publication will be automatically entered in a contest for a monetary award for the Best Essay in First-Year Writing. (see information above on the First-Year Writing Award). To submit an essay for consideration, use the Google Form in your course syllabus or email your paper to [email protected] .

WESTERN OREGON UNIVERSITY 345 Monmouth Ave. N. Monmouth OR 97361
503-838-8000 | 1-877-877-1593
Campus maps Canvas Find people Portal WOU email Technical support
A-Z index Accessibility Academic calendar Class schedule Jobs at WOU Partnerships Student services
Western Oregon University's Land Acknowledgement Western Oregon University in Monmouth, OR is located within the traditional homelands of the Luckiamute Band of Kalapuya. Following the Willamette Valley Treaty of 1855 (Kalapuya etc. Treaty), Kalapuya people were forcibly removed to reservations in Western Oregon. Today, living descendants of these people are a part of the Confederated Tribes of Grand Ronde Community of Oregon and the Confederated Tribes of the Siletz Indians .
Accessibility Public Records Privacy Student Consumer Information
WOU prohibits discrimination on the basis of race, color, sex, national or ethnic origin, age, religion, marital status, disability, veteran status, sexual orientation, gender identity, and gender expression in all programs, activities and employment practices as required by Title IX, other applicable laws, and policies. Retaliation is prohibited by WOU.