Writing: Exercise 6 (Writing a Review)
Exercise 6 of the ESL paper could also be a review writing.
The review could be for a book, movie, restaurant etc. that you enjoyed (or didn't!)
The exercise is worth 16 marks and you should write about 150-200 words.
Let's dive right in. I will be using a book review for examples. I have included a sample review at the end.
Introduction : state the book's title, author's full name, the setting of the story, giving a one-line description of what the story is about. Use adjectives to describe the book such as insightful, beautiful, controversial etc.
Brief description : give a one-paragraph synopsis of the plot of the book, shortly expanding your one-sentence description in the introduction. Don't write the whole story, only the beginning! Use the present tense of verbs and linking words to outline the story chronologically. Bonus points if you can use words that fit the theme of the story. If, for example, the book is of the fantasy genre, use words like magic, summon, fate, spells etc.
Opinion : this is where you have to write down how the book impacted you. Was it inspiring? Thought-provoking? Life-changing? You could praise the book or criticise it, stating why.
Recommendation : you must state whether you would recommend this book, to whom and why.
Let's look at a sample. See if I've stuck with the points above.
The Kite Runner by Khaled Hosseini has to be the most devastatingly beautiful book I've had the pleasure of reading. Set in 20th century Afghanistan, it tells the story of how a young boy's friendship is tested by war and betrayal.
Amir, the son of a wealthy Afghan, shares a close friendship with their household servant's son, Hassan. But a fateful kite-flying competition tethers their bond, and as war forces them to part ways, the boys' lives take them on a journey of love and redemption.
The book made me realise how precious yet fragile the relationships we build are; and that we must always take a chance on our loved ones. It taught me the importance of the people in our lives and how they shape us to be who we are.
The Kite Runner is a beautifully narrated tale, the writing just as simple as it is heart- breaking, the characters realistically portrayed. I would definitely recommend this book to those who enjoy character-driven stories set in troubled times.
Time Management
For the core paper 1 , spend about 20 minutes in this exercise.
For the extended paper 2 , spend 30 minutes on this exercise. Allot 5 minutes to plan the points you will include in each paragraph. Take 20 minutes to write your review, keeping in mind all the above tips. Use the final 5 minutes to proofread and make any changes.
That's the end of the ESL paper. Good luck!
Notes submitted by Lintha.
Click here to go to the next topic
Click here to go to the previous topic
Click here to go back to the English menu
Share this:
Click to share on Twitter (Opens in new window)
Click to share on Facebook (Opens in new window)
Click to share on Pinterest (Opens in new window)
Click to share on WhatsApp (Opens in new window)
Click to email a link to a friend (Opens in new window)
Copy shortlink
Report this content
Manage subscriptions
Cambridge IGCSE ESL Reviews Topics
How to write a review in Cambridge IGCSE English as a Second Language exam?
This article focuses on the alternative question of Exam exercise 6.
Types of questions questions
1.Book Review 2. Film Review 3. Restaurant Review 4. Trip Review 5. Review a Course 6. Review an App 7. Review a cinema
What is a review?
Short description of something like a film, book, restaurant or an event or a course. A general idea of the above topics is analysed. It also provides with opinions, comments or recommendations.
More details please visit our blog http://annsenglishacademy.com/blogs/
Share this post: on Twitter on Facebook on Google+
Have you recently bought a smartphone? Write a review about the phone explaining why you bought it, how easy it is to use and if you would recommend it to others.
More exercises available:
Food and Drink Exercises and Puzzles
Here you can find more ways to practice the sport topic with various activities.
Exercise 4 Cooking
Exercise 4 Learning to Cook
Becoming Vegetarian Article
Exercise 5 Restaurant Visit (Narrative)
Exercise 6 Thai Restaurant Review
Exercise 4 Family Meal Time
Exercise 2 Pizza Companies
Exercise 1 & 2 (Extended)
Exercise 3 & 4 (Extended)
Exercise 5 & 6 (Extended)
Listening Questions 1-5
Listening Exercise 3 & 4
Listening 5 (Extended)
Videos (Extended)
Speaking Test
Exercise 1 Extended Video introduction
Exercise 1 Keeping Bees in the City
Exercise 1 Living for 200 years
Exercise 1 Walking to the North Pole
Exercise 2 Cheating in Exams
Exercise 2 Different Collectors
Exercise 2 Different Shops
Exercise 2 Different Summer Camps
Exercise 2 Different Writers
Exercise 2 Extended Video introduction
Exercise 3 - Make brief notes related to a piece of text.
Exercise 3 Being Bilingual
Exercise 3 Extended Video introduction
Exercise 3 Finding time to do things
Exercise 3 Frozen Caveman
Exercise 3 Kite Surfing
Exercise 3 Life in 2069
Exercise 3 World's Sporting Champions
Exercise 3 Young Mountaineer
Exercise 4 Allergies
Exercise 4 Citizen Scientists
Exercise 4 Medical Gadgets
Exercise 4 Reducing Noise Pollution
Exercise 4 Shipwrecked
Exercise 4 Travel Writing
Video Gaming in the Olympic Games
Exercise 5 - Write an informal email.
Bonfire Night
Exercise 5 Birthday Party
Exercise 5 Cousin Visiting (Description)
Exercise 5 Favourite Film
Exercise 5 Going for an Interview (Advice)
Exercise 5 Going on Holiday
Exercise 5 Interesting Meeting
Exercise 5 New Attraction
Exercise 5 Returning Home
Exercise 6 - Write a report, review or article.
Animal Sanctuary
Ed Sheeran Concert Review
Exam Advice Article
Exercise 6 Career's Talk Report
Exercise 6 Dangerous Shopping Book Review
Exercise 6 Eating Out in Berlin Travel Report
Exercise 6 Important Developments Article
Exercise 6 Living in Different Places
Exercise 6 Recycling Centre Report
Exercise 6 Subject Choices Article
Mission Impossible – Fallout Review
Online Gaming Article
Snack Machine Article
Sports Lessons Article
Work Experience Day Report
Working in the Summer Holidays Report
Questions 1-4 Test 1
Questions 1-4 Test 2
Questions 1-4 Test 3
Exercise 2 - (Question 5) Gap-filled exercises
Ancient Structures
Halloween Disco
Portable Fridge
Exercise 3 - Matching
City or Countryside
Writing a Blog
Exercise 4 - Multiple Choice
International Space Station
Exercise 5 - Gap Fill Part A
Future of Shipping
Photographing endangered species
Seashells Part A
Exercise 5 - Gap Fill Part B
Seashells Part B
Ships with No Crew
Taking photos
Here are videos to help you with the reading and wrting sections.
Exercise 4 How to write a Summary (Extended)
Exercise 5 How to write an Informal Advice Email
Exercise 5 How to write an Informal Descriptive Email
Exercise 5 How to write an Informal Narrative Email
Exercise 6 Becoming Vegetarian
Exercise 6 How to write a Film Review
Exercise 6 How to write a report
Exercise 6 How to write a review
Exercise 6 How to write an Event Report
How to write a school magazine article
Report Writing with Subheadings
Speaking Test Examples:
Changes in the weather
Following Trends
Crossword Puzzles
Word Search Puzzles
Education and Learning Puzzles Film Puzzles Idioms Crossword Puzzle Natural World Puzzles Seas and Oceans Puzzles Shopping Puzzles Sport and Fitness Puzzles Travel Puzzles
Education and Learning Puzzles Film Puzzles Natural World Puzzles Shopping Puzzles Sport and Fitness Puzzles Travel Puzzles Work Puzzles
What makes a good life?
Try something new for 30 days
Mermaiding Listening Exercise
London Travel Guide
Working for the BBC Listening Exercise
Makeup Artist Listening Exercise
BBC Controller Listening Exercise
Riding a Motorbike Listening Exercise
Great Ship Adventure Listening Exercise
Prepositions before Verbs
Prepositions before Nouns
Adjective Suffixes
Education and Learning Exercises
Geography Exercises
Work Exercises
We provide free resources across the full range of levels to provide the tools to communicate in English well.
Elementary | Pre-Intermediate | Intermediate | Upper Intermediate | Advanced
How useful were these activities?
Click on a trophy to rate them!
Average rating 5 / 5. Vote count: 5
No votes so far! Be the first to rate this post.
IGCSE Support
Examples of Report Writing
Below are some worked examples of report writing for your IGCSE ESL Exercise 6.
Animal Sanctuary is a good example of a report where god phrases and vocabulary can be used to gain high marks in this section of ESL exam. Here you will be asked to write 150-200 words in response to some prompts or pictures.
Question: You have recently visited an animal sanctuary along with your school classmates. Write a report about the school trip talking about what you did there, how did you feel about the trip and what new things did you learn by going there.
Give a proper Title: School Visit to an Animal Sanctuary
Last week we went to an animal sanctuary on a school trip to see two adult extinction species of tigress Asian and a new born baby tiger which was so fascinating. We were given a brief about this species of tiger that made us more excited for the visit. We were explained the baby cannot see very well first, but recognize the mother by smell and touch.
Mr. Oliver had told us that tigers have the survival instincts since birth. It was amazing to see how a tigress cares for its baby tiger and the way baby tiger feel safe when its mother is nearby.
We all took some fantastic photographs of the baby, however, from very far as it's not good to disturb new mother and its baby. That may be disturbing or her making her furious sensing some kind of trouble for the baby. The sanctuary is running a competition to get a suitable name for the baby.
On the way back to school, Mr. Oliver suggested we could create a fun online quiz from our notes and pictures.
All in all we had a memorable experience and going to treasure the experience for the rest of our lives.
Question: In this writing exercise, you recently attended a career's talk at your school. You are asked to write about the way it helped you in future career planning.
Title: Career's Talk Report
The hour-long career's talk held at our school provided me some useful details about how to become an entrepreneur. The speaker was Ms. Collins, who is the CEO of a large manufacturing company operating on the outskirts of our city.
Ms. Collins's talk was fascinating, as she explained how she came about starting this company. Like me, she wanted to be an entrepreneur at an early age. Furthermore, she started with getting some hands-on experience in his local businesses before actually moving ahead with his own venture. Ms. Collins also explained his thoughts about recruiting new staff. She prefer bringing in school leavers who are enthusiastic and willing to learn as well as ones who have some work experience. As per Ms. Collin's views, students must do some internship or part-time job before moving towards formal full-time employment.
Its apparent from Ms. Collin's career talk that it is important to find work before starting your own business. It is high time that we as students understand the importance of practical experience and the need of more entrepreneurs in the society. I would also like to get some hands-on experience under voluntary working terms or doing internships during summer holidays.
Question: Here, your teacher has asked you to write a report on a recent visit to a waste recycling and management centre.
Title: School Trip Report
The recent visit to the recycling centre was very helpful experience as it acted as a guide to IGCSE class coursework. The trip purports to understand the systems put in place for recycling waste in a large city.
The presentation at the beginning given by the centre and the video explaining given in classroom after the visit helped us to understand the processes better. It was interesting to find out that the centre operates 24 hours a day all year round. However, we were told that only 50% of the waste is collected by the centre for processing as a lot of it is used as a landfill.
During the visit we saw the materials room where important safety measures in place. We were sent in after wearing a bright yellow jacket and a safety helmet. There they explained us the importance of the remaining waste and the way it is processed.
To put is all together, it was a well-organized trip aimed at detailed understating of sorting different materials. Perhaps we could consider showing the video related to processing methods at the centre itself to help us discuss the queries with the centre manager and get a better and detailed understanding.
Hope you find these examples useful, and if you are looking for some more such examples, pls drop a note in the comment section below.
International
Schools directory
Resources Jobs Schools directory News Search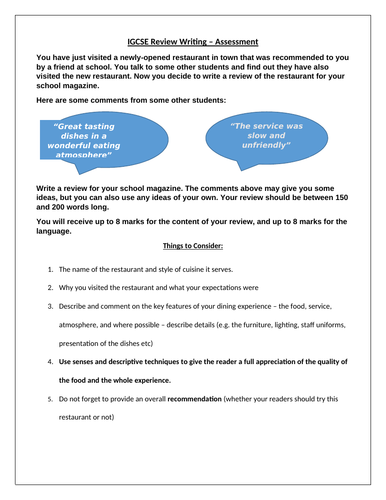 IGCSE ESL Review Writing Practice - Restaurant Review
Subject: English language learning
Age range: 14-16
Resource type: Assessment and revision
Last updated
3 October 2018
Share through email
Share through twitter
Share through linkedin
Share through facebook
Share through pinterest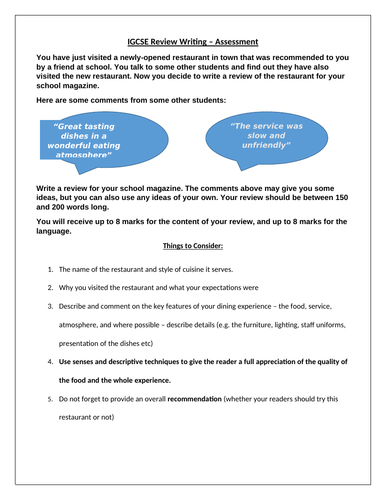 Additional exam-style prompt and task-specific guidance available for either formative or summative assessment of review writing - the focus here is the updated 2019 IGCSE ESL syllabus but the question could be easily adapted to the IB English B context.
Tes paid licence How can I reuse this?
Get this resource as part of a bundle and save up to 25%
A bundle is a package of resources grouped together to teach a particular topic, or a series of lessons, in one place.
IGCSE ESL Review Writing Bundle
Presentation supported by authentic example reviews (film and book) to introduce students to the structure, features and useful expressions for review writing at IGCSE ESL level, though this could be adapted for IBDP English B. There are two exam-style prompts (book and restaurant) and guidance frameworks for each to support formative or summative assessment of this area.
Your rating is required to reflect your happiness.
It's good to leave some feedback.
Something went wrong, please try again later.
This resource hasn't been reviewed yet
To ensure quality for our reviews, only customers who have purchased this resource can review it
Report this resource to let us know if it violates our terms and conditions. Our customer service team will review your report and will be in touch.
Not quite what you were looking for? Search by keyword to find the right resource:
Accessibility links
Skip to content
Accessibility Help
Non-fiction text types
Non-fiction texts come in many types, and have many different purposes. They surround us in everyday life but can also come in more sophisticated forms.
A review gives an opinion about anything from a restaurant to a concert.
The most common types of review are film and book reviews, but people also review music, television programmes, theatre performances and computer games.
Critics often write reviews for a living. They are knowledgeable on certain topics, eg films or music. We trust their judgement and may decide to read a book or watch a film because they persuade us to do so.
All reviews share a number of different purposes. For example, a film review needs:
to inform - the review needs to tell people who is in the film, who it is by and where or when readers can see it
to describe - the review should describe the story, characters and some of the action - without spoiling the plot or giving too much away
to entertain - to provide the reader with their opinion in a way that readers will enjoy, eg with a lively or witty tone
to analyse - a good review weighs up whether the film is good or not, giving opinions backed up with reasons and evidence
to advise - the review should recommend to the reader whether or not they should go to see the film
The audience of a review varies - this depends on where it is published.
The audience might be specific or general. For example, a specialist computer games magazine will assume their readers have a major interest in gaming and an understanding of specialist terminology , such as spawning and simulator . However, a review of a game in a national newspaper, with a much wider audience, would need to simplify the language or explain the terms.
Reviews of popular new books and films aim to reach nationwide audiences - but a local newspaper will review a performance at their own theatre, aimed at local readers.
This is a review of the film The Golden Compass .
A review of a children's film is probably aimed at parents, who will want to know whether to take their children to see it.
The Golden Compass
Reviewed by Stella Papamichael
Free will is the object of the game in The Golden Compass , a big budget exercise in orienteering where witches and polar bears point the way to enlightenment. You'll have to look between the CG seams to find the original intent of Philip Pullman's atheistic novel, but this isn't the overriding problem. It's that writer/director Chris Weitz doesn't convey a strong enough sense of purpose.
Thank goodness for the star presence of Dakota Blue Richards. She is thoroughly engaging as Lyra, a young girl singled out in prophecy as 'the one' to save all others from some awful yet indeterminate fate. It all sounds a bit messianic really, except that organised religion, represented by The Magisterium, is a force for evil. Nicole Kidman does the ominous eyebrow lifting as a guardian of the establishment who kidnaps children to wrest them from their 'daemons' (the animal sidekicks who embody their better judgment). Among the abductees is Lyra's best friend, and so begins the voyage north to find him.
Many questions raised
Daniel Craig has little to do as Lyra's scientifically minded uncle except hint at potential sequels. The draw is in a simple story of friendship and Lyra's journey of self-discovery. The line-up of curious characters she meets along the way helps to lighten Pullman's otherwise dark material. Sam Elliot is wryly amusing as a cowboy aeronaut and the spectacle of Lyra being carried across the arctic wastelands on the back of a polar bear (voiced by Ian McKellen) will appeal to the child in everyone. Towards the end, some impressively realised battle scenes up the excitement. Disappointingly though, all this magic and mystery fails to lead to any grand unveiling. There are just too many questions raised and not enough answered. Approach this not as a lesson in the facts of life, just a bit of childish escapism.
The Golden Compass is out in the UK on 5 December.
How has the writer structured the text to interest the reader?
The review opens with a focus on the fantasy characters and genre of the film, engaging readers with the idea of the film pointing you "to enlightenment" – a journey of discovery.
The opening paragraph ends with a short statement summing up the critic's conclusion that it "doesn't convey a strong enough sense of purpose". This raises the question - why not?
The focus shifts to the actors and Richards' "star presence" – this balances the good and bad points. Finishing the paragraph with "the voyage north" continues the sense of a journey.
The subheading "Many Questions Raised" is repeated in the final paragraph and highlights the critic's conclusion that there are "not enough answered".
She balances this with positives – "will appeal to the child in everyone" and "childish escapism" – leaving the reader to decide for themselves whether they want to see it.
The review concludes with the key dates. This informs the reader when they can see it.
How does the writer use language to influence the reader?
The critic begins with a pun on the film's 'compass' title, describing it as "a big budget exercise in orienteering" – implying that a lot of money has been spent producing a simple "find your way" story.
A disappointed tone states that you "have to look between the CG seams" to find the "intent" of Pullman's novel – as if the focus on special effects means the message of the story has been lost.
Positive language choices, eg "star presence" and "engaging" are more upbeat as the review appreciates the acting.
Humour is used to entertain the reader – "Kidman does the ominous eyebrow lifting" – the caricature of the villain is amusing rather than frightening. This is more appealing to children.
The contrasting adverbs – " impressively realised battle scenes" and " disappointingly …fails to lead to any grand unveiling" - captures the feeling of anticlimax the writer experienced when watching the film. A direct statement reinforces this – "too many questions" and "not enough answered".
Describing the film as "childish escapism" suggests that it can still be enjoyed if we don't expect too much from it. "Escapism" implies a light relief from reality - for both adults and children.
GCSE Subjects GCSE Subjects up down
Art and Design
Biology (Single Science)
Chemistry (Single Science)
Combined Science
Computer Science
Design and Technology
Digital Technology (CCEA)
English Language
English Literature
Home Economics: Food and Nutrition (CCEA)
Hospitality (CCEA)
Irish – Learners (CCEA)
Journalism (CCEA)
Learning for Life and Work (CCEA)
Maths Numeracy (WJEC)
Media Studies
Modern Foreign Languages
Moving Image Arts (CCEA)
Physical Education
Physics (Single Science)
PSHE and Citizenship
Religious Studies
Welsh Second Language (WJEC)
We use cookies to enhance our website for you. Proceed if you agree to this policy or learn more about it.
Essay Database >
Essays Examples >
Essay Topics
Essays on Igcse.
2 samples on this topic
Our essay writing service presents to you an open-access catalog of free Igcse essay samples. We'd like to stress that the showcased papers were crafted by skilled writers with proper academic backgrounds and cover most various Igcse essay topics. Remarkably, any Igcse paper you'd find here could serve as a great source of inspiration, valuable insights, and content organization practices.
It might so happen that you're too pressed for time and cannot allow yourself to spend another minute browsing Igcse essays and other samples. In such a case, our website can offer a time-saving and very practical alternative solution: a completely original Igcse essay example written exclusively for you according to the provided instructions. Get in touch today to know more about effective assistance opportunities offered by our buy an essay service in Igcse writing!
Literary Analysis: Beloved Research Papers Examples
275 words = 1 page double-spaced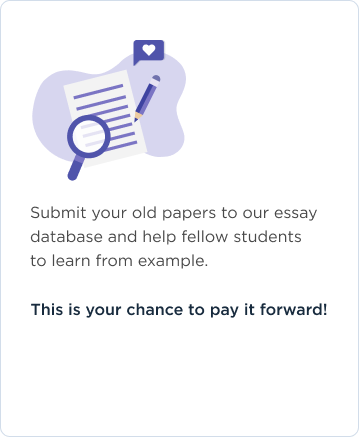 Password recovery email has been sent to [email protected]
Use your new password to log in
You are not register!
Short on a deadline?
Don't waste time. Get help with 11% off using code - GETWOWED
No, thanks! I'm fine with missing my deadline
Enter the characters you see below
Sorry, we just need to make sure you're not a robot. For best results, please make sure your browser is accepting cookies.
Type the characters you see in this image:
Learn all subjects through English
Learn your English
Vocabulary in actual speech / writing
Design your course
Reading Cards
Guided Writing
Guided Reading
Creative Writing
SSLC - Kerala
Group Names
Study Notes
Discussion forum
Home | Worksheets | Guided Writing | Review | Film Review | Topic-1 | Worksheet 2 - Body Paragraphs
Film review - body paragraphs.
The movie club in your school recently screened a film.
Here are two comments from other students who watched it with you.
The characters were real-to-life
The plot was too sentimental.
Write a review of the film for your school magazine giving your views.
The comments above may give you some ideas, and you can also use some ideas of your own.
Helpful plan - Body paragraph- 1
• Start with a topic sentence: Starting phrase+ your first point to support the opinion you have stated in introduction.
• Give an explaining sentence, give proof of your point from the film and restate the topic sentence in rephrased form to end the paragraph
Task.1: Write the body paragraph-1 in about 40 words:
Helpful plan - body paragraph- 2.
• Start with a topic sentence: Starting phrase+ your second point to support the opinion you have stated in introduction.
Task.2: Write the body paragraph-2 in about 40 words:
Helpful plan - body paragraph- 3.
• First sentence: Starting phrase+ statement of the alternative opinion.
•Explain the reason for that opinion and give your reply to it. At the end of the paragraph, you must establish your own opinion
Task.3: Write the body paragraph-3 in about 40 words:
Item added to your cart., view cart | continue....
Reading Card
Work Sheets
Classified Vocabulary
Language Centre is conceived as a platform where educators and students across the globe access and create resources for English language learning.
Upload Your Material
Can you prepare your own worksheets and materials for English language learning? If yes, you can submit them to our team.
Learning Resources
Classified vocabulary
Forgot Password? New User? Register