Evaluating Business Presentations: A Six Point Presenter Skills Assessment Checklist
Posted by Belinda Huckle | On December 4, 2019 | In Presentation Training, Tips & Advice
In this Article...quick links
1. Ability to analyse an audience effectively and tailor the message accordingly
2. ability to develop a clear, well-structured presentation/pitch that is compelling and persuasive, 3. ability to connect with and maintain the engagement of the audience, 4. ability to prepare effective slides that support and strengthen the clarity of the message, 5. ability to appear confident, natural and in control, 6. ability to summarise and close a presentation to achieve the required/desired outcome, effective presentation skills are essential to growth, and follow us on social media for some more great presentation tips:, don't forget to download our presenter skills assessment form.
For many business people, speaking in front of clients, customers, their bosses or even their own large team is not a skill that comes naturally. So it's likely that within your organisation, and indeed within your own team, you'll find varying levels of presenting ability. But, without the basis for an objective assessment of these skills, it can make it more difficult to persuade someone that, perhaps, some presentation skills coaching might help transform their ability to do their job (benefiting your business), improve their prospects for promotion (benefiting their career) and dramatically improve their own self-confidence (benefiting their broader life chances).
So, how do you evaluate the presenting skills of your people to find out, objectively, where the skill gaps lie? Well, you work out your presentation skills evaluation criteria and then measure/assess your people against them. 
To help you, in this article we're sharing the six crucial questions we believe you need to ask to make a professional assessment of your people's presenting skills. We use them in our six-point Presenter Skills Assessment checklist ( which we're giving away as a free download at the end of this blog post ). The answers to these questions will allow you to identify the strengths and weaknesses (i.e. skills development opportunities) of anyone in your team or organisation, from the Managing Director down. You can then put training or coaching in place so that everyone who needs it can learn the skills to deliver business presentations online, or face-to-face, with confidence, impact and purpose.
Read on to discover what makes a great presentation and how to evaluate a presenter using our six-point Presenter Skills Assessment criteria so you can make a professional judgement of your people's presenting skills.
If you ask most people what makes a great presentation, they will likely comment on tangible things like structure, content, delivery and slides. While these are all critical aspects of a great presentation, a more fundamental and crucial part is often overlooked – understanding your audience .  So, when you watch people in your organisation or team present, look for clues to see whether they really understand their audience and the particular situation they are currently in, such as:
Is their content tight, tailored and relevant, or just generic?
Is the information pitched at the right level?
Is there a clear 'What's In It For Them'?
Are they using language and terminology that reflects how their audience talk?
Have they addressed all of the pain points adequately?
Is the audience focused and engaged, or do they seem distracted?
For your people, getting to know their audience, and more importantly, understanding them, should always be the first step in pulling together a presentation. Comprehending the challenges, existing knowledge and level of detail the audience expects lays the foundation of a winning presentation. From there, the content can be structured to get the presenter's message across in the most persuasive way, and the delivery tuned to best engage those listening.
Flow and structure are both important elements in a presentation as both impact the effectiveness of the message. When analysing this aspect of your people's presentations look for a clear, easy to follow agenda, and related narrative, which is logical and persuasive.
Things to look for include:
Did the presentation 'tell a story' with a clear purpose at the start, defined chapters throughout and a strong close?
Were transitions smooth between the 'chapters' of the presentation?
Were visual aids, handouts or audience involvement techniques used where needed?
Were the challenges, solutions and potential risks of any argument defined clearly for the audience?
Were the benefits and potential ROI quantified/explained thoroughly?
Did the presentation end with a clear destination/call to action or the next steps?
For the message to stick and the audience to walk away with relevant information they are willing to act on, the presentation should flow seamlessly through each part, building momentum and interest along the way. If not, the information can lose impact and the presentation its direction. Then the audience may not feel equipped, inspired or compelled to implement the takeaways.
Connecting with your audience and keeping them engaged throughout can really be the difference between a great presentation and one that falls flat. This is no easy feat but is certainly a skill that can be learned. To do it well, your team need a good understanding of the audience (as mentioned above) to ensure the content is on target. Ask yourself, did they cover what's relevant and leave out what isn't? 
Delivery is important here too. This includes being able to build a natural rapport with the audience, speaking in a confident, conversational tone, and using expressive vocals, body language and gestures to bring the message to life. On top of this, the slides need to be clear, engaging and add interest to the narrative. Which leads us to point 4…
It's not uncommon for slides to be used first and foremost as visual prompts for the speaker. While they can be used for this purpose, the first priority of a slide (or any visual aid) should always be to add to the audiences' experience and understanding through effective use of visual data .
The main problem we see with people's slides is that they are bloated with information, hard to read, distracting or unclear in their meaning. 
The best slides are visually impactful, with graphics, graphs or images instead of lines and lines of text or bullet points. They should also be clear in their message and add reinforcement to the argument or story that is being shared. How true is this of your people's slides?
Most people find speaking in front of an audience (both small and large) at least a little confronting. However, for some, the nerves and anxiety they feel can distract from their presentation and the impact of their message. If members of your team lack confidence, both in their ideas and in themselves, it will create awkwardness and undermine their credibility and authority. This can crush a presenter and their reputation. 
This is something that you will very easily pick up on, but the good news is that it is definitely an area that can be improved through training and practice. Giving your team the tools and training they need to become more confident and influential presenters can deliver amazing results, which is really rewarding for both the individual and the organisation.
No matter how well a presentation goes, the closing statement can still make or break it. It's a good idea to include a recap on the main points as well as a clear call to action which outlines what is required to achieve the desired outcome.
In assessing your people's ability to do this, you can ask the following questions:
Did they summarise the key points clearly and concisely?
Were the next steps outlined in a way that seems achievable?
What was the feeling in the room at the close? Were people inspired, motivated, convinced? Or were they flat, disinterested, not persuaded? 
Closing a presentation with a well-rounded overview and achievable action plan should leave the audience with a sense that they have gained something out of the presentation and have all that they need to take the next steps to overcome their problem or make something happen.
It's widely accepted that effective communication is a critical skill in business today. On top of this, if you can develop a team of confident presenters, you and they will experience countless opportunities for growth and success.
Once you've identified where the skill gaps lie, you can provide targeted training to address it. This then creates an ideal environment for collaboration and innovation, as each individual is confident to share their ideas. They can also clearly and persuasively share the key messaging of the business on a wider scale – and they and the business will experience dramatic results.
Tailored Training to Fill Your Presentation Skill Gaps
If you're looking to build the presentation skills of your team through personalised training or coaching that is tailored to your business, we can help. For nearly 20 years we have been Australia's Business Presentation Skills Experts , training & coaching thousands of people in an A-Z of global blue-chip organisations. All our programs incorporate personalised feedback, advice and guidance to take business presenters further. To find out more, click on one of the buttons below:
Work Email Address * Please enter your email address and then click 'download' below
Written By Belinda Huckle
Co-Founder & Managing Director
Belinda is the Co-Founder and Managing Director of SecondNature International. With a determination to drive a paradigm shift in the delivery of presentation skills training both In-Person and Online, she is a strong advocate of a more personal and sustainable presentation skills training methodology.
Belinda believes that people don't have to change who they are to be the presenter they want to be. So she developed a coaching approach that harnesses people's unique personality to build their own authentic presentation style and personal brand.
She has helped to transform the presentation skills of people around the world in an A-Z of organisations including Amazon, BBC, Brother, BT, CocaCola, DHL, EE, ESRI, IpsosMORI, Heineken, MARS Inc., Moody's, Moonpig, Nationwide, Pfizer, Publicis Groupe, Roche, Savills, Triumph and Walmart – to name just a few.
Leave Comment Cancel reply
Your email address will not be published. Required fields are marked *
A total commitment to quality, service, your people and you.
Tips & Tricks
Templates Packs
Training Programs
Bundle & Save!
Presentation Skills Training
Home >  Presentation Tips > Presentation Skills Training Video Evaluation
You video recorded your participants making their presentations. Now, what parameters should you use to evaluate them? Learn the 3 parameters on which you should evaluate your participants in your Presentation skills training programs.
Your presentation skills training evaluation parameters reinforce your lessons:
The parameters you use to evaluate your participants will primarily depend on the lessons you covered in your program. With that said, there are certain parameters that are worth including in your presentation rubric to make your evaluation complete.
These are the parameters we use in our Presentation skills training programs.
Criteria for deciding the evaluation parameters:
Many trainers make the mistake of evaluating videos only for obvious aspects like negative body language or distracting mannerisms of the presenters. Since these aspects stick out like sore thumb it is easy to harp on these forever.
When you highlight the negatives, participants object to having their videos shared with others.
A good evaluation draws participant's attention to subtler aspects that are normally missed. That is why our evaluation parameters give equal emphasis on the clarity of message and the effectiveness of delivery.
Download the Presentation Skills Training Video Evaluation sheet
Evaluation Parameters:
Video analysis is primarily used to evaluate the delivery aspects of the presentations. Over the years, we've seen that the effectiveness of delivery is a good indicator of the strength of the underlying content.
Thus, the parameters for presentation evaluation may be classified into 3 main categories. They are
Presentation Structure
Method of Delivery and
Style of Delivery
Let us understand the parameters in detail.
A) Presentation Structure
1. story flow:.
This parameter is used to evaluate the flow structure chosen to build the presentation. The structure could be anything from – 'Problem – cause- solution' to 'Goal – path- challenges'. The evaluation is based on clarity and logic of the argument.
2. Message clarity in slides:
The questions to evaluate this parameter are:
Do the PowerPoint slides serve as teleprompter for the presenter or do they help the audience understand the information better?
Can the audience derive a clear message from each slide?
Are the assertions supported with credible data, pictures or diagrams?
Related: Evaluating PowerPoint Presentations
3. Visual representation of ideas:
Did the presenter use charts, diagrams and images to explain the ideas clearly? Are the slides clean, without any unnecessary information? Has the presenter used meaningful animation to present ideas in stages?
B) Method of Delivery
4. Effective opening:
The 2 questions used to consider the effectiveness of opening are –
Was the opening strong enough to grab the audience attention?
Did the opening help the presenter to establish credibility?
5. Audience engagement:
Did the presenter engage the audience by asking questions or eliciting views? Did s/he acknowledge the comments and questions of the audience?
6. Verbal transitions between slides:
Did the presenter consistently summarize the current slide and give a preview of the next slide, before showing the next slide?
Verbal transition ensures that the audience stays connected with the story. It indicates that the presenter has built the slide structure based on a strong presentation outline. When a presenter uses verbal transition consistently, it shows that he/she has sufficiently rehearsed the presentation.
C) Style of Delivery
7. eye contact:.
Did the presenter maintain sufficient eye contact with the audience? Did he/she give equal attention to everyone in the room?
8. Voice clarity:
Could the last person in the audience clearly hear the voice of the presenter? Was there sufficient modulation in the voice?
9. Hand gestures:
Were there nervous hand gestures? Was the hand movement used to emphasize key points in the speech? Were there any distracting hand gestures like jangling of coins, clutching the marker etc?
10. Movement:
Did the presenter seek the comfort of the podium or move around freely? Did s/he pace the room nervously or commit other body language blunders? Did the presenter move away from the audience when faced with uncomfortable questions? Did he/she step forward when asking for a decision from the audience?
Conclusion:
These 10 parameters help you effectively evaluate the video recordings of your participants in Presentation skill training workshop.
Related Downloads
Related Article: Creative Presentation Evaluation Ideas to keep your participants focused.
Return to Top of Presentation Skills Training Evaluation Page
Share these tips & tutorials
Get 25 creative powerpoint ideas mini course & members-only tips & offers. sign up for free below:.
Call Us Toll Free 1-800-561-9405
Evaluate your current level of presentation skills
You are here:  
Free Assessment Tools
Evaluate Your Presentation Skill
To be a more effective presenter it is useful to examine your present skills.This 20 question assessment can help you identify the areas of which to focus in order to increase your competence. Please read each statement and choose the number that best describes you where 5 is the closest option to you and 1 is the farthest
Try this Assessment test
You can take the "Evaluate your current level of presentation skills"
Take the test
Go over the following great presentation tips from Steve Jobs :
Try to structure your presentation into 3 main parts (Introduction - Middle - Ending)
Group your ideas into 3 - 4 clear categories to support your theme and core point.
Spend some time creating and polishing your links from point to point to ensure a smooth logical flow of your presentation.
Spend a considerable amount of time visualizing your ideas and and thinking how to represent them visually to make them memorable. Always remember that a picture is worth a thousand words.
If you are using slides in your presentation then stick to this simple rule "Less text and more images" . Never use clipart but use high quality images that support your point, makes it more memorable and impress your audience.
Use a well written document for your handout and well designed simple graphics for your visuals.
Reduce and edit text on each slide to only the essential key words that clearly delivers your message. Remember nobody wants to see slides of long text lines or bullets.
Try to avoid using slide animation and only use it to show change or guide audience attention. If you have to use it then don't make it painfully slow and avoid complex effects.
Dress one step formally above your audience
Do not stand behind a podium. Try to remove all barriers between you and your audience.
Keep your audience engaged by asking questions to get them to interact, get them to play a game or do a quick activity.
Develop rapport with your audience and show your enthusiasm about what you are talking about
Keep your presentation simple and include only what's necessary. When it comes to presentations less is always more.
Be positive, upbeat , humorous and try to include something your audience do not expect.
Instant Download Training packages
Administrative Assistant Skills
This two day training program is packed with techniques for improving the most essential basic business writing skills as well as both verbal and non-verbal communication in general in addition to proper time management and general office organization techniques that will help administrative assistants, secretaries and office managers in performing their day to day tasks more confidently and professionally.
Price: $199.95 $179.95
No matter who you are, we all have 168 hours each week. Your ability to best utilize those 168 hours will ultimately determine your success. Using self-discovery, hands-on activities and innovative concepts, throughout this high energy training program, participants will learn how to get better control of their time and their life in general.
Building High Performing Teams
A highly engaging one-day training program packed with a plethora of fun activities and games focusing on the key characteristics of high performing teams.
The ability to handle yourself properly today can sometimes outweigh even your technical skills. If you know what to do, when to do it, and how to do it with grace and style, you'll have a competitive edge in your career.
The main focus of this one day tailored training program is to help call center agents reduce their AHT - Average call handling time by equipping them with the required call control and questioning skills.
A highly engaging one-day training program packed with a plethora of fun activities and games focusing on the key characteristics of high performing teams. The high energy training program will help you equip members of a team with the essential skill set and mind set to be a professional team player in a high performing team in which every individual takes responsibility to be productive, proactive and reliable.
All you need
To deliver a great training.
Our training material packages come with all you need to provide a professional and accelerated learning solution with
Support Documents
To ensure you have all you need to deliver a complete and professional training program, additional supporting documents are included with each full course material package. From training evaluation forms to 5 different certificate templates that you can edit and hand out to your participants at the end of your training.
Use Clear Criteria and Methodologies When Evaluating PowerPoint Presentations
Dr. Fred Mayo explains the three major methods for presentation evaluation: self, peer and professional. An added bonus: ready-made student evaluation form.
By Dr. Fred Mayo, CHE, CHT
In the last issue, we discussed making interactive presentations and this month we will focus on evaluating presentations. For many of us, encouraging and supporting students in making presentations is already a challenge; assessing their merit is often just another unwelcome teaching chore.
There are three major methods for evaluating presentation – self evaluations, peer evaluations, and professional evaluations. Of course, the most important issue is establishing evaluation criteria.
Criteria for Evaluating Presentations One of the best ways to help students create and deliver good presentations involves providing them with information about how their presentations will be evaluated. Some of the criteria that you can use to assess presentations include:
Focus of the presentation
Clarity and coherence of the content
Thoroughness of the ideas presented and the analysis
Clarity of the presentation
Effective use of facts, statistics and details
Lack of grammatical and spelling errors
Design of the slides
Effective use of images
Clarity of voice projection and appropriate volume
Completion of the presentation within the allotted time frame
Feel free to use these criteria or to develop your own that more specifically match your teaching situation.
Self Evaluations When teaching public speaking and making presentations, I often encouraged students to rate their own presentations after they delivered them. Many times, they were very insightful about what could have been improved. Others just could not complete this part of the assignment. Sometimes, I use their evaluations to make comments on what they recognized in their presentations. However, their evaluations did not overly influence the grade except that a more thorough evaluation improved their grade and a weak evaluation could hurt their presentation grade.
Questions I asked them to consider included:
How do you think it went?
What could you have done differently to make it better?
What did you do that you are particularly proud of accomplishing?
What did you learn from preparing for and delivering this presentation?
What would you change next time?
Peer Evaluations One way to provide the most feedback for students involves encouraging – or requiring – each student evaluate each other's presentation. It forces them to watch the presentation both for content and delivery and helps them learn to discriminate between an excellent and an ordinary presentation. The more presentations they observe or watch, the more they learn.
In classes where students are required to deliver presentations, I have students evaluate the presentations they observe using a form I designed. The students in the audience give the evaluation or feedback forms to the presenter as soon as it is over. I do not collect them or review them to encourage honest comments and more direct feedback. Also, students do not use their names when completing the form. That way the presenter gets a picture from all the students in the audience – including me – and cannot discount the comments by recognizing the author.
A version of the form that I use is reproduced below – feel free to adopt or adapt it to your own use and classroom situation.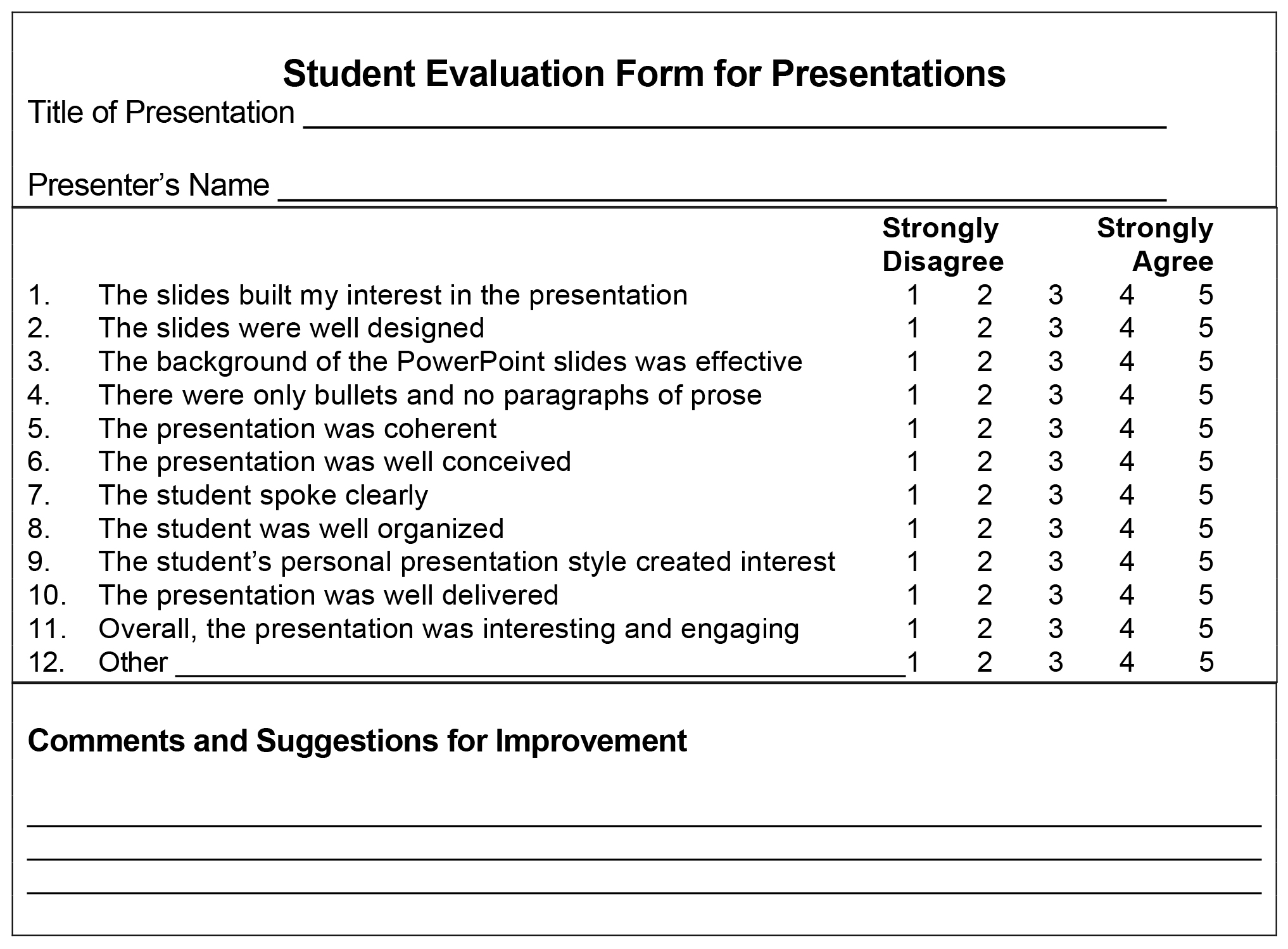 Professional Evaluations When conducting your professional evaluation of a presentation, remember to consider when and how to deliver oral comments as opposed to a completed form. I complete a written evaluation (shown above) along with all the students so they get some immediate feedback. I also take notes on the presentation and decide a grade as well. After the conclusion of the presentation, whether it was an individual or team presentation, I lead a class discussion on the presentation material. That way, students get to hear some immediate comments as well as reading the written peer evaluations.
I usually ask for a copy of the presentation prior to the delivery date. (Getting the PowerPoint slides ahead also helps me ensure I have all the presentations loaded on the projector or computer so we do not waste class time.) Students either email it to me or place it on our classroom management system. I will provide their letter grade and make comments on the design of the presentation on the copy they gave me. However, I don't explain the final grade right after the presentation since it is often hard for students who have just made a presentation to hear comments.
Summary Each of these suggestions may prompt you to try your own ideas. Remember that students improve when they receive thoughtful and useful feedback from their peers and you as their teacher. I encourage you to use this form or develop a form so that the criteria used to evaluate the presentations are clear and explained ahead of time. Now, you can enjoy evaluating their presentations.
Dr. Fred Mayo, CHE, CHT, is retired as a clinical professor of hotel and tourism management at New York University. As principal of Mayo Consulting Services, he continues to teach around the globe and is a regular presenter at CAFÉ events nationwide.

6 Ways You Can Evaluate Your Own Presentation
Hrideep barot.
Body Language & Delivery , Presentation , Public Speaking
Naturally, giving a presentation is a skill that falls on the professional side of the spectrum. It involves a lot of formality along with practice to get good at it. 
But how do you decide what exactly it is that you need to work on? Read on to find out about six ways to evaluate your presentation skills.
Importance and benefits of evaluating your presentations yourself
Public speaking requires skills that are developed over time. Whether you're a pro at it or a beginner, there is always room to grow because people have a varying set of abilities. 
Presentations are all about influence. You aim to create a dynamic with your audience so they buy into whatever it is that you're trying to convey. 
In addition to that, it makes you a better presenter. The lack of being told what to do by someone else gives you a sense of self-confidence and patience. 
Additionally, you being a good presenter would mean more successful meetings, which in turn means you'd profit your business.
Basically, the better your presentation, the more likely are your chances to successfully fulfill your agenda. So grab a paper and a pen and embark upon your journey of getting better!
What criteria do I need to follow for evaluation?
Quality of content.
Engagement with audience
Visual aids
Focusing on strengths. 
Based on these categories, you need to form criteria to test yourself. Think of it like setting a frame of reference for yourself, placing yourself on a scale ranging between good and bad would help you track your progress. 
Following are the pointers you need to keep in mind while evaluating your presentation skills-
The two most things to keep in mind about structure is that you need to have a very intriguing start to your presentation, something that hooks the audience. (an anecdote, perhaps)
Apart from that, the transitions between your pointers have to be smooth. Try adding segues (which is basically building context for your next point) In the previous example, a personal anecdote involving someone with depression can be a good segue to talk about the importance of mental health. 
If you're new to structuring content or making presentations, here's an article of ours that might help- The Ultimate Guide to Structuring a Speech
Delivery is everything. From gestures to hand movements, your body language must emphasize CONVEYING something. 
There should be some sort of continuity to your narrative, the 'flow' must come naturally. This can be done using the smooth transition technique mentioned above. 
Adding a story-like quality to your speech might help. (having proper segregation between the beginning, middle, and end)
You cannot be providing generic content. Always remember, in presentations, quality surpasses quantity. 
You need to make sure you're adding something of value that is unique to you, and not general. You may refer to our article that might help further with this- Should a Presentation Have an Agenda?
Engagement with the audience
Your content must always be altered according to your audience. Knowing your audience is a very crucial step. You cannot say the same things in front of an MNC board meeting members as you would in front of a bunch of college students.
Knowing your audience helps you decide your content, flow, transition, practically everything. 
But at the same time, you need to prepare yourself in advance to be able to answer the questions that might come your way. A little prediction here and there can save you a lot of anxiety. 
Visual Aids
Visual aids during a presentation include everything from the design and arrangement of content in your presentation to your appearance. (But mostly the former)
Now when it comes to visual aids in a PPT, there is no better advice than the 5 by 5 rule.
The Powerpoint 5×5 slide rule states that-
b. Each of those lines should have no more than 5 words.
It ensures keeping your content crisp and to the point. A tip to apply this rule would be to not focus on including the main content in the ppt. Instead, write only pointers and elaborate on them yourself.
This way, you prevent your audience from getting too caught up in reading the slides hence getting distracted from you. 
How exactly do I evaluate my presentation?
Here are the six-pointers that will guide you through it step-by-step.
Identify patterns
Is there something that you repetitively keep doing wrong? Maybe the topics you choose aren't relevant, maybe you use too much text in slides, maybe you don't captivate your audience by raising vocals, maybe you don't move enough. 
There are always patterns. You need to develop attention to detail. 
Focus on the audience
Your audience engagement can make or break the deal. While you're presenting, make sure you make eye contact with as many people as you can. And keep an eye out for people's reactions. It helps you get real-time feedback. 
Now there's a chance this might not work and you get distracted or disheartened. In which case, drop this tactic. Nothing is worth blowing your confidence down during the presentation. 
Take feedback
Maybe to make it a little more certain, announce at the end that you're open to constructive criticism. It also adds to the impression you make. People find people who are willing to admit their flaws, admirable. 
Make sure you maintain a record of your progress, right from making those criteria scales to your speeches through successive presentations. You could do it on paper or a device, whatever is more comfortable. 
Make notes about what you need to work on right after presentations, and tick them off when you do in the next ones. It brings along a sense of accomplishment. 
In reference to keeping track of practicing, you may check out our 13 Tips For Rehearsing A Presentation
Objective set of eyes
Ask a friend or a colleague to give you honest advice. Truth is, no matter what, your clients would always be skeptical of telling you what's wrong. And there's only so much you would criticize about yourself.
Use your strengths and weaknesses
After having acquainted yourself with this whole system of evaluation, it is no doubt you'd be very aware of your strong and weak points. It is a good thing. 
Honestly, there could always be some little things here and there that we cannot wrap our heads around, and that's okay. Because we also have our strengths to cover up for them.
For example, you could be a little off with a smooth transition between subpoints, but if you drop a super-strong call to action, in the end, it gets compensated. 
And the best part is, only you can use them to your benefit since you're the only one who knows about them!
To go that extra mile, you could also record yourself while giving the speech in front of a camera and review the recording to see where exactly you went wrong. Sometimes, watching your presentation from the audience's perspective gives you a peak into what they see, and consequently, allows you to have a bigger impact on them.
Here's a checklist to keep in mind while self-evaluating:
Print the checklist out for easy accessibility, mark yes or no after every presentation to keep track of your progress.
Practical Tools to use for self-evaluation
Feedback forms.
Feedback from your audience is important, as stated before. However, you can't store all of the verbal feedback in your brain, let alone use it for self-evaluation later. Moreover, sometimes the audience might be vague with how they respond and that is unhelpful.
What you can do, instead, is devise a feedback form enlisting specific questions, the answers to which would be relevant for your purpose. This not only lifts the burden of remembering all you heard after presenting, but also eliminates unnecessary jargon from the audience.
Self-reflection
Self-reflection is the most important part of this process. Now, this does not only involve you going to the feedback forms but also reviewing specific areas that you need extra work on. You can make a categorized list or a scale of easily 'fixable issues' to issues that need relatively more practice and work.
If there is an issue that you don't seem to be able to work around, another form of self-reflection you can do is record yourself. As mentioned before, use the camera and present as you would in the conference room. Looking at a tape of yourself after presenting(as opposed to while presenting in front of the mirror), can help you detect what's wrong in a better way. Plus, it helps you check body language.
Presentation rubrics are one of the handiest tools you can use for evaluation. It is a specific set of criteria that sets qualitative standards for the things/skills you need to have in your presentation to qualify as a good one.
For example, For a college research paper, the categories of criteria would be creativity, research element, use of sources and references, innovative aspects, etc. These categories would then be assessed on a scale of good to excellent or 1 to 5 and be marked accordingly.
It provides a quantified version of assessment which helps tremendously to analyze where specifically, and how much do you need to work on.
Here is a detailed and comprehensive article about 34 Best Smartphone Apps for Presenters and Professional Speakers that will guide you through that process.
Well, with all these tools and techniques, you're all set to begin your self-evaluation! Remember, different techniques work for different people. It's all a matter of trial and error. Some patience and practice can take you a long way to become the presenter you aspire to be.
Enroll in our transformative 1:1 Coaching Program
Schedule a call with our expert communication coach to know if this program would be the right fit for you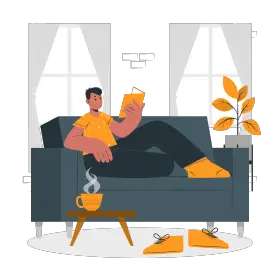 How to Politely End a Zoom Call: 5 Easy Ways
5 Practical Tips to Improve your Confidence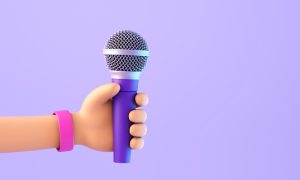 Best ways to practice for a presentation

[email protected]

+91 98203 57888
Copyright 2023 Frantically Speaking All rights reserved
Get our latest tips and tricks in your inbox always
Kindly drop your contact details so that we can arrange call back.
Select Country Afghanistan Albania Algeria AmericanSamoa Andorra Angola Anguilla Antigua and Barbuda Argentina Armenia Aruba Australia Austria Azerbaijan Bahamas Bahrain Bangladesh Barbados Belarus Belgium Belize Benin Bermuda Bhutan Bosnia and Herzegovina Botswana Brazil British Indian Ocean Territory Bulgaria Burkina Faso Burundi Cambodia Cameroon Canada Cape Verde Cayman Islands Central African Republic Chad Chile China Christmas Island Colombia Comoros Congo Cook Islands Costa Rica Croatia Cuba Cyprus Czech Republic Denmark Djibouti Dominica Dominican Republic Ecuador Egypt El Salvador Equatorial Guinea Eritrea Estonia Ethiopia Faroe Islands Fiji Finland France French Guiana French Polynesia Gabon Gambia Georgia Germany Ghana Gibraltar Greece Greenland Grenada Guadeloupe Guam Guatemala Guinea Guinea-Bissau Guyana Haiti Honduras Hungary Iceland India Indonesia Iraq Ireland Israel Italy Jamaica Japan Jordan Kazakhstan Kenya Kiribati Kuwait Kyrgyzstan Latvia Lebanon Lesotho Liberia Liechtenstein Lithuania Luxembourg Madagascar Malawi Malaysia Maldives Mali Malta Marshall Islands Martinique Mauritania Mauritius Mayotte Mexico Monaco Mongolia Montenegro Montserrat Morocco Myanmar Namibia Nauru Nepal Netherlands Netherlands Antilles New Caledonia New Zealand Nicaragua Niger Nigeria Niue Norfolk Island Northern Mariana Islands Norway Oman Pakistan Palau Panama Papua New Guinea Paraguay Peru Philippines Poland Portugal Puerto Rico Qatar Romania Rwanda Samoa San Marino Saudi Arabia Senegal Serbia Seychelles Sierra Leone Singapore Slovakia Slovenia Solomon Islands South Africa South Georgia and the South Sandwich Islands Spain Sri Lanka Sudan Suriname Swaziland Sweden Switzerland Tajikistan Thailand Togo Tokelau Tonga Trinidad and Tobago Tunisia Turkey Turkmenistan Turks and Caicos Islands Tuvalu Uganda Ukraine United Arab Emirates United Kingdom United States Uruguay Uzbekistan Vanuatu Wallis and Futuna Yemen Zambia Zimbabwe land Islands Antarctica Bolivia, Plurinational State of Brunei Darussalam Cocos (Keeling) Islands Congo, The Democratic Republic of the Cote d'Ivoire Falkland Islands (Malvinas) Guernsey Holy See (Vatican City State) Hong Kong Iran, Islamic Republic of Isle of Man Jersey Korea, Democratic People's Republic of Korea, Republic of Lao People's Democratic Republic Libyan Arab Jamahiriya Macao Macedonia, The Former Yugoslav Republic of Micronesia, Federated States of Moldova, Republic of Mozambique Palestinian Territory, Occupied Pitcairn Réunion Russia Saint Barthélemy Saint Helena, Ascension and Tristan Da Cunha Saint Kitts and Nevis Saint Lucia Saint Martin Saint Pierre and Miquelon Saint Vincent and the Grenadines Sao Tome and Principe Somalia Svalbard and Jan Mayen Syrian Arab Republic Taiwan, Province of China Tanzania, United Republic of Timor-Leste Venezuela, Bolivarian Republic of Viet Nam Virgin Islands, British Virgin Islands, U.S.

Presentation Skills Assessment
For each row of the assessment, mark one box indicating whether:
You have already developed the skill enough for your future career plans (right),
Expect to develop the skill as part of your program (center), or
Need to find additional resources to support developing the skill (left).
After completing the assessment, save your results and  return to this page  to identify the resources you need.  You should also plan to speak with an advisor in your department or group about your progress on the skills you've identified as "expect to develop."
Office Phone: 530-754-1457
Email:

[email protected]