Link to facebook
Link to linkedin
Link to twitter
Link to youtube
Writing Tips
How to Write Up an Interview-Based Article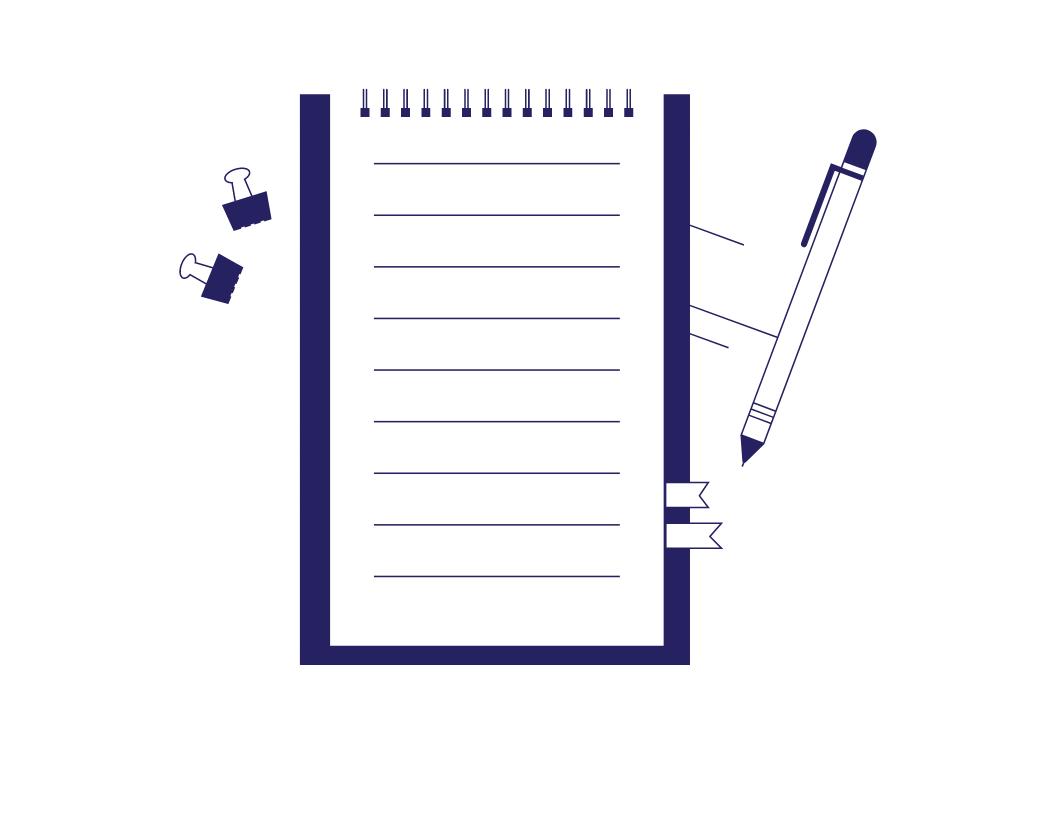 5-minute read
You've interviewed someone and had it transcribed. But what happens next? How do you turn a raw interview transcript into an article people will want to read? There are five key steps to writing up an interview-based article:
Review the transcript and plan what you want to include.
Decide how you're going to structure your article.
Write up the interview, editing for clarity and concision as appropriate.
Consider whether reorganizing parts of the interview will help it make sense.
Proofread your finished interview article to ensure it is error free.
For more on how to write up an interview-based article, read on below.
1. Review the Transcript
A transcript is a written, word-for-word copy of what was said in an interview. This provides the starting point for any interview-based article. Before you start writing, then, you will want to review your transcript. This will help you identify:
What to include and what to leave out when you write up the interview.
Key details or recurring themes that you want to highlight in your article.
Any details that need checking with your subject before publication.
It is a good idea to listen to the recorded interview again, too. Hearing the interviewee's voice will help you capture the tone of their responses.
2. Decide How to Structure Your Article
There are two common ways of structuring an interview-based article. One is a literal question-and-answer format, where each question is presented in turn, with the subject's answers following. For example:
What made you approach writing you latest book in this way? I wanted to play with narrative forms and decided to experiment. To be honest, I was still prepared to scrap the whole idea and start again, though!
Alternatively, you can use a narrative form. This is where you describe what happened during the interview, using quotes to relay what the subject said, but giving extra detail about what they do, the surroundings, and even your own thoughts and feelings as the interviewer (if appropriate):
Taylor shrugs when asked about the writing style of her next, saying she "wanted to play with narrative forms and decided to experiment," though she "was still prepared to scrap the whole idea and start again" if she had to.
You can even use a hybrid of the two, framing a question-and-answer piece with narrative sections or your own thoughts at the beginning and end.
3. Edit for Clarity and Concision
When we speak, we often use more words than necessary. Sentences become garbled. We use all sorts of linguistic fillers and crutch words . Sometimes we lose confidence in what we say and trail off. And none of this makes for a great read!
As a result, most interview-based articles will be edited for clarity and concision. This might involve making changes along the following lines, for instance:
Original So, um, I was going to start writing…when I started writing the book, I just knuckled down and worked really hard for two months, basically.
Find this useful?
Subscribe to our newsletter and get writing tips from our editors straight to your inbox.
Edited When I started writing the book, I worked really hard for two months.
The second version is much clearer and easier to read, picking out the key parts of the original to communicate the same thought more effectively.
It's important to be careful when editing a transcript, though. You won't want to accidentally twist the subject's words or misrepresent them, so keep changes minimal where possible and make sure to preserve the meaning of the original.
If you need to rephrase something more thoroughly for clarity, moreover, you may want to check that the interviewee is okay with any changes you've made.
Always check your style guide or publisher's instructions, too, as some are quite restrictive regarding the changes you can make. AP style , for example, suggests only making very minor changes to quotations (e.g., cutting out "umms" and "aahs").
4. Consider Reorganizing Parts of the Transcript
Interviews can go in unexpected directions. The interviewee might go off on tangents. Or the same topic might come up at different points. To make sure your interview article reads smoothly, then, you might need to reorganize slightly.
For example, perhaps your subject speaks about their early years at the start of an interview, but slips in an extra childhood anecdote later on in a context where it doesn't fit. Or perhaps you are thinking of cutting part of a response but want to keep an insightful statement that would work elsewhere in the article.
In these cases, it is often fine to move things around as long as the change of context doesn't misrepresent what your subject has said. However, this is another case where you may need to get the interviewee's approval for any changes.
5. Proofread Your Interview Article
Whether you are publishing an article yourself or submitting it for publication, always proofread your finished interview to make sure it is clear and error free. You should also check you haven't changed the meaning of anything your subject said.
You could even use a proofreading service at this stage. Our expert editors are always available, so upload a trial document for free today to see how we can help.
Share this article:
Post A New Comment
Instant Quote
Need more help perfecting your writing proofed has the perfect editor.
You can also upload a document to get an instant quote
Drag & drop your file
or browse your computer
Browse from your device
Drop your file here!
Your file is being uploaded!
9-minute read
Punctuation Tips: Parenthesis
Whether you're writing an essay, email, or cover letter, you'll likely use parentheses. Maybe you...
2-minute read
Word Choice: May Versus Might
May and might are two modal verbs (a type of auxiliary verb) that often get...
3-minute read
5 Free French-to-English Translation Services
Below is a list of five free translation apps for French speakers seeking French-to-English translation...
4-minute read
How to Format Fiction Manuscripts
Like non-fiction and screenplays, fiction has unique formatting standards designed to ease the publishing process....
An Introduction to Orthography
If you're looking up the definition of orthography, you're probably either a language buff like...
How to Format an Argumentative Essay
When writing an argumentative essay, you would typically research a topic and adopt a certain...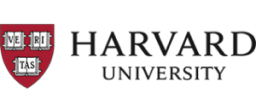 Make sure your writing is the best it can be with our expert English proofreading and editing.
How to write an interview article for a magazine
If someone asked me what is my favorite type of article to read, it would be interview articles for sure. There is just something so personal and engaging to them that tickles my curiosity buds while still providing a fair amount of interesting information. It can be quite challenging to write this type of article, so here are some tips and tricks that will help you in your quest on how to write an interview article for a magazine. And not just any but the perfect one.
If you are more of a visual learner, there's a video you can watch at the end of this article. Let's dive in!
Things to keep in mind when writing an interview article
1. choose your questions wisely.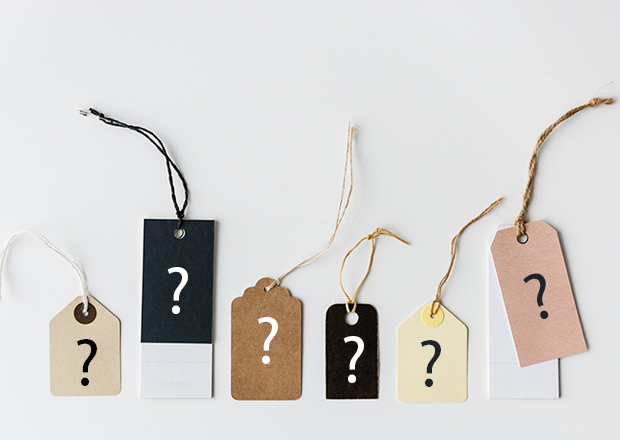 This is probably one of the most important steps in the process of writing an interview article as it all starts with asking the right questions to the interviewee. First, you will need to do a lot of research work and collect as much information as you can on the person you are going to interview. You can either read their biography, previous interviews or read about their current projects, interests and the list can go on. This will not only give you a solid background of the interviewee but will also make you aware of what has already been written, so that you can put a spotlight on some interesting and fresh information. No one wants to read the same facts about someone over and over again, this is why it's best to find new topics to tackle. And speaking about topics, try to choose a focus topic for the interview. That being said, it's not a rule you need to take literally, but it's recommended you stick with a main topic so that you're not all over the place with your questions. Choose an aspect of the interviewees life that is both remarkable and fits the interests of the reader. Or seek a certain topic worth discussing and develop some questions around it. You can always add a few extra questions still related to the main topic, but with a twist, maybe something unexpected that requires a more spontaneous answer to spice things up for the reader.
Tip: Select questions for interview that best fit your approach. Avoid typical interview questions and ask questions that are intriguing. For example, instead of asking, "How did you achieve your success in tennis?" ask, "They call you the 'next Federer' … what three qualities do you think you share with the Swiss tennis player?"
2. Structure of the article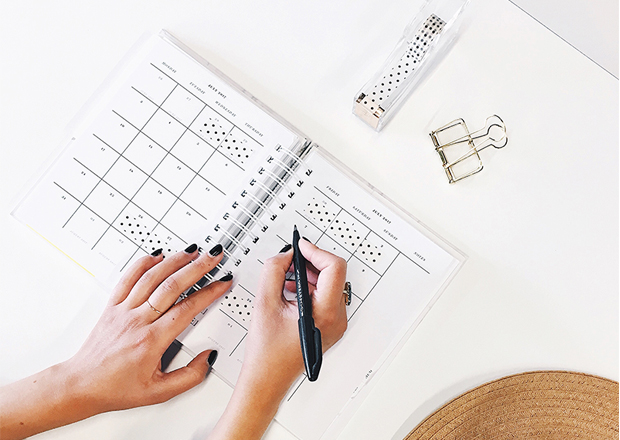 Once you have narrowed down the questions you wish to address and have conducted the interview ( here you can find a comprehensive guide on how to interview someone for an article ), the next step is to actually write the article. Here is where you have endless options and can get your creative juices to flow in terms of how you wish to structure the article. If there isn't a specific code you need to follow, I would say that these days there isn't one winning rule. Most writers feel the need to post the picture, questions and answers in a logical sequence. Which is not bad, but then again chances are this makes for a rather boring interview article.
Before anything else, you need to choose the perspective from which you wish to write the article. There are roughly three perspectives you can use:
Literal : write down the questions, followed by the literal/ only slightly rephrased answers (the classic Q and A);
Narrative : describe what the interviewee says in third person;
Hybrid : leave out the questions and combine narrative statements with direct quotes.
You can stick with one of the first two perspectives for the entire article, or you can use the hybrid one depending on the dynamic and tone you want to give to the article.
Also, make sure you have a strong start and ending as these are the pillars of your structure. Choose the most provocative questions and answers to be featured at the beginning and at the end so that this way you keep the interest of the reader from start to finish. Moreover, you can insert some of the main answers as quotes to break the article and make it less boring.
Another thing to keep in mind is that the actual interview might be full of half sentences, unspoken words or sudden changes of topic. To make the interview readable, you'll have to rephrase most sentences. And when it comes to rephrasing, there's a simple rule of thumb:
Rephrase as much as you like, but don't change the message.
Nonetheless, try and make it attractive . Starting from the title and ending with the last answer, always keep in mind this: "How can I put things so that it's appealing for the reader?" Look for the most interesting stuff and reorder the questions of the interview if needed so that you give readers the feeling that they have just read the story of a conversation and not a cold sharp interview. Add suggestive photos, insert quotes and let your emotions guide you. Remember, you're in complete control at this point!
Tip: Try to give the interview article some sort of narrative or structure, without making it too linear and logical. In the end, just ask yourself if it's something you'd enjoy reading.
3. Magazine article interview examples to get inspired from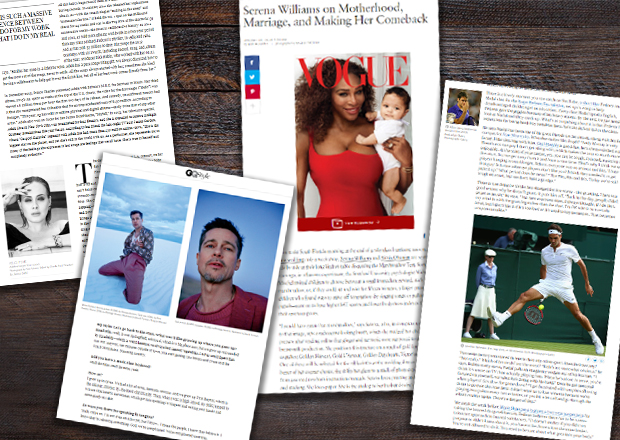 Finding it hard to be creative? Don't worry, we've all been there. Luckily, if you're stuck in a rut, there are plenty of magazine interview article examples on the Internet to draw inspiration from. I've selected a few of the ones that I have enjoyed reading, and remember, even if you're probably never going to interview Adele or Brad Pitt, articles like this can plant an idea in your mind or awaken your creative buds. It can be anything from the title, the layout of the interview article, to the questions, the perspective from which it is written and so on. Serena Williams' interview for Vogue , as well as Adele's one for Vanity Fair are some impressive articles that somehow manage to bring these big stars closer to the public by sharing some candid moments and information with the readers. Brad Pitt's interview for GQ magazine is rather an interesting one since it's a roller coaster of perspectives, questions, emotions and quite artistic pictures that altogether reveal a different side of the actor.
However, if these interview articles are a bit too much, on our blog you can find some interviews to start with, like this one with Debbie Millman or this one featuring Jacob Cass . You're really just one click away from a plethora of interview articles.
Tip: Don't copy other interview articles, but use them rather as an inspiration and add the missing pieces in order to make your own greater.
Writing an interview article can be quite challenging and overwhelming at times, but as long as you keep in mind the above-mentioned tips, you should be on a good path. And remember, there isn't a one rule applies to all. You can make it as fun or as serious as you want. Just ask yourself at the end if it's something you'd really enjoy reading.
26 Comments
cool reading! I agree. The most popular articles and most shared are the interview ones by far. Maybe Flipsnack could do a series of Interview articles with relevant people in the industry or most engaged or relevant Flipsnack users. Good job with this article! ;)
Hey, we're glad you enjoyed the article! That's a very good suggestion and definitely something we're planing on doing this year! :)
Thanks for this post. It helped me write my first interview for my blog which received great feedback!
Thank you for your feedback, Angela! Glad to know that it was helpful!:)
REEEEEEEEEEE
very helpful
It is very helpful. This interview article is very interesting. I enjoyed reading.
Thank you for the feedback! Glad to know you've enjoyed it!
This is a great article. Thank you.
Thank you for your kind words!
Diana, Very informative article. I'm a novice writer, and I might be landing an article for a local publication on a demo lady at our local grocery store. I got the idea after years of stopping for a sample of cheese, or whatever, and making light conversation. One day, a small boy came up to her and handed a piece of candy, telling her he loved her. She replied, "I love you too, Eli." She confided in me that one regular customer suffered from severe depression and told Sally that no matter what kind of day she was having, she knew she could come to the store, find Sally with her smile, and feel much better about the day and herself. I want to write about this food sample lady!! Any fun questions I could ask her? Any idea as to how I could direct this interview, focusing on one or two main ideas? Thanks!
Thank you for your kind words, Tonya and for taking the time to share this story with us. First thing that came to my mind after reading this is what Ellen DeGeneres always emphasizes in her show and not only, which is the importance of being kind one to another. I think you can focus your article on the idea that no matter where you are and what job you have (to oneself it might seem an insignificant one) you still have this power to have an impact on other people's lives. Big or small, one can make a change in this world by practicing kindness on an everyday basis. And Sally is a very good representation of that. Some interesting questions I think you could ask her are Who or what inspires her in her day-to-day life? Or if she has any memory of an unexpected kind gesture she has received from someone? And if so, what impact did that have on her life? Depending on the tone you want to set for the article, you can ask questions in a more familiar way, such as "I've seen you light up the day for many customers that walk into the grocery store. Where do you draw your inspiration from to practice kindness on a regular basis?" These are just a few that came to my mind. Here's a cool article about kindness, perhaps it helps you. Just trust your instinct and I'm sure you'll do just fine :)
what up dawg this is a good article.
This is such a well-written article! Love the structure and the way you communicate with the reader. Good tips, will definitely use them.
Thank you, Rhea for your kind words! Glad you enjoyed it!
Someone help me my teacher is making me read this article… HELP!!!
This was a great read! I am struggling with how I can format an interview-magazine- like a story for my school. How should I start it? I have my questions listed, just wondering on how I can start it? Any tips?
Hi Regina! Thank you for your kind feedback. I'd say that once you have all the questions ready, just start writing it. Make a short introduction so that you don't just dive in directly into the interview and from there on just do whatever feels natural. Don't overthink! I'm sure it will turn out just great! :)
Do you have sample online interview responses? Meaning, you sent the one being interviewed a list of questions via email.
Hi Sara! We had a series of interviews on our blog and I've sent the questions via email to the interviewees and received their answers. You can check the final result and read some of the interviews on our blog. Here is one of them . Hope this helps! :)
This was such a useful article and thank you! I will definitely be referring to it over the next week while I complete my English assignment. Do you have any tips on how I could start my Interview? I have all the content, but I am unsure of what the best way to start it would be. Thank you again for the fantastic article.
Thank you, Holly, for your kind words! Glad you found it useful! Well, it depends on the type of interview. I'd say you could start by making a short introduction about the person you're interviewing/ the topic (if there is a certain one). And from there on just go ahead and ask the questions. I'm sure you'll do a great job! Best of luck! :)
Hi Diana, Thank you for this post. I will be starting a new section on my blog where I will interview Women in Business. I plan to write the articles interview style so this has been very helpful. I plan to write it Literal style. Thank you again Raheela
Hi Raheela! I'm glad you found it useful. Thank you for your kind feedback and good luck with your new interviews section!
Hey! Thank you so much for the article. I am using it in class with my students :)
thank you, it gonna help me for my exam
Leave A Comment Cancel reply
Save my name, email, and website in this browser for the next time I comment.
Related Posts
Is your company spending too much on print? Useful tips for budget cuts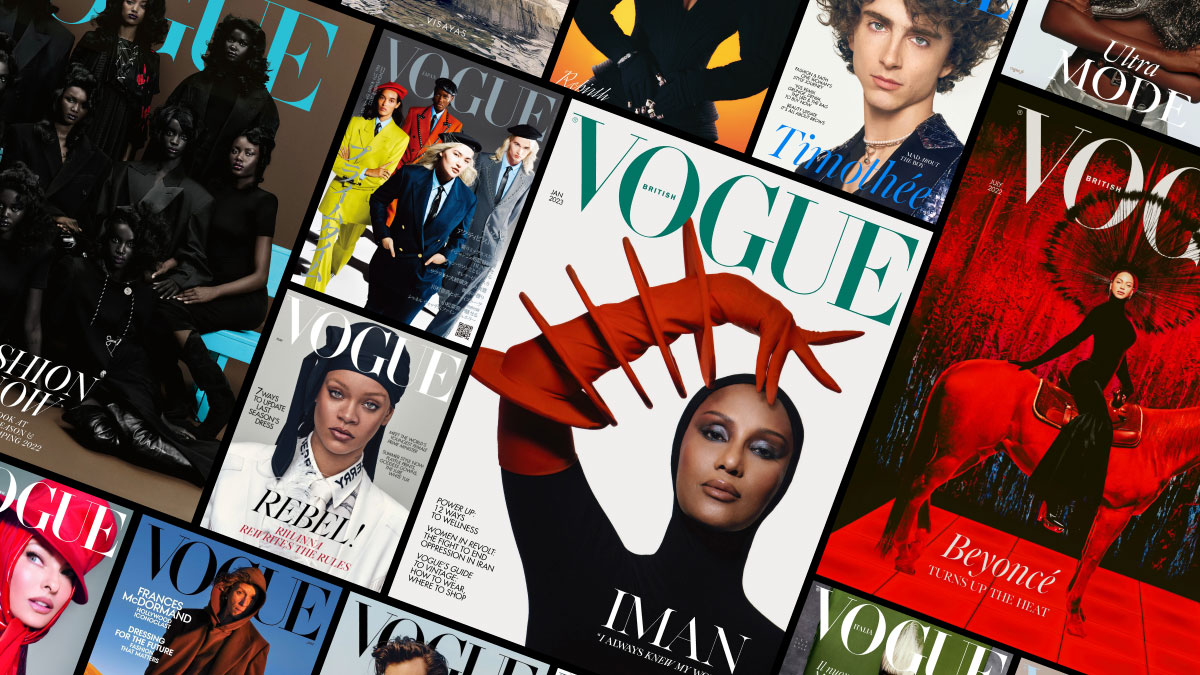 How to design a fashion magazine like Vogue [+templates]
The online flipbook maker.
Flipsnack © Copyright 2022 – All rights reserved.
Create a digital magazine
Make an online catalog, create a digital brochure, make a digital newsletter, help center, flipsnack academy.
How to Write a Profile or Interview-Based Article
The process from interview to conclusion.
Freelancing & Consulting
Retail Small Business
Restauranting
Real Estate
Nonprofit Organizations
Import/Export Business
Food & Beverage
Event Planning
Construction
Operations & Success
Becoming an Owner
A profile is a feature with one very pivotal point and focus—a certain individual who is noteworthy or exemplary in some way. Your readers want to know as much about him as possible. But they don't want the surface stuff, information that's available in untold other articles about him. They want something new. They want something intriguing. And so do the editors who will consider buying your work.
Mastering that art and learning how to write a good profile article can translate into a great new skill for freelance writers , but even seasoned journalists can sometimes have trouble with them. Anyone can benefit from brushing up on the basics because these are among the main types of pieces published in magazines and newspapers.
The Nuts and Bolts of a Profile Article
The person or subject of this type of article typically fits into a special niche of the magazine or has a new program or product to promote. Generally, her achievements, background, and personality are the focus of the article. So how do you get her personality and voice to come through in your writing? As with all types of writing, it can be a bit tricky, but you can follow some prescribed steps and refine them to your own style. 
This method not only builds the article around your subject's voice, but it also tends to get from transcript to rough draft fairly quickly—a real bonus when time is money.
Interview Your Subject 
First, you must deal with conducting the actual interview. You can't write an article, much less a profile piece, if you don't have all the underlying information.
You'll wrap up your interview either with a set of notes or a sound recording, but preferably both. It's usually a bad idea to rely entirely on written notes, particularly in this day and age when you don't have to. You're likely to miss telling voice tones and possibly inferences if you're so busy scribbling everything down that you're not really  listening. 
Not only that, but you're not engaging your target either. You're busy jotting down the information you think you need—today, right now, before you've really begun fleshing out your profile. If you're really listening to your subject as he speaks, you might be surprised at the questions that pop into your mind as you go along. If you're curious about his answers, the odds are strong that your readers will be as well. Stay on your toes. 
If you do take written notes, be sure to tidy up them up and double check any special spellings or names while the interview and the interviewee are still fresh in your mind. Otherwise, commit the entire interview to a recording. Then you can sit down later and listen and transcribe what was said. And you'll always have the recording to refer back to if you later have questions. 
Organize Your Data
If you use a recording device, you might want to consider hiring a transcriptionist to put the recording into writing for you. They're surprisingly affordable, and you can deduct the cost as a business expense come tax time. But some writers are actually fleet enough of fingers to do this themselves, and it can be beneficial.
Make a one-time, tax-deductible purchase of a dictation recorder and machine, the kind that is used in offices all over the country. Transfer the recording to tape, pop the tape into the machine, and begin typing with a handy little foot pedal that lets you pause the recording when you need to catch up.
This can be a worthwhile purchase if you do a lot of writing that involves interviews. And here's the bonus. When you hit periods of conversation that really don't contribute anything to your profile, you can fast-forward right through them. You'll still have them there on tape if you want to go back to them later, but, again, time is money. Don't waste yours typing words of dialogue you'll never use, or highlighting numerous pages of a transcript you had someone else type for you word for word. 
You'll want to limit this period of lag time to a day or two at most, however. You risk losing your gut impressions and instincts—not to mention your motivation—if too much time passes between the interview and when you begin actually writing. And you don't want to wake up yawning one morning to realize that the finished product is due  today  and you haven't even gotten past this step yet. But you know that already, right? Freelancing for a living requires superhuman discipline. 
Review the Transcript 
Now it's time to review your transcript or notes. Identify broad subjects that stick out to you. Are there any recurring items, events, or ideas that this person seems to keep going back to? Is anything mentioned twice, three times, or with great passion? Try to gather at least three to five broad subjects from this first reading.
In a perfect world, your interview subject left the door open, and you can go back with a quick phone call to clarify these high points or get additional information. 
Narrow Your Focus 
Narrow down these broad items. This is a good time to reread the assignment from your editor or, if you're working on something you've pitched to an editor, read over your own pitch. If you haven't even pitched the idea or if you're just flying with this, go back to your original notes.
Was a particular, specific slant mentioned anywhere, such as concentration on the subject's recent accomplishments or promotion of a certain service? Compare your broad subjects to any research on the person that you might have done even before the interview took place. Compare them to your editor's directives or to your own goals. Pull out and refine these broad subject areas and place them temporarily in your transcript as your subheads. You can rename them to catchy subhead titles now, or you can wait until you have a finished product so you can be sure the subheads really grab the gist of the subject area.
Cut and Paste 
Use your word processing program's cut-and-paste function to pull the interviewee's quotes about each topic into the appropriate subhead area. Of course, this is easiest if you transcribed the interview recording yourself, but plenty of software programs out there let you scan and edit a transcript typed by someone else if you didn't receive it in a word processor file. 
Now you're pulling the subject's words out of the chronological order in which he spoke them, but that's OK. In fact, it's ideal. You're not just rewriting what he said. You're writing a profile. 
It's not necessary to pull whole paragraphs. At this point, you'll have a feeling for the direction that your article is taking. Get the best quotes sorted and just leave the rest for future reference. 
Practice Your Craft
By now you should have three to five subtitles, depending on your target length, and some great quotes about each of those topics. It's time to tell your readers why all the subtitles are important.
Use transitional phrasing, such as "Mr. Blank agrees..." or "Ms. SoAndSo makes this clear when she..." to move into your subject's quotes. Finish out the paragraph, subtitle, or idea with more research or exposition, and wrap it up or transition it to the next subtitle.
Write Your Introduction 
Write the introduction . This step depends on your own writing style and preferences.
Many writers prefer to do this first before fleshing out their subtitles. It can establish some internal guidelines for the subtitles and help you get things sorted out in your own mind as to where you're going with this story. But whether you do it before or after you flesh out your subtitles, introduce the subject, her history, and the background of your piece. The introduction should reflect on the article in general, and it should also frame the interviewee in some way. 
Now wrap things up with your conclusion . It often alludes back to the introduction or some interesting part of the interview. You can also use it to give a look ahead to the interviewee's future plans.
No, you're not done yet. Now reread. Revise. Rewrite. And repeat. 
Tips From Start to Finish
Conduct research on your subject prior to interviewing.
Follow your editor's specifications and listen to that person's take on the interviewee's interest points.
Allow yourself a day or two after the rough draft before editing, if possible.
Be aware of the word count assigned as you're writing and make edits , if necessary.
By clicking "Accept All Cookies", you agree to the storing of cookies on your device to enhance site navigation, analyze site usage, and assist in our marketing efforts.
Essay Writers
How It Works
Prices & Discounts
How Do You Write an Interview Paper: 8 Best Practices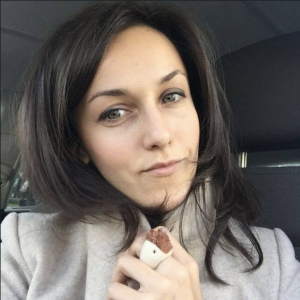 Table of contents
You know what an interview is and what writing an essay constitutes. But does that make writing an interview paper a cakewalk? Not quite.
Considering all the planning and pre-work this assignment requires, it can prove to be an exhausting and intimidating experience for students.
In this article, we will tell you how to write an interview paper and do a good job at it.
Order Now: High-Quality Interview Paper, Written from Scratch
What is an interview paper.
An interview paper is an academic essay that focuses on providing different viewpoints or perspectives on a particular subject or topic by interviewing one or more people and gathering enough knowledge and research to write a stellar paper .
The most important difference is that, unlike other essay writing assignments where your references and sources are scholarly books and reading materials, interview essays build up on your sources being people who are authentic and authoritative in their field.
How Do You Write an Interview Paper that Stands Out
Wondering how to get started? Here are eight best practices to help you write an interview paper that gets you the grades you desire.
Plan your time beforehand
It may feel overwhelming and daunting to do so much before conducting your interview for you to start writing your interview paper, but it's always better to be prepared and plan your time accordingly than to leave it for the last minute and work on it as it comes.
To do this efficiently:
prepare your interview questions;
practice your interviewing techniques;
know and research about the person who you've requested for an interview;
plan your time and agenda;
be ready for a few follow-up questions.
Keep in mind that if you plan on doing an hour or a 2-hour long interview, make time slots as per the number of questions you need to ask and give your interviewee enough time to answer all your questions.
Identify the purpose of the paper
The primary purpose of the paper will determine your subject, and the topics that the paper will cover, introduce new concepts, and resonate with your readers.
Suppose your paper is about an opinionated statement. In that case, it is advisable to get an interview from an authoritative figure who is related to and has enough knowledge to give valuable insights on the subject matter.
On the other hand, if your paper is about a public view or subject, it is important to gather the viewpoints of multiple people to understand different perspectives on one central issue.
Finally, if your paper is on a medical, health, or scientific topic, it is best practice to take your interview someone who has expert knowledge in these fields.
Research the subject matter
For you to write on a specific subject matter and conduct an interview with someone based on their expertise, you need to first thoroughly research the subject topic, delve into the history and background of the topic to understand it better, and write an effective and quality paper on it.
To make the research process easier you can:
Look for and listen to older interviews on topics that are related or similar. This will give you an idea of what kind of questions were asked by the interviewer before so that you can figure out a list of appropriate questions for yourself to ask your interviewee and add in some new questions which have never been asked before.
Read a lot of books, articles, research papers, and other works that are associated with your subject, both online and in print. This will not only build your knowledge about the topic but also instigate in asking your interviewee crucial, intelligent, and engaging questions.
Create a list and prepare your questions
When you're preparing to conduct an interview for your paper, list down all the questions that you would want to ask your interviewee. These questions will mostly come up during your research and brainstorming.
Brainstorm and ask yourself several 'yes' or 'no' questions to include in the interview, to make it easier to gather factual information.
Asking open-ended 'how' or 'why' questions to your interviewee will focus on understanding in-depth explanations and help you find additional background information that was not found during the initial research.
Asking quality questions is a very critical part of writing a great interview paper, and if your research is thorough, coming up with interesting and powerful questions will be no problem.
It is recommended to have more questions on your list than you are prepared to ask during the interview. Rank your selected questions based on how much information you can gather from them and how important they are. Finally, ask your interviewee the best questions from this list based on the interaction or the situation.
Here's an interesting video by Kirstine on asking good qualitative interview questions
Conduct a face-to-face interview
Once you have all your questions ready and are prepared to conduct the interview, it is time for you to contact and invite your resource person. Always keep in mind to interview someone who is an authority on the subject matter that you're writing your interview paper on.
When inviting, explain to them who you are, and tell them the reasons why you chose them for the interview. Keep an alternate or a backup resource person in case the first interviewee refuses to give an interview or can't make it.
Choose a peaceful and quiet place as the interview site, with absolutely no distractions. Reach this site well before time to prepare and be ready to take the interview. If you're unable to meet in person, do it over a video conferencing call.
Conducting a face-to-face interview is more effective as it makes it more personal and minimizes miscommunication.
Ask for consent before recording and take notes
If it's an in-person conversation, or a telephone or video interview, it is always good practice to ask your interviewee for consent or a written agreement before recording the meeting, videotaping the interview, and using their words or their image for your paper.
Even if you are recording the interview, always take notes of all the valuable insights that your interviewee is giving about your paper's topic, as this will not only speed up the writing process but also help you highlight important points during the discussion.
Recording your interview can also help in avoiding misunderstandings and misinterpretations and make it easier to understand your interviewee's context.
After you thank your interviewee for their time and thoughts, note down your impressions of the interview, to properly articulate and know what to use and write in your interview paper.
Create an outline and format your paper
Now that you have all the information you need to craft an excellent interview paper. The next crucial step for you is to create an outline for your paper to bring structure and create a flow between each paragraph and, eventually, throughout your paper.
Your interview paper should have an introduction, body paragraphs, and a conclusion . Your introductory paragraph should contain information and be phrased in such a way that it grabs the attention of your readers, making them want to read further.
Respect the interviewee's opinions and thoughts and clearly state the ideas that were your own and the ones that were from your resource person.
Decide what format you would like your interview paper to be in:
Narrative Format : This will be formatted and written in the form of a story. Here you can write from your point of view or the point of view of your interviewee. This is the most common format used in colleges and gives you scope to add context and analysis .
Personal or Conversational Format : This format is presented in the form of dialogues. Here, the tone is informal, and you can address the readers directly by writing in the first or second person.
Question & Answer Format : This places the questions you asked your interviewee and the responses they gave to it right next to it. These are mostly always direct quotes and can be used when interviewing a single person or a group of people who are closely related.
Cite your paper well
If you have used additional resources or supplementary materials in the body paragraphs of your interview paper, cite your sources. Even if they were just for research purposes or gathering background information about your interviewee, it is very important to specify your sources and cite them properly.
Make sure that any direct quote that has been used in your paper has quotation marks to avoid unintentional plagiarism .
Mastering the art of how you write an interview paper is no easy feat. It is time-consuming and takes practice to be good at it.
Consider keeping our effective and simple best practices to elevate your writing and interviewing skills, helping you score well in this assignment.
Still, wondering how you write an interview paper? Writers Per Hour can help.
Our team of expert interview paper writers can help you put together a high-scoring interview paper written from scratch. From planning and research to drafting, editing, and proofreading, our writers are equipped to help you every step of the way.
Last edit at Dec 25 2022
Adela Belin
What does your service do?
We write original and plagiarism-free papers from scratch. Please take a look at how it works.
Do you have free essay samples?
Yes, we have free essay samples, and you can check them out here.
How much does it cost?
The price depends on several factors you can check our prices and discounts.
How to order my essay?
To start your order, please go here and fill out the form online.
Share this article
Sign up and get 20% off on a custom paper
By entering your email above you agree to receive our periodical marketing emails. We do not sell or share your personal information.
Thanks for the subscription!
You've just made a terrific decision. Please make sure to check your inbox for the discount code.
Paper Editing
IB ToK Essay
Pay to Write My Paper
Write My Thesis
Buy College Paper
Analysis Papers
Biology Papers
Ph.D Papers
IB Internal Assessment
Personal Statement
Write My Speech
Research Proposal
Write Me Assignment
Write my Book Report
Do My Powerpoint
Buy Capstone Project
Buy Coursework
Do My Research Paper
Write my Discussion Post
Write My Annotated Bibliography
Argumentative essay writer
Dissertation Writers
Pay to Do Term Paper
Extended essay
Fast essay writer
Write My Literature Review
Write My Essay
Homework Writers
Business Plan Writers
How to Write a News Article: Home
What Is News?
How to Interview
The Intro or Lede
Article Format/Narrative
How To Write A Review
Writing News Style
Naming Sources
Revising/Proofreading
Photos/Graphics
The Future of News?
Why Write News?
Thinks news is dead? As one noted reporter, Mark Twain, described it, "The reports of my death are greatly exaggerated."
Americans still choose serious news
The Truth About Newspapers in the 21st Century
Many newspapers are still thriving and even more internet news sources are coming online every day. The internet follows the same conventions as print news outlined in the tabs above, so there's a growing need for writers who can gather and report information in all industries.
The person who can communicate has the advantage professionally. Every industry has a need for communications in public relations, education, sales, promotions, even business development. Being able to write lets you take your career in multiple directions.
In addition to Journalism and Mass Communication classes, St. Petersburg College's student newspaper – the Sandbox – is the perfect place for you to develop and refine your writing. Follow the tabs above from left to right to create an article. Then send it in here!
The Sandbox is open to any student and any kind of news:
What's going on in your major? What's going on in your neighborhood? What does is mean to you as a student?
What's going on at the college, in the state and in the nation & world that has an impact on college students?
Business & Technology – What's new in computers, cell phones, or tablets?
Arts – Theater reviews, dance review, museum and gallery exhibits
Entertainment – Which movie? Which TV show? Got a favorite tune or a book? How about a restaurant or club? Travel somewhere great lately?
Health & Science – Got some health tips for your fellow students? Some exercise or food suggestions?
Sports – Enjoy the match, then tell us all about it!
Photos & Videos – Show us your friends, your pets, where you live, where you hang, the winning shot, that oops moment!
What can you dream up?
Professional Journalism Sites
American Journalism Review
American Society of News Editors
Associated Press
Columbia Journalism Review
Florida Society of News Editors
Investigative Reports& Editors
National Press Foundation
The News Manual
Newspaper Association of America
Online News Association
The Pew Research Center's Project for Excellence in Journalism
the Poynter Institute
Society of Professional Journalists
The Association of Alternate Newsmedia
Next: What Is News? >>
Last Updated: Dec 6, 2022 3:08 PM
URL: https://spcollege.libguides.com/news