As the first impression that the hiring manager has of you, the cover letter is an important piece of your job application. You want to show that you have what it takes to manage a large group of individuals and operate at a high executive level, but you also want to appear respectful, friendly, and easy to work with. It can be challenging to strike this balance while also showcasing your enthusiasm for your potential future job. This professional senior manager cover letter sample is here to help you identify the features of a strong cover letter so that you can implement them in your own writing.
Professional Senior Manager Cover Letter Sample
Senior Manager Cover Letter Must-Haves
A strong cover letter should be businesslike, concise, and leave an impression of you as a competent candidate. As in the professional senior manager cover letter sample, remain focused on the topic and use friendly but respectful language. Address the hiring manager by first and last name rather than the impersonal To Whom It May Concern. You can also leave out any mention of references, as these are expected by default.
Best Active Verbs for a Senior Manager Cover Letter
To keep the language in your letter as varied and interesting, as in this professional senior manager cover letter sample, use powerful verbs such as delegated, oversaw, communicated, advised, coordinated, motivated, trained, streamlined, and reorganized.
Cover Letter Text
Dear Dan Park,
I am writing to express my interest in the senior manager position that just opened at New Idea Enterprises. As an efficient and strategic planner with strong interpersonal skills and well-developed leadership qualities, I believe that I would be a good fit for your team.Multilevel management can get confusing, and I am dedicated to making sure that I operate as smoothly as possible within my position. By remaining organized and enforcing order within my team, I am able to deal with the complexity of higher level management responsibilities. Your job posting mentioned that you are looking for candidates with the skills and ambitions to develop their team. I strongly believe that when working together, a group of individuals can be so much more than the sum of their parts. As such, I am dedicated to fostering effective and positive relationships between team members, developing talent through mentorship and coaching, and providing space in which everyone can feel motivated and valued. My strong communication skills allow me to both express my ideas and listen actively to the ideas of others, and my experience has taught me how to strike the perfect balance between considering outside opinions and making firm, resolute decisions.I hope you will agree that my experience and skills would make me well suited for this position. I look forward to speaking with you further about how my leadership and organization could contribute to New Idea Enterprises. Thank you for your consideration.
In addition to the Professional Senior Manager Cover Letter example, be sure to check out our Senior Operations Manager resume example .
Advertisement
College Majors
Job Search Advice
Senior Manager Cover Letter
Job Description
How To Hire
Best States
Remote Jobs
Part Time Jobs
Full Time Jobs
Work From Home Jobs
Interview Questions
Cover Letter
Senior Manager Cover Letter (With Examples)
Cover letters are an important part of any job application, no matter the job you are applying to. It gives you the opportunity to speak directly to the person that is considering hiring you and lets you tell them, in your own words, why you would be the perfect candidate.
Resumes outline the barebones of your experience, but cover letters allow you to show off a bit of your personality, as well as explain how your particular skill set would make you perfect for the job.
Looking for a job? These position are hiring now near you:
Senior Manager
Senior Group Manager
Senior Director
Senior Business Manager
Global Manager
Parts of a Cover Letter
Cover letters typically follow the same format , no matter the job you are applying to. Because of this, almost every word processor has cover letter templates you can use, including Microsoft Word and Google Docs. Try looking around to see which one appeals to you.
If you are building one from scratch, you'll need an opening, a body, and a closing. First, you address the hiring manager , you explain why you would be the perfect addition to their team in the body, and you finish out the letter with a professional farewell.
Senior Manager Cover Letter Opening
To begin your document, make sure you are typing in 12 point Times New Roman font, single-spaced. Cover letters are not the place for Comic Sans.
The header of the document should include your full name, your phone number, and email. Keeping your contact info at the top of the document makes it easy to access when they inevitably want to contact you for an interview.
The first line of the document should be the date, formatted as Month Day, Year.
Then hit enter to start a new paragraph. In this next section, you are going to provide the address of the letter, like you were going to put the letter in the mail, even if you are providing the letter electronically. Include all the information you know about the person who will be reading the letter, usually a hiring manager or a supervisor .
Using the hiring manager 's full name is typically the way to go, as it is usually included in the job listing. If you cannot find the name there, try doing some preliminary research on the company, either through their website or LinkedIn, to see if you can find someone with the title of a hiring manager.
Don't be afraid to do a little digging, as companies would love to see that you've demonstrated interest in what they do and who they employ.
Once you have their name, consider using a prefix, such as Mr. or Ms., especially if the workplace seems more traditional. Even if you believe they are a casual group, it's best to err on the side of professionalism . The only exception to this rule is if you are unsure of the person's gender, like if their name is Jessie or Pat. In that case, just the full name is fine.
If you can not find their name, don't worry. Though adding a full name can be a bit of a personal touch, it is certainly not required, especially if this information is not readily available.
The address in full should include their name, their job title, the company's name, and the company's address. Then, in a new paragraph, enter in your introductory line, "Dear Mr. So-and-So." In the end, the opening should look something like this:
March 18, 2021 Mr. John Doe Hiring Manager ABC Company 123 Main St. Anywhere, USA, 12345 Dear Mr. John Doe,
Search For Senior Manager Jobs
Senior manager cover letter body.
Now that you have the easy part out of the way, we're going to go into the middle section. The body will be a bit more freeform than the previous section, but it still follows a general outline.
You're not here to beat around the bush, so start out your letter by stating your intention. Hiring managers could be hiring for multiple positions, so be sure to let them know which position you are applying for and where you found it.
I am writing to express my interest in your senior manager position, as posted on Zippia . Com.
You can also use your opening to tell a little bit about yourself or what drew you to the job listing. For example:
As a long-time admirer of your firm, I am excited to submit my application for the Senior Management opening, as posted on Zippia.com.
Next, you will explain to the reader why you think you would be a good fit for this position by highlighting some of your most important and relevant skills.
To begin, take a look at the job listing itself and what skills or traits they are asking for. Note which of these skills you have, and make sure to list those first. You can even use the same phrasing used in the job listing to describe the skills you have.
For example, if the job listing describes the ideal candidate as someone who can manage and delegate large teams effectively, you could write:
I am experienced in managing large teams and delegating to team members.
You can also choose to list off some of the most important skills in a bulleted list. Keep this brief, though, limiting yourself to about four or five entries.
Here is an example:
I believe I would be a great fit for your Senior Manager position as I have: Experience delegating tasks and enforcing deadlines Great conflict resolution and problem-solving skills Exceptional communication skills Particular attention to detail
After listing off what makes you a great candidate, take a moment to talk about your experience. This does not mean repeating what is on your resume but rather taking a deeper dive into what your resume may gloss over.
Talk about your most recent positions and what skills you gained while working there. You can speak to a particular project you are proud of or an obstacle you overcame. This is your chance to tell your story.
Talk about your accomplishments, especially those that can be backed up with data and numbers. It is more impactful to say, "I simultaneously managed a team of ten employees and completed four large-scale projects," rather than "I managed large teams and big projects."
Brag about your stats, as this helps the hiring manager understand the magnitude of what you have accomplished. Try speaking to the most relevant experiences on your resume while staying upbeat and positive.
After you have emphasized all you wanted to show the hiring manager, write a concluding statement. Something to the effect of "I believe my unique set of skills would make me an ideal candidate for this position with ABC Company" would work nicely.
Senior Manager Cover Letter Closing Lines
The good news, the hardest part is over. Next, it is time to wrap things up.
Thank the reader for their time and their consideration. Reiterate your excitement to hear from them soon. List out your contact information one more time so they know how to reach the writer of this fantastic cover letter, and then end the letter with a formal farewell. "Sincerely" and "Regards" are both good. Finally, add your full name.
It should end up looking something like this:
I would love to discuss opportunities with ABC company, and I hope to hear from you soon. To reach me, call (555) 555-5555 or email me at

[email protected]

Thank you for your time and consideration. Sincerely, FirstName LastNam
Example of a Senior Manager Cover Letter
Once it is all put together, your cover letter should look something like this:
March 18, 2021 Mr. John Doe Hiring Manager ABC Company 123 Main St. Anywhere, USA, 12345 Dear Mr. John Doe, As a long-time admirer of your firm, I am excited to submit my application for the Senior Management opening, as posted on Zippia.com. I believe I would be a great fit for your Senior Manager position as I have: Experience delegating tasks and enforcing deadlines Great conflict resolution and problem-solving skills Exceptional communication skills Particular attention to detail I am an experienced manager who is new to the area, looking to find the next step in my career. I earned my bachelor's degree in management from State University in 2008, and I have since earned years of experience in management positions across the country. I am a critical thinker with a particular desire to solve problems and find cost-saving solutions. I have managed several teams, both small and large, and have gained meaningful conflict resolution experience. I would love to discuss opportunities with ABC Company, and I hope to hear from you soon. To reach me, call (555) 555-5555 or email me at

[email protected]

Thank you for your time and your consideration. Sincerely, FirstName LastName
Final Thoughts
Writing a cover letter can be a daunting task, especially if you are like so many who do not enjoy talking about themselves. However, with the several templates available, and the nearly never-ending amount of advice to be found, writing a cover letter can be another skill that you add to your repertoire.
There is nothing stopping you from creating a cover letter that helps you stand out from your competition; all it will take is a little practice.
Zippia Careers
Executive Management Industry
Senior Manager Locations
Resumes Resume Builder Resume Templates Creative Resume Modern Resume Basic Resume Professional Resume Traditional Resume ATS Resume High School Student Resume Word Resume Resume Examples Resume Formats Hybrid Resume Functional Resume Chronological Resume How to Write a Resume Skills Summary --> Resume Objectives Work History list References Resume Skills
Cover Letters Cover Letter Builder Cover Letter Templates Cover Letter Examples Cover Letter Formats How to Write a Cover Letter
CV CV Templates
Job Overviews
Resources Career Guides How to Become
Resume Builder
Cover Letter
Business Operations
Business Manager
Senior Manager Cover Letter Examples
Senior Managers lead multiple workers in an organization and may also be involved with business development. These experienced professionals complete duties such as allocating resources, preparing budgets, providing guidance and advice to other managers, administering employee appraisal programs, formulating strategic directions for the company, supervising daily operations, initiating corrective actions, analyzing competitors, finding new business opportunities, and minimizing risks affecting the organization.
Not exactly what you are looking for? Check our complete library of over 1000 cover letter examples .
Rate This Template:

For help with your resume, check out our extensive Senior Manager Resumes .
A good cover letter can make you stand out from the rest. Learn how to create one in our Cover Letter guide .
Include These Senior Manager Skills
Managerial experience
Mentoring and counseling expertise
Analytical skills
Strategic planning
Decision-making
The ability to work under pressure
Being able to motivate others
Computer proficiency
Strong communication and presentation skills
Similar job qualifications and experience are visible in the sample cover letter provided below.
Dear Ms. Chaney:
With this letter and the enclosed resume, I would like to express my strong interest in the Senior Manager position you have available. As a successful manager with more than 17 years of experience driving superior operations and overall business leadership, I possess a wide range of knowledge and experience that will allow me to contribute toward the success of your company.
My expertise lies in successfully creating and implementing strategic operational processes, coaching and developing employees, and managing business development efforts to realize multimillion-dollar revenue increases. Through my experience, I have become adept in overseeing a wide variety of operational responsibilities to ensure outstanding customer service and optimize financial performance across a variety of industries.
The following achievements demonstrate my qualification for this position:
Conceptualizing and establishing strategic initiatives and programs to propel the achievement of corporate goals, enhance staff performances, and drive operational success.
Realizing consistent improvements in productivity, performance, and sales achievements through effective relationship management, problem-solving, and interpersonal abilities.
Instrumental in transforming a printing company from a small business with $4.6M in annual revenue and a 24-member staff to a thriving operation with $28.9M in annual revenue and a 56-member staff.
My proven dedication to optimizing operational success and business performance, along with my excellent analytical and communication talents, will contribute immensely to the success of Pivotal Media. Thank you for your consideration; I look forward to speaking with you soon.
Timothy K. Dean
A professional cover letter is the first step toward your new job!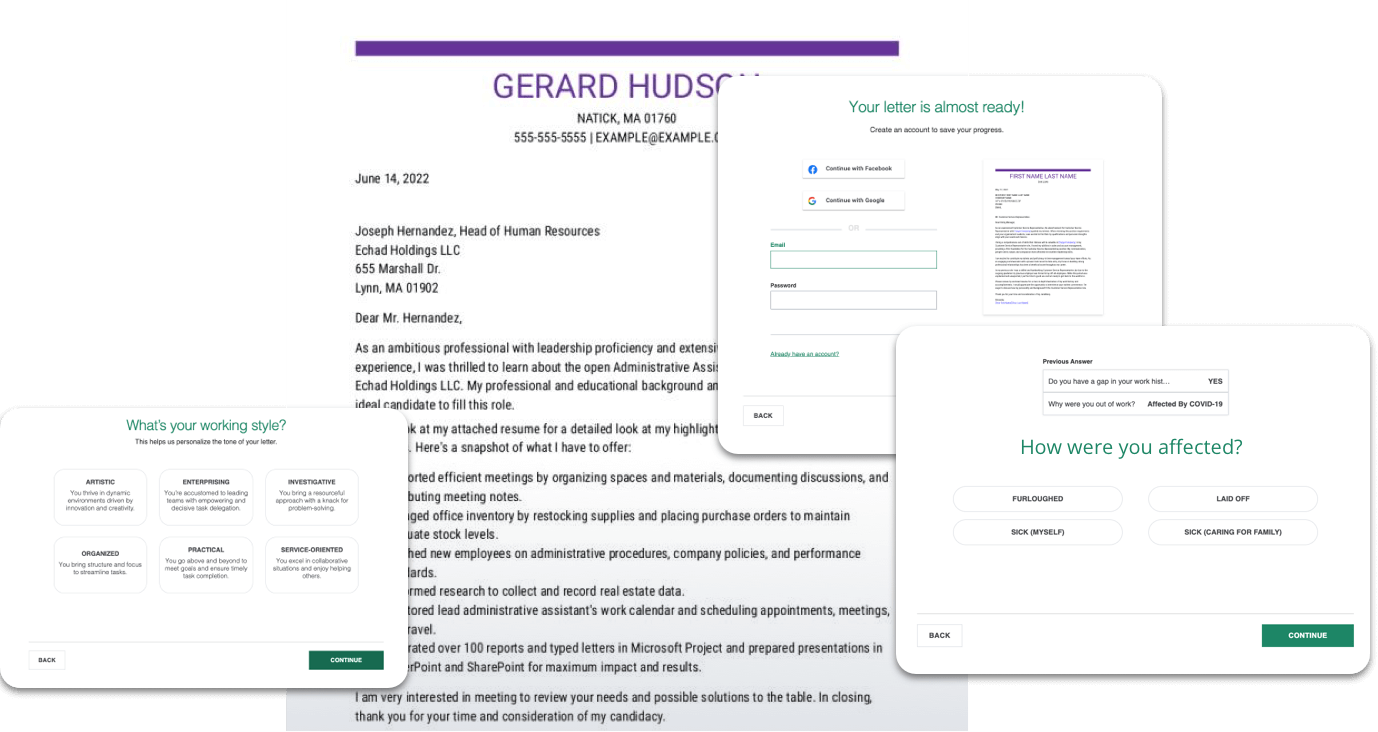 Senior Project Manager Cover Letter Example + Tips
Having a good resume is important, but what good is it if it never gets read? An expertly crafted cover letter gets your cover letter moved to the top of the stack. In order to do this, you must make sure that it is well-written and relevant to the position you are applying for. The below free senior project manager cover letter example and accompanying tips will give you the guidelines you need to learn how to write a cover letter that gets you noticed.
Dear Ms. Jones,
Managing large scale projects isn't easy. It requires good leadership, strong organization, and attention to the most minute of details. These are skills I have spent 15 years perfecting, and I would love to bring my experience to the team at Price & Jacobs.
Over the years, I have overseen IT projects for dozens of companies, including six that are ranked in the Fortune 500. The complexity and scope of the projects have varied, but I have overseen everything from basic system upgrades to the $1 million creation of an internal operations system for a company with 15 offices in four different countries. Each project was completed on time, on budget, and exceeding client expectations as can be seen in the attached reference letters.
The ability to oversee all aspects of a project simultaneously, with attention paid to every detail but without losing site of the big picture, is one that I have mastered. It goes without saying that time management and multitasking are two of my strengths, but equally important is my ability to lead a team, ensuring that each member delivers top quality work, and properly delegating tasks to capitalize on their specific strengths.
I look forward to the chance to use my experience as senior project manager at Price & Jacobs, and I welcome the opportunity to discuss this position further in person. My resume and references are attached, and thank you in advance for your consideration.
Average Rating
What to include in a senior project manager cover letter.
For a senior position, you want to make sure to include specific examples of your skills, accomplishments, and experience to prove that you are up to the challenge. Your cover letter should be concise and the tone professional. Open with a personalized explanation of why you are qualified for the job and end with a strong closing statement as demonstrated in the free senior project manager cover letter sample above. Always leave the door open for an interview, and thank the reader for his or her time.
Industry Specific Skills to Include
You may have noticed that the free senior project manager cover letter sample highlighted several job specific skills. Here are a few relevant skills you can include to strengthen your cover letter.
● Leadership: The ability to successfully manage a team is a vital part of a senior project manager's job. ● Organization: Keeping track of goals, deadlines, and budgets requires extremely strong organizational skills. ● Multitasking: It is your job to oversee all aspects of the project, so being able to multitask is crucial. ● Problem solving: Problems are inevitable, so it is important that you can solve them quickly and efficiently.
Related Skills
Project manager supervision
Logistics support and recovery
Managerial finance
Undercover assignments
Project evaluation
Forensic Project Analysis
Effective project management
Special projects
Project-Level Hardware Planning
Letter-writing
More Resume Examples for the Next Step in Your Information Technology Career
Agile Project Manager Resume
Assistant Project Manager Resume
Contracts Manager Resume
Devops Engineer Resume
Global Project Manager Resume
Help Desk Support Resume
Project Management Director Resume
Technical Project Manager Resume
Technical Support Engineer Resume
More Cover letter Examples for the Next Step in Your Information Technology Career
More Cv Examples for the Next Step in Your Information Technology Career
Agile Project Manager CV
Assistant Project Manager CV
It Manager CV
Project Leader CV
Project Manager CV
Project Officer CV
Project Support Officer CV
Support Technician CV
Systems Analyst CV
Technical Consultant CV
RESUME BUILDER
COVER LETTER BUILDER
Advertisement
SUGGESTED TOPICS
The Magazine
Most Popular
Newsletters
Managing Yourself
Managing Teams
Work-life Balance
The Big Idea
Data & Visuals
Reading Lists
Case Selections
HBR Learning
Topic Feeds
Account Settings
Email Preferences
How to Write a Cover Letter
Advice for tackling one of the toughest parts of the job-hunting process.
Perhaps the most challenging part of the job application process is writing an effective cover letter. And yes, you should send one. Even if only one in two cover letters gets read, that's still a 50% chance that including one could help you. Before you start writing, find out more about the company and the specific job you want. Next, catch the attention of the hiring manager or recruiter with a strong opening line. If you have a personal connection with the company or someone who works there, mention it in the first sentence or two, and try to address your letter to someone directly. Hiring managers are looking for people who can help them solve problems, so show that you know what the company does and some of the challenges it faces. Then explain how your experience has equipped you to meet those needs. If the online application doesn't allow you to submit a cover letter, use the format you're given to demonstrate your ability to do the job and your enthusiasm for the role.
No one likes job hunting. Scouring through online job listings, spiffing up your résumé , prepping for grueling interviews — none of it is fun. For many, the most challenging part of the process is writing an effective cover letter. There's so much conflicting advice out there, it's hard to know where to start. Do you even need one, especially if you're applying through an online system?
What the Experts Say
The answer is almost always yes. Sure, there will be times when you're submitting an application online and you may not be able to include one, but whenever possible, send one, says Jodi Glickman, a communications expert and author of Great on the Job . "It's your best chance of getting the attention of the HR person or hiring manager and an important opportunity to distinguish yourself from everyone else." And in a tight job market, setting yourself apart is critical, says John Lees, a UK-based career strategist and author of Knockout CV . Still, as anyone who's ever written a cover letter knows, it's not easy to do well. Here are some tips to help.
Do your research first.
Before you start writing, find out more about the company and the specific job you want. Of course, you should carefully read the job description, but also peruse the company's website, its executives' Twitter feeds, and employee profiles on LinkedIn. This research will help you customize your cover letter, since you shouldn't send a generic one. It'll also help you decide on the right tone. "Think about the culture of the organization you're applying to," advises Glickman. "If it's a creative agency, like a design shop, you might take more risks, but if it's a more conservative organization, like a bank, you may hold back."
If at all possible, reach out to the hiring manager or someone else you know at the company before writing your cover letter, advises Lees. You can send an email or a LinkedIn message "asking a smart question about the job." That way you can start your letter by referencing the interaction. You might say, "Thanks for the helpful conversation last week" or "I recently spoke to so-and-so at your company." Of course, it's not always possible to contact someone — or you may not get a response. That's OK. It's still worth a try.
Focus it on the future.
While your résumé is meant to be a look back at your experience and where you've been, the cover letter should focus on the future and what you want to do, says Glickman. "It can be helpful to think of it as the bridge between the past and the future that explains what you hope to do next and why." Because of the pandemic there is less of an expectation that you'll be applying for a job that you've done before. "There are millions of people who are making career changes — voluntarily or involuntarily — and need to pivot and rethink how their skill set relates to a different role or industry," says Glickman. You can use your cover letter to explain the shift you're making, perhaps from hospitality to marketing, for example. Think of it as an opportunity to sell your transferrable skills .
Open strong.
"People typically write themselves into the letter with 'I'm applying for X job that I saw in Y place.' That's a waste," says Lees. Instead, lead with a strong opening sentence . "Start with the punch line — why this job is exciting to you and what you bring to the table," says Glickman. For example, you might write, "I'm an environmental fundraising professional with more than 15 years of experience looking for an opportunity to apply my skills in new ways, and I'd love to bring my expertise and enthusiasm to your growing development team." Then you can include a sentence or two about your background and your relevant experience, but don't rehash your résumé.
Read more about
How to Write a Resume That Stands Out
Chances are the hiring manager or recruiter is reading a stack of these, so you want to catch their attention. But don't try to be funny. "Humor can often fall flat or sound self-regarding," says Lees. Stay away from common platitudes, too. "Say something direct and dynamic, such as 'Let me draw your attention to two reasons why I'd be a great addition to your team.'"
If you have a personal connection with the company or someone who works there, also mention it in the first sentence or two. And always address your letter to someone directly. "With social media, it's often possible to find the name of a hiring manager," says Glickman.
Emphasize your personal value.
Hiring managers are looking for people who can help them solve problems. Drawing on the research you did earlier, show that you know what the company does and some of the challenges it faces. These don't need to be specific but you might mention how the industry has been affected by the pandemic. For example, you might write, "A lot of health care companies are overwhelmed with the need to provide high-quality care while protecting the health and safety of their staff." Then talk about how your experience has equipped you to meet those needs; perhaps explain how you solved a similar problem in the past or share a relevant accomplishment. You want to provide evidence of the things that set you apart.
Lees points out that there are two skills that are relevant to almost any job right now: adaptability and the ability to learn quickly. If you have brief examples that demonstrate these skills, include those. For example, if you supported your team in the shift to remote work, describe how you did that and what capabilities you drew on.
Convey enthusiasm.
"When you don't get hired, it's usually not because of a lack of skills," says Glickman. "It's because people didn't believe your story, that you wanted the job, or that you knew what you were getting into." Hiring managers are going to go with the candidate who has made it seem like this is their dream job. So make it clear why you want the position . "Enthusiasm conveys personality," Lees adds. He suggests writing something like "I'd love to work for your company. Who wouldn't? You're the industry leader, setting standards that others only follow." Don't bother applying if you're not excited about some aspect of the company or role.
Watch the tone.
At the same time, don't go overboard with the flattery or say anything you don't mean. Authenticity is crucial. "Even if you've been out of work for months, and would take any job at this point, you want to avoid sounding desperate ," says Lees. You don't want your tone to undermine your message, so be professional and mature. A good rule of thumb is to put yourself in the shoes of the hiring manager and think about "the kind of language that the hiring manager would use with one of the company's customers." Of course, it can be hard to discern your own tone in writing, so you may need to ask someone to review a draft (which is always a good idea anyway — see advice below). Lees says that he often cuts outs "anything that sounds like desperation" when he's reviewing letters for clients.
Keep it short.
Much of the advice out there says to keep it under a page. But both Glickman and Lees say even shorter is better. "Most cover letters I see are too long," says Lees. "It should be brief enough that someone can read it at a glance." You do have to cover a lot of ground — but you should do it succinctly. This is where asking a friend, former colleague, or mentor to review your letter can be helpful. Ask them to read through it and point out places where you can cut.
Get feedback.
In fact, it's a great idea to share your cover letter with a few people, says Lees. Rather than sending it off and asking, "What do you think?" be specific about the kind of feedback you want. In particular, request two things. First, ask your friend if it's clear what your main point is. What's the story you're telling? Are they able to summarize it? Second, ask them what's wrong with the letter. "Other people are more attuned to desperation, overselling, over-modesty, and underselling," says Lees, and they should be able to point out places where the tone is off.
When you can't submit a cover letter.
Many companies now use online application systems that don't allow for a cover letter. You may be able to figure out how to include one in the same document as your résumé, but that's not a guarantee, especially because some systems only allow for data to be entered into specific boxes. In these cases, use the format you're given to demonstrate your ability to do the job and your enthusiasm for the role. If possible, you may try to find someone to whom you can send a brief follow-up email highlighting a few key points about your application.
Principles to Remember
Have a strong opening statement that makes clear why you want the job and what you bring to the table.
Be succinct — a hiring manager should be able to read your letter at a glance.
Share an accomplishment that shows you can address the challenges the employer is facing.
Try to be funny — too often it falls flat.
Send a generic cover letter — customize each one for the specific job.
Go overboard with flattery — be professional and mature.
Advice in Practice
Case study #1: demonstrate an understanding of what the company needs..
Michele Sommers, the vice president of HR for the Boys & Girls Village, a nonprofit in Connecticut, recently posted a job for a recruiting and training specialist. "I was looking for someone with a strong recruiting background who could do everything from sourcing candidates to onboarding new hires," she says. She also wanted the person to hit the ground running. "We're a small team and I can't afford to train someone," she says.
More than 100 candidates applied for the job. The organization's online application system doesn't allow for cover letter attachments, but one of the applicants, Heidi (not her real name), sent a follow-up email after submitting her résumé. "And it's a good thing she did, because she would've been weeded out otherwise," Michele says.
Heidi's résumé made her look like a "job hopper" — very short stints at each previous employer. Michele assumed she was a poor performer who kept getting fired. She was also the only candidate who didn't have a four-year college degree.
But Heidi's email caught Michele's eye. First off, it was professional. Heidi stated clearly that she was writing to double-check that her application had been received. She went on to explain how she had gotten Michele's name and information (through her husband's boss, who was on the board) and her personal connection to Boys & Girls Village (her father-in-law had done some work with the organization).
Further Reading
Stand Out in Your Interview
What really stood out to Michele, though, was Heidi's understanding of the group and the challenges it was facing. She'd done her research and "listed some things she would do or already had done that would help us address those needs," says Michele.
"The personality and passion she conveyed in the cover letter came through during her phone screening," Michele says. Heidi ended up being more than qualified for the job. "I wanted this role to be bigger from the get-go, but I didn't think that was possible. When I met her, I knew we could expand it." Three weeks later Michele offered Heidi the job and she accepted.
Case Study #2: Catch their attention.
Over the past four years, Emily Sernaker applied for multiple positions at the International Rescue Committee (IRC). She never gave up. With each application, she sent a personalized cover letter. "I wanted my cover letter to highlight my qualifications, creative thinking, and genuine respect for the organization," she says.
Sarah Vania, the organization's regional HR director, says that Emily's letters caught her attention, especially because they included several video links that showed the results of Emily's advocacy and fundraising work at other organizations. Emily explains, "I had prior experience advocating for former child soldiers, human trafficking survivors, vulnerable women, and displaced persons. It's one thing to make statements in a cover letter, like 'I can make a pitch, I am a creative person, I am thoughtful,' but showing these qualities seemed like a better way of convincing the recruiter that the statements were true."
This is what Emily wrote to Sarah about the video:
Here is a short video about my story with activism. The nonprofit organization Invisible Children made it for a youth conference I spoke at this year. It is about four minutes. As you'll see from the video, I've had a lot of success as a student fundraiser, raising over $200,000 for Invisible Children. I've since gone on to work as a consultant for Wellspring International and have recently concluded my studies as a Rotary International Ambassadorial Scholar.
In each of the cover letters, Emily also made clear how much she wanted to work for IRC. "To convey enthusiasm is a vulnerable thing to do and can come off as naivete, but, when it came down to it, my enthusiasm for the organization was genuine and expressing it felt right," she says.
This is how Emily conveyed her interest in working for IRC:
You should also know that I have a sincere appreciation of the IRC. I have enjoyed learning about your programs and have personally visited your New York headquarters, the San Diego New Roots farm, the We Can Be Heroes exhibit, and the Half the Sky exhibit in Los Angeles. The IRC is my top choice and I believe I would be a valuable addition to your fundraising team.
Emily learned throughout the process that the organization had hundreds of applicants for each position and it was extremely competitive. "I appreciated that I wouldn't be the best for every opening but also remained firm that I did have a significant contribution to make," she says. Eventually, Emily's persistence paid off. She was hired as a temporary external relations coordinator, and four months later she moved into a permanent role.
Editor's note: The author updated this article, which was originally written in 2014, to reflect the latest advice from the experts and the reality of job-seeking during the pandemic.
Amy Gallo is a contributing editor at Harvard Business Review, cohost of the Women at Work podcast , and the author of two books: Getting Along: How to Work with Anyone (Even Difficult People) and the HBR Guide to Dealing with Conflict . She writes and speaks about workplace dynamics. Watch her TEDx talk on conflict and follow her on LinkedIn . amyegallo
Partner Center
Resume Builder
Resume Experts
Search Jobs
Search for Talent
Employer Branding
Outplacement
Technology Senior Manager Cover Letter
15 technology senior manager cover letter templates.
How to Write the Technology Senior Manager Cover Letter
In response to your job posting for technology senior manager, I am including this letter and my resume for your review.
In the previous role, I was responsible for thought leadership in aspects of IT product selection relating to the platform; drive innovation and improvement across all aspects of the infrastructure.
My experience is an excellent fit for the list of requirements in this job:
End-user customer product/solution experience
Strong analytical, interpersonal, problem-solving, presentation, budgeting, & planning skills
Thorough and current understanding of major Salesforce platforms and technologies including Sales Cloud, Service Cloud, Apex, Lightning, Force.com, Heroku, and Communities
Thorough understanding of common concepts, methodologies, and technologies that support integration of complex systems including restful APIs, Enterprise Service Bus, etc
Deep experience and expertise translating business requirements and processes into low friction automation and high impact systems
Passion for exceptional documentation including diagrams, standards, and project papers
Experience working on learning management systems
Experience working on platforms localized in multiple languages
I really appreciate you taking the time to review my application for the position of technology senior manager.
Dallas Reilly
Microsoft Word (.docx) .DOCX
PDF Document (.pdf) .PDF
Image File (.png) .PNG
Responsibilities for Technology Senior Manager Cover Letter
Technology senior manager responsible for leadership and strategic direction for digital deployments such as Visa Token Service and Visa Developer Platform services.
Technology Senior Manager Examples
Example of technology senior manager cover letter.
I submit this application to express my sincere interest in the technology senior manager position.
In my previous role, I was responsible for compliance input and support for all new products, delivery channels, and markets as well as for changes to proprietary systems, technologies and/or processes.
I reviewed the requirements of the job opening and I believe my candidacy is an excellent fit for this position. Some of the key requirements that I have extensive experience with include:
Mentors team members on utilizing best practices to achieve team objectives
Experience in Agile/Devops with Digital Transformation Environment
Experience managing resources that use XP way (TDD or Pair Programming) to deliver products and solutions
Experience using Software Development Lifecycle to manage work products and prioritize deliverables
Aerospace or Manufacturing Domain knowledge
Pivotal Labs Knowledge
Industry experience in Real Estate or Hospitality/Retail with multi-unit businesses preferred
Experience with creating solid and collaborative relationships with other areas of the company such as Finance and Information Technology to ensure consistency and to determine the best overall HR solution strategy
Thank you for considering me to become a member of your team.
Cameron Goyette
In the previous role, I was responsible for insight and inputs within cross-functional Visa organisations for new or changing products and services, which may affect their clients, including Visa rules, integrated billing, and transaction research.
MS Office experience to include Excel (creating spreadsheets to calculate data, summarize data, and graph data)
Experience with Ariba P2P, SAP S/4HANA, SAP MDG
MS Access experience (creating queries of datasets)
Knowledge of the industry project management best practices (i.e., Project Management Body of Knowledge - PMBOK) • Knowledge of standards relevant to the financial services industry (e.g., ISO, Six Sigma)
Advanced skill in the use of project management software to manage projects (e.g., MS Project and auxiliary tools, such project repository and PlanView)
Expert knowledge of technical solutions and appropriate execution in the field
Considerable experience of the access network and the development of customer focussed solutions
Demonstrate a strong grasp of recent innovations, tools and technologies
Thank you in advance for reviewing my candidacy for this position.
Peyton Luettgen
I would like to submit my application for the technology senior manager opening. Please accept this letter and the attached resume.
In my previous role, I was responsible for regulatory expertise to facilitate entry into new therapeutic areas, technologies and design; and new regulated regions such as emerging markets.
Strong working knowledge and understanding of industry leading technology hardware, software tools and services for a dynamic, mobile based workforce
Superior communicator with demonstrated experience and comfort presenting to large groups and all levels of management
PROSCI or equivalent change management experience / certification
Experience with any of the Data Warehousing & Business Intelligence Technologies with a background in business intelligence, reporting or analytics
Excellent skills in converting business requirements in to a robust technical designs by creating design documents
Strong data integration capabilities using ETL or SQL and related technologies
Experience with business intelligence and reporting tools such as Cognos, OBIEE and SAP Business Objects
Design and develop logical and physical data modes as needed to design and implement information and data architectures
Zion Schultz
I am excited to be applying for the position of technology senior manager. Please accept this letter and the attached resume as my interest in this position.
In my previous role, I was responsible for technical leadership across all technology departments by tracking emerging technologies, making strategic decisions and supporting tactical deployments.
Please consider my experience and qualifications for this position:
Prior experience leading evolution of technology with a view toward continuous improvement of business processes and data integrity
Acumen in leading a collaborative engagement model to ensure appropriate teams on business, operations and technology are connected to drive the end-to-end requirements, analysis and design on the committed SDLC deliverables
Strong experience supporting technical delivery
Experience leading the development of new metallic materials and process for structural applications
Experience with metallic material specifications, metals and fastener applications, mechanical testing methods, lab metrics, lean tools, qualification approaches, metallurgy, process specifications, test methods, CRAD capture, and data analytics
Self-starter who can develop internal and external customer relationships
Experience managing teams spread across multiple locations
Minimum of BS in Engineering or Material Science
Indigo Murazik
In my previous role, I was responsible for functional and technical implementation support for VDP Client implementations of new Visa products and services driving cross-functional delivery of systems and services to Clients.
Please consider my qualifications and experience:
Understanding of Advance SQL and technical infrastructure is preferred
Knowledgeable of regulations related to Life Sciences industry like GxP's, SOX, HIPAA, is essential
Experience in collaborating with Managed Services partners
Good Communication Skills and strong presentation skills
Engage with business leaders recognize areas for internal improvement and develop plans for implementation
Strong understanding of trends in the IT industry and the marketplaces for services, software, hardware, and telecommunications
Experience with translating trends and needs into compelling strategies
Experience with summarizing requirements, identifying optimal license structures, identifying demand management opportunities, and developing successful negotiation strategies
Cameron Monahan
Related Cover Letters
Create a Resume in Minutes with Professional Resume Templates
Create a Cover Letter and Resume in Minutes with Professional Templates
Create a resume and cover letter in minutes cover letter copied to your clipboard.
Privacy preference center
We care about your privacy
When you visit our website, we will use cookies to make sure you enjoy your stay. We respect your privacy and we'll never share your resumes and cover letters with recruiters or job sites. On the other hand, we're using several third party tools to help us run our website with all its functionality.
But what exactly are cookies? Cookies are small bits of information which get stored on your computer. This information usually isn't enough to directly identify you, but it allows us to deliver a page tailored to your particular needs and preferences.
Because we really care about your right to privacy, we give you a lot of control over which cookies we use in your sessions. Click on the different category headings on the left to find out more, and change our default settings.
However, remember that blocking some types of cookies may impact your experience of our website. Finally, note that we'll need to use a cookie to remember your cookie preferences.
Without these cookies our website wouldn't function and they cannot be switched off. We need them to provide services that you've asked for.
Want an example? We use these cookies when you sign in to Kickresume. We also use them to remember things you've already done, like text you've entered into a registration form so it'll be there when you go back to the page in the same session.
Thanks to these cookies, we can count visits and traffic sources to our pages. This allows us to measure and improve the performance of our website and provide you with content you'll find interesting.
Performance cookies let us see which pages are the most and least popular, and how you and other visitors move around the site.
All information these cookies collect is aggregated (it's a statistic) and therefore completely anonymous. If you don't let us use these cookies, you'll leave us in the dark a bit, as we won't be able to give you the content you may like.
These cookies allow us to provide you with better functionality and personalization. They may be set up by us or by third party providers whose services we've added to our pages.
The purpose of these cookies is to give you a more personalized experience, based on your previous visits and choices. If you don't wish to allow these cookies, these services may not work.
We use these cookies to uniquely identify your browser and internet device. Thanks to them, we and our partners can build a profile of your interests, and target you with discounts to our service and specialized content.
On the other hand, these cookies allow some companies target you with advertising on other sites. This is to provide you with advertising that you might find interesting, rather than with a series of irrelevant ads you don't care about.
Senior Software Engineer Cover Letter Sample
Learn to perfect your cover letter by reworking this Senior Software Engineer cover letter sample. This particular cover letter helped someone kick-start their career with Dale Christian School. That person gave us permission to share their cover letter with you. Download this cover letter example at no cost or customize it inside our simple yet powerful cover letter builder.
Related resume guides and samples
How to create an effective database administrator resume?
How to build a compelling game designer resume?
How to write a compelling information security analyst resume?
How to build a professional IT support officer resume?
How to create a captivating network engineer resume?
How to craft a balanced programmer resume?
Senior Software Engineer Cover Letter Sample (Full Text Version)
Mr. kelly george.
Dear Sir/Madam,
I am writing to you in reference to the job posting you have made for the Sr. Software Engineer position at your company. I believe I would be an excellent fit for this position since I am a software engineer with a wide variety of experience in the field.
I tend to view myself as a generalist since I try not to focus on any given technology. My skills range from Ruby On Rails, Assembly, to Java, Swift, Objective-C and JavaScript. I have been exposed to a wide variety of technologies in my career and consider myself to be very adaptable.
Because of my breadth of experience I believe that I would make an excellent addition to your team.
Kelly George
Dale Christian School
Dale Christian School is part of a network of Christian Schools in Australia. The institution actively promotes Christ-focused education, and its carefully elected board is responsible to the Church. Providing more than just an excellent education, Dale Christian School strives to nourish their students' balanced and positive attitude.
Edit this sample using our resume builder.
Don't struggle with your cover letter. artificial intelligence can write it for you..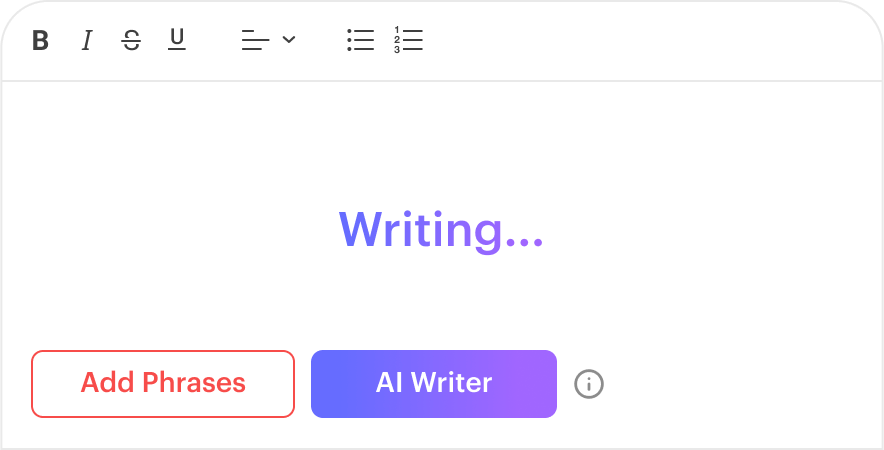 Similar job positions
Game Designer Programmer Web Developer UX-UI Network Engineer Database Administrator Back-End Developer Front-End Developer IT Support Officer Information Security Analyst Tester
Related UX-UI resume samples
Related IT cover letter samples
Let your resume do the work.
Join 2,000,000+ job seekers worldwide and get hired faster with your best resume yet.
Create a Cover Letter Now
Create a Resume Now
My Documents
Examples of cover letters /
Senior Manager
Senior Manager Cover Letter
You have the skills and we have tricks on how to find amazing jobs. Get cover letters for over 900 professions.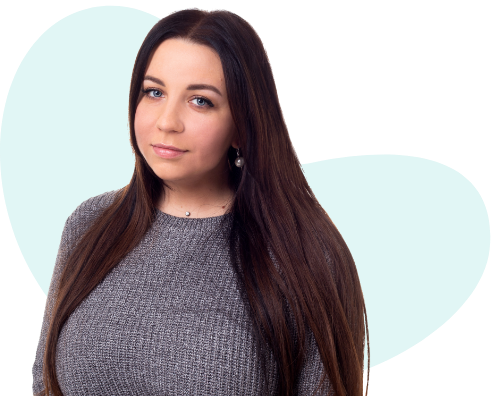 Anna Hmara - Career Expert
How to create a good cover letter for a senior manager: free tips and tricks
If you want to receive an invitation to an interview, you should write the perfect CL for your resume. And of course, we are happy to help you draw up a presentable senior manager cover letter example with a beautiful layout. Below you can find a list of simple but effective suggestions thanks to which you will attract the attention of the employer and distinguish yourself from the rest of the candidates. Be sure, you will seem to be an expert with strong qualifications.
The tasks stand before any management are to plan and organize the effective work of the staff. You should focus on strong organization skills. It would also be useful to give a short example of how this improved team performance.
Do not describe the whole success story of your career growth. The CL should be no more than one A4 sheet and contain specific information about you. Also, do not express your plans and dreams; remember that this is still business correspondence.
The senior manager is a responsible and high position, and your paper should show that you are totally fit this role. Mistakes and inattention to details in the text can create an impression of you as an entry-level specialist. Double-check what you write.
Do not underestimate the format of the document. Your paper must be beautifully designed to remain memorable for the employer. Take care to choose a pretty graphic layout for your text.
Make your letter more personal. Catch the employer's attention to the fact that you studied the information about the company, and not just sent a template letter. It will show that you are serious about this position.
Do not use a lot of generic phrases. It may give the impression that you simply copied someone's document, which means that you did not pay enough attention to the vacancy.
Advice from the GetCoverLetter Hiring Expert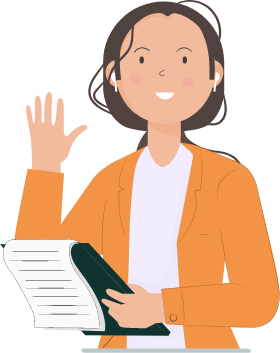 Svitlana Harkusha
Head Career Expert
Sample cover letter for a senior manager position
The most effective way to digest the tips is to see their practical application. We have used all the important tips of the above units into a single a senior manager cover letter sample to demonstrate a winning document that can be created in GetCoverLetter editor.
Dear Noah, I was intrigued when I found your advertisement for a senior manager position, and I am confident that I have enough qualifications to obtain this role. I am a big fan of Starlight Solutions, and I am delighted with the great work that you do in the field of financial consulting. I would be flattered to become part of your huge team and contribute to the development of the efficiency of your business.
For the past two years, I have been working as a senior manager handling the operations department at ABS Company. During this period, through the correct allocation of resources and tasks, I was able to improve the company's production by 22%. I have also supervised and trained managers, which allowed me to build a reliable and responsible team of motivated specialists. In my department, I implemented fundamental changes to the maintenance and reception of documentation, which let us increase the quality of the provided services.
My excellent communication skills empower me to perfectly collaborate with senior managers of other departments for powerful strategy development and execution planning.
I have added my resume so you can review the details of my experience and education. I would be happy to discuss my qualifications with you. Thank you for your time, and looking forward to hearing from you.
Best Regards, Olivia.
This example is not commercial and has a demonstrative function only. If you need unique Cover Letter please proceed to our editor.
While all the gained knowledge is still fresh in your mind, this is the time to put it into practice.
How to save time on creating your cover letter for a senior manager
Our Get Cover Letter editor will help you make the process easy and fast. How it works:

Fill in a simple questionnaire to provide the needed information about yourself.

Choose the design of your cover letter.

Print, email, or download your cover letter in PDF format.
Document writing tips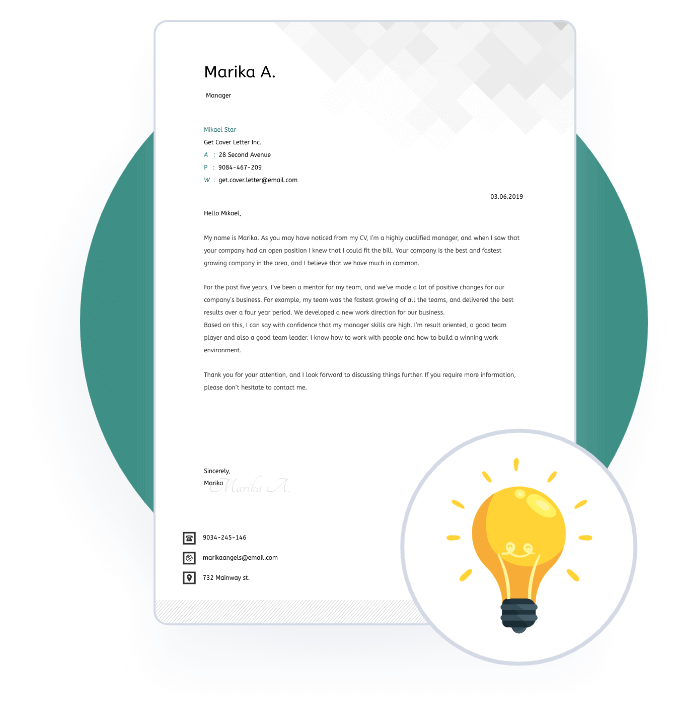 Documents should be structured and divided into thematic parts or paragraphs. The ideal paragraph size is five lines or 2-3 short sentences. It's an optimum length to get your point across. Moreover, it also improves the readability of the text.
Business documents are relatively straightforward. Therefore, try not to use the passive voice. Opt for active verbs. Instead of: "The report was presented by Hanna," say, "Hanna presented the report." It will make your business document cleaner.
The tone of voice is what makes your texts unique. It can be formal or non-formal, positive or negative, hostile or friendly, etc. The wrong tone may negatively affect the likelihood of the desired action. When writing a business document, try to follow a formal and professional tone of voice.
Why the Get Cover Letter is the best solution
The GetCoverLetter editor is open to any goals of applicants. Whether it be a presentation of a craft professional with a great list of achievements or even a senior manager without experience. Rest assured, the opportunities are equal for all the candidates.
We show that you are strong enough for the job but also sensitive enough to put in your letters.
If you think your important qualities won't fit in one short cover letter? Think again! Quality is our middle name and we will do that for you.
We give hints you specific tips for your profession of choice when filling out your letter info which helps you to stay on track.
In the fight for the desired job, this paper is your main weapon and we know how to make it sharp.
Templates of the best a senior manager cover letter designs
Any example of the document for a senior manager has a precise design per the requirements of the company or the general rules of business correspondence. In any case, the selection of templates in our editor will meet any expectations.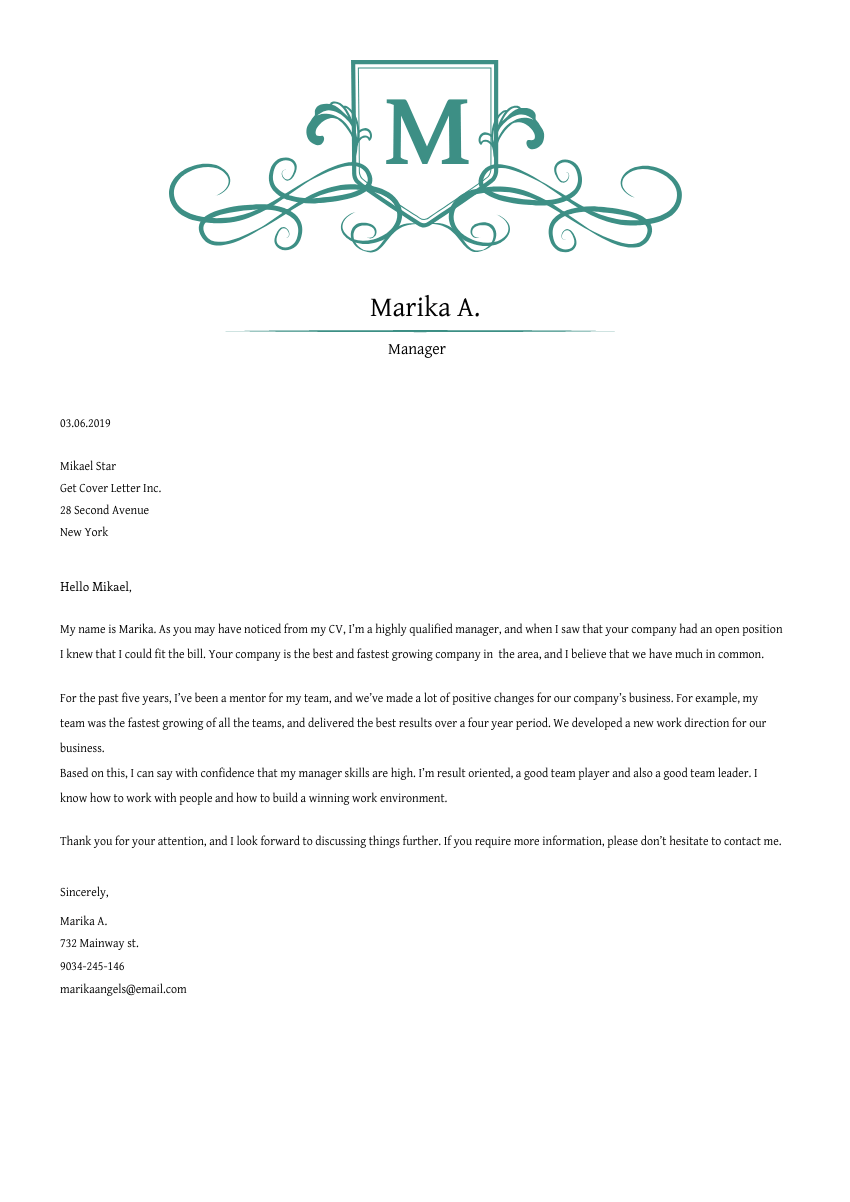 Or choose any other template from our template gallery
Overall rating 4.3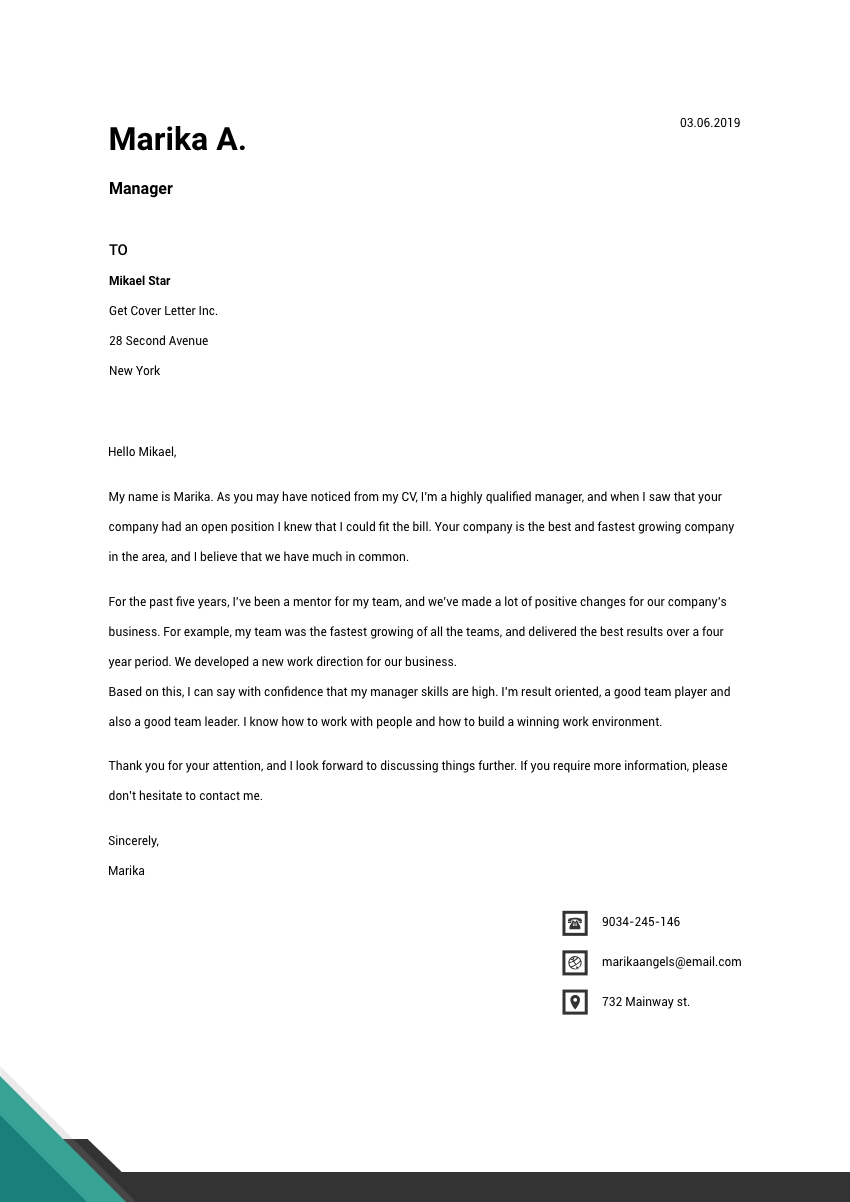 Overall rating 4.5
Hiring Trends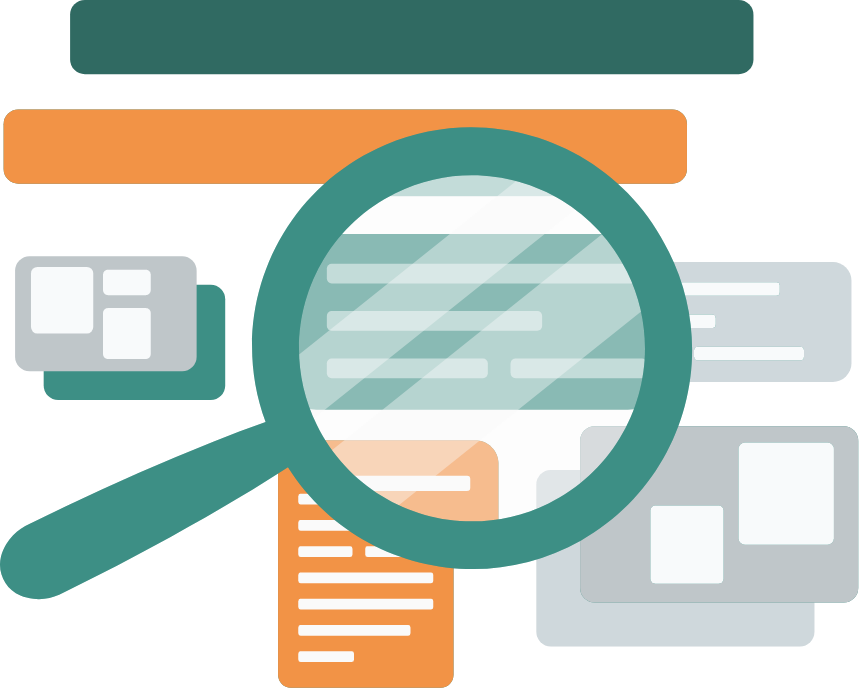 77% of companies use talent assessment tools to measure applicants' skill sets and make data-based decisions. Evaluation of skills increases the chances of hiring the right candidate. It means that job seekers need to pay special attention to the skill description in their resumes, cover letters, and direct communication with the recruiter.
Employee satisfaction is of great importance. Satisfied workers are more effective and stay longer with the company. But the tendency is to start using satisfaction during recruitment. Given the tight competition for quality candidates, especially at the senior level, recruiters will do everything to find the right candidates and make them want to accept a job offer.
Researching candidates beyond their resumes will become the most wide-spread hiring trend. Recruiters will use social media as the primary source for collecting insights about potential employees, their interests, motivations, skills, and qualities. Make sure your Facebook or LinkedIn account looks professional.
72% of employees want to continue working remotely. They like the flexibility. Employers also see some advantages of remote work, like financial savings. Thus, the number of out-of-office jobs will increase. However, remember that such an employment type requires a high level of self-organization.
Get Cover Letter customer's reviews

"This is an ideal online service that helped me save my time. And as it is known, time is money. Thanks for your support! I will definitely use your brilliant builder for all my future letters."

"GetCoverLetter is a nice and convenient constructor, and most importantly, the system has no hidden fees. Now I am your fan. Rest assured, these guys will make up a wonderful document for you."

"It is not the first time when I'm using this constructor. And each time my cover letter is the best among all the candidates for the vacancy. Thank you for your excellent service. I strongly recommend it!"

Frequently Asked Questions
The more unique the knowledge you get, the more space for new questions. Do not be affraid to miss some aspects of creating your excellent cover letter. Here we took into account the most popular doubts to save your time and arm you with basic information.
How to address my cover letter if I don't know the recruiter's name? If you read the job description, checked the company's website, even called them, but had no luck with learning the recruiter's name, write "Dear Hiring Manager." Don't use "To whom it may concern." It's an outdated approach.
How to start my senior manager's cover letter? We recommend you introduce yourself briefly and then explain your motivation. Try to make some references to your potential employer to show you did your homework. It will catch the recruiter's attention.
Should I give some examples of my professional achievements in the cover letter? Yes. It can help you impress a potential employer. You can mention some numbers, like % of the increase in team performance. However, keep in mind the document's length. Be clear and short about your achievements. Leave details for the interview.
What skills and personal qualities should I include in my senior manager cover letter? A senior manager is a team leader. Thus, this position's cover letter should highlight your ability to unite people and direct them to goal achievement. Additionally, you should write about your subject-specific and change management skills and commercial acumen.
How to proofread my cover letter? Use a reverse reading technique. Start with your cover letter's last sentence and read your text moving back to the beginning and correcting mistakes. This technique increases concentration, and the person becomes more attentive.
Your CL is worthy of not just good but the best design. Just take a look!
Other cover letters from this industry
Do you still doubt composing a cover letter? Maybe it is not the vacancy you need. Look at the information below, you will find links where your skills are wanted.
Senior Project Manager
Senior Software Engineer
General Manager
Business Manager
Operations Manager
Senior Administrative Assistant
Executive cover letter template
When you're going for the top job at an organisation, it's vital that your cover letter presents you as an expert candidate with a wealth of experience, confidence and ambition.
Unlike other roles or industry cover letters, yours will also need to promote your capacity as a resilient leader . Here are our top tips for nailing your next executive cover letter.
Executive cover letter example
This cover letter example is strong because it employs general cover letter writing best practice. It is neatly and clearly formatted, the contact details are correct and easily referenced, and it is within the prescribed one page limit.
For senior level or executive role cover letters, the details or specifics of your accomplishments are particularly important. You'll likely be up against highly qualified and competitive candidates, so it's important that you use every opportunity in your cover letter to prove your worth.
Related:   Cover letter strategy
The way in which you write and communicate key messages in your executive cover letter is just as important as the actual experience and content you include, so make sure yours is suitably formatted, neat, and easy to read for every role you apply for.
What should an executive cover letter include?
Do keep it short. One page is the maximum for cover letters, with the ideal length between 250 - 350 words, or around four paragraphs
Do address your cover letter to the correct member/s of staff
Do tailor or customise your executive cover letter for each role you apply for
Do take the most impressive parts of your resume to use throughout your cover letter
Do highlight the most influential and successful projects you've worked on
Do mention board memberships, elite organisation memberships or prestigious accolades you have earned
Do show that you've done extensive research about the company or organisation you want to work for
Do end your cover letter by thanking the employer for their time
Do always run a thorough spelling and grammar check before submitting your cover letter
Related: How to write a career change cover letter
What should an executive cover letter avoid?
Don't use out-dated or unprofessional contact details. Always use the most recent, most relevant, and most professional
Don't use company-specific language or terminology. Stick to what is known and understood at an industry level
Don't simply copy or rewrite your resume in your executive cover letter
Don't call out skills or experience gaps in your cover letter. If this needs explaining, it can be done later in your resume
Don't get bogged down in your past experience only. At this senior level you should include your visions for the organisation or indicate how you can achieve something new
Related:   What to include in a cover letter
Download executive cover letter sample
Download Cover Letter Template
Submit resume
Take a look at our cover letter tips hub for more cover letter writing tips and examples.