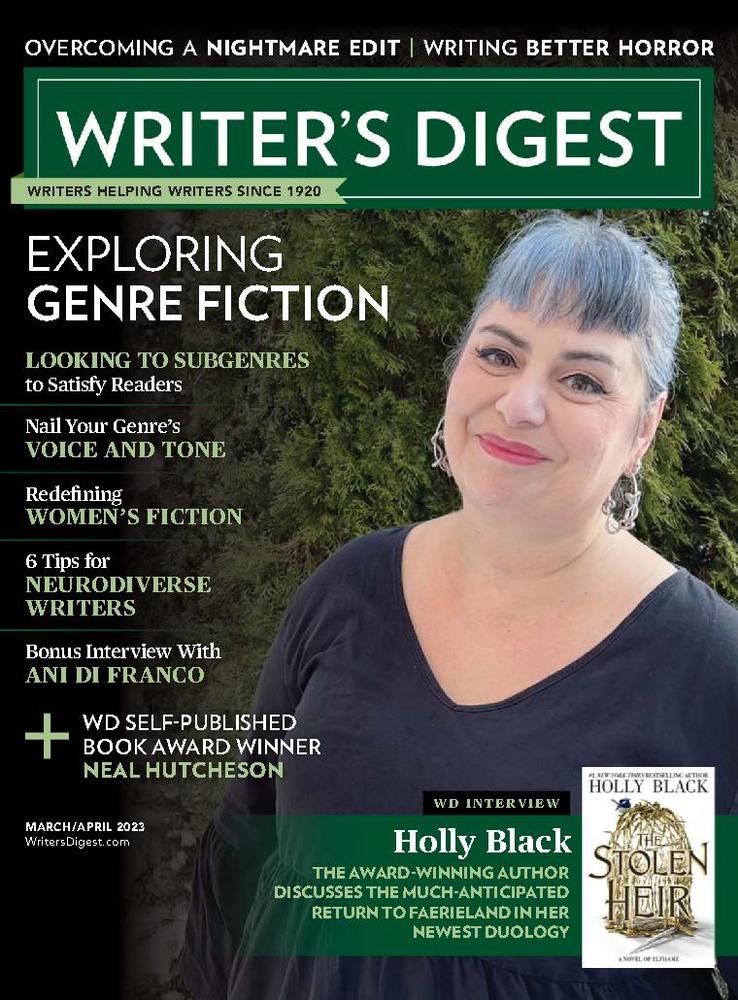 We have detected that your browser's Javascript is NOT enabled. To display this website correctly you must enable Javascript in your browser settings.
Competitions
Free Downloads
Write Better Fiction
Write Better Nonfiction
Write Better Poetry
Get Published
Be Inspired
WD Competitions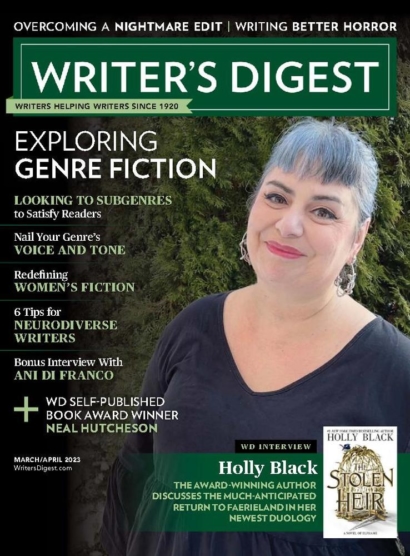 Subscribe Now & Save!
Online special, writer's digest magazine:.
Every issue of Writer's Digest is devoted to helping writers develop their craft and offering expert advice on how to get published. This magazine is full of pertinent tips on writing queries, writers' rights, new markets, submission guidelines and competitions. Writer's Digest also features practical technique articles, and tips and exercises on fiction, nonfiction, poetry and the business-side of writing and publishing.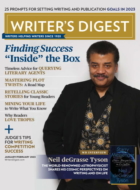 Downloads for Past Purchases
To view previously purchased items on Writer's Digest Shop use the Downloads page.
Writing Resources for Writers
Learn to write to the best of your ability with the industry's best writing resources covering fiction writing, nonfiction writing, professional advice on writing novels, poetry writing and more. Whether you need to improve your writing skills, perfect grammar and punctuation, better your short story writing plots or learn how to get published, we've got you covered. 
New to Writer's Digest Shop
Roadmap for Plotters and Pantsers
The Murky Middle: How to Plot Your Way Out of Any Story
Structure: The Building Blocks of Story
Mixed Media: How Music, Newspapers, and Art Can Spark and Structure Compelling Short Fiction
Critique & Editing Services
2nd Draft Critique Service: 1 Page Query Letter
2nd Draft Critique: Short Story Critique
2nd Draft Critique Service (price per page)
2nd Draft Critique Service: Picture Books
Writer's Digest Magazine
Writer's Digest March/April 2023 Digital Edition
Writer's Digest January/February 2023 Digital Edition
2022 Issue Bundle
Writer's Yearbook 2023 (Digital Edition)
Get Started in Writing
Short Story Bundle
Banish Writer's Block Forever: How to Be Endlessly Creative
The Sweet 16! The Only Tool You'll Ever Use Again To Create Characters
Check Out These Great Deals!
The "Show" Don't "Tell" Bundle
Memoir Writing Kit
Writing Your Novel in 30 Days: Prep Kit
Character Development Premium Collection
choosing a selection results in a full page refresh
What a Writer's Conference Really Buys You
By Heather Webb   |  August 24, 2017  |  35 Comments
https://giphy.com/search/ronald-miller
I just attended the Writer's Digest Conference and as always, I returned home tired and full of inspiration. But there's something that has stuck in my mind that is nagging at me. Saturday afternoon, I was sitting in the lobby, chatting with several aspiring writers who had a lot of questions about the industry and genre categories among other things. At one point, I overheard a conversation between two attendees adjacent to me. One of the writers turns to another and says, "Isn't this so great? I've met a lot of people, exchanged cards with them." Etc. Etc. But the other person shrugged and said, "I guess, but I think it's lame the way these things are all about sponging off of the wannabes to make a bunch of money."
I couldn't help but stare at this person.
All I could think was:  sure, I suppose one could look at a conference that way.  But I'm frowning, even as I type that. Maybe this person had received a bunch of rejections lately–or maybe they just drank a bottle of misery for breakfast. Either way, I was flabbergasted.
I guess this person doesn't realize the pro authors who attend donate their time and hard-won knowledge, and they are rarely paid, yet they do it happily to give back, to help others succeed. I suppose this person assumes the conference generates a tremendous amount of money based on conference fees, but doesn't grasp the extraordinary amount of money needed to put on a convention in midtown Manhattan.
I have to admit, this comment irritated me, and the fact that I felt compelled to write this post, I suppose, shows just how much. As I look back on my years at conferences, all I feel is gratitude. Gratitude for the many generous and knowledgeable people I've met. Gratitude for the opportunities to connect with professionals who directed me on my path to publication, and also guided me in my learning.
Oodles and oodles of gratitude .
In fact, in the spirit of gratitude, I'm going to break down the positives about attending a writer conference.
I have to begin with:
Inspiration:   Just being in the same building as lots of other writers gives me a bit of a glow. Suddenly I feel less isolated in my pursuit, and I am humming with a kind of energy that comes from being with others who get me—my passion for stories and the power of the written word. Talking about craft and plot and potential ideas gets me jazzed and by the time the con is over, I'm DYING to go home and write. Butt in chair, words on paper. Inspired!
Knowledge:   When I first began going to conferences, I knew so very little about publishing as a business, or craft, for that matter. I looked at attending conferences as my education, a bit like another degree since I didn't attend college for fiction writing. The cons were an investment in my future—a future I believed in and one that I'm still extremely passionate about. As a more seasoned writer, what I learn has changed. It doesn't come in fast and furious amounts like it did when I was a novice, but I still glean gems from my colleagues that help me think about story or craft in a completely new light. I still learn new insights into the crazy publishing industry.
Access to Agents & Editors:   Meeting agents in person is a great way to jump ahead of the slush pile. This is how I met my agent, in fact. It's difficult to connect with an agent via email—they're extremely busy and as you can imagine, everyone is vying for their attention. Querying can take years, but attending a conference and meeting with an agent face-to-face is a sure-fire way to gain their attention. The same goes for editors. But it's not just the pitch sessions that are invaluable. Listening to agent/editor panels and having a chance to ask questions really opens your eyes to understanding the submission process as well as the market at large. Plus, hey, you may even get to mingle a bit with an agent or editor during the cocktail hour or over a meal.
Network Central: Cons provide a supreme opportunity to connect with friends and colleagues. On one hand, this doesn't seem all that important since social media makes everyone much more accessible, but swapping emails or texts, etc, isn't the same—at all. I can't tell you how many times my experience with someone in person is vastly different from those online. It's almost shockingly different, in fact. Writers need to connect with their colleagues in person, just like in any other business. Press the flesh. Who you know matters, always. I've found that my time at conferences has opened many, many doors.
Talk about Your Work with Someone Who Cares:   It's true that our nearest and dearest will listen to our endless thoughts, worries, and ideas about our work, but let's face it: they don't get it. Not the way other writers do. It's our work and our passion. Stories make us feel both alive, and a deep sense of yearning. A yearning to capture something meaningful on paper. At a conference, you can talk about writing until your heart is content.
Added Bonuses : For me, there are many other little bonuses to attending a con. For one, I enjoy dressing like a professional for a change instead of wearing yoga pants, especially if the conference has a banquet dinner. I also look forward to swapping anecdotes and sharing war stories with friends over cocktails into the wee hours. And finally, I love checking out the sights in the town where the conference is held. I'm a huge fan of travel so this is just an added bonus to getting away from the daily grind of life's expectations.
Attitude is everything. You can see the cynical and negative side to just about anything, but I suspect it won't carry you very far, and it'll make your journey much more painful and difficult.
I'd like to hear your experience at a writer's conference. Were you Grumpy McGrumperstein or did you go in with an upbeat, open mind? What worked for you? What didn't?
Heather Webb is the USA Today bestselling and award-winning author of historical fiction. As a freelance editor and an adjunct in a MFA in Creative Writing program, Heather has helped many writers sign with agents and go on to sell at market. When not writing, she feeds her cookbook addiction, geeks out on history and pop culture, and looks for excuses to head to the other side of the world. To date, her books have been translated to seventeen languages.
35 Comments
Great summary of what's so wonderful about writing conferences! I loved them when I was an aspiring writer and I love them from the other side as a panelist and professional. And yes, putting on a conference in Manhattan is incredibly expensive. Never been to Writer's Digest, but hoping to make it next year — hopefully, Heather, I'll see you there!
Thanks, Greer. I hope to see you, too!
As you said, attitude is everything when attending conferences. I've been to three now, which isn't that many, but I've always gone in seeking, rather than expecting.
Seeking, for me, is like rooting out valuable "information truffles." I dive in, scrounge through every square inch of a session by paying attention, taking copious notes, and interacting in class, then leave with the rewards I came for — and there are always rewards, no matter what the fungus, in my notes and interactions with other writers.
Expectations, on the other hand, can often lead to disappointment. If I go in expecting truffles and, unable to find them, miss out on an entire crop of shitake mushrooms simply because I'd set my sights on truffles and truffles only, then, of course, I'd complain that I never got my truffles.
Meanwhile, everyone else is enjoying their meals made with the shitake mushrooms.
Thanks, Heather, and I'll seek you out at a future conference!
I think I might just like you even more since you busted out a food metaphor, Mike! lol. My favorite kind. I agree that it's important to manage expectations. If you go for the camaraderie and to just meet new potential writer pals, it's hard to leave disappointed. Thanks for your comments!
Ooh, I am such a fan of writers' conferences! I have yet to be disappointed by any I've attended or presented at.
You've nailed most of the reasons why I enjoy them so much. I just want to reiterate the networking angle – I've made so many friends at conferences, and it provides a rare chance for those of us in this often solitary pursuit to find ourselves among kindred souls. There's incredible power and inspiration to be found when that happens – just ask anybody who was at the last UnCon.
In addition, for those of us who are active in forums, blogs and other social media, it's a chance to finally "put a face with a name," as we get to meet face-to-face with people whom we've previously only interacted with online – kinda like when you and I first met. :)
So yes, two thumbs up for conferences!
Yessir! That first time I met you at Backspace was actually a huge relief to me because I knew no one and wasn't yet published. Seeing a recognizable face from WU was awesome. It immediately made the conference better for me. Oh, and the Un-Con, so fabulous. I didn't get to chat with you much at that one…
Thanks, Keith.
I agree with you Heather! I've been to circa twenty conferences, and the worst experience taught me so many things, not the least of which is that I am not alone! Sometimes it seems that way sitting in front of a blank computer screen. I had an amazing time at the Writers Digest Conference, met a lot of wonderful writers, learned so much, particularly in light of the fact that industry changes now flow like white water rapids and we, as writers, have to stay afloat. Oh, by the way, several agents want to see my work. It was wonderful meeting you, and seeing Therese, David, Sean, Vaughn, Amy, Soni, and everyone at the conference! I'm already looking forward to next year!
Congrats on your successful pitching! It was great chatting with you, Rocky. What you seek out is what I do as well–how to stay afloat in a rapidly changing industry that isn't making room for much in the way of risk and diversity, especially in historical fiction, but certainly in other areas as well. But we write on!
Thanks, Heather, for your attitude of gratitude! I doubt that anyone puts on a writing conference or workshop to make money. For one thing, if you do make something over expenses, it has to go into the deposits and ads for the next one, as well as the ongoing costs of a website and all of the other costs of running a business, even a sole proprietorship.
The experience I've had most often, whether it be at a small workshop or a large conference, is of generosity. From the presenters to the organizers to the other participants, many, if not all, want to help and support the other folks who are there. Granted, that's not 100% true, but it's not 100% true anywhere in this world. Again, in my experience, writers are more often generous than not.
Oddly enough, one of the best things for me at any workshop or conference is that I don't have to make the food, do the dishes, or do anything but focus on writing. What a gift! And yes, I'm paying for it, but it is so well worth it to have that time to devote to what I love to do most.
Thanks for the conversation…
Ha! I failed to mention those extra perks of going to a con and I couldn't agree more– being somewhere that I don't have to cook or clean is fabulous. :)
Thanks for your comments.
I do not doubt that writer's conferences have enormous value.
But I question whether that value accrues to everyone who might attend. My own reluctance to attend one stems from the question "Am I ready?"
Even with 220,000 words written so far in my WIP, it's still not half done, and I may be years away from querying for it. It's certainly too soon to quit my day job; is it too soon for me to invest in attending a writer's conference?
So, with that in mind, I am greatly interested in opinions on who shouldn't attend a writer's conference — yet.
Flip – I think if you really take a hard look at what each conference offers, I bet you might find one that is TOTALLY worth it.
But choose wisely. Many conferences put a big emphasis on connecting you with agents, having you pitch your book, etc. It doesn't sound like you're ready for one of those.
However, a conference focusing more on craft – or even on a specific genre – might prove extremely useful to you, and could help you write an even better book, while still offering you the opportunity to network with other writers.
I agree with Keith. There are loads of great conferences, but each has a different angle. Just be sure to read the program they post online and look at the speaker list to get a feel for whether or not it will suit your needs.
Also, I don't believe there's a time that's "best" to attend one. I went to my first with only 6 chapters written and a gleam in my eye. I didn't know ANYTHING about publishing and little about fiction beyond my ravenous reading habits and love for story. My brain hurt with all I learned, but it only made me more excited and determined to grow as a writer.
While I have enjoyed most every conference I attended, and will continue to invest in the education and networking opportunities for all the reasons you've mentioned above, I understand how certain conference experiences can make people cynical. I have attended several large events where it felt extraordinarily hard to meet people and connect on a meaningful level. (At the time, I hadn't forged enough online connections to know anyone, and there were well-established cliques.) Coupled with information overwhelm, that experience of being lonely-within-a-crowd has prevented me from returning to that same annual event. I just do better with an UnCon-like experience. I hope the frustrated/critical person pushes through their discouragement to find an event more suited to their taste.
I know exactly what you're talking about, Jan. Sometimes it's difficult to really connect well when there aren't true opportunities for mingling or you feel like no one really wants to step outside of their circle to interact. I've found the best way to deal with that is to just insert myself into a circle by asking other people about their work. lol. It's never comfortable, but most people are really happy to chat and meet others and will welcome someone new who is interested in them.
That said, I'm at the point where I don't tend to go to many conferences where I don't know people, but then, it's been years and years of going to these things for me as well.
And Un-con for the win! My tribe! :)
I feel an energy when I'm in a room full of writers that doesn't exist elsewhere. We share interests, knowledge, emotions, and experiences civilians don't understand and don't want to hear about. I can arrive at a conference ready to give up, and leave tired but eager to get home and write. Plus–sad, but true–it's refreshing to get out of town, stay in a hotel, eat in restaurants, see new sights–it clears the mind and makes space for new ideas. (The rest of my life isn't really as humdrum as the previous sentence implies, but it's close.)
You said it, Kathy!
"I can arrive at a conference ready to give up, and leave tired but eager to get home and write."
I've felt this way more times than I can count and the inspiration I derive from my fellow writers manages to make it all a little bit easier. Thanks for stopping by today!
Hey Heather – If I had been with you at the moment when you overheard this, I would've joined you in glowering. Of course there is a profit motive for some, at almost any such event. I mean, nearly every conference has a row of vendors' tables set up. But to allow that to give you an attitude toward the whole event is sort of like disdaining a museum for having a gift shop, commissary, and a row of food carts outside the doors.
Before I go on, allow me to apologize in advance. I know I often mention my years in business to create analogies here. But I do equate the importance of interpersonal relationships in this gig to just about any other business. When I sold lumber, we traveled to the Northwest annually. The sawmills that produced the product I wanted to buy weren't looking to sell a truckload or two. They were looking for partnerships. Mutually beneficial, stable, long-term partnerships. That sort of relationship can't be formed or nurtured via phone calls and emails alone. It's much the same in the book biz.
Thanks for taking on this powerful truth today. A big side-benefit to WDC was spending time with my awesome WU friends. Friends like @msheatherwebb. :-)
Vaughn, no apology necessary. Your time in the business world has made you adept at parsing through what's important and what isn't in the publishing world. I have some skills from my years in education that have helped me as well.
You've nailed the networking angle–it's all about partnerships, not a one-time transaction. And I agree, there will always be vendors promoting their services and books, but as you suggest, these are services provided for the writers–not a means to take advantage. As usual, we see eye-to-eye. :)
Had a ball seeing you and that gang!!!!
I wholeheartedly agree. I thank writers conferences for my move form amateur to professional writer almost exclusively. It was a lot cheaper than an MFA and in many ways, more valuable, because I was able to learn about both the craft *and* the business of writing in one setting. As one of the pros who is now donating her time, I can honestly say that I am usually fronting money for some part of the trip for the privilege of helping people on their path. I make zero money, even when my expenses are paid. The organizations themselves, if they turn any profit at all, usually re-invest those funds into other educational opportunities for writers…. or even more likely, the next conference. You will get out of a conference what you put into it. Projecting negativity will only hurt your career, so I think adopting Heather's attitude of gratitude is the smart way to go.
Thanks, Aimie! As usual, we're right on par with each other. Thanks for stopping by today, mon amie.
Heather–Thanks for drawing on your recent WDC experience to make the case for writers' conferences. Of the five novels I've published, my only commercially published book was bought by Berkley as the direct/indirect result of my having attended a writers' conference.
The process may be instructive. I chose the conference for the respected editor who would be there, not for the writing teachers or the agents. I was able to choose that editor to work with, and before the conference, those in his group sent him fifty pages, so he would know something of our writing before we showed up. He liked what I'd written, and after the conference, he continued generously working with me to refine my novel. He was known and respected in the industry (the reason I went to this conference), so when he picked up the phone and called an equally well-known agent, I was taken on, sight unseen. That agent sold my book the following week, very possibly sight unseen, because of the agent's reputation.
That's the feel-good story, one with an element of pure generosity to it–the editor working with me after the conference. But he soon died, and in the following years I stopped attending conferences. None of them offered the same chance to work with an influential editor. And "influential" is the operative word.
As for conference people giving back to the business–working for free or next to nothing–remuneration has to be thought of in broader terms. I'd be surprised to learn writer-instructors and visiting lecturers at conferences aren't paid. Even if it's just expenses–plane fare, room and board, etc–those who work the conference circuit (and it IS a circuit) are gaining exposure, in effect advertising themselves: giving readings, selling their books and services. They are also using these occasions to network and gain valuable knowledge from other pros in the business.
This is exactly as it should be, but it's something other than unalloyed philanthropy. The same holds true for professionals who become regulars on sites like Writer Unboxed. They contribute a great deal to the writing community, as anyone like me who checks in daily knows. But they, too, gain access to the market for their books and services: writers looking for instructors, editing, marketing, etc.
Again, this is all to the good. But let's not lose sight of the fact that we're talking about a business, not a soup kitchen for indigent writers. I don't think there's anything cynical or negative about saying that, and I hope you don't, either.
Hi Barry. Thanks for your thoughtful comments as always.
"This is exactly as it should be, but it's something other than unalloyed philanthropy. The same holds true for professionals who become regulars on sites like Writer Unboxed. They contribute a great deal to the writing community, as anyone like me who checks in daily knows. But they, too, gain access to the market for their books and services: writers looking for instructors, editing, marketing, etc."
I'm with you 100%. There's a lot of good and unadulterated giving that goes on at a conference, but there's plenty of true networking and platform expansion that's happening and that's perfectly okay–and expected. Writer's cons aren't all rainbows and light, they're set up to provide a service to both writers and those who work in the industry to support them. All well and good. Either way, it's all about attitude.
Meanwhile, your first experience sounds amazing. I wish the industry still operated this way, but a combination of the digital age, a shrinking book market, and staff cuts have made that scenario mostly a thing of that past. I think we're all still mourning it.
I also felt that I wasn't "ready" to attend conferences because I wasn't far enough along in my writing – how could I justify the expense alone of simply getting there (huge cost in my circumstance, minimum $1K) much less conference fees and all other associated costs of being away? Despite being a people person, I was also afraid of being alone in a crowd, maybe not fitting in trying to pretend to be a writer/author (an unfounded concern – when are you officially one?)
Last year I took the plunge and signed up for a local conference, then by chance signed up for another that fit my travel schedule to attend right before it. I have to admit that at the first conference I did have the same feeling as the person mentioned here (but more directed at maybe wasting my money not them sponging off of me). Before you get offended at me, hear me out.
My expectation was to learn a lot, but I felt that I already knew a lot of what was being covered at the sessions, and that's where it felt like a 'waste', but 'waste' came from being cognizant of how much money I spent for this information that I already knew. After it was over, I evaluated the whole experience and decided that it wasn't really a 'waste', that that feeling came from a place of feeling further ahead in my knowledge than who the conference was designed for – it would have been an awesome conference for me 5 years ago! I still came away with learning how writing conferences are structured, new information, new things to think about, and meeting interesting people.
The next conference I attended had master classes in addition to the conference and I LOVED it. Formed great writer friendships that extended socially outside of conference hours. Although there were certain things about the way it was run that I didn't like, I appreciated all the hard work that was put into it.
Then I attended another local conference this spring and one of those writer friends sat right down beside me, without either of us knowing the other was attending! It made the conference so much more enjoyable because we could connect socially even if we didn't attend all the same sessions. But I realized that this conference, if not local, might have been a little more disappointing for the money. Not because it was not a good conference, but because it wasn't what I thought it would be. Because this conference was also for author 'fans'. I didn't even know there was such a thing as fan conferences! So despite it not being something I might return to as an unpublished author, I now know it exists when (I say when in optimism) I do become published and I learned so much about this realm of the writing world.
So I have learned a lot even in the conferences that didn't meet my expectations and it will help me to better choose the conferences I attend in the future that match more closely what I am looking to benefit from educationally. I now have a better idea how conferences function and what in general to expect. I also know the connections made in person are way better, to put a face to a name and the person that goes with it.
This article and associated comments has educated me on how giving that the conference organizers and speakers are of time and money and how the high costs are not just a big profit-maker.
I hope this encourages any writer to do their best in picking a conference and then just go. Get started or keep going no matter where you are at in your writing – dive into the deep end of the writing world and get wet and start swimming. And for those experienced/professional writers and authors and speakers, instead of being offended by people that make such comments, why not take the positive approach and try to enlighten them on what was explained here? Maybe they are feeling disappointed like I was or frustrated because of their expectations. Staring or glowering at them isn't going to leave a good impression, isn't encouraging, and certainly won't change them. Sometimes it is just pure ignorance of how it all works and what is involved. Maybe a simple question to let them vent, and then responding with a positive attitude of what little is being earned and that what is earned goes into the next conference would go a long way to changing their view and perspective. They may still need time and distance to process it, but education will be the key overall.
Lana, these are all great thoughts and points. It's really important to ask around and to read about the conferences to find the one that's best suited to your needs. You may find, as well, that you need a retreat instead. There are so many great options out there! But the bottom line is there are many services provided for us and we just need to choose wisely to get the best bang for our buck. Also, there's always something to be learned that we can walk away with.
Thanks for your comments today! Wishing you luck on your work in progress.
I attended the Writer's Digest 2017 conference. I went to workshops not in my genre to pick up new writing techniques that could be applied in my work. The marketing sessions were really useful and have caused me to do some re-thinking about where to apply my time instead of focusing so much on certain social media avenues.
I did the same, Phil! I'm so glad you found some useful sessions. Too bad we didn't meet!
Heather, I've attended between 8-10 writer's conferences and have found value in all of them, including the positives you mentioned in your post. I've changed my approach—for the better—to a number of fiction and nonfiction pieces post-conference.
And even though they charged $17 for a middling Manhattan at the WD Novel Writer's Conference in LA in 2016, it was a delight to meet you and a whole bunch of the rascally WU crew there.
It was great to meet you, too! And believe me, I'm still feeling the pain of my spendings as well…
Is any one at WU aware that there are technical problems going on with your website and posts? Check WU Facebook page for these issues. Your Contact Me page doesn't load so we have no way of contacting you.
Paula, yes, thank you. We've been making significant updates in the last 48 hours. Bumpy waters, but we're working on it and making a lot of progress. Thanks for your patience.
Meeting you was a highlight for me!
Regarding the grumpy writer, I think it can be intimidating to be at a con alone or if you're a real newbie and maybe, just maybe, the negativity was a reaction to insecurity. (Like you said many it was a day full of rejections.)
I loved meeting you, too, my dear! <3
And you're right. The guy could have just been having a bad day. The good news is, he inspired a whole positive rant! Ha ha!
Hi Heather – I was also at #WDC2017 and tried to say hello on Saturday evening when you were signing with Crystal and Anjali – both friends / connections of mine here in the Boston area. Sorry I missed you. Everything you say here rings true. Of course on the back end there are some people benefitting financially. But what's wrong with that, as long as the motivations are sincere and participants feel it's good for their soul? I personally wear 2 hats: as a publicist with a business to support, and as a temporarily-lapsed fiction writer eager for new inspiration. At conferences like this I find nourishment for both of these sides of myself. Plus, nourishing my writer soul makes me a better publicist – and vice versa. Do I walk away with some new clients? Quite often I do. Do other providers and the conference organizers earn a bit of profit? Most likely. But as you said, writers walk away with new ideas, new inspiration, new friends and book sales. Conferences are far from perfect, but they're still a win-win.
I'm sorry I missed you, Sharon!
I am so on board with your thinking. There's nothing wrong with connecting with people who would like to hire you and/or finding services we need at all–this is one of the main reasons these things run, to provide services. But that's a huge positive in my view and there's lots more beyond!
I hope I get to run into you again. I'm in CT so we're not so far apart. :)
Recent Comments
Beth on Jack, in the Box
Kimberley Montpetit on Jack, in the Box
The Written Fool on Jack, in the Box
David Corbett on Take 5: G.R. Macallister and ARCA
Therese Walsh on Take 5: G.R. Macallister and ARCA
Bob on Flog a Pro: Would You Turn the First Page of this Bestseller?
Bob Cohn on Hanging Out With Honey Boo Boo
Sarah Callender on Trusting the Process
Alisha Rohde on Trusting the Process
Christine Robinson on Hanging Out With Honey Boo Boo
Wish you could buy this author a cup of joe?
Now, thanks to tinyCoffee and PayPal, you can!
Creating Characters
Writer's digest books , steven james  ( foreword ).
341 pages, Paperback
First published October 3, 2014
About the author
Writer's Digest Books
Ratings & reviews.
What do you think? Rate this book Write a Review
Friends & Following
Community reviews.
Join the discussion
Can't find what you're looking for.
Trish Hopkinson
A selfish poet, list of 50 poetic forms for poets by robert lee brewer on writer's digest.
Click here for the List of 50 Poetic Forms for Poets
Writer's Digest provides a plethora of writing resources, including some specifically for poets. Specifically, check out:
Weekly poetry writing prompts
April Poem-A-Day Challenge
Robert Lee Brewer's Poetic Asides Blog
You can register for their site for free to have full access to all the content, including free downloads of writing guides, a free newsletter, tons of online content, writing forums, and more.
If you like this post, please share with your writerly friends and/or follow my blog or  like my Facebook page . You can see all the FREE resources my blog offers poets/writers on my Blog Tour page. 
Share this post:
Click to print (Opens in new window)
Click to email a link to a friend (Opens in new window)
Click to share on Facebook (Opens in new window)
Click to share on Twitter (Opens in new window)
Click to share on Pinterest (Opens in new window)
Click to share on Tumblr (Opens in new window)
Click to share on LinkedIn (Opens in new window)
Click to share on Reddit (Opens in new window)
Categories: Poetry , Self-taught MFA , Writing Resources
Tagged as: poetic forms , poetry challenge , poetry forms , poetry prompts , Robert Lee Brewer , Writer's digest
4 replies »
Thank you for this Trish! I like to maintain a small list of forms I favor and others to try. I am curious of your experiences with Writer's Digest. I subscribe to the magazine, but I've only just begun to sort through the resources on their site. Would you recommend any of their online workshops? Thank you!
I have not tried their workshops. I've been fortunate to have a lot of local resources for workshopping. I like the approach of the site and it seems well maintained and professional, so I would expect their workshops to be of good value.
Pingback: List of 50 Poetic Forms for Poets by Robert Lee Brewer on Writer's Digest – All About Writing and more
Reblogged this on The Salamander Chronicles – Don Beukes .
Leave a Reply Cancel reply
Subscribe for email updates.
Email Address
Get even more poetry tips/news by following me on social media
Post categories.
Follow my poetry posts on Facebook
Follow me on Instagram
Follow me on twitter.
Enter the characters you see below
Sorry, we just need to make sure you're not a robot. For best results, please make sure your browser is accepting cookies.
Type the characters you see in this image:
Good Writing
Revising & Rewriting
Nonfiction Writing
Academic Writing
Travel Writing
Literary Agents
Getting Published
Fiction Writing
Self-Publishing
Marketing & Selling Books
Building a Blog
Making Money Blogging
Boosting Blog Traffic
Online Writing
eZine Writing
Making Money Online
Non-Fiction Writing
Magazine Writing
Pitching Query Letters
Working With Editors
Professional Writers
Newspaper Writing
Making Money Writing
Running a Writing Business
10 Things You Need to Know About Writing for Reader's Digest
December 16, 2022
23 Comments
My Reader's Digest editor taught me more about writing magazine articles and query letters than any other editor I've worked with.
These are the ten most important things I learned about writing for Reader's Digest ; these tips will also help you understand and follow the submission guidelines for contributors (which can feel overwhelming to freelancers).
Looking at the cover of a recent Reader's Digest will tell you almost everything you need to know about writing for this magazine. Put yourself in Sherlock Holmes' shoes, and look for the clues that are plastered all over the front page! What are the articles about? Who are the readers, what do they want to learn about, what scares them? What problems, anxieties, and worries are they dealing with? What types of feature articles, health quizzes and research shorts are profiled on the cover? That's how to write an article for Reader's Digest : answer questions and solve problems for the readers.
Here's another interesting fact about writing for Reader's Digest : when I went to Amazon to look for an annual print subscription to this magazine, all I found were Large Print issues. The regular print issues are only available on Kindle or digitally. What does this tell you about the publishers and editors? Put your businessperson's hat on: what decisions need to be made about advertising, market share, the cost of printing paper magazines, and the readership?
You don't need to know all the answers to my questions about writing for Reader's Digest . Just know that the editors aren't only thinking about your story, profile, or feature article. They're thinking about the problems their readers have, what their readers need to know, and how to keep their readers coming back for more.
The editors and publishers – of all magazines, not just Reader's Digest – are also thinking about attracting new readers, finding more advertisers, and even hiring aspiring freelance writers like you!
10 Writing Tips From My Reader's Digest Editor
Writing for Reader's Digest was my most rewarding job as a freelancer. My editor helped me pitch better query letters, find more solid research studies and think from the readers' perspective. She also reviewed and edited my articles over the phone, which improved my writing immensely . It also showed me how she as an editor viewed the articles, magazine, and big picture.
Not all writers get this perspective; I have no idea how I got so lucky! And if you've seen this magazine's submission guidelines (which you can find by searching for "how to submit an article to Reader's Digest "), you know that writing for Reader's Digest is a competitive business. But good news! My tips will help you get your articles published in more magazines than you have time to write for.
1. Keep your opinion to yourself
When I'm writing for Reader's Digest , I've learned not to provide a running commentary. I don't editorialize or share my opinions on the content of the article, profile, research short – or even my own story. This is the classic "show, don't tell" advice. Everything in your pitch and the article must be solid information that sources or experts actually told, gave, or showed you. Even if you're writing about your own experience, share what happened. Use your sensory details to fire up your writing .
2. Use reputable, provable experts or sources
If you can, talk in person to local sources who are considered authorities on your topic. I always include interview dates, names, email addresses, phone numbers and website urls in the footnotes that source my experts. Not every editor requires this; one of the other magazines I write for recently told me not to bother footnoting or even citing my sources. But if you're pitching a query letter or writing an article for Reader's Digest , submit all your source information (even if the contributor's guidelines don't state this).
3. Only quote from primary sources
A direct quote is in quotation marks (for example, "I love writing Reader's Digest because they pay a dollar a word!"). A primary source is someone you see or talk to in person. You can also quote from a book, magazine article, research journal, or even a blog post or website. A secondary source is a "he said/she said" experience (for example, "Laurie said she found the Reader's Digest submission guidelines for writers."). If you can't or don't feel like talking experts or sources directly, you can only directly quote from press releases, journal articles, or recognized sources such as the Canadian government or the FDA.
If you already know you don't want to be a freelance writer because it really is a ton of work, read 10 Careers for Writers Who Want to Make Money . There are thousands of options for aspiring writers who aren't interested in reading the submission guidelines and pitching query letters to Reader's Digest or other magazines.
4. Be specific in your query letter and article
Avoid vague, imprecise, dreamy descriptions when you're writing for Reader's Digest or any magazine. For example, don't write "someone quit her job to move somewhere else." Instead, be concrete and specific: "a writer in Vancouver, Canada quit her job tending sheep to move to New York City to pursue her dream of a freelance writing career." Answer these questions: What's his name? What city does he live in? How old is he? What job did he quit? What dream is he pursuing? What made him quit his job? Is he a short or a tall man? Pretend you're a curious reader.
6. Guard your sources' privacy
Tell your Reader's Digest editor the real names of the people in your anecdotes, but indicate whether their names should be protected for privacy's sake. Also, never make up stories or people or places – unless you're writing fiction for Reader's Digest . Check the submission or contributor's guidelines for their rules.
7. Never ignore an email from a Reader's Digest editor!
Don't do what I did. My Reader's Digest editor sent me an assignment – which I hadn't even pitched a query letter for – and I was like all "yay!" But I didn't tell her that. I didn't acknowledge her email or accept the assignment. My editor had to send me another email asking if I wanted to write the article for Reader's Digest or if she should assign it to someone else. Fellow scribes, always acknowledge emails — even the thousands of rejection letters you'll inevitably get from editors and publishers if you're a real writer .
8. Make sure your headline and intro grabs readers
Writing strong headlines (article titles and even paragraph subtitles) is one of the best ways to get your article published in Reader's Digest . Speak directly to the need or problem the reader has. Be clear and specific about what they'll learn, how they'll benefit, or why they need to read your article (sometimes known as the "takeaway"). Know your main point, present it clearly and compellingly, and stay focused. Learn how to write titles and intros that grip readers by the throat !
9. Be EAGER to edit, revise, rewrite your work
The most important thing you need to know about writing for Reader's Digest (and getting repeat assignments from editors) is to eagerly, enthusiastically tackle revisions of your work. Do not think if your magazine article, query letter, or even an excerpt or book chapter of your memoir as "your baby." It is your work , not your baby. You created it – and you may even have birthed it! But it is not perfect, and an editor can make it better. I don't know if this writing tip is in the Reader's Digest submission guidelines for contributors, but it should be. The only way to truly grow as a writer is to edit, revise, and rewrite your articles again and again and again.
10. Tailor your writing to Reader's Digest readers
My Reader's Digest editor was one of the first to directly tell me her preferred way of receiving query letters from freelance writers. One of the most valuable questions you could ask a magazine editor or book publisher – especially on the phone or face-to-face (such as at a writer's conference) – is how they like to be queried. "How do you like your pitches? Long? Short? Detailed? Summarized? Should I interview experts first, or can I just name them?"
Get a  Reader's Digest Magazine Subscription . I asked my editor for a year's worth of back issues, and she sent them! For free. Awesome.
In 11 Most Popular Articles to Write for Magazines | Tips for Freelance Writers I share different types of articles to write, to help you get published in the right magazine.
My list includes feature length stories, roundups, personality profiles, research shorts, human interest pieces, and "how to" articles. I also included examples of magazines that publish each type of article. Whether you're an aspiring freelance writer or an established author you'll find lots of ideas in this list.
Bonus writing tip from my Reader's Digest editor…
Don't use proper names as verbs. "We don't Xerox, we photocopy," she said. This is a common writing mistake that doesn't just apply to making print copies of stuff. Maybe you've heard of the "catsup versus ketchup" wars.
Have you tried writing for Reader's Digest ? Maybe you found the contributor's or writer's submission guidelines on the magazine's website, and felt overwhelmed or unworthy. Or maybe you've pitched multiple query letters and keep getting rejected. Feel free to share your experience below…
Want to write for magazines such as Reader's Digest , but don't know what to write about? Read How to Find Article Ideas That Editors Will Pay to Publish .
Need encouragement? Stay in touch! Get my free weekly email
Leave a reply cancel reply.
Your email address will not be published. Required fields are marked *
Notify me of follow-up comments by email.
Notify me of new posts by email.
23 thoughts on "10 Things You Need to Know About Writing for Reader's Digest"
I have been purchasing Reader's Digests since I was 12 years old (with my allowance and babysitting money). I have been sending you stories for many many years, but I have never received a reply. I have sent you 5 fabulous stories in the last few months: (1) "Bob Social", (2) "Three Sisters Together at Last" – this one could be a question to readers as to whether or not they agree with me – (work with me on this one). (3) Peaches & Cream", (4) "Prisoner of War Love Story" with photo of Myra and her father in Germany. (Could I please have that photograph back. At the last minute I became happy that you might want to include it. I should have made a copy.) (5) "Watching You", which is a fabulous story with a twisted ending. I am hoping that these comments get to the right person finally. My Email address is [email protected] ..
Hi Sandra, I don't work for Reader's Digest, so can't help you with this. But your article ideas sound interesting! I hope you get published with them one day. Sometimes it just takes repeated effort. Good luck with your writing, Laurie
Thank you for the tips.
Thanks for the tips. I am new to writing and really love the style of writing in RD. It is witty, engaging and educational while being succint. Any tips to write like an RD writer?
Thanks for the tips. I have a question about rejection/acceptance. I was told that RD will not acknowledge submissions – nor let you know if rejected. The only communication will be "if/when" they decide to publish it. However, there is no timeline given. How long must one wait before deciding to submit to another magazine for publishing? Is it safe to say that if I don't hear back in 3 months, then I can safely send the same submission to someone else? Thank you in advance for your time and input.
I am a death doula…my first experience was life transforming and I have written about it…five pages. Would you be interested in my story?
Thank you. Lots of constructive information.
Very helpful, thank you! Lots of inside "stuff"… for us newbies wanting to write for RD.
My daughter, who is a registered nurse, recently wrote a letter to her physician who recently underwent a spinal simulator which ended 10 years of excruciating pain. She tells the story of the ups and downs of treatment to no avail until this procedure changed her life.
Would you be interested in reading her story. If so, I will email her letter to you.
I am a retired hospital/hospice chaplain who holds nurses in high regard. Yes, I would love to read her story.
I haven't heard anything from reader's digest but it's only been a month. What's normal if there's such a thing in writing.
It's been so long since I wrote for Reader's Digest…I can't remember their guidelines for article pitches and submissions! What does their website say about submitting story ideas? I'd look at the submission guidelines on the Reader's Digest website, and follow their instructions.
Good luck with pitching your article…I'd love to hear if Reader's Digest accepted it; please do keep me posted!
All good things, Laurie
Thanks! So nice to hear encouragement from a real writer. I get lots from friends and family but it's time to go for it.
the reader's digest website does not give any specifics on how to submit a query letter or article idea. only gives an email address. i was confused as i thought years ago, i saw somewhere, the rules and regulations on how to do it. maybe in the actual magazine itself?
Hi LynnMarie,
I realize this is a 2017 question, but perhaps lots of us newbies are still finding it impossible to locate the submission guidelines on websites for most magazines.
One of the tricks I find useful is… to just Google the guidelines with the name of magazine you are interested in; for instance, "submission guidelines reader's digest."
Usually, such entry in the search field will take you directly to their submission guidelines hidden on their Website. And/or you'll get other hits from other freelance writing websites like "Freedom with Writing" and "Writers Write" talking about general guidelines from such magazine(s), giving you lots of ideas on rates and other "stuff" you'll need to know.
You can search any magazine's/publication's guidelines online just like that…
Hope that helps!
I think magazine editors and publishers deliberately make it difficult for writers to find the submission guidelines. Some editors – especially at popular magazines like Reader's Digest – get hundreds of submissions everyday. I suspect less than 5% are actually worth pursuing. The harder it is to find submission guidelines, the fewer queries and emails an editor gets.
When I was accepting guest posts on Writing Blossoms (then Quips and Tips for Successful Writers), I received dozens of queries a day. Many were filled with typos, bad grammar, boring ideas, and even misspelled words. If I was a magazine editor at Reader's Digest, I'd bury those submissions guidelines so deep it'd take a miner to extract them! And that would show that the writer is smart, determined, and willing to work hard to get published.
Alex's tips are great for writers who are looking for submission guidelines — for both big magazines like Reader's Digest and little writer's blogs that accept guest posts 🙂
Thank you for this article, it was helpful. My question is should I send the entire story (human interest) along with a brief description in my cover letter or just the cover letter with a short paragraph from the story to give the flavor of it? Or both? Sure is intimidating but nothing ventured nothing gained!
I hope you give these writing tips a chance! Maybe your 10th pitch to the Reader's Digest editors will be the one that gets you an article assignment 🙂
After 9 pitches to readers digest editors, i gave up.
Laurie, Thank you for your response. I'm glad to know that the RD pile does get read. As someone who was saw first hand how other magazines handles their piles (read delete), it's good to know someone can get to the other side.
I sent my first query to the electronic slush pile at Reader's Digest, and it was accepted a few days later. They DO look at those electronic queries — but getting published in the magazine is really hard. For every 5 queries I pitch to the RD editors, I'm lucky to get one acceptance.
It's the idea that counts….and it's hard to come up with great ideas!
I have been writing for a magazine owned by RD and have tried for years to get into the "real" RD magazine. I'm wondering – did you send this query directly to an editor or into the electronic slush pile? I'm convinced that to get an editor's attention, it has to get in front of the editor.
Thanks for your feedback, Lucie
This was an interesting article – especially since I had a conversation with a walking friend today that revolved around exactly this sort of thing! thanks for the tips!