Professional Waiter Cover Letter Example for 2023
Read for inspiration or use it as a base to improve your own Waiter cover letter. Just replace personal information, company application data and achievements with your own.
Make your waiter cover letter stand out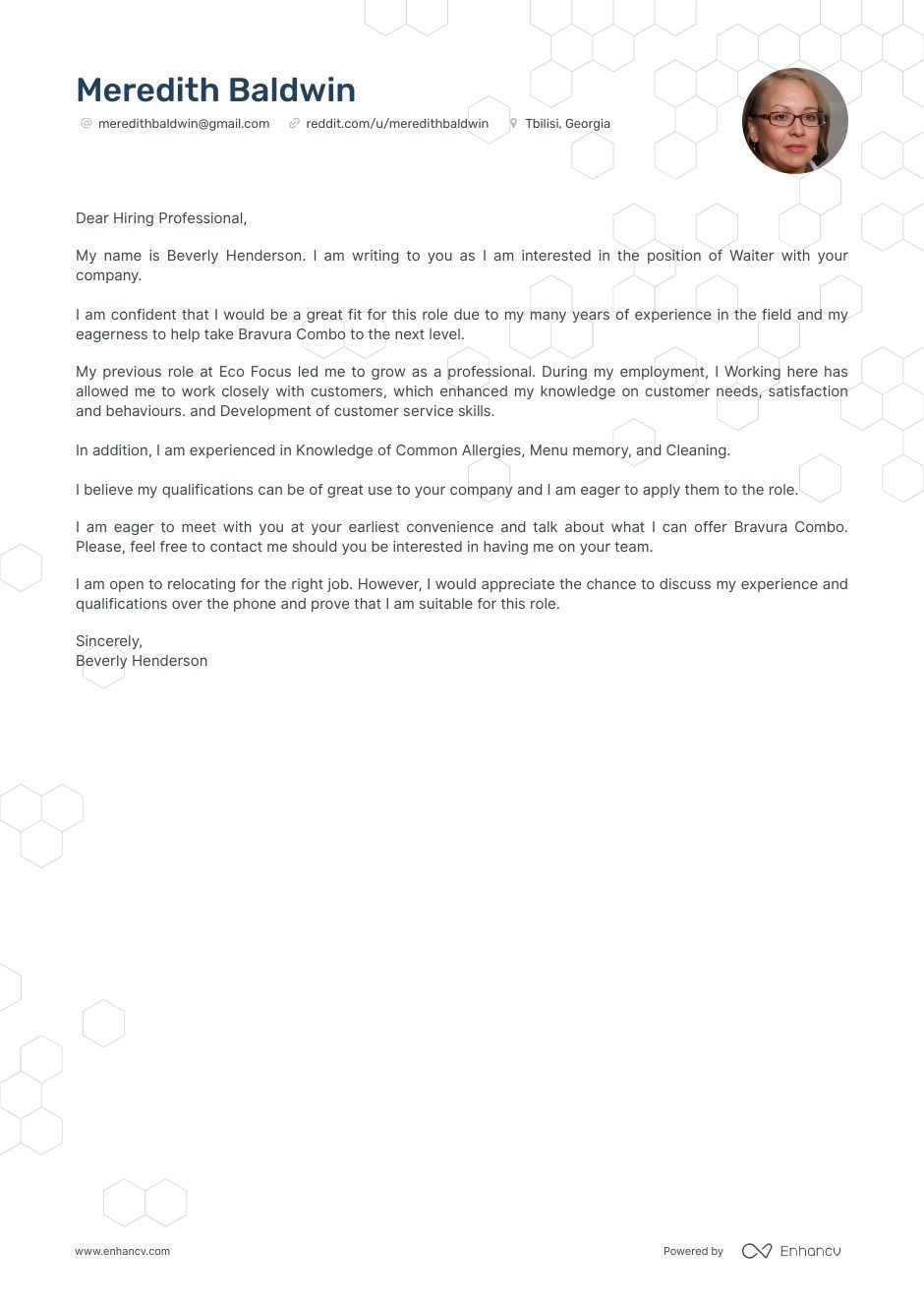 First off, you need to remember that a cover letter should build upon the information in your resume, rather than just repeat it.
Second, make sure that the tone of voice you use matches the company culture.
And last but not least, try to convey your enthusiasm for the position and the field. This will give your text a personal touch.
But how can you make your cover letter grab every hiring manager's attention? Let's see…
Stand out with a strong introduction and an appropriate salutation
Addressing your cover letter to a person is always something you should aim to do.
But finding who's responsible for the recruitment process might not be the easiest thing. We get it.
In such cases, we advise you to stick to the gender-neutral cover letter salutations.
Here are some examples of suitable classic salutations:
Dear Mr. John,
Dear Ms. Petersen,
Dear Hiring Manager,
Dear Dr. Todd,
Dear Head of [team you're applying for]
The introduction of your Waiter cover letter is what will get you remembered. But how can you make sure that your opening line is good enough?
Rumor has it, many people out there have started using phrases like "I found your job advert on website X and decided to apply" ever more often. But more importantly – that recruiters are already getting tired of it.
So instead of saying what everyone else is saying, we advise you to go for a more honest approach. Begin your cover letter by explaining what excites you about the company and how this excitement will help you on your journey towards success.
Emphasize your waiter soft skills and mention your hard skills
Although you've probably listed all your skills on your resume, it's worth mentioning them again, but by telling a personal story. Focusing on your soft skills and leaving most hard ones behind is also a good idea.
Maybe you want to mention the things that help you overcome setbacks? Or the things that help you reach your goals? It doesn't really matter what you choose, as long as you link it back to the specific job requirements.
Naturally, if the job advert mentions some hard skills explicitly, you should do the same in your cover letter. This will help you pass applicant tracking systems (ATS) that screen resumes and cover letters for certain keywords.
Show how passionate you are to join the company
Proving that you're familiar with the company is a great way to win the recruiter's heart. It shows that you've taken some time for research and that you're attentive to detail.
What's more, it will also help you find out the issues at hand. This way, you can link your own skills and qualifications to some potential challenges the company might have to deal with in the future.
End in an actionable way
Ending your cover letter in an actionable way is one of the things that increase your chances of getting a callback.
The conclusion is also your opportunity to thank the recruiter for their time and consideration, so don't skip that.
Just make sure to go for an ending that matches the company culture and language. If you prefer to be on the safe side, choose traditional closing lines such as "Looking forward to your reply".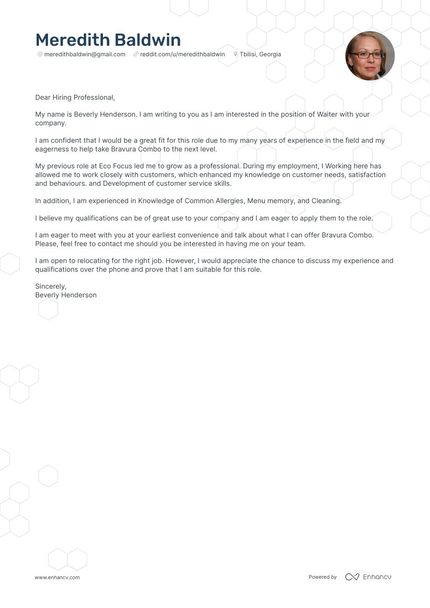 Cover letter examples by industry
Food Service
Hospitality
Restaurant Manager
Cover letters helped people get noticed
Updated for today's recruitment standards
Worried your cover letter design is past the expiration date? We'll help you craft a new one that leaves an impression and beats luck.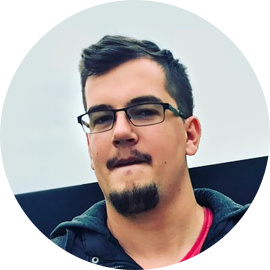 Daniel Pietersen
Senior customer support engineer.
" Enhancv gave me a sense of relief and a feeling of confidence when passing it along to a potential employer. "
Daniel Pietersen on using Enhancv
Check out more winning cover letter examples for inspiration
Learn from people who have succeeded in their job hunt.
Project Manager Cover Letter
Lab Technician Cover Letter
Math Teacher Cover Letter
Business Intelligence Cover Letter
Vp Of Sales Cover Letter
Recruiter Cover Letter
Marketing Associate Cover Letter
Restaurant Manager Cover Letter
Film Production Cover Letter
Quality Control Cover Letter
Production Manager Cover Letter
Housekeeper Cover Letter
Land a job interview by pairing your Waiter cover letter with a great resume
Having a strong cover letter is great, but you know what's even better than that? Pairing it with an equally good resume.
Check out our Waiter resume examples for some additional tips and inspiration, or talk to an expert .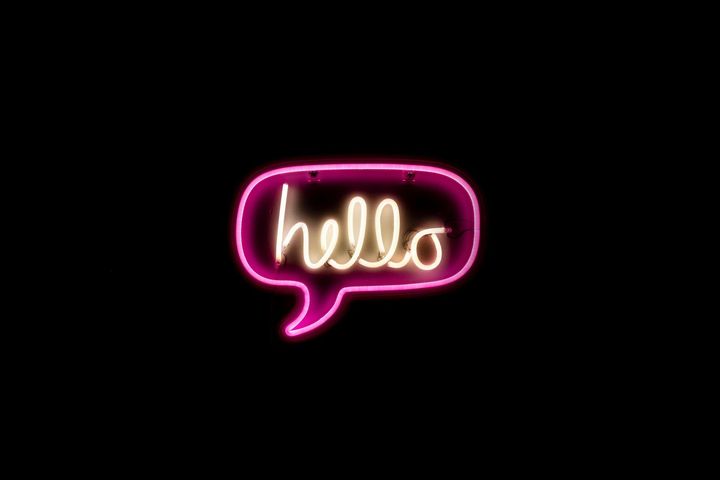 What to Write in Email When Sending Resume to a Friend?

How to Create a General Cover Letter (With Examples and Tips)

How to List Address on a Resume in 2023 – Format, Pro Tips & Examples

How To Write An Effective Resume Profile (With Examples)

How Many Bullet Points Should I Have Per Job on a Resume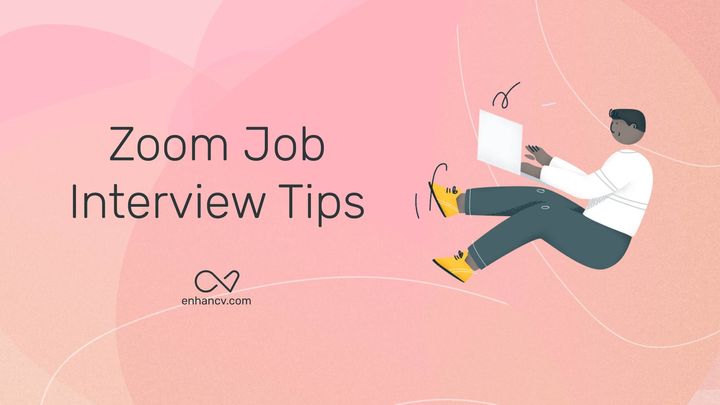 Sure-Fire Zoom Interview Tips to Ace Your Online Interview

Create Resume
Terms of Service
Privacy Policy
HTML Sitemap
Resume Builder
Resume Examples
Resume Templates
Resume Formats
Resume Checker
Resume Skills
How to Write a Resume
Modern Resume Templates
Simple Resume Templates
CV Examples
CV Templates
How to Write a CV
Cover Letter Builder
Cover Letter Examples
Cover Letter Templates
Cover Letter Formats
How to Write a Cover Letter
Resume Guides
Cover Letter Guides
Job Interview Guides
Job Interview Questions
Career Resources
Meet our customers
Career resources
French (FR)
Swedish (SE)
© 2023 . All rights reserved.
Made with love by people who care.
Resumes Resume Builder Resume Templates Creative Resume Modern Resume Basic Resume Professional Resume Traditional Resume ATS Resume High School Student Resume Word Resume Resume Examples Resume Formats Hybrid Resume Functional Resume Chronological Resume How to Write a Resume Skills Summary --> Resume Objectives Work History list References Resume Skills
Cover Letters Cover Letter Builder Cover Letter Templates Cover Letter Examples Cover Letter Formats How to Write a Cover Letter
CV CV Templates
Job Overviews
Resources Career Guides How to Become
Resume Builder
Cover Letter
food service
Waiter Cover Letter Examples
Waiters work in restaurants and are in charge for serving patrons food and drinks. Typical duties of a Waiter include greeting clients, offering menus, presenting specials, taking orders, serving food and beverages, collecting payment, and cleaning tables. Sometimes Waiters may be required to garnish dishes and prepare them for serving. As part of their job, Waiters have to check patron identification to make sure they meet age requirements.
Not exactly what you are looking for? Check our complete library of over 1000 cover letter examples .
Rate This Template:

For help with your resume, check out our extensive Waiter Resumes .
Improve your chances of getting noticed with a powerful cover letter. Take a look at our guide to create the best cover letter in 2023 .
Include These Waiter Skills
Dexterity and stamina
The ability to work in a standing position for long hours
Teamworking skills
Being able to do their job without supervision
Flexibility and availability to work in shifts
Selling skills
Strong communication and interpersonal skills
Professionalism and a well-groomed appearance
Below is provided an example cover letter for Waiter displaying comparable skills.
Dear Mr. Paulson:
Upon review of your posting for a Waiter at Giselle's, I was eager to submit my resume for your review. As an enthusiastic professional with 9 years of serving experience, I am prepared to make an immediate and positive impact on your restaurant in this position.
From taking customer orders and refilling glasses to setting tables and ensuring timely food and drink delivery, my experience has prepared me to excel as your new waiter. For the past nine years, I have provided excellent customer service in consecutive serving positions for both casual and fine dining establishments. My additional strengths in team collaboration, problem solving, and organization position me to thrive in this role.
Highlights of my background include:
Serving as Head Waiter for Blue Wave Restaurant in San Diego and Skyline Fine Dining in Calabasas, as well as a Waiter for Cherry's in multiple locations across the region.
Greeting guests, informing them of specials and menu changes, answering customer questions, and collecting and processing payments.
Training and coaching new servers while acting as a mentor to model restaurant procedures.
Collaborating with peers and management to ensure outstanding levels of customer satisfaction.
Earning consistent praise from restaurant management due to exceptional job performance.
With my excellent previous experience, coupled with my enthusiasm and dedication to ensuring optimal customer experiences, I could swiftly surpass your expectations as your new waiter. I look forward to discussing the position in further detail. Thank you for your consideration.
McKinley Morganfield
A professional cover letter is the first step toward your new job!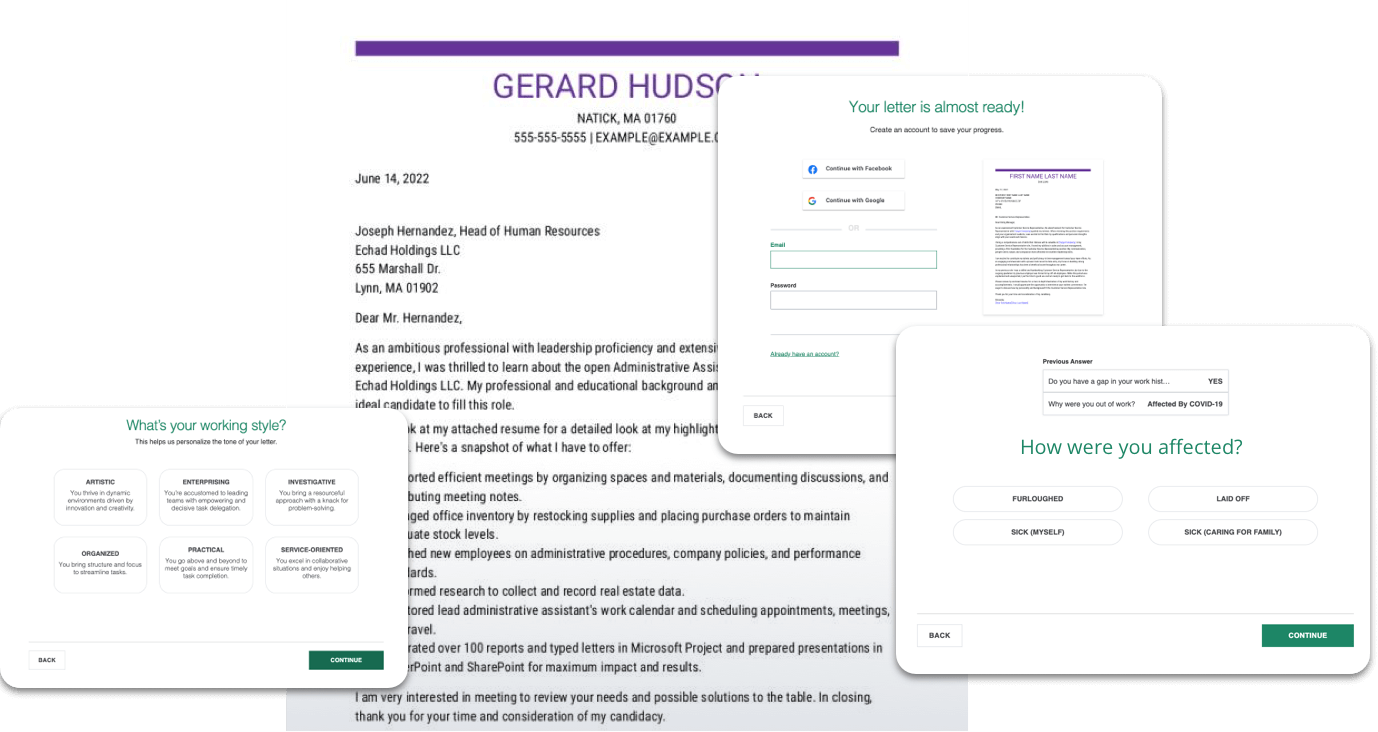 Skip to main content
Skip to primary sidebar
Skip to footer
Resume Genius
The World's Smartest Resume Builder
Home Cover Letter Examples Waiter/Waitress Cover Letter
Waiter/Waitress Cover Letter Example
March 22, 2021 | By the Resume Genius Team | Reviewed by Samuel Johns, CPRW
Land more interviews with the help of our downloadable waiter/waitress cover letter example. We also provide cover letter writing tips designed to help service-industry members improve their job prospects.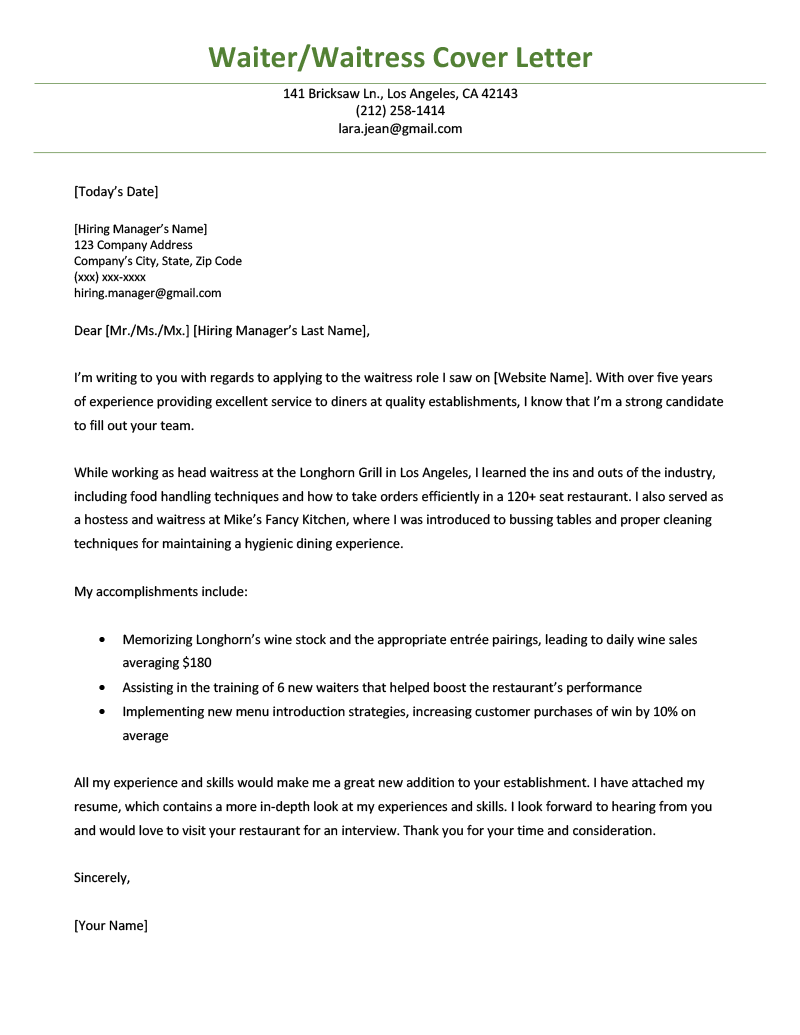 Not satisfied with this design? Find more options in our collection of cover letter templates .
Additional Examples Similar to a Waiter/Waitress Cover Letter
Waiter/waitress resume, food service cover letter.
Fast Food Cover Letter
Waiter/waitress cover letter template (text format).
Be sure to format your cover letter correctly to ensure it's easy to read and looks professional.
[Today's Date]
[Hiring Manager's Name]
[341 Company Address]
[Company City, State XXXXX]
[(XXX) XXX-XXXX]
[[email protected]]
Dear [Mr./Mrs./Ms.] [Manager's Name],
I'm writing to you with regards to applying to the waitress role I saw on [Website Name]. With over five years of experience providing excellent service to diners at quality establishments, I know that I'm a strong candidate to fill out your team.
While working as a waitress at the Longhorn Grill in Los Angeles, I learned the ins and outs of the industry, including food handling techniques and how to take orders efficiently in a 120+ seat restaurant. I also served as a hostess and waitress at Mike's Fancy Kitchen, where I was introduced to bussing tables and proper cleaning techniques for maintaining a hygienic dining experience.
My accomplishments include:
Memorizing Longhorn's wine stock and the appropriate entrée pairings, leading to daily wine sales averaging $180
Assisting in the training of 6 new waiters that helped boost the restaurant's performance
Implementing new menu introduction strategies, increasing customer purchases of wine by 10% on average
All my experience and skills would make me a great new addition to your establishment. I have attached my resume, which contains a more in-depth look at my experiences and skills. I look forward to hearing from you, and would love to visit your restaurant for an interview. Thank you for your time and consideration.
[Your Name]
Cover Letter Tips for Waiters & Waitresses
Learning how to put together a cover letter for the specific job(s) you want will help you land more interviews.
If you're great with people and can keep up with the fast pace of a busy restaurant, you have what every restaurant manager seeks in a waiter or waitress.
Prove you're their ideal candidate by pairing your resume with an exceptional waitress/waiter cover letter.
Follow these three tips to write a service industry cover letter that gets you the job:
1. Highlight waiter/waitress skills
As a waiter/waitress, you're responsible for setting tables, explaining menu items, and taking orders. So the right balance of hard and soft skills is needed to facilitate a successful dining experience for patrons.
That said, employers will prioritize your soft skills because this is a service-oriented role. For example, people skills and customer service skills are key waitress/waiter skills you should emphasize in your cover letter.
If you don't have much waiter/waitress experience, you may highlight experience from other client-facing roles to show you can deliver an exceptional customer service experience to patrons.
Here are key waiter/waitress skills to include in your cover letter:
Communication skills
Time management skills
Interpersonal skills
Active listening
Memorization
Attention to detail
Prioritization
Sales skills
Problem-solving skills
Conflict resolution
Coordination
Professional demeanor
Physical stamina
Menu knowledge
Bartending skills
Health and safety protocols for handling food
Point of sale (POS) systems
2. Open with a strong introductory paragraph
Working in the service industry has few formal requirements, so it's a common entry-level position for people seeking part or full-time work.
If you want to ensure your job application catches the attention of the hiring manager, lead with a strong cover letter introduction to explain why you're the perfect waiter or waitress for the gig.
Here's how to craft an impressive waiter/waitress cover letter introduction:
Show your excitement for the job opportunity. Because this is a client-facing job, show employers that you not only have the skills, but also the passion to drive a great dining experience for patrons.
Take a closer look at the posting to identify job-specific skills. Tailor your cover letter to the job by aligning your talents with what they're specifically looking for in new hires.
Lead with an outstanding achievement that touches upon your knack for great service
3. Emphasize your multitasking skills
As a waiter/waitress, you'll spend most of your time running around to fulfill your customers' requests. Restaurant managers seek employees who can perform various tasks efficiently while maintaining a friendly and professional demeanor.
In your cover letter, emphasize your multitasking skills to show them you can effectively prioritize your tasks and ensure everything runs smoothly at a busy dining establishment.
For example, talk about your experience ensuring customers had a pleasant dining experience in a 120+ seat restaurant and how you boosted performance by implementing new menu introduction strategies and making appropriate entrée pairings.
Still have a few burning questions? Check out our frequently asked questions for more help, or try building your waitress/waiter cover letter with our cover letter builder .
Additional Waiter/Waitress Cover Letters, Resumes, & CVs:
Cover letters:.
Hospitality (Hotel Front Desk) Cover Letter
Hostess Cover Letter
Housekeeping Cover Letter
Banquet Server Resume
Concierge Resume
Dishwasher Resume
Fine Dining Resume
Hospital Housekeeping Resume
Hospitality (Hotel) Resume
Hostess Resume
Housekeeping (No Experience) Resume
Housekeeping Resume
Night Auditor Resume
Click to rate this article
Related Articles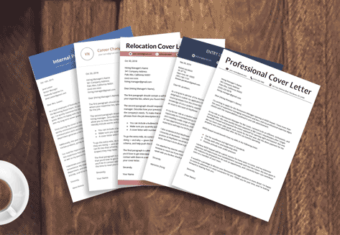 Cover Letter Examples for All Job Applications in 2023
February 2, 2023 | By Conrad Benz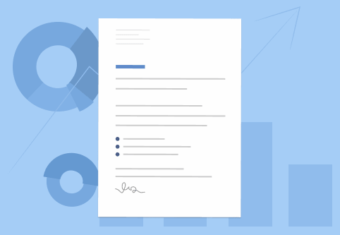 Cover Letter Statistics for 2023
January 12, 2023 | By Rebecca Tay, Ph.D.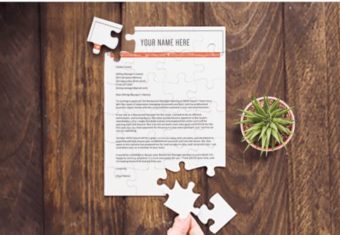 How to Write a Cover Letter for a Job
December 22, 2022 | By Ida Pettersson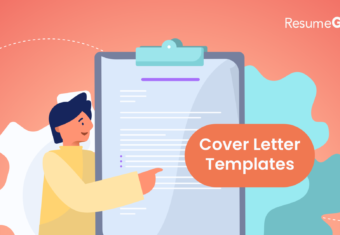 September 18, 2022 | By Pauline Delaney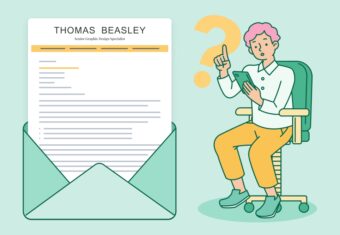 Are Cover Letters Necessary in 2023?
January 11, 2023 | By Corissa Peterson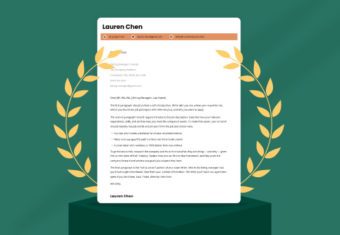 Best Cover Letter Examples of 2022 & Why They're So Good
May 18, 2022 | By Aaron Case, CPRW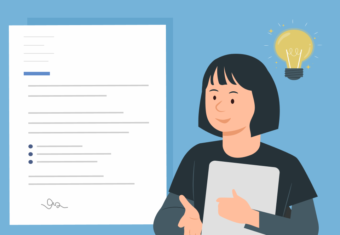 How to Write a Cover Letter With No Experience
July 26, 2022 | By Eva Chan, CPRW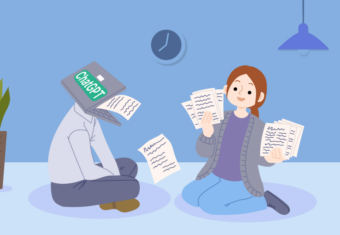 Making a ChatGPT Cover Letter: The Good, Bad, & Ugly
March 9, 2023 | By Eva Chan, CPRW
Resume Tools
Resume Builder
Resume Templates
Resume Examples
How to Make a Resume
Resume Format
Resume Summary Generator
Resume Help
Cover Letter Tools
Cover Letter Builder
Cover Letter Examples
How to Write a Cover Letter
Cover Letter Format
Cover Letter Help
What Is a CV?
How to Write a CV
CV Templates
CV Examples
Career Tools
Thank You Note Samples & Templates
Resignation Letter Samples
Letter of Recommendation Templates
Business Letter Formats
Career Advice
Forgot Password
Terms & Conditions
Privacy Policy
Accessibility
© 2023, Sonaga Tech Limited. All rights reserved
ResumeGenius.com is owned and operated by Sonaga Tech Limited, Hamilton, Zweigniederlassung Luzern with offices in Luzern Switzerland.
Waiter/Waitress Cover Letter Examples in 2023
On this page:
Downloadable Examples
Resume Text Version
Resume Tips from Experts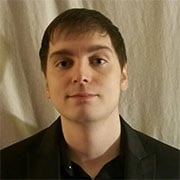 Frank Hackett
Certified Professional Resume Writer (CPRW)
Frank Hackett is a professional resume writer and career consultant with over eight years of experience. As the lead editor at a boutique career consulting firm, Frank developed an innovative approach to resume writing that empowers job seekers to tell their professional stories. His approach involves creating accomplishment-driven documents that balance keyword optimization with personal branding. Frank is a Certified Professional Resume Writer (CPRW) with the Professional Association of Resume Writers and Career Coaches (PAWRCC).
Create a professional resume in minutes for free.
According to the Bureau of Labor Statistics, the average annual salary for waiters and waitresses was $23,740 in 2020. Although this industry is expected to experience a 20% increase in growth over the next decade, you'll likely encounter strong competition as you apply for higher-paying positions in upscale establishments. Cover letters are not always required when seeking a serving position, but creating a customized document for the role you're applying to will speak volumes about who you are as a professional. Going above expectations can make all the difference in making a positive impression and securing the interview. Below, you'll find cover letter examples for entry-level job seekers and servers with years of industry experience.
Waiter/Waitress Cover Letters
Example #1 Entry-level
Example #2 Mid-career
Example #3 Senior-level
Waiter/Waitress Text-Only Cover Letters
Years of experience.
Entry-level Entry-level
Mid-career Mid-career
Senior-level Senior-level
Anthony Gentile Waiter | [email protected] | (123) 456-7890 | 123 Carpenter Street, Philadelphia PA, 12345
January 1, 2022
Pat Martin Hiring Manager Franko's Italiano (987) 654-3210 [email protected] 's.com
Dear Pat Martin,
As a waiter at Olive Garden, I delivered a high-quality dining experience to guests in a fast-paced, high-volume restaurant. Due to the unlimited refills for more than half of the menu items, this position required quick thinking under pressure to ensure guest satisfaction. These experiences have allowed me to develop an advanced understanding of guest relations and time management, which I believe will allow me to thrive in the server position with your restaurant.
Franko's Italiano has a reputation for the authenticity of its cuisine that resonates with me as a hospitality professional. Having acquired my initial serving experience at a chain restaurant, I am eager for the opportunity to apply my hospitality and service skills in a fine dining establishment. I believe that I can provide valuable contributions to your team based on the following experiences from my career:
Achieved 120%-150% of sales goals month over month by educating guests on menu items, upselling entrees, and appetizers, and providing recommendations based on guest needs
Provided quality service to 25-40 guests per day, coordinated with hostesses, servers, and kitchen staff, and supported team members during high volume periods
Ensured compliance with ServSafe regulations and Covid-19 safety protocols
I would like to schedule an interview to provide more insights into how my experience within the hospitality industry can be an asset to your restaurant. Feel free to contact me via phone or email at your earliest convenience. I appreciate your time and consideration.
Best regards, Anthony Gentile
Allison Rosenberg Waitress | [email protected] | (123) 456-7890 | 123 Bedford Avenue, New York, NY, 12345
Mr. Hector Martinez Hiring Manager Empellon (987) 654-3210 [email protected]
Dear Mr. Hector Martinez,
As a waitress at Casa Villa, I provided an exceptional fine dining experience to clientele at an upscale Mexican restaurant. I identified many opportunities to enhance the quality of service for our guests and supported efforts to strengthen collaboration between the front of the house and back of the house staff. I believe that my experience in fine dining and leadership skills will allow me to thrive in the waitress position with your restaurant.
Empellon's reputation for excellence in its food quality and service standards strongly aligns with my professional background. I believe that I can provide valuable contributions to your team based on the following achievements from my professional career:
Coordinated with the front of the house, back of the house, and management to improve guest satisfaction metrics from 78% to 92% by enhancing communication protocols and providing training to servers on effective usage of the POS system for custom items
Upsold menu items and daily specials to guests, provided education on dishes, ingredients, and spice levels, and achieved 130% of monthly sales goals
Provided training to 15+ new servers on restaurant service standards, daily operations, menu items, and the company POS system
I hope to speak with you further regarding how my experience within fine dining can help your restaurant continue to deliver quality service to your guests. You may contact me for more information on my background at your convenience. Thank you for your time and consideration.
Sincerely, Allison Rosenberg
Skyler Thompson Waitress | [email protected] | (123) 456-7890 | 123 Bridge Street, Boston, MA 12345
Mr. Caleb Morris Hiring Manager The Mariner Restaurant (987) 654-3210 [email protected]
Dear Mr. Morris,
As a waitress with over 10+ years of experience within the hospitality industry, I've developed an expertise in fine dining and sales techniques. At The Ocean Wind, I upsold specialty cocktails and gourmet seafood specials to generate over $90K in annual revenue. I worked collaboratively with hostesses, servers, and kitchen staff to improve daily operations and service standards. I am confident that my experience within the restaurant industry would be an asset to your team.
The Mariner Restaurant's reputation for providing both an exquisite dining atmosphere and upscale seafood is what draws me to apply for this position. I have a strong passion for the hospitality industry, and I believe that I can help your establishment continue to grow this prestigious reputation based on the following accomplishments from my career:
Delivered high-quality service to 45+ guests per day, upsold high-end seafood entrees and specialty cocktail beverages, generated over $95K in annual sales, achieved guest satisfaction ratings of 90%, and contributed to a five-star Google ranking
Provided training to 17+ new hires on a complex menu with over 30 items and delivered coaching and mentorship to improve sales and communication skills
Educated guests on a variety of seafood entrees and cuisine to achieve 150% of sales goals, including oysters, littleneck clams, cherrystone clams, quahogs, lobster, cod, and crawfish
Best regards, Skyler Thompson
Waiter/Waitress Cover Letter Tips
Waiter and waitress positions that require a cover letter are often high-paying opportunities at upscale establishments. To help differentiate yourself from the competition, you need to go the extra mile and permeate your cover letter with accomplishments that will resonate with the hiring manager. This is your first opportunity to make a positive impression on prospective employers. As a server, you'll want to showcase achievements that emphasize your sales expertise, communication skills, and knowledge of the hospitality industry. Below, you'll find some expert tips to help you build a winning cover letter:
1. Use Specific Examples to Highlight Your Serving Skills
When detailing your serving skills, you should provide tangible examples of your unique experiences within the restaurant industry. In the example below, the server wants to transition from a chain restaurant to a fine dining establishment. Although they don't have experience working in an upscale environment, the candidate does provide key details about their time at Olive Garden that showcases their capabilities as a waiter. For example, they included that because many of the menu items are refillable without additional charge, this position can be especially challenging for even an experienced server during peak hours. By providing these insights, the candidate is able to showcase time management skills that are transferable across the hospitality space.
2. Quantify Your Waiter/Waitress Experience
Sales are a crucial aspect of any waiter or waitress position. To capture the hiring manager's interest, you'll want to leverage numbers and metrics from throughout your serving career. If you generated substantial revenue, the monetary figure should be prioritized over a percentage. If you aren't confident that the dollar figure is high enough to impress the reader, you should focus on showcasing how much you exceeded monthly or weekly sales goals. In the example below, the applicant has experience working in a fine dining establishment and effectively showcases their sales and customer service capabilities:
3. Feature Your Leadership Abilities
Your ability to work collaboratively with both front of the house and back of the house staff is valuable to hiring managers within the restaurant industry. Communication breakdowns between servers and kitchen personnel are a frequent cause of operational issues for many establishments, which is why your leadership abilities are important to feature in your cover letter. In the example below, the candidate provides a compelling example of them coordinating with each of these teams to improve food service delivery and communication protocols:
Coordinated with the front of the house, back of the house, and management to improve guest satisfaction metrics from 78% to 92% by enhancing communication protocols and providing training to servers on effective usage of the POS system for custom items and guest requests
Other Resume & Cover Letter Examples
Waiter/Waitress Resume Examples
Server Resume Examples
Bartender Resume Examples
Server Cover Letter Examples
Bartender Cover Letter Examples
Waiter Cover Letter Example
A Waiter is responsible for providing food and beverage service to all guests in a professional, courteous, efficient and friendly manner. This is accomplished while maintaining a high level of guest satisfaction and adhering to all safety guidelines.
They are responsible for taking orders and then serving each meal in a timely manner. Other duties will include clearing used dishes from the tables, refilling drinks and water glasses, and checking in with customers to ensure everything is going well with their meal.
Write an great cover letter using our Waiter Cover Letter Example and Cover Letter Writing tips.
Waiters are employed by hotels, restaurants and other establishments to take orders and serve food to customers. They may also be known as servers or waitresses. Waiters work in a fast-paced environment that requires excellent customer service skills.
According to the Bureau of Labor Statistics, jobs in the food services industry are expected to grow by 11% over the next ten years. The BLS also reports that the median salary for a waiter or waitress is $26,530, with the top 10% earning over $45,000 annually.
What to Include in a Waiter Cover Letter?
Roles and responsibilities.
Greet and escort customers to their tables.
Present menu and provide detailed information when asked (e.g. about portions, ingredients or potential food allergies).
Prepare tables by setting up linens, silverware and glasses.
Serve food and drink orders.
Check dishes and kitchenware for cleanliness and presentation and report any problems.
Arrange table settings and maintain a tidy dining area.
Carry dirty plates, glasses and silverware to kitchen for cleaning.
Meet with restaurant staff to review daily specials, changes on the menu and service specifications for reservations (e.g. parties).
Follow all relevant health department regulations.
Provide excellent customer service to guests.
Education & Skills
Waiter skills:.
Confident in serving food and drinks.
Excels at maintaining professionalism while under pressure.
Always eager to help out coworkers and supervisors.
Good customer service skills.
Able to handle a fast-paced environment.
Waiter Education Requirements:
A high school diploma or equivalent is the minimum educational requirement for a waiter. Some employers require waiters to have some postsecondary education, such as a degree in restaurant management or food service.
Waiter Cover Letter Example (Text Version)
Dear [Hiring Manager's Name],
I am writing to apply for the position of waiter at [restaurant name], which was recently advertised on [job posting website].
As you'll find in my resume, I have been a waiter for the past three years at [restaurant name], where I have developed strong relationships with customers and learned the intricacies of delivering exceptional service. I am excited to bring my customer service skills to your restaurant and join a team that is known for its warmth and generosity in serving others.
I have always had an interest in food since I was young, and as a [nationality] immigrant, it's even more important to me that I am able to provide for myself with a job that is fun and allows me to share my culture with others. As a waiter, I get to do both of these things because it allows me to be around food all the time, but also gives me the opportunity to enlighten others about dishes from my culture.
The experience working at [current restaurant company] has really helped me develop my customer service skills and understand how important it is that everyone receives an exceptional dining experience. I am sure that these skills would translate well into your restaurant environment and make me a productive member of your staff.
Sincerely, [Your Name]
Whether you're seeking your first job in the restaurant industry or have been a waiter for years and are looking to move up, our Waiter Cover Letter Example and Writing Tips can help you land an interview.
The cover letter is a great place to highlight both your service skills and your passion for food and hospitality. Emphasize your ability to support the restaurant's bottom line by providing excellent service that will keep customers coming back.
Even if you don't have experience, highlight other positive attributes you bring to the table: your flexibility, physical stamina, and love of working with people.
Once you've written a great cover letter, it's time to start working on your resume. Refer our Waiter Resume Sample for more tips on how to write your resume and accompany it with a strong cover letter.
Customize Waiter Cover Letter
Get hired faster with our free cover letter template designed to land you the perfect position.
Related Hospitality Cover Letters
Skip to main content
Skip to primary sidebar
Wait Staff Cover Letter Example
Salon, Spa & Fitness
Social Services
Transportation
Want to use this letter?
City, State, Zip Code
Home : 000-000-0000 Cell: 000-000-0000
[email protected]
Dear Mr. Martin,
I am writing to apply for the position of Wait Staff with The Gateway Restaurant. I am a service professional with over 10 years of experience working in restaurants. In my current role of Wait Staff with Starburst Inn I take diners' orders deliver tickets to the kitchen staff bring food to the table and assist in checking customers out at the register.
I enjoy working in a fast paced environment and possess a keen memory along with an ability to keep information straight. I am orderly and efficient in taking and delivering orders in a timely manner. My outgoing friendly personality is appreciated by my customers and co-workers. I am often complimented by the diners at my table for my professionalism and my genuine attempt to make their dining experience a pleasant one. I know I could bring this same level of expert personable service to your customers as Wait Staff for The Gateway.
I am confident you will find me to be an excellent candidate for your open position. Please do not hesitate to contact me at your earliest convenience to arrange an interview to further discuss my qualifications. I look forward to hearing from you and thank you in advance for your consideration.
Isla Cisneros
There are plenty of opportunities to land a position, but it won't just be handed to you. Crafting a cover letter that catches the attention of hiring managers is paramount to getting the job, and LiveCareer is here to help you stand out from the competition.
View All Cover Letter Samples
Ready to build a strong cover letter?
Create My Cover Letter
*As seen in :

Project Administrator Medical Director Neurologist Theatre Nurse Photographer Taper Real Estate Agent Cashier Store Manager Assistant Professor View All

Stock Associate Production Worker Casual Mailhandler Service Coordinators Behavior Specialist Program Assistant View All

Waiter Cover Letter Example
Writing a Waiter cover letter is your introduction to the hiring manager. In order to stand out companies want you to present your relevant work history and skills according to the job you are applying for. Whether you're seeking an entry-level position or have been in your career for a few years, exposing your relevant achievements in your cover letter can allow you to stand out and get that job interview.
Our cover letter examples are written by certified cover letter writers and is a great representation of what hiring managers are looking for in a Waiter cover letter resume. Use this example for reference as you create your own cover letter or use this easy cover letter builder that will guide you through every step of your building your resume in just a few minutes.
Here is the Waiter Cover Letter example:
Dear Mrs. Dickerson,
I am very enthusiastic about the open position I found on www.careerbuilder.com seeking an experienced Waiter for your restaurant. Please review my included resume.
I have worked as a Waiter for the past four years at The Richardson. In this time, I have gained considerable experience in what it takes to serve guests in an upscale restaurant environment. I am also at present, pursuing a degree in Hospitality Management. I have a great amount of regulars who come in just to be served by my outstanding Waiter abilities. I am fast, great at multi-tasking, and can take on many guests at one time. Above all, I maintain that customer service is the most important task to master as a Waiter.
I look forward to communicating with you further. If you could please call me at (555)-555-5555 to schedule a time to come in, I would very much appreciate it. Thanks for your time.
Kimbery Campbell
Resume Attached as MS Word Document
Most Popular Cover Letters
Banquet Server Cover Letter Examples
Bar Attendant Cover Letter Examples
Bar Manager Cover Letter Examples
Bartender Examples Cover Letter Examples
Bartender Server Cover Letter Examples
Busser Cover Letter Examples
Caterer Cover Letter Examples
Catering Coordinator Cover Letter Examples
Catering Manager Cover Letter Examples
Catering Sales Manager Cover Letter Examples
Cocktail Waitress Cover Letter Examples
Coffee Shop Cover Letter Examples
Cover Letter For A Hostess Position
Deli Assistant Cover Letter Examples
Director Of Food And Beverage Cover Letter Examples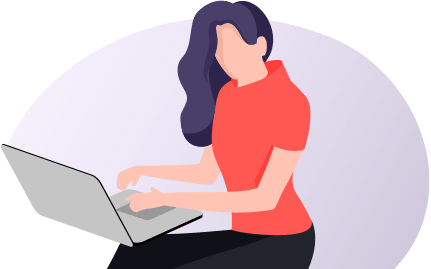 A professional cover letter is the first step toward your new job!
Preparation Tips
Interview Checklist
Questions&Answers
Difficult Questions
Questions to Ask
Interview Tips
Dress for Success
Job Interview Advice
Behavioral Interview
Entry Level Interview
Information Interview
Panel Interviews
Group Interviews
Phone Interviews
Skype Interviews
Second Interviews
Zoom Interviews
Job Interview Guides
Administrative
Call Center
Clerical Interview
Customer Service
Human Resources
Office Manager
Project Manager
Restaurant Jobs
Social Work
Interview Follow Up
Thank You Letters
Job References
Employment Tests
Background Checks
Character References
Accepting a Job Offer
Decline a Job Offer
Verbal Job Offer
Negotiate Salary
How to Resign
Job Search Strategy
Job Search Tips
Respond to Interview Request
Letters of Recommendation
Surviving a Layoff
Sample Resumes
Resume Objectives
Cover Letters
Job Descriptions
Job Interview Blog
Best Articles
Privacy Policy
Sample Waiter Cover Letter
Use this sample waiter cover letter to convince the employer that you are the best person for the job.
This is an opportunity to highlight any relevant experience and the skills and strengths you bring to the waiter position in a concise format in your application letter.
Your cover letter is designed to encourage the employer to give your job application serious consideration. Stand out from the crowd with a winning job application.
WAITER COVER LETTER
Your Name Your Address Your Contact details (phone and email)
Mrs Christine Gallo Hiring Manager Fine Dining 20 South Parkway Long Island, NY 11551
Dear Mrs Gallo
I enthusiastically submit my application for the waiter position you recently advertised on XYZ.com.  I am confident that my experience as an energetic and hard working customer-service professional will provide the skills you are looking for. I am forwarding my resume for your review and consideration.
Some key points that you will find relevant to your job opportunity include:
Track record of meeting and exceeding the needs of each customer in a warm and sincere fashion.
A passion for food and a good knowledge of beverages.
Knowledgeable about appropriate table settings and service ware.
Excellent memory and capable of reciting, explaining and promoting a wide range of menu items.
Skilled in keeping record of multiple orders and accurately processing payments.
Proven ability to work well under pressure and in a team environment.
Verifiable record of reliably completing shift requirements.
I pride myself on welcoming and engaging each customer in a friendly manner, responding quickly to their needs and efficiently resolving any concerns they may have.  I  would welcome the opportunity to meet with you to further discuss the waiter job opportunity.
Thank you for your time and consideration.
Jack Jobseeker
Useful waiter cover letter phrases
These are the skills and competencies employers generally look for in a waiter, waitress or server.
Use these phrases to build your own relevant waiter application or cover letter.
Proven ability to efficiently multitask to meet demands from customers.
Solid working knowledge of hygiene and safety standards and regulations.
Familiar with a wide range of food preparation methods.
Excellent track record of up-selling menu items.
Proficient in handling a range of financial transactions with a high degree of accuracy.
Able to deliver food promptly and professionally and provide excellent follow up service.
Quick to develop a complete understanding of all menu items and ingredients.
Skilled at communicating responsively with customers and clearly with other staff.
Record of promptly and effectively addressing complaints and issues and providing the right information.
Able to remain professional and calm in a high stress  environment.
What are typical waiter duties and skills?
This waiter job description will help you to make your waiter cover letter relevant to the job opportunity.
Restaurant Job Descriptions
Your waiter resume
This sample waiter resume will quickly convince the employer of your suitability.
Sample Waiter Resume
Easy to adapt resumes for your own use.
RESTAURANT  RESUMEs
RESTAURANT RESUMEs
Restaurant Manager Resume
Sample Bartender Resume
Employers often ask for references for waiter jobs. How to write a  Resume Reference Page
Waiter job interviews
Top 10 Interview Questions
Standard Interview Questions
To Top of Page
Don't Miss These Latest Updates
How to respond to an interview invitation. Good examples of  response to interview schedule email
What motivates you interview question and good sample answers. How to best respond to this common interview question.
Power up your resume in 2023 with these strong action words for a resume .
Most people find job interviews stressful. Find out how to calm interview nerves and feel confident about your interview.
What is a good letter of recommendation ? Top tips and letter of recommendation samples.
What are your strengths? Find out the 11 essential workplace strengths for 2023 at list of strengths and weaknesses
Interview Preparation
Interview Questions & Answers
Interview Guides
After the Interview
The Job Offer
Latest News
© Copyright 2023  |   Best-Job-Interview.com    |   All Rights Reserved.
Privacy preference center
We care about your privacy
When you visit our website, we will use cookies to make sure you enjoy your stay. We respect your privacy and we'll never share your resumes and cover letters with recruiters or job sites. On the other hand, we're using several third party tools to help us run our website with all its functionality.
But what exactly are cookies? Cookies are small bits of information which get stored on your computer. This information usually isn't enough to directly identify you, but it allows us to deliver a page tailored to your particular needs and preferences.
Because we really care about your right to privacy, we give you a lot of control over which cookies we use in your sessions. Click on the different category headings on the left to find out more, and change our default settings.
However, remember that blocking some types of cookies may impact your experience of our website. Finally, note that we'll need to use a cookie to remember your cookie preferences.
Without these cookies our website wouldn't function and they cannot be switched off. We need them to provide services that you've asked for.
Want an example? We use these cookies when you sign in to Kickresume. We also use them to remember things you've already done, like text you've entered into a registration form so it'll be there when you go back to the page in the same session.
Thanks to these cookies, we can count visits and traffic sources to our pages. This allows us to measure and improve the performance of our website and provide you with content you'll find interesting.
Performance cookies let us see which pages are the most and least popular, and how you and other visitors move around the site.
All information these cookies collect is aggregated (it's a statistic) and therefore completely anonymous. If you don't let us use these cookies, you'll leave us in the dark a bit, as we won't be able to give you the content you may like.
These cookies allow us to provide you with better functionality and personalization. They may be set up by us or by third party providers whose services we've added to our pages.
The purpose of these cookies is to give you a more personalized experience, based on your previous visits and choices. If you don't wish to allow these cookies, these services may not work.
We use these cookies to uniquely identify your browser and internet device. Thanks to them, we and our partners can build a profile of your interests, and target you with discounts to our service and specialized content.
On the other hand, these cookies allow some companies target you with advertising on other sites. This is to provide you with advertising that you might find interesting, rather than with a series of irrelevant ads you don't care about.
Waiter Cover Letter Example
Boost your chances of getting hired & find inspiration for your cover letter with our free, expertly drafted Waiter cover letter example. Copy and paste this cover letter sample at no cost or revise it in our intuitive cover letter builder.
Related resume guides and samples
How to craft a compelling hotel animator resume
The professional bartender's guide to writing a perfect resume
How to build a perfect chef resume
Resume guide for landing the concierge job of your dreams
Write the ideal food preparation resume with this quick guide
Write the ideal hotel manager resume with this quick guide
Write the ideal housekeeping resume with this quick guide
How to build a job-winning restaurant manager resume
How to craft a stand-out waitress or waiter resume
Waiter Cover Letter Example (Full Text Version)
Adrien Sally
Dear Sir/Madam,
When reviewing your job ad for the Waiter position within Ja Vier's Restaurant in Vienna on Indeed.com, I was pleased to discover that your needs and requirements match perfectly with what I offer as a professional. Therefore, I believe that I am a perfect fit for the job and I am also certain that it would be the opportunity of a lifetime for me to further grow my career.
To shortly introduce myself, I am a passionate and outgoing individual with extraordinary communication skills and the crucial ability to function well in fast-paced team environments. Having worked as a Waiter for more than 5 years, I am fully adept at all aspects of the position. Besides serving various drinks and meals, communicating with customers, and providing beneficial advice and recommendations to them, I also excel at:
Resolving any customer problematic issues and maintaining a clean and organized work area.
Collaborating with managers and processing payments.
Operating a cash register, assisting in the inventory management, and developing new restaurant processes which increase efficiency.
For constantly executing great work, I have won the Employee of the Month Award twice. What is more, I have demonstrated that I am a reliable person with the ability to think critically. Finally, I am a Certified Bartender and a native Hungarian speaker with a proficiency in English and German, and a basic knowledge of French which have proved to be crucial numerous times throughout the years.
Finally, please do not hesitate to contact me if you have any additional questions on my qualifications. I can be reached at 555-555-5555 or via email at [email protected] Thank you for your time and consideration and I look forward to hearing back from you in the near future.
Edit this sample using our resume builder.
Don't struggle with your cover letter. artificial intelligence can write it for you..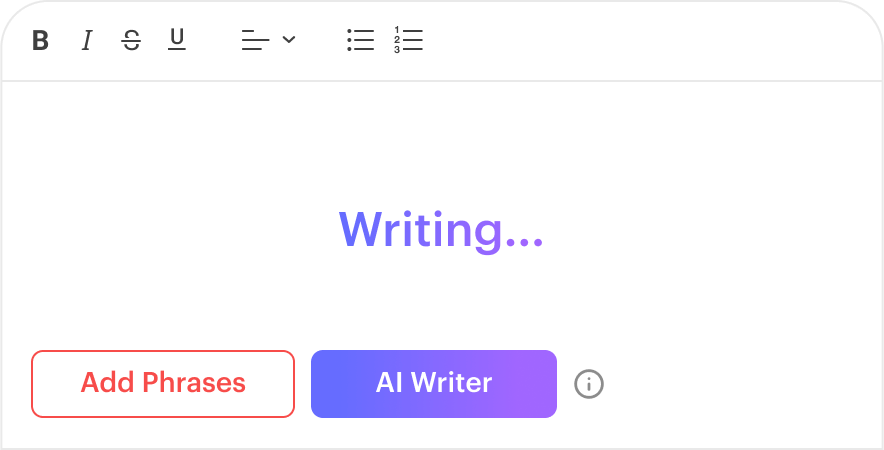 Similar job positions
Chef Animator Bartender Hotel Manager Food Preparation Housekeeping Waiter Concierge Restaurant Manager
Related hospitality resume samples
Related hospitality cover letter samples
Let your resume do the work.
Join 2,000,000+ job seekers worldwide and get hired faster with your best resume yet.
Waiter/Waitress Resume and Cover Letter Examples
Geri Lavrov/Getty Images 
Cover Letters
Skills & Keywords
Salary & Benefits
Letters & Emails
Job Listings
Job Interviews
Career Advice
Work-From-Home Jobs
Internships
What to Include in Your Resume and Cover Letter
Tips for writing effective resumes and cover letters, waiter resume example, waiter cover letter example, how to send an email application.
Are you applying for a job as a waiter or waitress? For some restaurant positions, you will apply by completing an online application, or you may be required to apply in person. For others, you may be required to submit a resume and cover letter for consideration, including your waiter or waitressing skills.
When you write a cover letter for a waitstaff job, it's important to highlight the skills you have that match the job requirements listed in the job posting. Your resume should include your most relevant work experience, typically in reverse chronological order.
Here's information on what to include in your resume, tips for writing resumes and cover letters that will get your application noticed, examples, and templates to download.
Highlight your customer service skills . Restaurant managers are eager to hire front-of-house staff who understand the importance of providing exemplary customer service to guests.
Emphasize your dedication to creating positive guest experiences, your proactiveness in identifying diners' needs, and your tact in responding to difficult customers.
Remember the importance of soft skills. Not only must waitstaff have exemplary customer service skills, but they must also demonstrate soft skills such as dependability, timeliness, flexibility in being available for different shifts, and a solid work ethic.
Match your skills to the job. Review this list of skills required for waitstaff jobs before you get started, then take the time to match your qualifications to the job. This way, your application materials will show the employer that you're a qualified candidate for the position.
Include all relevant experience.  Provide descriptions of your previous restaurant jobs, accompanied by bulleted statements about your achievements and significant contributions in each role. Also mention any restaurant point-of-sale (POS) systems or other computer technologies you are familiar with.
Detail your education and certifications. In the "Education" section of your resume, list any college degrees you hold or are currently pursuing. You should also mention any SafeServ, MAST, or other industry-specific certifications you have earned.
Tailor each resume to the job.  Both your resume and your cover letter should be revised to speak to the specific requirements of different employers. Read the job posting carefully, and then make sure your resume emphasizes the qualifications most valued by the employer.
A good way to do this is to include keywords in your resume from the job listing. Highlight the important words in the job listing (including qualifications, skills, etc.) and include them in your resume to demonstrate that you are a desirable candidate for the position.
Include examples.  Review these resume and cover letter templates to learn what information you should include, how to present your most relevant experiences, and how to make your application stand out from the competition. You can then use them as a basis for your own documents, personalizing them to reflect your own training and experience.
Consider the format. There is no single "perfect" format for a resume. Although most employers expect to receive resumes where one's experience is presented in reverse-chronological order, you may find that a different format would work better for you, depending on the position you are applying for, your work history, or your level of experience.
Proofread and Edit.  Your resume and cover letter need to be letter-perfect. Take the time to thoroughly edit your resume, correcting any spelling or grammar errors (or have a competent friend do this for you if you feel unsure about your grammatical skills). The formatting also needs to be consistent, with the same style of bullet points used throughout and the same size font for all of your section headings. 
This is an example of a resume for a waiter position. Download the resume template (compatible with Google Docs and Word) or see below for more examples.
Waiter Resume Example (Text Version)
Matthew Applicant 789 Billings Blvd Paw Paw, MI 49079 (269) 123-4567 matthew.applicant@email.com
WAITER Serving diners with enthusiasm and efficiency Can handle a high volume of customers in fast-paced environments, ranging from casual to fine dining.
Key skills include:
Friendly, outgoing, and personable
Multitasking
TouchBistro, Toast, and Upserve experience
Quick learner
PROFESSIONAL & VOLUNTEER EXPERIENCE
BETH'S BISTRO, Paw Paw, MI WAITER (July 2020—Present) Provide service for patrons at a fine-dining establishment.
Notable accomplishments:
Consistently record highest sales-per-shift average among staff.
Regularly asked to train new employees.
AUSTIN'S STEAKHOUSE, Mattawan, MI WAITER (August 2019—June 2020) Took orders, served meals, set and cleared tables, and dealt with the exchange of money at a fast-paced restaurant.
TOLL'S PANCAKE GRIDDLE, Paw Paw, MI HOST (June 2018—July 2019) Scheduled reservations and helped manage seating in a popular and busy restaurant.
PAW PAW NORTH ELEMENTARY SCHOOL, Mattawan, MI VOLUNTEER TUTOR (September 2019—Present) Tutor and mentor second and third grade students in reading.
EDUCATION & CREDENTIALS
KALAMAZOO VALLEY COMMUNITY COLLEGE , Texas Twp., MI Associate of Arts degree, expected 2023
PAW PAW CENTRAL HIGH SCHOOL , Paw Paw, MI Diploma, 2020
This is an example of a cover letter for a waiter position. Download the waiter cover letter template (compatible with Google Docs and Word) or see below for more examples.
Waiter Email Letter Example (Text Version)
Damian Finkle 123 Elm Street Albany, NY 12224 555-555-1234 damian.finkle@college.edu
May 16, 2022
John Lee Shift Manager Michael's Restaurant 123 Business Rd. Business City, NY 54321
Dear Mr. Lee,
Please accept my enthusiastic application for the waiter position you recently advertised on Monster.com. You state that Michael's Restaurant requires a waiter with experience in the food industry, strong customer service skills, and the ability to work under pressure. I believe I fulfill all of these requirements and am an excellent candidate for the position.
I have an extensive background in the food industry. I worked for two years at a fast-food restaurant. During this time, I gained experience in nearly every aspect of food service. I took orders and served customers their meals, handled the cash register, and performed daily inventory checks. As a waiter for Michael's Restaurant, I could assist not only in taking orders and serving customers but also in a variety of other capacities in which you might need assistance.
At Riley's Fast Food Joint, I also interacted with dozens of customers each day; I always made sure to provide clear and thorough answers to questions about our meal options and the cost of items. I know I could bring this friendly, helpful customer service to a position as a waiter at Michael's Restaurant.
My experience in the food industry and in customer service, and my ability to thrive under pressure make me an excellent candidate for your waiter position.
I have enclosed my resume and will call within the next week to see if we might arrange a time to speak together. Thank you so much for your time and consideration.
Signature (hard copy letter)
Damian Finkle
When you're applying for a job via email, include your name and the title of the job for which you're applying in the subject line of the message. For example:
Damian Finkle - Waitstaff Position
How to Get Your Resume Noticed
HIGHLIGHT YOUR CREDENTIALS: Emphasize your customer service and waitstaff experience, restaurant industry certifications, and your knowledge of restaurant computer technologies.
SHOWCASE YOUR ACCOMPLISHMENTS: Quantifying your achievements in previous jobs with numbers or percentages will help make your resume stand out from those of the other job applicants.
TAILOR YOUR RESUME TO THE JOB: Customize your resume for each job to which you are applying so that it focuses on presenting the specific qualifications the employer is seeking.
By clicking "Accept All Cookies", you agree to the storing of cookies on your device to enhance site navigation, analyze site usage, and assist in our marketing efforts.