Uber Case Study: Customers Should Drive Search Marketing
Eli Schwartz
As more marketing dollars shift from offline efforts to online, the need for skilled search marketers is increasing. And as the demand for Internet marketers rises, the job responsibilities will continue to evolve.
While in the past high rankings and a strong PPC impression share might have been enough to deem a search marketing campaign successful, as online becomes a larger share of a company's market, traditional methods are no longer good enough.
According to a recent survey conducted by SurveyMonkey on the ridesharing industry, Uber, the ride-hailing company everyone loves, has the highest brand awareness when compared to any of its ridesharing competitors. And according to the results, this translates into lots of customers and high conversions. It's safe to say that Uber's marketing team is doing a enviable job at scaling awareness of their product all over the world, and they truly seem unstoppable.
However, there is one marketing channel that has some potential for improvement: search. As anyone that who regularly follows the news knows, Uber has faced some pretty significant legal challenges, including a couple of drivers who have allegedly committed violent crimes against customers.
Uber, understandably, may not want to address some of these concerns in their search snippets. But unanswered negative perceptions about their company could be costing them clicks; especially when some of the negative news is right on the search page.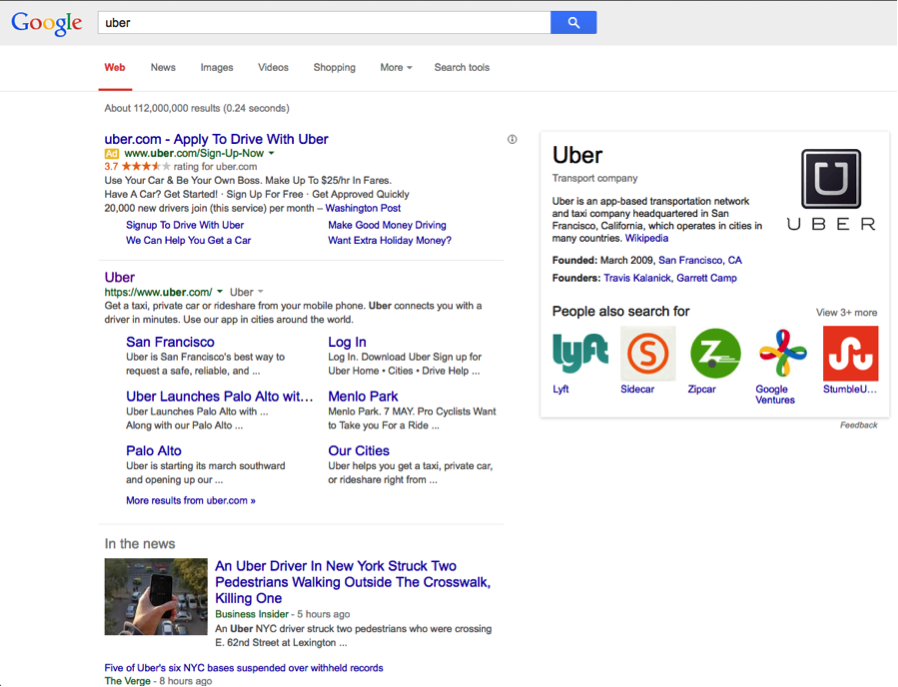 In the survey about the ridesharing industry, "driver trustworthiness" was one of the top three concerns of the more than 1,000 people surveyed. The other top 3 concerns were "inability to accurately estimate prices" and "cost."
While the ideal might be for Uber to neutralize any negative concerns about their brand, they could also just focus on the positive instead. Things the survey's respondents loved the most about Uber were:
Availability and quality of app
Friendliness of driver
Reliability
Uber in the SERPs
Uber could just as likely use their search copy to emphasize any of these popular benefits of their service. However, what they are actually doing is far off the mark:
Uber's title tag does not include any other keywords other than the word "Uber." This appears to be a huge missed opportunity not just for SEO, as they could be not only targeting some strong non-brand keywords, but also they could also use this space to specifically highlight their advantages.
As a comparison, here is Lyft. I'm not sure they're using the best SEO keyword in their title, but at least it succinctly declares what they offer:

However, in my opinion, Uber's biggest missed opportunity is their meta description, which in most instances would be their search snippet for brand queries. Uber could use their meta description to try to counter-balance some of the awful news that shows up in the Google News box by stressing some of their advantages.
For example, Uber can say they are safer or cheaper than taxis. It doesn't whitewash the negative stories, but pointing out that regular taxis are also dangerous takes some of the sting out of the bad press. In reality, there isn't anything that makes an Uber driver inherently worse than any cab driver.
And Uber doesn't seem to do a much better job with their PPC campaigns either. Using SEMrush, I looked at the keywords that seem to be taking up a majority of their spend: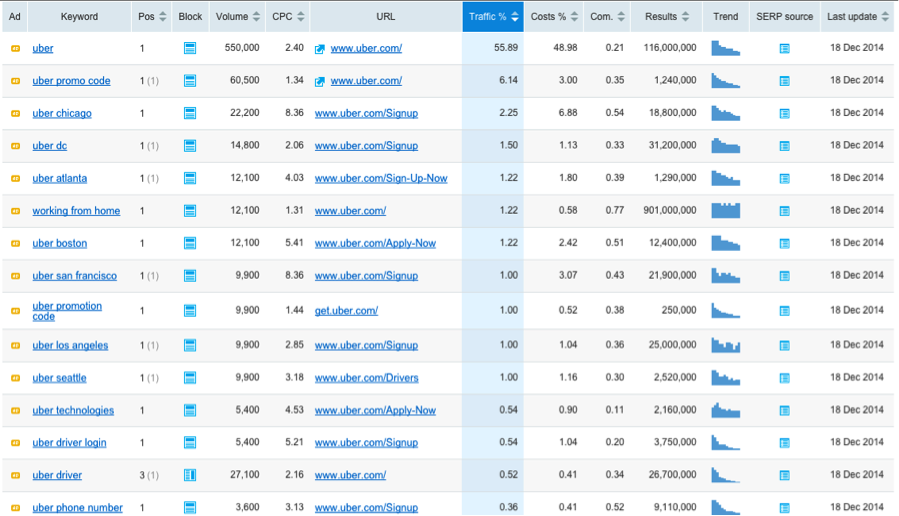 Most of these keywords are brand-related keywords. Uber has a very high level of brand awareness (according to the ridesharing survey) so anyone searching for their brand is a potential customer — they just need to be convinced to take the next action.
However, if you look at the ads that Uber is using, none of the ads (at least the ones targeted at acquiring customers instead of drivers) directly address either strengths or user concerns. Furthermore, a user who may have heard of some of the surge pricing scandals from the media and decided to check out Uber online might not feel very reassured seeing ads that mostly use money to lure in new drivers.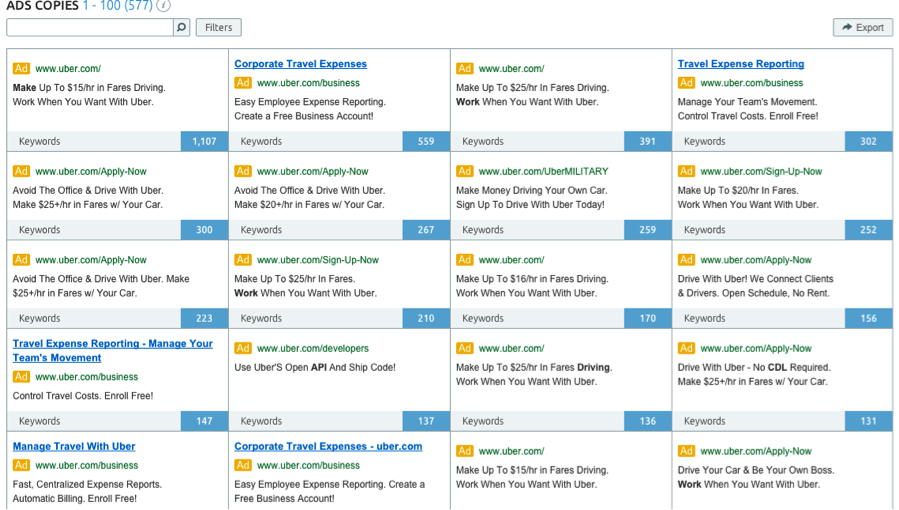 Offline and Online Marketing
When it comes down to it, search marketing cannot be conducted in a vacuum. Bidding on a high-paid search position or achieving strong organic rankings is of little value unless search users will be inspired to click AND fall into whatever sort of conversion funnel each site or product requires. With so much competition for the attention of users online, it is the biggest travesty to invest a lot of effort and budget into achieving just the potential for traffic, but then drop the ball when it comes to converting the impressions into users.
And just like in offline advertising where marketing placements and copy are intended to be related to the medium's audience, the same thing needs to happen online. A BBQ restaurant wouldn't advertise their steak sandwich in a vegan newsletter, but might instead promote their non-meat offerings.
Similarly, your online marketing needs to speak to the intent of the user's query if you have any hope of getting the click and making a sale. Making a compelling case is even more difficult online since you are directly competing with other paid and organic results on the very same page; therefore, you need to exert extra effort to ensure your search snippets present your strongest value proposition.
Fortunately, when it comes to online offerings there is plenty of customer data that can help you figure out exactly what the intent is — and then use this data in your organic and PPC marketing.
If Uber would implement a PPC strategy based on customer data, they could use ad copy that played up their cost advantages over traditional taxis, and the trustworthiness of their drivers over the crapshoot of hailing a taxi. Without testing, it would be impossible to know exactly what will work for them, but not showing any user benefits certainly is not the best strategy.
While Uber is a good example of a company with high brand awareness that has gaps in their search strategy, you can (and should) use customer and benefit data to improve your marketing.
Here are 4 things you can do right now to take advantage of customer data in your search marketing campaigns:
Discover your perceived strengths and weaknesses. This can be anything from informally polling your customers or using an actual market research tool like SurveyMonkey Audience .
Make sure your ad copy doesn't just use taglines but speaks to your advantages and maybe even attacks your negatives head on.
Do keyword research to put your best keywords in your title tag. But if you aren't going to do that, at least include phrases that help sell your business.
Write a meta description that fits in the context of the entire search page. If you are one of many results that will rank on the term, use your advantages to highlight why you are better. If you are on the search page along with potentially negative news stories, make sure your snippet can counteract them.
You can be the most successful digital marketer when you think of the full customer journey and not just rankings and clicks. The most important factor — and what keeps your paychecks coming — is sales. Use the data from past customer interactions to supercharge your digital marketing efforts.
Remember, a #9 Google ranking that drives lots of sales is far better than any #1 ranking that doesn't.
Academia.edu no longer supports Internet Explorer.
To browse Academia.edu and the wider internet faster and more securely, please take a few seconds to upgrade your browser .
Enter the email address you signed up with and we'll email you a reset link.
Marketing Strategy and Marketing Mix Analysis of Uber Technologies
Loading Preview
Sorry, preview is currently unavailable. You can download the paper by clicking the button above.
RELATED TOPICS
We're Hiring!
Help Center
Find new research papers in:
Health Sciences
Earth Sciences
Cognitive Science
Mathematics
Computer Science
Academia ©2023
Uber Marketing Strategies – Recalling All Important and Successful Methods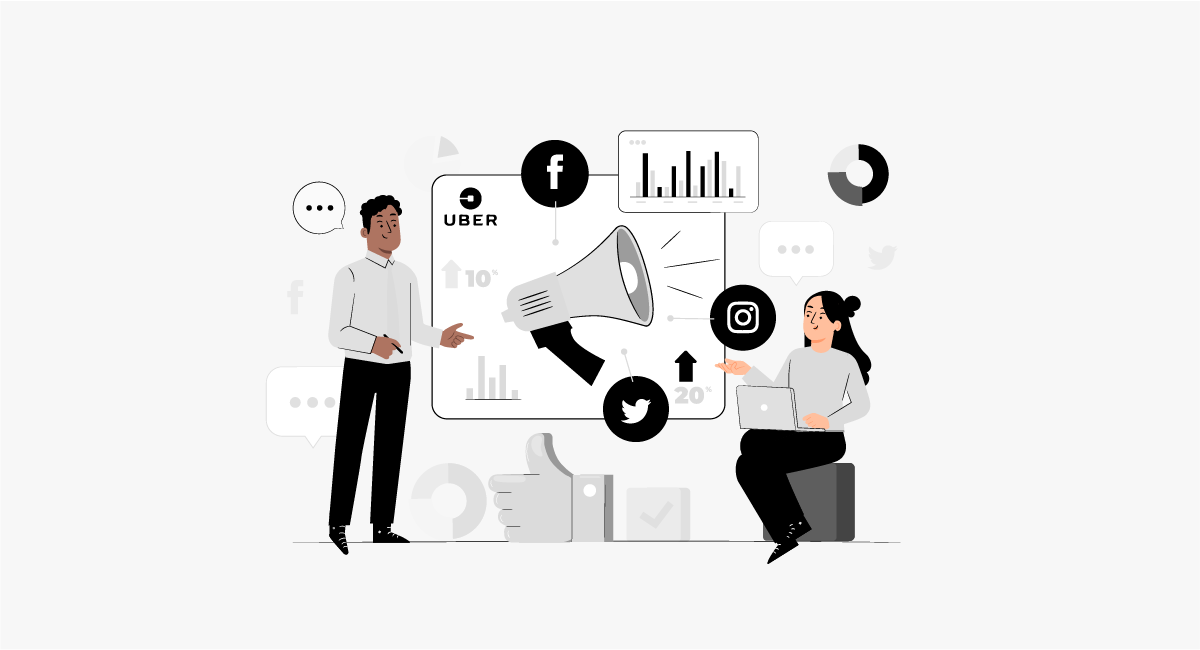 One of the earliest marketing strategies of Uber was social media to get that word-of-mouth marketing. Back then, social media was the premature bird in the games, which just started to spread in the early 2000s. Though there are lots of other strategies that have contributed, and when we look at the Uber business strategies , it is far away from a lot of enterprises currently struggling to reach that higher. Uber's assistance and its qualities, revenue channels, targeting the right city or country with the right plan, and some important facts are all inspiring.
The result is that now Uber is spread over more than 70 countries and 10,000 cities globally, so it has a diverse range of factors that affects its operations. Factors that influence the decisions of starting the business in a new city where on-demand transportation is the need of the hour, how to target the audience in that area, how to engage them, and all such.

Brilliant Marketing Strategies of Uber
Here we move to the uber marketing strategy that did result in pretty good for them, and they managed to be at a place where it is now. A really higher place!
Word of Mouth Strategy
In its premature days, Uber was a new concept for people that was about altering the lifestyle of people. That is why it needed to outspread through word-of-mouth marketing. For that, it targets high-profile people of Silicon Valley, bringing them to endorse the brand and recommend it to others. In addition, the geeks are probing new creations based on the tech transforming their life. Leaning on the new city, it pitches different events, like giving a first free ride to its users. This way, they attempted to enter into the lifestyle habits of individuals, trying to improve them with their services.
Campaigns to Reflect
With time, Uber has launched some spectacular campaigns for exposure to its assistance and to reach more user base by offering values and benefits. Some of the marketing movements are described below:
This campaign has the strongest focus on the driver's difficult job and thankfulness and seizing emotional reactions from the viewers. It was also a possibility for Uber to highlight new attributes within the app for the users and drivers, like easier and safer tracking, allowing trail payments more smoothly, and commencing and ending trips with a network connection. Overall the campaign was to show the concern Uber reveals to its drivers by improving their experience with updated features within the app.
'Bas Socho Aur Chal Pado' – Campaign in India for cheap riding Uber has established a 360-view brand crusade to enlighten people in India about Uber Auto and UberMoto, which are more reasonable compared to its other varieties of assistance. The campaign promotes the indestructible spirit of everyday Indians who are resilient aspirers, passionately pursuing their ambitions, regardless of the odds.
Influencer Marketing & Limited Access
Uber also once implemented an influencer marketing strategy, where it gathered influencers from different cities to try a secret ride with Uber. The campaign was named RiderZero. Celebrities like Zaheer Khan, Anil Kapoor, Papon Angaraag, Shakib Al Hasan, Machel Montano, Sharon Mundia, and more from diverse countries and cities were approached for this campaign. The campaign has the motto to reach millions of followers on Twitter of these celebs, creating buzz for the Uber Cab services.
Trinidad, Uber is now available! I'm pleased 2 be their #RiderZero , the first passenger on the island. Download Uber https://t.co/FCHGk7HRjV pic.twitter.com/wL9SJEZEmS — Machel Montano (@machelmontano) January 16, 2017
Referral Marketing
Uber has a brilliant service to offer the users, and they kept on enhancing that service to give a first-hand experience. And thus, it reached that level where its referral program was a success. Riders refer Uber to a new rider for a foremost free ride and get Uber credits to the old users. Even the drivers can refer services to the new users who get a free ride, and drivers earn credits. Uber had a successful referral campaign, hiring users and driver partners in huge numbers.
Distribution Strategy
Uber aligns with the company-owned cars and SUVs as well as partners with their own vehicles that get themselves registered individually for being in the business. They also tied up with the car manufacturer who customized cars for them. In addition, they also organize car driving schools. That way Uber, as a booming business, can inculcate good drivers and thus can create a distributed presence.
Social Media Marketing Strategy of Uber
Uber has a huge follower base on Facebook, a lot more than many of the popular brands. They use the Facebook account mostly to inform their users of the deals and discounts. Moreover, it also actively communicates with its users to acknowledge their experiences and attempt to improvise as far as it can. Like other brands, Uber is utilizing Facebook at its most.
Moreover, Messenger, a messaging app built on Facebook, has a transportation facility integrated within it. Its first partner was Uber allowing Facebook users to search for Uber directly and tap the car icon to book a ride.
Uber also is active on its Twitter account; it managed to make a huge network of around 1M. Posts relevant videos and images, new campaigns they launch, content related to trends, and so on. It actively engages with the people commenting on their posts and reaching a lot of users, and helping them out with their issues.
Every dog has its day…now every dog has its own ride, too! 🚗 Enter your destination in the app, tap the 'Uber Pet' icon, and bring your pup with you wherever you go. AND order all the pet essentials you need on Uber Eats! 🦴 Bone Appétit. See app for details. #NationalDogDay pic.twitter.com/adRuv7St6b — Uber (@Uber) August 26, 2022
Instagram is also one of the substantial platforms to engage users. Uber has dedicatedly participated in running the account. Instagram can be proved to be the best place to target potential customers, and Uber rightly applied the strategies to do so.
Uber has used its Youtube fam to share different video formats and types of content. Users are also actively watching the content; so far, Uber got 40 million views. Like other social media platforms, Uber executes strategies to market and engage its users on YouTube.
Uber is properly taking social media as a core platform to gain new customers. Platforms like Pinterest and LinkedIn are also where Uber is actively participating in engagement. Moreover, Uber's overall marketing plan is very significant for it. It invested 1.7 billion U.S. dollars as a budget for advertising activities in 2021, which was 1 billion in 2020. With this budget, Uber is also managing to execute fun marketing strategies by entertaining its audience on social media.
Fun Marketing Strategy of Uber
Uber helicopter.
Once Uber introduced UberChopper services where they were giving a 15-minute helicopter ride to get a wow-view of the city. The charge for the ride was around $100 per person. It was a risky strategy that might not get the drill. Well, it did well and really well. Social media folks went crazy discussing this idea discussing it with the #UberChopper and #UberCopter.
Let's #UberChopper #VDJ2018 #UberVDJ pic.twitter.com/oXw1DUaqUQ — Sihle To You ✍🏿️📝 (@SihleSays) July 7, 2018
Uber Air is also one of the initiatives brought to deliver transit services to customers. It is prepared to be three-dimensional airspace to ameliorate transportation congestion on the ground. Small electric aircraft will take off and land vertically (called VTOL), ensuring safe transportation amongst suburbs and cities.
Those times in your life when you think: "I have a pretty damn cool job!" #uberair pic.twitter.com/QdhbEuMEFn — dara khosrowshahi (@dkhos) April 18, 2018
Uber has a lot to learn from, being the most prominent ride-hailing platform in many pieces of the world. These Uber marketing strategies mentioned are all we learn and relate to a similar business. Also, it is not about just marketing a brand of service. It equally or mainly concentrates on the types and quality of services it offers. That is why they got to share those confidently and win a huge number of customers.
Being an entrepreneur, if you are also looking forward to starting a taxi-hailing business in any part of the world, starting by developing an Uber clone app would be the proper step to enter into the competitive world. Elluminati has been serving entrepreneurs with a finely constructed platform, fully customizable and built with the latest high-grade technology.

Rohan Vaidya carries matchless technical expertise in application development. A technical professional who is highly experienced in various development technologies and always eager to make the life of startups and businesses much easier with innovative solutions. Rohan has the vision to cater to the world's high-class tech solutions with his enthusiastic team of developers.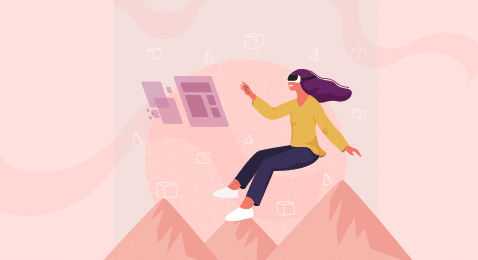 Acquire our high-tech products and services for your business without any delay! BUY IT NOW
Disclaimer: Every organization trademark mentioned on the website does not belong to us or has no control over it. Terms used are for the appropriate understanding of our services to our end users/customers, and we have no desire for wrongdoing to any organization or individuals.

Book your personal demo today.
Uber Scales Local Events Program with Hyper-Logical Strategy
Splash success story, transportation giant brings hyperlogical strategy to events..
Uber has been making the world more accessible since 2009. The snappy car-service app — now available in hundreds of cities in more than 60 countries — allows users to request transportation in a matter of seconds.
And although they are very much a global company, Uber's business is distinctly local. To celebrate that devotion to community, Uber launched "Neighborhood Love," an event-based initiative to provide free rides to customers traveling to emerging neighborhoods, and great discounts at area businesses.
The Challenge
To promote and drive signups for the neighborhood love program in portland..
The Uber marketing team needed a responsive event website that could engage, excite and inform. But like many satellite marketing teams, the Portland group faced a few hurdles: Design and development resources were tight, and the event kickoff was just a few weeks away.
Plus, most of the team's time was devoted to big picture details, like securing vendor partnerships and finalizing event logistics. Where would they find time to ideate, plan, design, build, and launch a gorgeous branded event page?
Luckily, they found Splash.
"Sometimes you just need to launch your own event page — and fast. Using Splash gave us so much more time to focus on what really mattered: making sure Neighborhood Love went off without a hitch."
GABRIELA BAITER, MARKETING MANAGER // UBER'S NEIGHBORHOOD LOVE CAMPAIGN, PORTLAND
The Solution - Part 01
A responsive, beautifully branded event page..
After a short training session with a Splash-certified designer, the Uber team was well-equipped to design and publish its own highly-stylized microsite.
The simple design was meticulously branded to Uber's distinctive design guidelines, could be easily replicated for future cities, and most important—it looked beautiful on every screen. Best of all, the microsite allowed each participating business to share something they were most proud of.
The Solution - Part 02
A user-friendly cms..
The real beauty of Uber's brand-new Splash-powered site happened behind-the-scenes. The CMS tool, for example, allowed anyone on the marketing team to quickly add, change or update event details without bugging a designer or dev to make the change.
The Results
Anyone up for a little urban exploring.
Splash helped Uber build an immersive web experience that led to increased consumer engagement, more app downloads, and an easy way to distribute discount codes to Neighborhood Love participants.
See Splash in Action. Get started today.
Guest Management
Virtual Venue
On-Site Tools
Integrations
Team Management
Internal Events
External Events
Virtual Events
In-Person Events
Hybrid Programs
On-Demand Programs
Event Calendar
Resource Library
Release Log
Customer Stories
System Status
Careers We're Hiring
Try it for Free
Talk to Sales
Related Reading
10 Underutilized Strategies for Remote, Unmoderated Research
Sharing is Essential: Collaborating + Socializing Insights with dscout
People Nerds: A Start-to-Finish Guide to Remote User Research
Moves to Modern Research: A New UXR Maturity Model
7 Ways dscout Gets You from Questions to Insights Faster
How to Build a User Research Plan (with Free Template)
Guides + Resources
Case Studies
Template: 3 Approaches to Studying the Omnichannel User Experience
Ebook: An "Everything-You-Should-Know" Guide to Remote User Research
Webinar: How Teams at Facebook and Github Scale Insights with Rolling Research
People Nerds People Nerds
Participate in Research Studies Participate in Research Studies
Research Design Lessons from Uber's Mixed-Method, 7-Market, 100+ Participant Study
An ambitious longitudinal study informed the global Uber Pro launch. Use the team's learnings to guide your next long-qual research project. 
In November 2018, Uber launched Uber Pro, a Rewards program aiming to recognize drivers' quality and commitment.
The beta launch was a complex, multi-market initiative—which required multi-market, multi-method research.
Alongside global discovery research, we conducted a series of mixed-methods evaluative initiatives to ensure Uber Pro's product-market fit and determine the essentials of the program: a tiering system, the categories of rewards and the mechanisms to access those rewards.
The research approach and scope was as important as the research methods we selected. We had to account for a lot of complex variables: different beta-market sizes (i.e. Chicago is 10 times bigger than Orlando), different driver engagement levels (some drove a few hours a week, some drove six days out of seven), different incentive structures, different levels of competition, and different qualifying criteria. Mixing all of the above, and you could find yourself in a difficult position to isolate the cause and effects of the new program.
After discussing it with Saswati (UXR manager) and Sally (Uber Pro Lead Researcher in the US), we embraced a research program that would be executed simultaneously in seven US markets, and could later be replicated in global markets.
Choosing the right methods
We started by mapping out each research question to the method(s) that would be best suitable to answer it:
Comprehension and usability of the program required an individual understanding of the participant's abilities (including tech literacy), background, and product usage. We informed this via a dscout Diary study , home-visits and in-depth interviews. We captured video materials that generated user empathy and provided concrete examples to improve the experience.
The program onboarding and evolution of the learning process and program engagement was informed via the diary study which lasted a full five weeks.
Perceived value of the rewards, motivation and attainability of each of the tiers was informed via focus groups with drivers who had a similar engagement with the Uber platform and provided a similar service quality.
The program awareness, rewards' preference and the long-term impact was better informed via a self-reported survey, comparing pre-launch and post-launch results.
In each US market, we recruited 4 to 5 participants for each focus group, 7 participants for the diary study. Based on their diary study entries, we selected the most expressive drivers and asked them permission to bring a videography team to their homes to make a mini-documentary. This resulted in a large sample size of over 100 participants for a qualitative research. This was mainly due to the number of segments we had to cover: a matrix of 7 markets and 4 driver segments in each market.
Step zero: Beta Launch and passive data collection
We started with a Beta launch in the US and its results determined how and whether the program would scale globally. We combined large-scale A/B testing experiments with a research to inform the 'what', the 'why' and the 'how' of questions like:
Would drivers become aware and understand the program?
Which rewards are perceived as valuable? Are they motivating enough to change drivers' behaviors?
Are the qualifying criteria (quality and engagement) fair and inclusive to all drivers?
Which driver segments would show best results and why?
How would the market size influence all this?
What needs to be iterated?
Should we expand the program to 100% of the drivers and to global markets?
Monitoring engagement through a diary study
Right after the beta launch, we started a 5-week Diary study in dscout to understand the impact of Uber Pro in drivers' experience, motivation to drive, and sentiment towards Uber.
Why a diary study:
Unlike other research methods, dscout Diary brought us very specific findings about participants' engagement with the program, motivation to drive, and their comprehension after each of the official communications.
Generally speaking, longitudinal, remote qual offers a few distinctive advantages:
Sensitizing users with the topic : Diary studies are invaluable for having participants reflect upon their life in-context, and offer up future intent.
Optimizing our qual efforts: Home visits are expensive. Diary studies allowed us to adapt our discussion guide for follow up with other methods. And they gave us increased confidence that we had our participant sample right.
Providing real-time insights : Because Diary studies have participants log based on a trigger, you get accurate responses in real-time. Oftentimes, we'd here from them directly from their cars—right after they finished an airport ride or tried a new reward. You don't have to worry about participants forgetting.
Comparing responses over time: By having users answer the same questions over a period of weeks, we were able to explore and report on feature usage— in-depth and over time. We could gather information about what "regular" use looked like after a feature launch, monitor how a new product worked, and understand user behavior changes from before and after launch.
In short, diary studies allowed us to get deeper level insight of what changed for participants—rather than leading us to rely on just metrics. It showed us our participants' in-the-moment, unbiased thoughts, and showed their interactions with the product in a variety of settings and circumstances. And made it such that we didn't have to constantly meet with participants in person to understand triggers for change.
How we designed the diary study:
Drivers were prompted to answer three dscout "parts"—completing a repeated series of tasks each week:
Part one focused on planning at the beginning of the week to capture their intentions and other commitments.
Example Question:
"How many hours do you plan to drive this week?
Part two captured the end of their week. The goal was to understand how their driving behavior matched (or didn't match) the plan and why. This gave us insight into the effects of Uber Pro components and their satisfaction with the rewards they experienced.
Example Questions:
How many hours did you drive this week?
How well did that match your plan? Share your answer in a video format.
Part three asked for a deep dive on a specific reward that we called "Your thoughts on…"
Have you tried the [feature name] yet? Share your impression of it.
How valuable do you find it? Tell us why.
A bonus video-question was optional for drivers to answer. We phrased it as: " Did you just have a moment related to the rewards program that you want to share with us? Describe where you are and what happened. Be as specific as you can. The more entries, the better! "
Learnings from our diary study design:
Include an "always on" bonus question.
Drivers would share their delight and appreciation right after enjoying an airport priority dispatch. They'd recount their frustration with a trip cancellation at 2am in the night. Or they'd reflect upon getting home after a full day of driving.
A number of factors helped for this bonus question to become so revealing: it was the only contextual, optional, "answer when you want" type of question. This gave drivers flexibility to be themselves and share their videos with palpable emotions, in the context where it happened.
Anticipate some drop-off
Some drivers in the Diary study didn't complete all 5 weeks. We anticipated this possibility and over-recruited to make sure we had drivers from all tiers and markets at the end of the study.
Take a "less is more" approach
There was a lot of pressure to get the program right: the investment volume, the competitive landscape, the number of teams involved, the company working to go public. In light of this, we overdid it. I forgot the principle of " less is more " and went above and beyond to uncover objective insights for each market. In hindsight, we could have limited the duration to three weeks, divided the study into lighter weight studies, and limited the participant numbers to make sure we could effectively analyze and compare their responses.
Design your study for easier analysis
A few things we learned to make analysis easier for such longitudinal, remote studies:
Including multiple choice questions throughout the diary study helped us have quick results to share along the way.
Giving complete, accurate instructions on video quality ensures you can use all participant answers from day one.
Encouraging users to answer questions via the dscout messaging function proved to be effective, insightful, and considerate (drivers sensed we truly cared about their answers).
Keeping analysis within the platform could have saved us time manually copy-pasting. Consider having an analysis-focused training with all the researchers involved.
A collective approach to analysis:
We had a researcher focusing on each market, conducting and sharing preliminary findings as soon as they gathered the evidence. This setup allowed us to capture video reactions, usage, perception and product bugs, and share them on a broad internal newsletter on a weekly basis.
Once the study closed, we created a findings report template at a market level to standardize and make the comparison across markets easier. After having completed reports for each market, we gathered all of the researchers, data scientists and designers in one room for a one-week research sprint.
Analyzing as a cross-functional team allowed us to triangulate qualitative findings and experiments results to produce very powerful insights. We first created a base level, compared markets and generated insights and concrete opportunities for each of the themes: the user journey, the rewards, the criteria and the communication, comprehension and impact of the program.
The collective research approach also made the insights buy-in a lot easier. Many people contributed to creating the reports and received the opportunity to present to a very senior audience. The findings were broadly shared via internal conferences and weekly newsletters to hundreds of internal stakeholders and generated excitement and purpose among all of the people involved. Through the research shareout, we felt how we were improving drivers' lives, making them feel proud for their service.
We didn't stop after the first presentation, but persevered organizing dedicated sessions with different product teams, marketing and support to have the intended impact. The research team identified and helped fix a number of UX problems, renamed and re-ordered some of the rewards, launched special email communications and a push notifications campaign aimed to complement product educational tooltips, adapted the eligibility criteria and prioritized product road map to improve program awareness and comprehension.
These findings green-lighted a rapid global expansion to get Uber Pro to markets across 4 continents within 6 months. Now, the program is live in 58 countries and used by millions of drivers.
Summing it up...
Best practices for designing, executing, and analyzing a diary study:.
Study design:
Clearly define your goals and double check the suitability of a remote tool.
Each dscout mission (individual research project) is composed of Parts. Each part should be doable in less than 8-10 minutes to keep participants engagement high.
Limit the number of participants under 6 per cohort and under 20 in total. Too many participants makes the analysis challenging and does not add too much value.
Ask only the questions that you are willing to analyze. Combine open-ended, video and multiple choice questions. Multiple choice questions are helpful to glance results and share them quickly with stakeholders.
Work on the invite message to make sure you introduce the goals of the study, the requirements (time required, phone, laptop, etc.) and the compensation.
Define a process to analyze and report early findings.
Follow-up with participants to clarify or deepen answers by texting them within the dscout platform.
Leave space for an always-on BONUS question to gather contextual videos right when they happened (i.e. a woman who had to cancel a trip at 2am because she did not have a car seat for babies). It is very powerful to uncover deeper emotions and context of use of your product.
Try as much as possible to do the analysis within the diary platform to leverage some of the tools and gain efficiency.
Use tags to more easily sort entries and find themes.
Rate your participants to help you later if you need a follow-up study.
Highlight key quotes from answers or video transcripts.
Create and download video clips or playlists for high-impact shareouts.
Identify themes by filtering answers based on cohorts, multiple choice answers, or tags
Review starred clips to add videos and quotes that illustrate your findings.
Subscribe To People Nerds
A weekly roundup of interviews, pro tips and original research designed for people who are interested in people
Define Project Goals and Outcomes First to Save Yourself a Headache
Insights activation roundup: how to make an impact with your findings, before diving into democratization, think like a user researcher.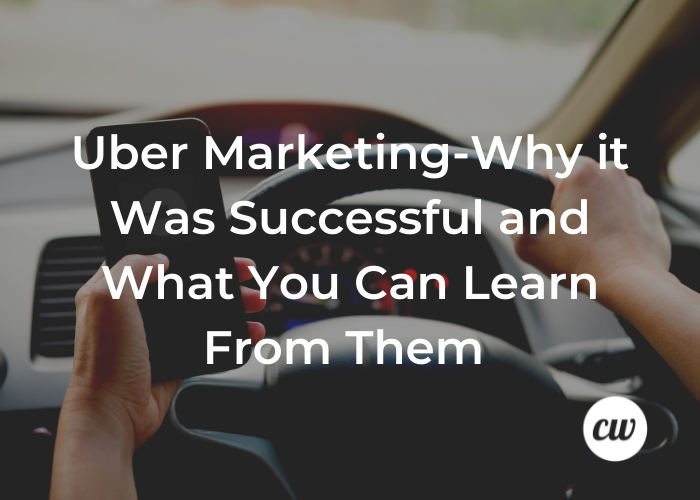 Uber Marketing – Why it Was Successful and What You Can Learn From Them
There are a lot of business owners who can learn from the example set forth by Uber, the global company known for allowing users to hail rides via their mobile app. Uber has become a massive success thanks in large part to its marketing know-how.
The best part is, you can take some of the strategies used by Uber and apply them to your own marketing practices. Let's take a look at some of the company's most successful marketing campaigns and how you might be able to implement them within your own business.
Uber Offered The Perfect Solution
The founders of Uber saw a need that was not being met and came up with an innovative, new way to meet it. Sure, taxis had been around for decades, but the problem was the process of hailing one. There's nothing enjoyable about standing in the rain or snow waiting to hail a cab. Uber founder Travis Kalanaick saw a problem and created a new way to solve it with a unique solution: allowing users to hail a cab from their smartphones.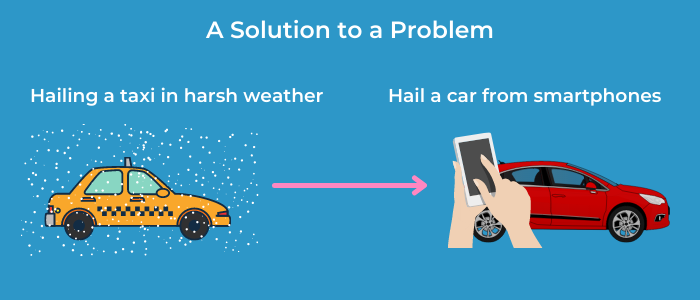 Take Myspace, for example. Myspace was the online platform that first introduced us to social networking, but Facebook came along and refined it. If you don't have an innovative strategy in place or a strong marketing plan, be prepared for competitors to come along and trump your idea with an even better one. That's what Uber did. They reimagined the taxi experience to make it more attractive, seamless, and convenient for everyone involved.
The biggest foundational element of creating a winning marketing strategy is to have a winning product or service—unlike anything anyone else has seen before.
Uber Connected a Great Team with a Sizeable Market
Business launches and marketing strategies can certainly have success without a great team, but not having a great team definitely makes it harder. You can better set yourself up for success when you have a strong team in place first. In the case of Uber, they had a top-notch team and a sizeable market to connect with.
Sometimes, luck plays a huge role in the success of a company, but luck wasn't the only thing Uber had on its side. Travis Kanalick understood the importance of having a strong project manager, so his first step before launching the business or thinking about a marketing campaign was to align himself with the right person for the job.
Uber Got The Funding They Needed
To get funding for your business idea, you need investors. To gain investors, you need a powerful investment pitch that catches the attention of investors and gives them plenty of good reasons to invest. Uber would not be the massive success it is today without capital. Remember that when you start your business. It is going to be a lot harder to orchestrate successful marketing campaigns without proper funding.
In its first round of funding, Uber had raised $11 million from backers. Today, Uber has funded over 22 rounds of funding for a total of $24.2 billion. The first $11 million was raised in 2010. This was a time before fundraising platforms like KickStarter had become popular. Today, you might be in an even better position than the Uber founders because can use these platforms to raise capital and generate buzz for your business.
Uber Knows Their Customer Base
Know your target audience. That may sound obvious, but it is a fundamental truth that businesses must know their target audience to effectively market to them. Although people of all ages use Uber, it is most popular among smartphone-using millennials. Uber also understood they needed to not just market to ride users, but their drivers too.
Another example is the approach Uber took during the pandemic when millions of restaurants and small businesses shut down. Uber emphasized their UBER EATS food delivery service. They went even further and acknowledged and praised the work of frontline healthcare workers with their campaign #GratefulUK. They offered healthcare workers free rides and meals. Uber understood the needs of both their riders and drivers and was able to create effective, innovative marketing strategies to meet the needs of both sets of people.
Uber Skillfully Aligns Itself With Strong Partners
No man is an island and it could be argued that this is the same philosophy every business should apply. Uber certainly did. They partnered with such companies as Capital One, Spotify, and Starwood Hotels and these alliances helped increase brand awareness.
Capital One banking customers get discounts on their Uber riders, Spotify users can connect their Spotify playlist while riding in an Uber vehicle, and Starwood Hotels members can earn hotel discounts every time they take an Uber. Current Uber customers were incentivized and rewarded with discounts and perks while customers of Capital One, Spotify, and Starwood Hotels who may not yet have been customers of Uber were enticed to use the ride-sharing service.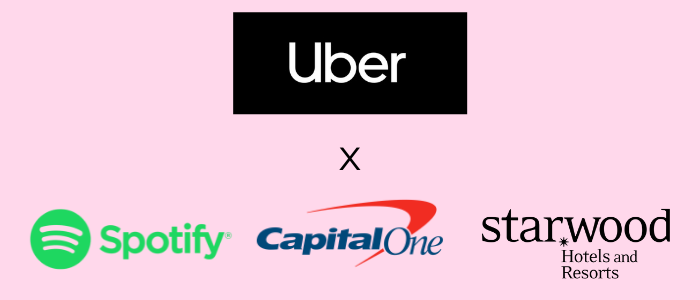 Uber Created a Unique Review System
Uber set up a unique approach regarding reviews. Not only could riders rate and review their drivers, but drivers could rate and review passengers. Having this two-way street established helped solidify trust in the reputation of not just the driver or passenger, but the Uber company as a whole. Allowing drivers to rate and review passengers made the opportunity of working as an Uber driver more appealing. It makes the process a more seamless experience for everyone involved and makes Uber a trusted brand name.
Uber Knew They Needed Good Tech
It could be said that Uber was one of the early adopters of AI technology. The founders knew they needed tech to successfully launch and operate their business. Uber's technology allows the app to identify the rider and driver's locations and provide directions that both the driver and rider can see with its mapping software. Again, all of this plays into the seamless convenience of both the driver and rider experience.
Technology is designed to make everything more convenient and efficient and providing your own customers with an automated experience helps attract new customers and retain current ones.
Uber Offered Discounts
Uber founders came up with a reimagined idea and implemented tried-and-true marketing methods. Sure, they also came up with innovative marketing campaigns, but they still understood the value and effectiveness of concrete strategies. One such concrete marketing strategy was offering discounts. Uber attracted their target audience by offering free rides and discounts to first-time users. They took it a few steps further and also created an Uber Loyalty Program, a system that allows frequent riders to rack up points with each ride and use those points to gain Uber Cash and other benefits. This system allowed Uber to attract new customers and retain existing customers.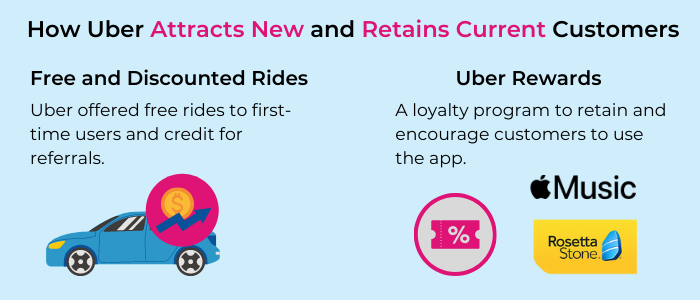 Uber Knows How to Handle Publicity
Entrepreneurs can learn a lot from Uber's successes, but they can also learn a great deal from their blunders as well. Just like any business, Uber didn't always do everything right and experienced plenty of their own pitfalls and failures. Uber also experienced a handful of publicity issues ranging from lawsuits to privacy concerns. And at one point, there was even a #deleteUber campaign circulating online. In fact, the series of PR issues Uber experienced eventually led to the resignation of the founder, Travis Kanalick.
Uber may not have been prepared for the publicity, but you can learn from this oversight and make sure you have all your PR ducks in a row. Maybe this means you have a rock-solid marketing campaign with an in-house publicity team. Or, if you have the budget for it, you may instead opt to hire a reputable PR firm.
Uber Founders Didn't Give Up on Their Idea
One of the first mistakes entrepreneurs make when thinking about starting a business is giving up on the business idea before even launching it. If you have a great idea, don't give up on it during the early innovative period. If founders Travis Kanalick and Garret Camp dismissed their idea simply because they weren't the first people to brainstorm new ways to create a transportation service, we might not have Uber today.
The difference between Kanalick and Camp and anyone else who may have come up with an idea similar to Uber is that they acted on it. Plenty of game-changing business ideas are dismissed early on, but Kanalick and Camp plunged full steam ahead.
Want to learn more about effective marketing and branding? Visit our blog at ContentWriters.com and connect with us on Facebook , Twitter , and LinkedIn .

Shannon helps businesses get more business by crafting content with the most engaging, user-friendly, and marketable material. For over five years, she has crafted thousands of written pieces for hundreds of clients. Her range of work includes blog posts, music reviews, articles, interviews, product descriptions, press releases, public service announcements, sponsorship proposals, and social media content.
Catch up on the rest of your content marketing news and strategy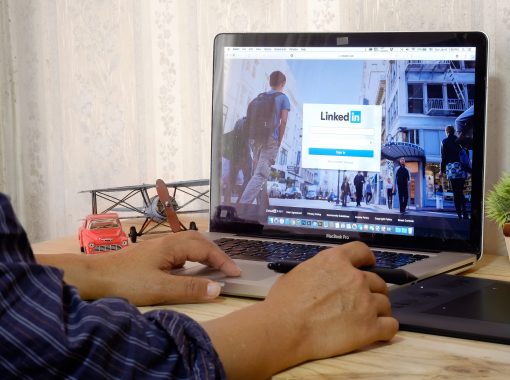 How to Write Content for LinkedIn
Professionals, B2B clients, and customers connecting socially on LinkedIn have very different content expectations than Facebook, Twitter, or Instagram users. …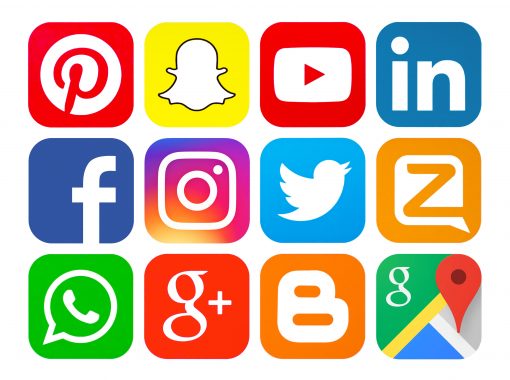 Does it Make Sense to Keep Inactive Business Social Media Accounts Open?
There are so many different social media platforms available, with more launching each year. For businesses, it can be overwhelming …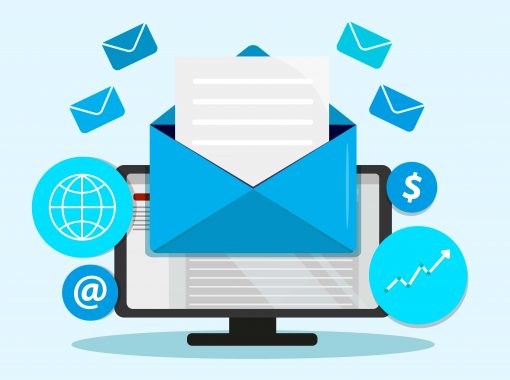 Best Practices for Email Drip Campaigns
Email drip campaigns, also referred to as drip marketing, are a type of digital marketing. They work like this: Your …
Get the smartest content insights…
Before you go, take a quick second to sign up for our newsletter to get the latest in marketing, SEO, digital, and content industry updates!

Pin It on Pinterest
The Stepwise Marketing Mix Of Uber with Full Explainations
By Aditya Shastri
Uber, formerly known as Uber Cab has become the face of the taxicab industry in over 60 countries. This company has achieved groundbreaking success with its unique marketing strategies. 
In this case study, we will be discussing about the Company and 4Ps of the Marketing Mix of Uber. 
Before getting into the main segment, let's just have a quick overview of the company.
Uber is a Private Limited company that allows booking various transportation facilities online in its site or mobile app that works internationally. 
It was founded in 2009 by Travis Kalanick and Garret Camp and launched in 2010. The headquarters is in San Francisco, California and It has a huge number of users over 100 million with a $ 76 billion turnover.
The company came to India in 2013 to fill the space of comfortable and better transportation facilities and has done over 17 billion trips globally with the different ride options and different facilities to its users.
Now let see the Marketing Mix elements that Uber uses to make good growth globally.
Marketing Mix of Uber
Marketing Mix is helpful for any business company to promote its brands with the right action or tactics of the marketing mix. 
The 4Ps of marketing mix strategy that will help to achieve success by promoting brands are Pricing, Product, Promotion, and Place. Let's understand one by one in the coming section. 
Every company goes through the 4Ps of the marketing mix to become successful and it also helps to survive in the market. Let's see what are the marketing mix of Uber in detail.
1. Price Strategy of Uber
The price of the product is favourable to the targeted audience set by brands. By this, the company sells its products more as the price is good for consumers and brands also need to give seasonal discounts, affordable prices from their competitors, and must consider supply costs.  
Due to the bad startup of the year 2020 due to covid, Many businesses face a loss as Uber. But Uber always uses penetration pricing to make every customer happy and always pays attention to giving its consumers the best rides possible to gain trust and attention.
Whether the ride is for 1 hour or is for long trips, the taxi company gives all the features from comfortable air-conditioned rides to the high-speed possible internet. It also provides the most comfortable rides at the cheapest price possible and people are really happy with the pricing charged by Uber and enjoy the rides the most.
The pricing is quite a favourable colour and any consumer can afford it and go wherever they want with the comforts and safety provided by the brand. Now let's take a look at the unique features of Uber's products. 
2. Product Strategy of Uber
The product should be of good quality and the services the company provides are to be pinpoint. There is no compromise in the quality of the product or the result will be unfavourable and the brands are going to have a hard time surviving in the market.
The brand is the one where people can request a ride and the nearest Uber driver will pick up the customers in the fastest time possible and move them to their destination in safety because the company hires and pays only the safest and licensed drivers.
It provides different rides worldwide, such as:
Uber Comfort
Bikes & Scooters
Uber Transit
Uber Black Suv
Uber Flash 
If people want to eat something – Ubereats helps its customers to fill in their belly with just simple taps on its websites or app of people's tastes from any restaurant and delivers food in no time with simple and small delivery fees.
Uber Freight helps consumers to transport their things and gives suggestions of customizable loading, quickie pays and gives them automatic reloads options. Customers can enjoy all the facilities of Uber in only one single app. 
These are the product portfolios introduced by Uber. Now let's gander the information about the promotion strategy of Uber. 
3. Promotion Strategy of Uber
Promotion by brands refers to genuine communication through ads or ads campaigns, and there should not be any misleading information about the product. Recommending the right products according to the needs of customers and remembering the needs of the targeted audience is a must.
Uber has done many things to promote the brand to grab the attention of the customer through referral and convincing strategy by giving free rides, coupon codes to existing users to get discounts up to 25% on Uber trips.
At the start, giving a free ride is kind of a loss for the company and it suffered a hard time there but the brand worked smart enough to jump high and it happened too. 
Promoting free rides worked very well and gave customers an idea of how comfortable a ride is, and people recommended Uber rides more in their locality and shared their experiences.
Uber advertisements are very simple and easy as it provided free rides and distributes things at festivals like the colour on holi, cake on Diwali, paper kite on Makar Sankranti, etc.
Now that we come to know about the promotion strategies of Uber, let's see how the company deals with the distribution strategy. 
4. Place and Distribution Strategy of Uber
Place & Distribution in the marketing mix is the process of moving goods & services from the producers to the consumer at the right place and at the right time. The movement of goods and services is done by distributors, wholesalers, and retailers.
Uber is growing day by day and provides its services across the world in over 40 countries and 700 plus cities. The company distributes its services at no time through its websites and the mobile apps that are available both on Android & IOS.
Customers can enjoy the rides and meals at any place by just tapping the rides of their comforts and the tastes of their restaurants. If the audience of Uber needs any help from the company, people can just contact on websites or the helpdesk which is also available at the Airports, and Malls. Uber services are available at any possible place as it covers 40 plus countries and many cities. 
Above you read were the 4 elements of the marketing mix and you must have come to know that how important this is to marketers to be in the business. Let's conclude the case study shortly.
Uber has a highly unique marketing strategy for building a devoted user base. Free rides, discounted rides, and referral benefits are just a few of the ways the company entices clients. The high-quality riding experience encourages individuals to want to do it more and more, which leads to a habit and income for the company.
Uber has spent a lot of money on marketing and has given away thousands of free trips all around the world to get consumers addicted to the new mode of transportation. Additionally, one of the main advantages of Uber is the pricing benefit, which allows the company to sell itself.
If you're interested in learning more about digital marketing, check out Karan Shah's Digital Marketing Basics Masterclasses . Thank you for taking the time to read this; please leave your ideas in the comments section.
Aditya Shastri
Lead Trainer & Head of Learning & Development at IIDE
Leads the Learning & Development segment at IIDE. He is a Content Marketing Expert and has trained 6000+ students and working professionals on various topics of Digital Marketing. He has been a guest speaker at prominent colleges in India including IIMs...... [Read full bio]
Submit a Comment Cancel reply
Your email address will not be published. Required fields are marked *
Submit Comment
This site uses Akismet to reduce spam. Learn how your comment data is processed .
Related Posts
Analyzing the marketing strategy of patanjali: a case study with swot analysis.
by Aditya Shastri | Mar 5, 2023
From Ayurveda to Marketing: Analyzing the Marketing Strategy of Patanjali Patanjali Ayurved came...
Extensive Marketing Strategy Of IFCI – In-Depth Analysis
by Aditya Shastri | Mar 1, 2023
In our previous article, we learnt in detail about the marketing strategy of a fascinating brand,...
Extensive Marketing Strategy Of Ashoka Buildcon – In-Depth Analysis