71+ Free Social Problem-Solving Scenarios
Do you have kiddos who struggle with their social problem-solving skills? Teach your students the simple process of how to solve a problem along with having them review how well their solution worked or didn't work.
Learning to problem solve is an essential skill that is used not only throughout childhood but also into adulthood. Social problem solving is the ability to change or adapt to undesirable situations that arise throughout our day. On a daily basis, a child will encounter social problems that they will need to solve. Anything from arguing with another student, to hurting a friend's feelings, to having a difficult conversation, or working with others.
Start with Small Problems
Many of the "problems" children encounter are often small problems which the child may be over-reacting to, such as wanting a different coloring crayon or wanting to be first in line, however, these small problems are still very real to the child. Practicing problem-solving with these small problems can be a great learning opportunity. Children can practice problem-solving with a small problem which can help them learn how to handle bigger problems in the future.
Problem Solving Importance
Social problem-solving skills are critical to a child's social interactions, personal and professional relationships. A child's ability to handle change, cope with stress, and handle challenges improves with a child's ability to successfully solve social problems.
The ultimate goal is that the child will be able to solve social problems all on their own, but until they can independently solve a problem they will need to learn how to communicate and self-advocate to positively solve their problems.
Students with Autism Problem Solving
Students with autism and other social challenges need to learn to problem solve as well. These social problem-solving skills will help them throughout their childhood and into their adulthood. Children can be taught how to problem solve through a guided process of breaking down the problem and using simple steps to solve the problem. Learning specific steps to problem-solving can allow children to remember how to solve a problem when they become overwhelmed or stressed. Although learning to solve a problem independently can take some time and practice it is well worth the investment to have a child who can eventually solve most social situations in a positive manner on their own.
Make Problem Solving Easier with this Freebie!
Download yours today to get started.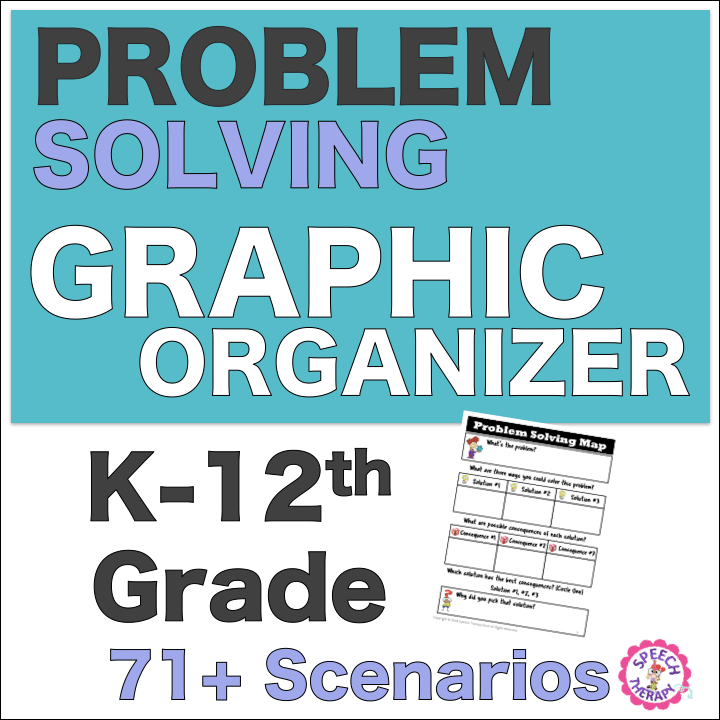 Problem Solving Form
Teach your students the 4 steps to becoming a social problem-solver.
Identify the problem. For instance, start by having your student identify the social problem.
Create three solutions. Also, have your student come up with three different solutions that they could use to solve the problem that they identified.
Identify the consequences. Then, identify the consequence for each individual solution.
Pick the best solution. Lastly, have your student identify which of their three solutions is the best choice Then have your student put into words why they think that solution is the best solution.
What we learnt about solving problems is don't freak out, if one thing doesn't work , try something else out. And work together as a team. #melthammathsweek #MELTHAMPUPILVOICE @problemsolveit pic.twitter.com/iVm1Im4Aue — yr6melthamce (@yr6melthamce) February 4, 2019
Problem Solving Review Form
After your students go through the social problem-solver have them use the social problem-solving review form.
What happened. For instance, after your student tried their solution have them explain what happened next.
Review the results. Also, have your student identify whether or not their solution got them the results they wanted.
Use this solution again. Furthermore, have your student identify whether or not they would use this solution again in the future to solve the same or similar problem.
What would you do differently? Finally, have your student explain what they would do differently if they didn't get the results they wanted or if they wouldn't use that solution again in the future.
71+ Social Problem Scenarios + 6 Blank Scenarios
Use the 71 social problem-solving scenarios to have your students get great experience practicing how to solve a social problem. Also, included are 6 blank scenarios. Then laminate them so you can use them over and over again. Therefore, create social problems that the student experiences and needs help solving.
Wordless Video teaching Problem Solving
Watch this super cute wordless animation with your students and have them discuss the problem they see and how to best solve the problem.
Use this as a fun practice example to get your students started towards learning how to problem-solve.
Demonstrate Through Modeling
Model and discuss empathy. First and foremost, children need to understand how another person might be feeling in a given situation in order to become a good social problem solver. The student needs to learn how to "stand in someone else's shoes" for a little bit. One way you can work on this skill is during the reading time you can focus on how a particular character in the story might be feeling. Ask questions, such as, "How do they feel right now? How would you feel in that same situation? Why do you think they feel that way?", etc.
Model problem-solving skills as the teacher. When you are faced with a problem you can solve the problem by thinking aloud for the students to hear how you solve a problem. You can state the problem, then come up with possible solutions, then identify the possible consequences to each solution, then pick and explain why a solution is the best option. For example, you could say, "I was hoping to take the class outside for a stress walk around the track before the reading test, but the problem is that it is raining outside. I could still take you outside, but then you will get wet, or we could walk the halls, but then we'd have to be really quiet because there are other classes learning, or we could just skip the walk and take the reading test, but then you might not do as well on the test. I think based on all of those solutions the best solution will be to walk the hallway, but you guys will have to promise to be quiet so that we don't disrupt other classes. Modeling the problem-solving process can be very helpful for the students to watch, observe, and later implement themselves.
Teach Communication
Have students communicate how they are feeling . Teaching your students to share their emotions in a respectful way can improve their ability to problem-solve. Have students use an "I" sentence frame, such as, "I feel _____ (insert feeling word) when _____ (identify what made you feel that way)." For example, "I felt sad when Jackson broke my favorite pencil" or "I was mad when I wasn't picked to be first in line. "This way students can communicate how they are feeling using honest and open communication. Teaching students to appropriately communicate their emotions can help solve some social problems from the beginning.
Encourage Independency
Encourage your student to problem solve. If your student is struggling to problem solve independently encourage them to do so using open-ended questions, such as "How could you fix this problem?" "What would be a fair solution?" "What would happen if you used that solution?", etc.
Let the student try to problem solve independently. Give your students the space to try and solve their own problems using the guided strategies. Try not to come running to their rescue for every little problem. Some problems are small and a great opportunity for the student to learn and practice. If an adult does all of the problem solving for a student then what are they really learning. Give your students the time and space they need to practice solving small problems on their own. Of course, if it is a bigger or more serious problem then have an adult help guide the problem-solving process.
Tell an adult. Remind your students that there are still some problems that are too big for them to solve on their own and that it is okay to get help from an adult to solve big problems. For example, if the student doesn't feel safe, someone is being hurt physically or emotionally, or if they tried to solve a problem independently but it didn't work and they need help. Let them know that it's okay to tell an adult.
Teach How to Disagree and How to Make Up
Discuss how to disagree respectfully. Remind your student that they won't always agree with their teacher, friends, classmate, or parents and that's okay. Even the people we like might have different opinions, interests, and likes than we do. However, even if we disagree with someone we should still treat them with respect. Treating someone with respect means to not call them names, ignore them, yell or hit them. It means that you do try to create solutions that both parties can agree with and to apologize when we hurt others' feelings.
Role-play how to make up. Practice in everyday life how to make up after a social problem .
Get your free social problem solver today!
I hope you and your students love this freebie!
Students are really having to stretch their brains today. It's @NSPCC #NumberDay and @problemsolveit are challenging Y9 and 10 to solve the escape room boxes. It's not as easy as it looks! The promise of a few sweet treats for the winners seems to be helping though! pic.twitter.com/AxRRJnJIv2 — CongletonHS (@CongletonHS) February 2, 2018
Have your students use task card scenarios to help them identify how they and others might feel in different social scenarios. Be sure to discuss the problem, identify possible solutions, identify the consequences of those possible solutions, and then based on those consequences pick the best solution. Make social problem-solving a game by telling the students that they are social detectives and that it is their job to use what they know about social rules to help them identify the possible and best solutions. Start practicing today with 71+ free social problem social task cards! Do your students need more practice? Be sure to check out my other freebie for 31 wordless animated videos to teach problem-solving and so much more.
Get More Problem Solving Time Saving Materials
Next, be sure to check out the following time-saving materials to continue to teach your students how to solve their social problems in addition to this freebie.
Weekly Social Pragmatics Homework
Weekly problem-solving. Send home a weekly homework page that includes a problem-solving scenario plus an idiom and a conversational practice scenario.
Restorative Justice Problem Solving Flip Book
Restorative justice graphic visual. Use this graphic visual to help your student restore a social relationship after a social problem.
Self-Advocating Role-Play Scenarios
Self-advocating in high school. Teach your high schoolers the process to self-advocate for what they need.
5th-12th Grade Life Skills Problem Solving
Life skills problem-solving. In addition, this life skills differentiated bundle includes a problem-solving lesson plan.
I recommend you read Problem Solving Wheel: Help Kids Solve Their Own Problems , 61+ Free Fillable SLP Planner Pages 2020-2021 , 430+ Free Multisyllabic Words List Activity Bundle , or 432+ Free IEP Goal Bank to Save You Time posts because they include freebies as well and who doesn't want more freebies!
Got questions? Leave a comment. Let's chat!
Monday 30th of January 2023
Hello! I have entered my name and email twice (yesterday & today) to receive to 71+ Free Social Problem-Solving Senarios, but I have not received anything yet. Not even an email back to mine in order to subcribe. Thanks for your help! Tracy
Melissa Berg
Tuesday 31st of January 2023
Hi Tracy, Thanks so much for reaching out! Sorry about that. We went ahead and sent you an email with the PDF attached. Wishing you all my best, Melissa
Problem Solving Skills
Tuesday 30th of August 2022
I truly love your site. Excellent colors, theme and writing. Thanks for sharing.
Laura Ricca
Monday 11th of April 2022
Tuesday 12th of April 2022
Hi Laura, I'm glad you found this resource helpful. Melissa
Modified Mental Health and Suicide Prevention - Speech Therapy Store
Monday 11th of May 2020
[…] 71+ FREE SOCIAL PROBLEM-SOLVING SCENARIOS […]
Problem Solving Wheel: Help Kids Solve Their Own Problems - Speech Therapy Store
Monday 4th of May 2020
[…] 71+ Free Social Problem Solving Task Cards Scenarios […]
INTERPERSONAL SKILLS
Problem Solving and Decision Making
Social Problem Solving
Search SkillsYouNeed:
Interpersonal Skills:
A - Z List of Interpersonal Skills
Interpersonal Skills Self-Assessment
Communication Skills
Emotional Intelligence
Conflict Resolution and Mediation Skills
Customer Service Skills
Team-Working, Groups and Meetings
Decision-Making and Problem-Solving
Effective Decision Making
Decision-Making Framework
Introduction to Problem Solving
Identifying and Structuring Problems
Investigating Ideas and Solutions
Implementing a Solution and Feedback
Social Problem-Solving
Negotiation and Persuasion Skills
Personal and Romantic Relationship Skills
Subscribe to our FREE newsletter and start improving your life in just 5 minutes a day.
You'll get our 5 free 'One Minute Life Skills' and our weekly newsletter.
We'll never share your email address and you can unsubscribe at any time.
The SkillsYouNeed Guide to Interpersonal Skills
Social problem-solving might also be called ' problem-solving in real life '. In other words, it is a rather academic way of describing the systems and processes that we use to solve the problems that we encounter in our everyday lives.
The word ' social ' does not mean that it only applies to problems that we solve with other people, or, indeed, those that we feel are caused by others. The word is simply used to indicate the ' real life ' nature of the problems, and the way that we approach them.
Social problem-solving is generally considered to apply to four different types of problems:
Impersonal problems, for example, shortage of money;
Personal problems, for example, emotional or health problems;
Interpersonal problems, such as disagreements with other people; and
Community and wider societal problems, such as litter or crime rate.
A Model of Social Problem-Solving
One of the main models used in academic studies of social problem-solving was put forward by a group led by Thomas D'Zurilla.
This model includes three basic concepts or elements:
Problem-solving
This is defined as the process used by an individual, pair or group to find an effective solution for a particular problem. It is a self-directed process, meaning simply that the individual or group does not have anyone telling them what to do. Parts of this process include generating lots of possible solutions and selecting the best from among them.
A problem is defined as any situation or task that needs some kind of a response if it is to be managed effectively, but to which no obvious response is available. The demands may be external, from the environment, or internal.
A solution is a response or coping mechanism which is specific to the problem or situation. It is the outcome of the problem-solving process.
Once a solution has been identified, it must then be implemented. D'Zurilla's model distinguishes between problem-solving (the process that identifies a solution) and solution implementation (the process of putting that solution into practice), and notes that the skills required for the two are not necessarily the same. It also distinguishes between two parts of the problem-solving process: problem orientation and actual problem-solving.
Problem Orientation
Problem orientation is the way that people approach problems, and how they set them into the context of their existing knowledge and ways of looking at the world.
Each of us will see problems in a different way, depending on our experience and skills, and this orientation is key to working out which skills we will need to use to solve the problem.
An Example of Orientation
Most people, on seeing a spout of water coming from a loose joint between a tap and a pipe, will probably reach first for a cloth to put round the joint to catch the water, and then a phone, employing their research skills to find a plumber.
A plumber, however, or someone with some experience of plumbing, is more likely to reach for tools to mend the joint and fix the leak. It's all a question of orientation.
Problem-Solving
Problem-solving includes four key skills:
Defining the problem,
Coming up with alternative solutions,
Making a decision about which solution to use, and
Implementing that solution.
Based on this split between orientation and problem-solving, D'Zurilla and colleagues defined two scales to measure both abilities.
They defined two orientation dimensions, positive and negative, and three problem-solving styles, rational, impulsive/careless and avoidance.
They noted that people who were good at orientation were not necessarily good at problem-solving and vice versa, although the two might also go together.
It will probably be obvious from these descriptions that the researchers viewed positive orientation and rational problem-solving as functional behaviours, and defined all the others as dysfunctional, leading to psychological distress.
The skills required for positive problem orientation are:
Being able to see problems as 'challenges', or opportunities to gain something, rather than insurmountable difficulties at which it is only possible to fail.
For more about this, see our page on The Importance of Mindset ;
Believing that problems are solvable. While this, too, may be considered an aspect of mindset, it is also important to use techniques of Positive Thinking ;
Believing that you personally are able to solve problems successfully, which is at least in part an aspect of self-confidence.
See our page on Building Confidence for more;
Understanding that solving problems successfully will take time and effort, which may require a certain amount of resilience ; and
Motivating yourself to solve problems immediately, rather than putting them off.
See our pages on Self-Motivation and Time Management for more.
Those who find it harder to develop positive problem orientation tend to view problems as insurmountable obstacles, or a threat to their well-being, doubt their own abilities to solve problems, and become frustrated or upset when they encounter problems.
The skills required for rational problem-solving include:
The ability to gather information and facts, through research. There is more about this on our page on defining and identifying problems ;
The ability to set suitable problem-solving goals. You may find our page on personal goal-setting helpful;
The application of rational thinking to generate possible solutions. You may find some of the ideas on our Creative Thinking page helpful, as well as those on investigating ideas and solutions ;
Good decision-making skills to decide which solution is best. See our page on Decision-Making for more; and
Implementation skills, which include the ability to plan, organise and do. You may find our pages on Action Planning , Project Management and Solution Implementation helpful.
There is more about the rational problem-solving process on our page on Problem-Solving .
Potential Difficulties
Those who struggle to manage rational problem-solving tend to either:
Rush things without thinking them through properly (the impulsive/careless approach), or
Avoid them through procrastination, ignoring the problem, or trying to persuade someone else to solve the problem (the avoidance mode).
This ' avoidance ' is not the same as actively and appropriately delegating to someone with the necessary skills (see our page on Delegation Skills for more).
Instead, it is simple 'buck-passing', usually characterised by a lack of selection of anyone with the appropriate skills, and/or an attempt to avoid responsibility for the problem.
An Academic Term for a Human Process?
You may be thinking that social problem-solving, and the model described here, sounds like an academic attempt to define very normal human processes. This is probably not an unreasonable summary.
However, breaking a complex process down in this way not only helps academics to study it, but also helps us to develop our skills in a more targeted way. By considering each element of the process separately, we can focus on those that we find most difficult: maximum 'bang for your buck', as it were.
Continue to: Decision Making Transferable Skills
See also: What is Empathy? Social Skills
10 Best Problem-Solving Therapy Worksheets & Activities
Cognitive science tells us that we regularly face not only well-defined problems but, importantly, many that are ill defined (Eysenck & Keane, 2015).
Sometimes, we find ourselves unable to overcome our daily problems or the inevitable (though hopefully infrequent) life traumas we face.
Problem-Solving Therapy aims to reduce the incidence and impact of mental health disorders and improve wellbeing by helping clients face life's difficulties (Dobson, 2011).
This article introduces Problem-Solving Therapy and offers techniques, activities, and worksheets that mental health professionals can use with clients.
Before you continue, we thought you might like to download our three Positive Psychology Exercises for free . These science-based exercises explore fundamental aspects of positive psychology, including strengths, values, and self-compassion, and will give you the tools to enhance the wellbeing of your clients, students, or employees.
This Article Contains:
What is problem-solving therapy, 14 steps for problem-solving therapy, 3 best interventions and techniques, 7 activities and worksheets for your session, fascinating books on the topic, resources from positivepsychology.com, a take-home message.
Problem-Solving Therapy assumes that mental disorders arise in response to ineffective or maladaptive coping. By adopting a more realistic and optimistic view of coping, individuals can understand the role of emotions and develop actions to reduce distress and maintain mental wellbeing (Nezu & Nezu, 2009).
"Problem-solving therapy (PST) is a psychosocial intervention, generally considered to be under a cognitive-behavioral umbrella" (Nezu, Nezu, & D'Zurilla, 2013, p. ix). It aims to encourage the client to cope better with day-to-day problems and traumatic events and reduce their impact on mental and physical wellbeing.
Clinical research, counseling, and health psychology have shown PST to be highly effective in clients of all ages, ranging from children to the elderly, across multiple clinical settings, including schizophrenia, stress, and anxiety disorders (Dobson, 2011).
Can it help with depression?
PST appears particularly helpful in treating clients with depression. A recent analysis of 30 studies found that PST was an effective treatment with a similar degree of success as other successful therapies targeting depression (Cuijpers, Wit, Kleiboer, Karyotaki, & Ebert, 2020).
Other studies confirm the value of PST and its effectiveness at treating depression in multiple age groups and its capacity to combine with other therapies, including drug treatments (Dobson, 2011).
The major concepts
Effective coping varies depending on the situation, and treatment typically focuses on improving the environment and reducing emotional distress (Dobson, 2011).
PST is based on two overlapping models:
Social problem-solving model
This model focuses on solving the problem "as it occurs in the natural social environment," combined with a general coping strategy and a method of self-control (Dobson, 2011, p. 198).
The model includes three central concepts:
Social problem-solving
The problem
The solution
The model is a "self-directed cognitive-behavioral process by which an individual, couple, or group attempts to identify or discover effective solutions for specific problems encountered in everyday living" (Dobson, 2011, p. 199).
Relational problem-solving model
The theory of PST is underpinned by a relational problem-solving model, whereby stress is viewed in terms of the relationships between three factors:
Stressful life events
Emotional distress and wellbeing
Problem-solving coping
Therefore, when a significant adverse life event occurs, it may require "sweeping readjustments in a person's life" (Dobson, 2011, p. 202).
Enhance positive problem orientation
Decrease negative orientation
Foster ability to apply rational problem-solving skills
Reduce the tendency to avoid problem-solving
Minimize the tendency to be careless and impulsive
D'Zurilla's and Nezu's model includes (modified from Dobson, 2011):
Initial structuring Establish a positive therapeutic relationship that encourages optimism and explains the PST approach.
Assessment Formally and informally assess areas of stress in the client's life and their problem-solving strengths and weaknesses.
Obstacles to effective problem-solving Explore typically human challenges to problem-solving, such as multitasking and the negative impact of stress. Introduce tools that can help, such as making lists, visualization, and breaking complex problems down.
Problem orientation – fostering self-efficacy Introduce the importance of a positive problem orientation, adopting tools, such as visualization, to promote self-efficacy.
Problem orientation – recognizing problems Help clients recognize issues as they occur and use problem checklists to 'normalize' the experience.
Problem orientation – seeing problems as challenges Encourage clients to break free of harmful and restricted ways of thinking while learning how to argue from another point of view.
Problem orientation – use and control emotions Help clients understand the role of emotions in problem-solving, including using feelings to inform the process and managing disruptive emotions (such as cognitive reframing and relaxation exercises).
Problem orientation – stop and think Teach clients how to reduce impulsive and avoidance tendencies (visualizing a stop sign or traffic light).
Problem definition and formulation Encourage an understanding of the nature of problems and set realistic goals and objectives.
Generation of alternatives Work with clients to help them recognize the wide range of potential solutions to each problem (for example, brainstorming).
Decision-making Encourage better decision-making through an improved understanding of the consequences of decisions and the value and likelihood of different outcomes.
Solution implementation and verification Foster the client's ability to carry out a solution plan, monitor its outcome, evaluate its effectiveness, and use self-reinforcement to increase the chance of success.
Guided practice Encourage the application of problem-solving skills across multiple domains and future stressful problems.
Rapid problem-solving Teach clients how to apply problem-solving questions and guidelines quickly in any given situation.
Success in PST depends on the effectiveness of its implementation; using the right approach is crucial (Dobson, 2011).
The following interventions and techniques are helpful when implementing more effective problem-solving approaches in client's lives.
First, it is essential to consider if PST is the best approach for the client, based on the problems they present.
Is PPT appropriate?
It is vital to consider whether PST is appropriate for the client's situation. Therapists new to the approach may require additional guidance (Nezu et al., 2013).
Therapists should consider the following questions before beginning PST with a client (modified from Nezu et al., 2013):
Has PST proven effective in the past for the problem? For example, research has shown success with depression, generalized anxiety, back pain, Alzheimer's disease, cancer, and supporting caregivers (Nezu et al., 2013).
Is PST acceptable to the client?
Is the individual experiencing a significant mental or physical health problem?
All affirmative answers suggest that PST would be a helpful technique to apply in this instance.
Five problem-solving steps
The following five steps are valuable when working with clients to help them cope with and manage their environment (modified from Dobson, 2011).
Ask the client to consider the following points (forming the acronym ADAPT) when confronted by a problem:
Attitude Aim to adopt a positive, optimistic attitude to the problem and problem-solving process.
Define Obtain all required facts and details of potential obstacles to define the problem.
Alternatives Identify various alternative solutions and actions to overcome the obstacle and achieve the problem-solving goal.
Predict Predict each alternative's positive and negative outcomes and choose the one most likely to achieve the goal and maximize the benefits.
Try out Once selected, try out the solution and monitor its effectiveness while engaging in self-reinforcement.
If the client is not satisfied with their solution, they can return to step 'A' and find a more appropriate solution.
Positive self-statements
When dealing with clients facing negative self-beliefs, it can be helpful for them to use positive self-statements.
Use the following (or add new) self-statements to replace harmful, negative thinking (modified from Dobson, 2011):
I can solve this problem; I've tackled similar ones before.
I can cope with this.
I just need to take a breath and relax.
Once I start, it will be easier.
It's okay to look out for myself.
I can get help if needed.
Other people feel the same way I do.
I'll take one piece of the problem at a time.
I can keep my fears in check.
I don't need to please everyone.
5 Worksheets and workbooks
Problem-solving self-monitoring form.
Answering the questions in the Problem-Solving Self-Monitoring Form provides the therapist with necessary information regarding the client's overall and specific problem-solving approaches and reactions (Dobson, 2011).
Ask the client to complete the following:
Describe the problem you are facing.
What is your goal?
What have you tried so far to solve the problem?
What was the outcome?
Reactions to Stress
It can be helpful for the client to recognize their own experiences of stress. Do they react angrily, withdraw, or give up (Dobson, 2011)?
The Reactions to Stress worksheet can be given to the client as homework to capture stressful events and their reactions. By recording how they felt, behaved, and thought, they can recognize repeating patterns.
What Are Your Unique Triggers?
Helping clients capture triggers for their stressful reactions can encourage emotional regulation.
When clients can identify triggers that may lead to a negative response, they can stop the experience or slow down their emotional reaction (Dobson, 2011).
The What Are Your Unique Triggers ? worksheet helps the client identify their triggers (e.g., conflict, relationships, physical environment, etc.).
Problem-Solving worksheet
Imagining an existing or potential problem and working through how to resolve it can be a powerful exercise for the client.
Use the Problem-Solving worksheet to state a problem and goal and consider the obstacles in the way. Then explore options for achieving the goal, along with their pros and cons, to assess the best action plan.
Getting the Facts
Clients can become better equipped to tackle problems and choose the right course of action by recognizing facts versus assumptions and gathering all the necessary information (Dobson, 2011).
Use the Getting the Facts worksheet to answer the following questions clearly and unambiguously:
Who is involved?
What did or did not happen, and how did it bother you?
Where did it happen?
When did it happen?
Why did it happen?
How did you respond?
2 Helpful Group Activities
While therapists can use the worksheets above in group situations, the following two interventions work particularly well with more than one person.
Generating Alternative Solutions and Better Decision-Making
A group setting can provide an ideal opportunity to share a problem and identify potential solutions arising from multiple perspectives.
Use the Generating Alternative Solutions and Better Decision-Making worksheet and ask the client to explain the situation or problem to the group and the obstacles in the way.
Once the approaches are captured and reviewed, the individual can share their decision-making process with the group if they want further feedback.
Visualization
Visualization can be performed with individuals or in a group setting to help clients solve problems in multiple ways, including (Dobson, 2011):
Clarifying the problem by looking at it from multiple perspectives
Rehearsing a solution in the mind to improve and get more practice
Visualizing a 'safe place' for relaxation, slowing down, and stress management
Guided imagery is particularly valuable for encouraging the group to take a 'mental vacation' and let go of stress.
Ask the group to begin with slow, deep breathing that fills the entire diaphragm. Then ask them to visualize a favorite scene (real or imagined) that makes them feel relaxed, perhaps beside a gently flowing river, a summer meadow, or at the beach.
The more the senses are engaged, the more real the experience. Ask the group to think about what they can hear, see, touch, smell, and even taste.
Encourage them to experience the situation as fully as possible, immersing themselves and enjoying their place of safety.
Such feelings of relaxation may be able to help clients fall asleep, relieve stress, and become more ready to solve problems.
We have included three of our favorite books on the subject of Problem-Solving Therapy below.
1. Problem-Solving Therapy: A Treatment Manual – Arthur Nezu, Christine Maguth Nezu, and Thomas D'Zurilla
This is an incredibly valuable book for anyone wishing to understand the principles and practice behind PST.
Written by the co-developers of PST, the manual provides powerful toolkits to overcome cognitive overload, emotional dysregulation, and the barriers to practical problem-solving.
Find the book on Amazon .
2. Emotion-Centered Problem-Solving Therapy: Treatment Guidelines – Arthur Nezu and Christine Maguth Nezu
Another, more recent, book from the creators of PST, this text includes important advances in neuroscience underpinning the role of emotion in behavioral treatment.
Along with clinical examples, the book also includes crucial toolkits that form part of a stepped model for the application of PST.
3. Handbook of Cognitive-Behavioral Therapies – Keith Dobson and David Dozois
This is the fourth edition of a hugely popular guide to Cognitive-Behavioral Therapies and includes a valuable and insightful section on Problem-Solving Therapy.
This is an important book for students and more experienced therapists wishing to form a high-level and in-depth understanding of the tools and techniques available to Cognitive-Behavioral Therapists.
For even more tools to help strengthen your clients' problem-solving skills, check out the following free worksheets from our blog.
Case Formulation Worksheet This worksheet presents a four-step framework to help therapists and their clients come to a shared understanding of the client's presenting problem.
Understanding Your Default Problem-Solving Approach This worksheet poses a series of questions helping clients reflect on their typical cognitive, emotional, and behavioral responses to problems.
Social Problem Solving: Step by Step This worksheet presents a streamlined template to help clients define a problem, generate possible courses of action, and evaluate the effectiveness of an implemented solution.
17 Positive Psychology Exercises If you're looking for more science-based ways to help others enhance their wellbeing, check out this signature collection of 17 validated positive psychology tools for practitioners . Use them to help others flourish and thrive.
While we are born problem-solvers, facing an incredibly diverse set of challenges daily, we sometimes need support.
Problem-Solving Therapy aims to reduce stress and associated mental health disorders and improve wellbeing by improving our ability to cope. PST is valuable in diverse clinical settings, ranging from depression to schizophrenia, with research suggesting it as a highly effective treatment for teaching coping strategies and reducing emotional distress.
Many PST techniques are available to help improve clients' positive outlook on obstacles while reducing avoidance of problem situations and the tendency to be careless and impulsive.
The PST model typically assesses the client's strengths, weaknesses, and coping strategies when facing problems before encouraging a healthy experience of and relationship with problem-solving.
Why not use this article to explore the theory behind PST and try out some of our powerful tools and interventions with your clients to help them with their decision-making, coping, and problem-solving?
We hope you enjoyed reading this article. Don't forget to download our three Positive Psychology Exercises for free .
Cuijpers, P., Wit, L., Kleiboer, A., Karyotaki, E., & Ebert, D. (2020). Problem-solving therapy for adult depression: An updated meta-analysis. European P sychiatry ,  48 (1), 27–37.
Dobson, K. S. (2011). Handbook of cognitive-behavioral therapies (3rd ed.). Guilford Press.
Dobson, K. S., & Dozois, D. J. A. (2021). Handbook of cognitive-behavioral therapies  (4th ed.). Guilford Press.
Eysenck, M. W., & Keane, M. T. (2015). Cognitive psychology: A student's handbook . Psychology Press.
Nezu, A. M., & Nezu, C. M. (2009). Problem-solving therapy DVD . Retrieved September 13, 2021, from https://www.apa.org/pubs/videos/4310852
Nezu, A. M., & Nezu, C. M. (2018). Emotion-centered problem-solving therapy: Treatment guidelines. Springer.
Nezu, A. M., Nezu, C. M., & D'Zurilla, T. J. (2013). Problem-solving therapy: A treatment manual . Springer.
Share this article:
Article feedback
Let us know your thoughts cancel reply.
Your email address will not be published.
Save my name, email, and website in this browser for the next time I comment.
Related articles
Behavior Therapy Methods: 12 Best Techniques & Worksheets
Behavior therapy originates from attempts by science and psychology to understand, predict, and control human behavior (Sommers-Flanagan & Sommers-Flanagan, 2015). Attention is focused on observable [...]
Guided Imagery in Therapy: 20 Powerful Scripts and Techniques
Guided imagery is a complementary therapy that can be a powerful technique to use with clients who have problems articulating their inner world with words [...]
28 Best Therapy Games for Healing Through Play
Self-expression is a crucial aspect of healing through play, particularly for children, where fun activities release dopamine, providing enjoyment, focus, and the motivation to complete [...]
Read other articles by their category
Body & Brain (41)
Coaching & Application (49)
Compassion (27)
Counseling (45)
Emotional Intelligence (23)
Gratitude (16)
Grief & Bereavement (21)
Happiness & SWB (36)
Meaning & Values (25)
Meditation (21)
Mindfulness (42)
Motivation & Goals (42)
Optimism & Mindset (33)
Positive CBT (24)
Positive Communication (21)
Positive Education (41)
Positive Emotions (28)
Positive Psychology (33)
Positive Workplace (38)
Relationships (32)
Resilience & Coping (32)
Self Awareness (21)
Self Esteem (38)
Software & Apps (23)
Strengths & Virtues (29)
Stress & Burnout Prevention (26)
Theory & Books (42)
Therapy Exercises (32)
Types of Therapy (55)

Want to create or adapt books like this? Learn more about how Pressbooks supports open publishing practices.
1.2 Sociological Perspectives on Social Problems
Learning objectives.
Define the sociological imagination.
Explain what is meant by the blaming-the-victim belief.
Summarize the most important beliefs and assumptions of functionalism and conflict theory.
Summarize the most important beliefs and assumptions of symbolic interactionism and exchange theory.
The sociological understanding of social problems rests heavily on the concept of the sociological imagination . We discuss this concept in some detail before turning to various theoretical perspectives that provide a further context for understanding social problems.
The Sociological Imagination
Many individuals experience one or more social problems personally. For example, many people are poor and unemployed, many are in poor health, and many have family problems, drink too much alcohol, or commit crime. When we hear about these individuals, it is easy to think that their problems are theirs alone, and that they and other individuals with the same problems are entirely to blame for their difficulties.
Sociology takes a different approach, as it stresses that individual problems are often rooted in problems stemming from aspects of society itself. This key insight informed C. Wright Mills's (1959) (Mills, 1959) classic distinction between personal troubles and public issues . Personal troubles refer to a problem affecting individuals that the affected individual, as well as other members of society, typically blame on the individual's own personal and moral failings. Examples include such different problems as eating disorders, divorce, and unemployment. Public issues , whose source lies in the social structure and culture of a society, refer to social problems affecting many individuals. Problems in society thus help account for problems that individuals experience. Mills felt that many problems ordinarily considered private troubles are best understood as public issues, and he coined the term sociological imagination to refer to the ability to appreciate the structural basis for individual problems.
To illustrate Mills's viewpoint, let's use our sociological imaginations to understand some contemporary social problems. We will start with unemployment, which Mills himself discussed. If only a few people were unemployed, Mills wrote, we could reasonably explain their unemployment by saying they were lazy, lacked good work habits, and so forth. If so, their unemployment would be their own personal trouble. But when millions of people are out of work, unemployment is best understood as a public issue because, as Mills (Mills, 1959) put it, "the very structure of opportunities has collapsed. Both the correct statement of the problem and the range of possible solutions require us to consider the economic and political institutions of the society, and not merely the personal situation and character of a scatter of individuals."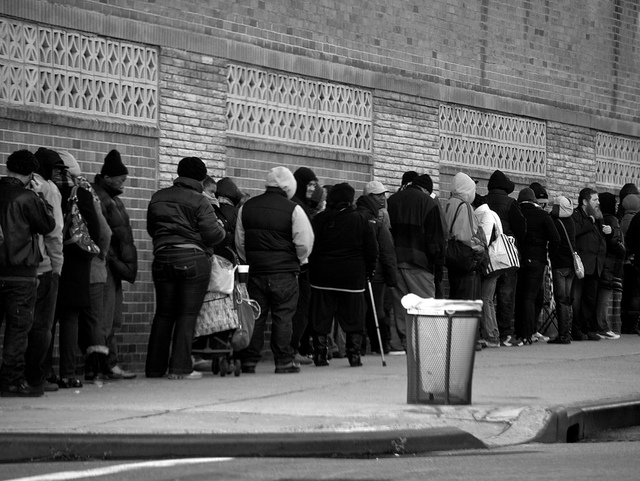 When only a few people are out of work, it is fair to say that their unemployment is their personal trouble. However, when millions of people are out of work, as has been true since the economic downturn began in 2008, this massive unemployment is more accurately viewed as a public issue. As such, its causes lie not in the unemployed individuals but rather in our society's economic and social systems.
Rawle C. Jackman – The line of hope… – CC BY-NC-ND 2.0.
The high US unemployment rate stemming from the severe economic downturn that began in 2008 provides a telling example of the point Mills was making. Millions of people lost their jobs through no fault of their own. While some individuals are undoubtedly unemployed because they are lazy or lack good work habits, a more structural explanation focusing on lack of opportunity is needed to explain why so many people were out of work. If so, unemployment is best understood as a public issue rather than a personal trouble.
Another social problem is eating disorders. We usually consider a person's eating disorder to be a personal trouble that stems from a lack of control, low self-esteem, or another personal problem. This explanation may be OK as far as it goes, but it does not help us understand why so many people have the personal problems that lead to eating disorders. Perhaps more important, this belief also neglects the larger social and cultural forces that help explain such disorders. For example, most Americans with eating disorders are women, not men. This gender difference forces us to ask what it is about being a woman in American society that makes eating disorders so much more common. To begin to answer this question, we need to look to the standard of beauty for women that emphasizes a slender body (Boyd, et. al., 2011). If this cultural standard did not exist, far fewer American women would suffer from eating disorders than do now. Because it does exist, even if every girl and woman with an eating disorder were cured, others would take their places unless we could somehow change this standard. Viewed in this way, eating disorders are best understood as a public issue, not just as a personal trouble.
Picking up on Mills's insights, William Ryan (1976) (Ryan, 1976) pointed out that Americans typically think that social problems such as poverty and unemployment stem from personal failings of the people experiencing these problems, not from structural problems in the larger society. Using Mills's terms, Americans tend to think of social problems as personal troubles rather than public issues. As Ryan put it, they tend to believe in blaming the victim rather than blaming the system .
To help us understand a blaming-the-victim ideology, let's consider why poor children in urban areas often learn very little in their schools. According to Ryan, a blaming-the-victim approach would say the children's parents do not care about their learning, fail to teach them good study habits, and do not encourage them to take school seriously. This type of explanation, he wrote, may apply to some parents, but it ignores a much more important reason: the sad shape of America's urban schools, which, he said, are overcrowded, decrepit structures housing old textbooks and out-of-date equipment. To improve the schooling of children in urban areas, he wrote, we must improve the schools themselves and not just try to "improve" the parents.
As this example suggests, a blaming-the-victim approach points to solutions to social problems such as poverty and illiteracy that are very different from those suggested by a more structural approach that blames the system. If we blame the victim, we would spend our limited dollars to address the personal failings of individuals who suffer from poverty, illiteracy, poor health, eating disorders, and other difficulties. If instead we blame the system, we would focus our attention on the various social conditions (decrepit schools, cultural standards of female beauty, and the like) that account for these difficulties. A sociological understanding suggests that the latter approach is ultimately needed to help us deal successfully with the social problems facing us today.
Theoretical Perspectives
Three theoretical perspectives guide sociological thinking on social problems: functionalist theory, conflict theory, and symbolic interactionist theory. These perspectives look at the same social problems, but they do so in different ways. Their views taken together offer a fuller understanding of social problems than any of the views can offer alone. Table 1.1 "Theory Snapshot" summarizes the three perspectives.
Table 1.1 Theory Snapshot
Functionalism
Functionalism , also known as the functionalist theory or perspective, arose out of two great revolutions of the eighteenth and nineteenth centuries. The first was the French Revolution of 1789, whose intense violence and bloody terror shook Europe to its core. The aristocracy throughout Europe feared that revolution would spread to their own lands, and intellectuals feared that social order was crumbling.
The Industrial Revolution of the nineteenth century reinforced these concerns. Starting first in Europe and then in the United States, the Industrial Revolution led to many changes, including the rise and growth of cities as people left their farms to live near factories. As the cities grew, people lived in increasingly poor, crowded, and decrepit conditions, and crime was rampant. Here was additional evidence, if European intellectuals needed it, of the breakdown of social order.
In response, the intellectuals began to write that a strong society, as exemplified by strong social bonds and rules and effective socialization, was needed to prevent social order from disintegrating. Without a strong society and effective socialization, they warned, social order breaks down, and violence and other signs of social disorder result.
This general framework reached fruition in the writings of Émile Durkheim (1858–1917), a French scholar largely responsible for the sociological perspective, as we now know it. Adopting the conservative intellectuals' view of the need for a strong society, Durkheim felt that human beings have desires that result in chaos unless society limits them (Durkheim, 1952). It does so, he wrote, through two related social mechanisms: socialization and social integration. Socialization helps us learn society's rules and the need to cooperate, as people end up generally agreeing on important norms and values, while social integration, or our ties to other people and to social institutions such as religion and the family, helps socialize us and integrate us into society and reinforce our respect for its rules.
Today's functionalist perspective arises out of Durkheim's work and that of other conservative intellectuals of the nineteenth century. It uses the human body as a model for understanding society. In the human body, our various organs and other body parts serve important functions for the ongoing health and stability of our body. Our eyes help us see, our ears help us hear, our heart circulates our blood, and so forth. Just as we can understand the body by describing and understanding the functions that its parts serve for its health and stability, so can we understand society by describing and understanding the functions that its parts—or, more accurately, its social institutions—serve for the ongoing health and stability of society. Thus functionalism emphasizes the importance of social institutions such as the family, religion, and education for producing a stable society.
Émile Durkheim was a founder of sociology and is largely credited with developing the functionalist perspective.
Marxists.org – public domain.
Similar to the view of the conservative intellectuals from which it grew, functionalism is skeptical of rapid social change and other major social upheaval. The analogy to the human body helps us understand this skepticism. In our bodies, any sudden, rapid change is a sign of danger to our health. If we break a bone in one of our legs, we have trouble walking; if we lose sight in both our eyes, we can no longer see. Slow changes, such as the growth of our hair and our nails, are fine and even normal, but sudden changes like those just described are obviously troublesome. By analogy, sudden and rapid changes in society and its social institutions are troublesome according to the functionalist perspective. If the human body evolved to its present form and functions because these made sense from an evolutionary perspective, so did society evolve to its present form and functions because these made sense. Any sudden change in society thus threatens its stability and future.
As these comments might suggest, functionalism views social problems as arising from society's natural evolution. When a social problem does occur, it might threaten a society's stability, but it does not mean that fundamental flaws in the society exist. Accordingly, gradual social reform should be all that is needed to address the social problem.
Functionalism even suggests that social problems must be functional in some ways for society, because otherwise these problems would not continue. This is certainly a controversial suggestion, but it is true that many social problems do serve important functions for our society. For example, crime is a major social problem, but it is also good for the economy because it creates hundreds of thousands of jobs in law enforcement, courts and corrections, home security, and other sectors of the economy whose major role is to deal with crime. If crime disappeared, many people would be out of work! Similarly, poverty is also a major social problem, but one function that poverty serves is that poor people do jobs that otherwise might not get done because other people would not want to do them (Gans, 1972). Like crime, poverty also provides employment for people across the nation, such as those who work in social service agencies that help poor people.
Conflict Theory
In many ways, conflict theory is the opposite of functionalism but ironically also grew out of the Industrial Revolution, thanks largely to Karl Marx (1818–1883) and his collaborator, Friedrich Engels (1820–1895). Whereas conservative intellectuals feared the mass violence resulting from industrialization, Marx and Engels deplored the conditions they felt were responsible for the mass violence and the capitalist society they felt was responsible for these conditions. Instead of fearing the breakdown of social order that mass violence represented, they felt that revolutionary violence was needed to eliminate capitalism and the poverty and misery they saw as its inevitable results (Marx, 1906; Marx & Engels, 1962).
According to Marx and Engels, every society is divided into two classes based on the ownership of the means of production (tools, factories, and the like). In a capitalist society, the bourgeoisie , or ruling class, owns the means of production, while the proletariat , or working class, does not own the means of production and instead is oppressed and exploited by the bourgeoisie. This difference creates an automatic conflict of interests between the two groups. Simply put, the bourgeoisie is interested in maintaining its position at the top of society, while the proletariat's interest lies in rising up from the bottom and overthrowing the bourgeoisie to create an egalitarian society.
In a capitalist society, Marx and Engels wrote, revolution is inevitable because of structural contradictions arising from the very nature of capitalism. Because profit is the main goal of capitalism, the bourgeoisie's interest lies in maximizing profit. To do so, capitalists try to keep wages as low as possible and to spend as little money as possible on working conditions. This central fact of capitalism, said Marx and Engels, eventually prompts the rise of class consciousness , or an awareness of the reasons for their oppression, among workers. Their class consciousness in turn leads them to revolt against the bourgeoisie to eliminate the oppression and exploitation they suffer.
Marx and Engels' view of conflict arising from unequal positions held by members of society lies at the heart of today's conflict theory. This theory emphasizes that different groups in society have different interests stemming from their different social positions. These different interests in turn lead to different views on important social issues. Some versions of the theory root conflict in divisions based on race and ethnicity, gender, and other such differences, while other versions follow Marx and Engels in seeing conflict arising out of different positions in the economic structure. In general, however, conflict theory emphasizes that the various parts of society contribute to ongoing inequality, whereas functionalist theory, as we have seen, stresses that they contribute to the ongoing stability of society. Thus while functionalist theory emphasizes the benefits of the various parts of society for ongoing social stability, conflict theory favors social change to reduce inequality.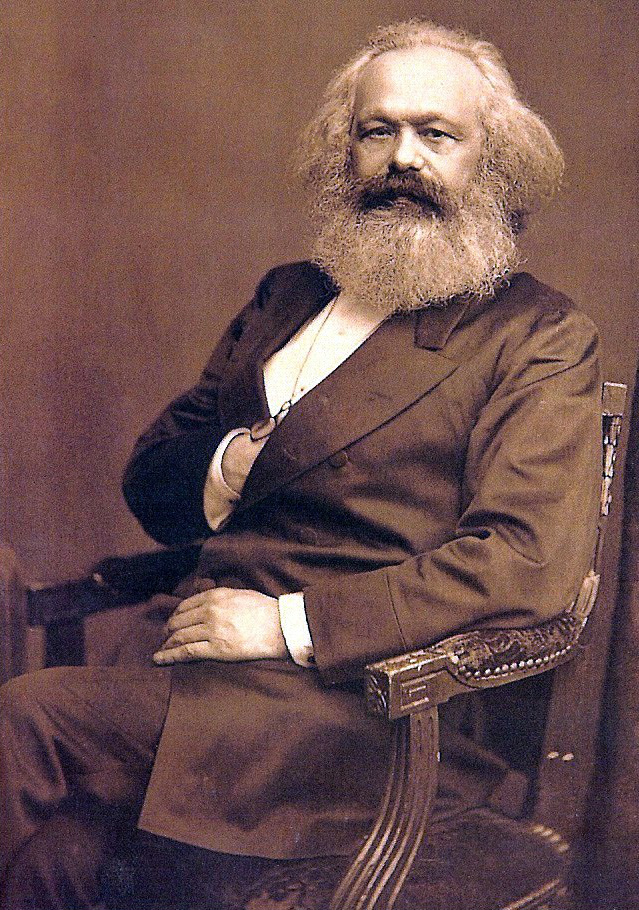 Karl Marx and his collaborator Friedrich Engels were intense critics of capitalism. Their work inspired the later development of conflict theory in sociology.
Wikimedia Commons – public domain.
Feminist theory has developed in sociology and other disciplines since the 1970s and for our purposes will be considered a specific application of conflict theory. In this case, the conflict concerns gender inequality rather than the class inequality emphasized by Marx and Engels. Although many variations of feminist theory exist, they all emphasize that society is filled with gender inequality such that women are the subordinate sex in many dimensions of social, political, and economic life (Lorber, 2010). Liberal feminists view gender inequality as arising out of gender differences in socialization, while Marxist feminists say that this inequality is a result of the rise of capitalism, which made women dependent on men for economic support. On the other hand, radical feminists view gender inequality as present in all societies, not just capitalist ones. Several chapters in this book emphasize the perspectives of feminist sociologists and other social scientists.
Conflict theory in its various forms views social problems as arising from society's inherent inequality. Depending on which version of conflict theory is being considered, the inequality contributing to social problems is based on social class, race and ethnicity, gender, or some other dimension of society's hierarchy. Because any of these inequalities represents a fundamental flaw in society, conflict theory assumes that fundamental social change is needed to address society's many social problems.
Symbolic Interactionism
Symbolic interactionism focuses on the interaction of individuals and on how they interpret their interaction. Its roots lie in the work of early 1900s American sociologists, social psychologists, and philosophers who were interested in human consciousness and action. Herbert Blumer (1969) (Blumer, 1969), a sociologist at the University of Chicago, built on their writings to develop symbolic interactionism, a term he coined. Drawing on Blumer's work, symbolic interactionists feel that people do not merely learn the roles that society has set out for them; instead they construct these roles as they interact. As they interact, they negotiate their definitions of the situations in which they find themselves and socially construct the reality of these situations. In doing so, they rely heavily on symbols such as words and gestures to reach a shared understanding of their interaction.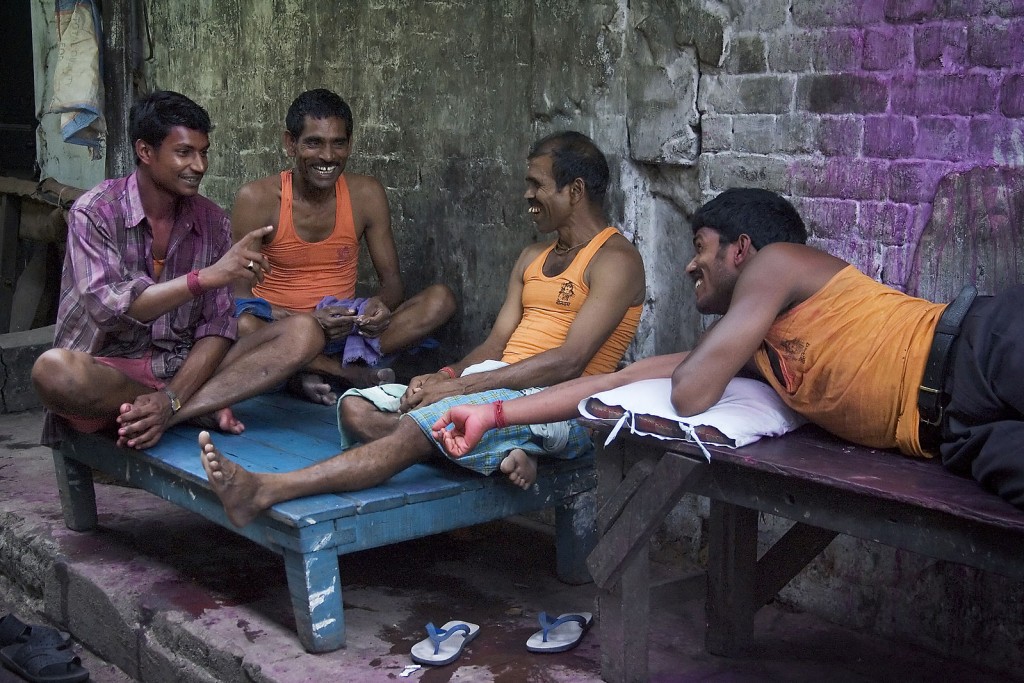 Symbolic interactionism focuses on individuals, such as the people conversing here. Sociologists favoring this approach examine how and why individuals interact and interpret the meanings of their interaction.
An example is the familiar symbol of shaking hands. In the United States and many other societies, shaking hands is a symbol of greeting and friendship. This simple act indicates that you are a nice, polite person with whom someone should feel comfortable. To reinforce this symbol's importance for understanding a bit of interaction, consider a situation where someone refuses to shake hands. This action is usually intended as a sign of dislike or as an insult, and the other person interprets it as such. Their understanding of the situation and subsequent interaction will be very different from those arising from the more typical shaking of hands. As the term symbolic interactionism implies, their understanding of this encounter arises from what they do when they interact and from their use and interpretation of the various symbols included in their interaction. According to symbolic interactionists, social order is possible because people learn what various symbols (such as shaking hands) mean and apply these meanings to different kinds of situations. If you visited a society where sticking your right hand out to greet someone was interpreted as a threatening gesture, you would quickly learn the value of common understandings of symbols.
Symbolic interactionism views social problems as arising from the interaction of individuals. This interaction matters in two important respects. First, socially problematic behaviors such as crime and drug use are often learned from our interaction with people who engage in these behaviors; we adopt their attitudes that justify committing these behaviors, and we learn any special techniques that might be needed to commit these behaviors. Second, we also learn our perceptions of a social problem from our interaction with other people, whose perceptions and beliefs influence our own perceptions and beliefs.
Because symbolic interactionism emphasizes the perception of social problems, it is closely aligned with the social constructionist view discussed earlier. Both perspectives emphasize the subjective nature of social problems. By doing so, they remind us that perceptions often matter at least as much as objective reality in determining whether a given condition or behavior rises to the level of a social problem and in the types of possible solutions that various parties might favor for a particular social problem.
Applying the Three Perspectives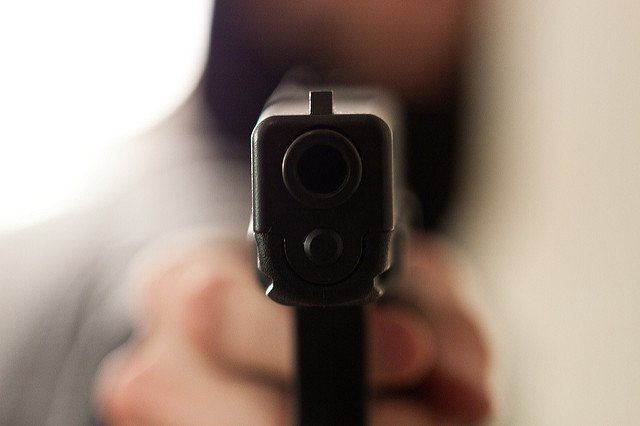 To explain armed robbery, symbolic interactionists focus on how armed robbers decide when and where to rob a victim and on how their interactions with other criminals reinforce their own criminal tendencies.
Geoffrey Fairchild – The Robbery – CC BY 2.0.
To help you further understand the different views of these three theoretical perspectives, let's see what they would probably say about armed robbery , a very serious form of crime, while recognizing that the three perspectives together provide a more comprehensive understanding of armed robbery than any one perspective provides by itself.
A functionalist approach might suggest that armed robbery actually serves positive functions for society, such as the job-creating function mentioned earlier for crime in general. It would still think that efforts should be made to reduce armed robbery, but it would also assume that far-reaching changes in our society would be neither wise nor necessary as part of the effort to reduce crime.
Conflict theory would take a very different approach to understanding armed robbery. It might note that most street criminals are poor and thus emphasize that armed robbery is the result of the despair and frustration of living in poverty and facing a lack of jobs and other opportunities for economic and social success. The roots of street crime, from the perspective of conflict theory, thus lie in society at least as much as they lie in the individuals committing such crime. To reduce armed robbery and other street crime, conflict theory would advocate far-reaching changes in the economic structure of society.
For its part, symbolic interactionism would focus on how armed robbers make such decisions as when and where to rob someone and on how their interactions with other criminals reinforce their own criminal tendencies. It would also investigate how victims of armed robbery behave when confronted by a robber. To reduce armed robbery, it would advocate programs that reduce the opportunities for interaction among potential criminal offenders, for example, after-school programs that keep at-risk youths busy in "conventional" activities so that they have less time to spend with youths who might help them get into trouble.
Key Takeaways
According to C. Wright Mills, the sociological imagination involves the ability to recognize that private troubles are rooted in public issues and structural problems.
Functionalism emphasizes the importance of social institutions for social stability and implies that far-reaching social change will be socially harmful.
Conflict theory emphasizes social inequality and suggests that far-reaching social change is needed to achieve a just society.
Symbolic interactionism emphasizes the social meanings and understandings that individuals derive from their social interaction.
For Your Review
Select an example of a "private trouble" and explain how and why it may reflect a structural problem in society.
At this point in your study of social problems, which one of the three sociological theoretical perspectives sounds most appealing to you? Why?
Blumer, H. (1969). Symbolic interactionism: Perspective and Method . Englewood Cliffs, NJ: Prentice Hall.
Boyd, E. M., Reynolds, J. R., Tillman, K. H., & Martin, P. Y. (2011). Adolescent girls' race/ethnic status, identities, and drive for thinness. Social Science Research, 40 (2), 667–684.
Durkheim, É. (1952). Suicide (J. Spaulding & G. Simpson, Trans.). New York, NY: Free Press. (Original work published 1897).
Gans, H. J. (1972). The positive functions of poverty. American Journal of Sociology, 78 , 275–289.
Lorber, J. (2010). Gender Inequality: Feminist Theories and Politics . New York, NY: Oxford University Press.
Marx, K. (1906). Capital . New York, NY: Random House. (Original work published 1867).
Marx, K., & Engels, F. (1962). The communist manifesto. In Marx and Engels: Selected works (Vol. 2, pp. 21–65). Moscow, Russia: Foreign Language Publishing House. (Original work published 1848).
Mills, C. W. (1959). The sociological imagination . London, United Kingdom: Oxford University Press.
Ryan, W. (1976). Blaming the victim (Rev. ed.). New York, NY: Vintage Books.
Social Problems by University of Minnesota is licensed under a Creative Commons Attribution-NonCommercial-ShareAlike 4.0 International License , except where otherwise noted.
Arts & Music
English Language Arts
World Language
Social Studies - History
Holidays / Seasonal
Independent Work Packet
Easel by TPT
Google Apps
Interactive resources you can assign in your digital classroom from TPT.
Easel Activities
Easel Assessments
Unlock access to 4 million resources — at no cost to you — with a school-funded subscription..
social problem solving scenarios
All Formats
Resource types, all resource types, results for social problem solving scenarios.
Price (Ascending)
Most Recent
Problem Solving Scenarios | Social Skills for Teens | Distance Learning
Also included in:  Social Skills for Middle School and High School | Distance Learning
Problem Solving Scenarios, Problems Solutions Perspective Taking & Social Skills
Also included in:  Solving Problems, Problem Size & Solutions, Difficult Situations, Speech Bundle
Social Problem Solving Scenarios for Teens | Distance Learning
Social Problem Solving Games With Scenarios For Decision Making Lessons
Also included in:  Social Problem Solving Bundle For Lessons On Social Skills & Size Of The Problem
Social Problem Solving Scenarios Boom Cards
Also included in:  Social Skills + Pragmatic Language Activities Boom Cards Speech Therapy
Make Smart Choices Game.. rules & social problem solving scenarios & skills
Also included in:  The Ultimate Back to School Bundle... The Get Set for Kindergarten Kit!
Scenario Cards For Social Skills Problem Solving & Friendship
Also included in:  Social Skills Activities | Social Problem Solving Scenarios | Social Role Play
Social Problem Solving Scenarios : Classroom
Also included in:  Social Problem Solving Scenarios : Bundle
Social Skills Activities | Social Problem Solving Scenarios | Social Role Play
What Should I Do?: Everyday Social Problem Solving Scenarios
Social Skills Social Problem Solving Scenarios for Older Students BUNDLE
30 Scenarios For Social Problem Solving (Distance Learning)
Social Problem Solving Scenarios : Bundle
Social Communication Life Skills Problem Solving Scenarios for Speech Therapy
Also included in:  Core Words and Narratives High School Life Skills Bundle for AAC Users
Social Scenarios Problem Solving REAL LIFE Pictures
Social Skills Social Problem Solving Scenarios Making Social Inferences
Also included in:  Social Skills Social Problem Solving Scenarios for Older Students BUNDLE
Social Problem Solving Scenarios Understanding the Causes of Social Problems
Social Problem Solving Scenarios | Distance Learning | Speech Therapy
Winter Social Problem Solving Scenarios
Also included in:  Social Skills Problem Solving Scenarios SEASONAL BUNDLE
Social Skills l Social Problem Solving Scenarios : Recess
Social Problem Solving Scenarios | Social Skills Distance Learning
Also included in:  Social Skills Activities - Bundle | Social Skills Distance Learning
Social Scenario Problem Solving Task Cards
Also included in:  Identifying Feelings Activities | Bundle
Social Problem Solving Scenarios & Activities Print & Digital Bundle
Social Skills Problem Solving Activities & Scenarios Bingo for Self Regulation
TPT empowers educators to teach at their best.
We're Hiring
Help & FAQ
Terms of Service
Trademark & Copyright
Privacy Policy
Student Privacy Policy
Keep in Touch!
Are you getting the free resources, updates, and special offers we send out every week in our teacher newsletter?
DOI: 10.1037/10805-001
Corpus ID: 14290346
Social Problem Solving: Theory and Assessment.
T. D'zurilla , A. Nezu , Albert Maydeu-Olivares
Published 2004
345 Citations
The effects of higher-order thinking dispositions, job-related learning and creativity on innovation behaviour.
Highly Influenced
View 20 excerpts, cites background and methods
Development and Psychometric Properties of the Avoidance Questionnaire for Adolescents (AQA).
László Kasik , Kornél Guti , Zita Gál , Csaba Gáspár , E. Tóth , J. Fejes
View 4 excerpts, cites background
Asian Adults' Hypercompetitiveness and Distress: the Mediating Role of a Negative Problem-Solving Orientation
J. Y. Chan , L. Gerstein , Rebecca M. Kinsey , A. Fung
Psychology Current Psychology
View 9 excerpts, cites background
Relationship Satisfaction and Family Functioning: Mothers of Children with LQTS Versus a Control Group
Karen Gentis
View 10 excerpts, cites background
A Feasibility Study of a LQTS-Specific Workshop: Childrens' Problem-Solving Skills, Coping, Self-Efficacy, and Locus of Control
View 7 excerpts, cites background
A Feasibility Study of LQTS-Specific Problem-Solving Workshop: Parents' Problem-Solving Skills, Coping, Hope, and Worry
View 11 excerpts, cites background and methods
Training Adults with Acquired Brain Injury How to Help-Seek When Lost
Young Susan Cho
View 4 excerpts, cites results and background
The relationship between emotional intelligence and problem solving skills in prospective teachers
Sabahattin Deniz
View 5 excerpts, cites background
Is Doubling Up on Positive Future Cognitions Associated with Lower Suicidal Risk in Latinos?: A Look at Hope and Positive Problem Orientation
E. Chang , Elizabeth A. Yu , Emma R. Kahle , E. Jeglic , Jameson K. Hirsch
Psychology Cognitive Therapy and Research
Examining the utility of assessment tools and group intervention programmes for mentally disordered offenders
SHOWING 1-10 OF 67 REFERENCES
Problem Solving Therapy: A Social Competence Approach to Clinical Intervention (2nd Edition)
Highly Influential
View 7 excerpts, references background and methods
A free response test of interpersonal effectiveness.
H. Getter , J. Nowinski
Psychology Journal of personality assessment
View 10 excerpts, references background
Social Problem-Solving Inventory-Revised (SPSI-R) : Technical manual
Development and preliminary evaluation of the Social ProblemSolving Inventory (SPSI)
Psychological Assessment: A Journal of Consulting and Clinical Psychology
The assessment of interpersonal problemsolving skills
Problem-solving therapy : a social competence approach to clinical intervention.
T. D'zurilla , A. Nezu
Psychology, Medicine
View 20 excerpts, references methods and background
Individual Differences in Perceived Information Processing Styles in Stress and Coping Situations: Development and Validation of the Perceived Modes of Processing Inventory
Lawrence R. Burns , T. D'zurilla
View 6 excerpts, references background and methods
Manual for the Means-Ends Problem-Solvingprocedure (MEPS): A measure of interpersonal cognitive problem-solving skills. Philadelphia: Hahnemann Community Mental Health/Mental Retardation Center
Manual for the Means-Ends Problem-Solvingprocedure (MEPS): A measure of interpersonal cognitive problem-solving skills
Social problem solving in adults Advances in cognitive-behavioral research and therapy
Related Papers
Showing 1 through 3 of 0 Related Papers
YouBookinc.com
Practical problem solving skills in the workplace.
Download Practical Problem Solving Skills In The Workplace full books in PDF, epub, and Kindle. Read online free Practical Problem Solving Skills In The Workplace ebook anywhere anytime directly on your device. Fast Download speed and no annoying ads. We cannot guarantee that every ebooks is available!
Practical Problem solving Skills in the Workplace
Download Practical Problem solving Skills in the Workplace Book in PDF, Epub and Kindle
Problem-solving skills to identify and resolve work-related problems and improve job performance. With the increasing emphasis on initiative in the workplace, it`s essential to know how to recognize, define, and analyze problems and then develop workable solutions to correct them. This book provides all the skills needed to achieve this, including a problem-solving tree. Readers will learn how to: ¿ Evaluate your own problem-solving strengths and weaknesses ¿ Use problem-solving skills to identify and resolve work-related problems and improve your job performance ¿ Track the steps you need to solve work-related problems with the Problem-Solving Tree
The Social Sciences Empowered
Download The Social Sciences Empowered Book in PDF, Epub and Kindle
The Social Sciences Empowered contains papers presented at the 7th International Congress on Interdisciplinary Behavior and Social Science 2018 (ICIBSoS 2018), held 21-22 July 2018, Bangkok, Thailand, 22-23 September 2018, Bali, Indonesia, 6-7 October 2018, Kuta, Bali, Indonesia, and 24-25 November 2018, Yogyakarta, Indonesia. ICIBSoS 2018 provided the economic and social analysis necessary for addressing issues in Humanities disciplines such as Education, Sociology, Anthropology, Politics, History, Philosophy, Psychology as well as food security. Contributions to these proceedings give necessary insight into the cultural and human dimension of such diverse research areas as transport, climate change, energy and agriculture. ICIBSoS 2018 also analyses the cultural, behavioural, psychological, social and institutional drivers that transform people's behaviour and the global environment. ICIBSoS 2018 proposes new ideas, strategies and governance structures for overcoming the crisis from a global perspective, innovating the public sector and business models, promoting social innovation and fostering creativity in the development of services and product design.
Workplace Essential Skills
Download Workplace Essential Skills Book in PDF, Epub and Kindle
Counselling skills in social work practice.
Download Counselling Skills in Social Work Practice Book in PDF, Epub and Kindle
·In what ways is counselling relevant to contemporary social work? ·How do counselling skills integrate with social work roles and responsibilities? This book examines these skills and their applicability, drawing from social work and counselling theories and methods using clear, practical examples. Skills are discussed with reference to social work knowledge and values illustrating how, when used competently, contextually and sensitively they can appropriately underpin good social work practice. Questions and activities for self development are linked to the practices discussed. This new edition of Counselling Skills in Social Work Practice has been thoroughly revised to reflect the National Occupational Standards for social work which identify the importance of communication skills and a developmental understanding of people in their social contexts. The chapters are linked to the six key roles for social work practice. This book builds on the strengths of the first edition, as well as addressing the challenges of practice in relevant legislative and policy contexts. The book includes: ·Evidence of how the competencies which underpin counselling practice are directly transferable to effective social work practice ·Practical advice on communication skills ·Examples of how to build effective working relationships; a whole chapter is now devoted to the specific skills required for working within inter-agency and multi-disciplinary teams This book is key reading on the subject of ethical and effective social work for those teaching, studying or practising in the field.
Advances in REBT
Download Advances in REBT Book in PDF, Epub and Kindle
This authoritative volume commemorates six decades of Rational Emotive Behavior Therapy by assembling its current state of theory, practice, and research. Bedrock chapters on defining features, assessment and measurement, and empirical findings place REBT squarely in the cognitive-behavioral landscape, reinforcing its status as a significant therapeutic approach. The book's palette of applications shows the flexibility and effectiveness of REBT in school, workplace, and other settings, with worried parents and "stuck" athletes, and as a foundation for brief interventions. And the survey of guiding principles and the evolution of the method by REBT founder Albert Ellis is a testament to its enduring clinical value. Included in the coverage: · A comparison of REBT with other cognitive behavior therapies. · The measurement of irrationality and rationality. · Empirical Research in REBT theory and practice. · Rational Emotive Behavior Therapy and the working alliance. · Brief interventions in Rational Emotive Behavior Therapy. · REBT and positive psychology. · Rational emotive behavior education in schools. Advances in REBT will be welcomed as a definitive reference across the REBT community: frontline clinicians, novices, trainees, students, and researchers. Seasoned practitioners looking to incorporate REBT into their repertoires will find it immensely helpful.
Rationality and the Pursuit of Happiness
Download Rationality and the Pursuit of Happiness Book in PDF, Epub and Kindle
This book reveals how the principles of rational living identified by Albert Ellis, one of the world's most influential and popular psychologists, can be used by anyone to achieve lifelong happiness. Reveals the 11 principles of rational living that when put into practice can consistently increase levels of personal happiness Includes selected excerpts from Ellis' writings, revealing the difference between the psychological architectures of emotional unhappiness and human happiness Presents verbatim transcripts of private counseling sessions, as well as public lectures and demonstrations with people addressing a wide range of personal issues Offers insights into how 'rationality' can be used by anyone to reduce the intensity of negative emotions, to increase the frequency of positive emotions and to promote life satisfaction
Essential ICT A Level AS Student Book for AQA
Download Essential ICT A Level AS Student Book for AQA Book in PDF, Epub and Kindle
With content tailored to AQA specifications, and activities that are designed to reinforce learning, this work features integrated assessment support throughout to help boost grades. It also includes: exam-style practice questions; summary mindmaps; and key terminology defined to support its accurate usage: in context; within a glossary.
Social Work Practice Research for the Twenty First Century
Download Social Work Practice Research for the Twenty First Century Book in PDF, Epub and Kindle
Social work professionals must demonstrate their effectiveness to legislators and governments, not to mention clients and incoming practitioners. A thorough evaluation of the activities, ethics, and outcomes of social work practice is critical to maintaining investment and interest in the profession and improving the lives of underserved populations. Incorporating the concerns of a new century into a consideration of models for practice research, this volume builds on the visionary work of William J. Reid (1928-2003) who transformed social work research through empirically based and task-centered approaches-and, more recently, synthesized intervention knowledge for framing future study. This collection reviews the task-centered model and other contemporary Evidence-Based Practice models for working with individuals, families, groups, communities, and organizations. Essays demonstrate the value of these pragmatic approaches in the United States and international settings. Contributors summarize state-of-the-art methods in several key fields of service, including children and families, aging, substance abuse, and mental health. They also evaluate the research movement itself, outlining an agenda for today's sociopolitical landscape and the profession. This volume inspires practice research to prioritize evidence as a base for the profession.