Oct 9, 2017
How to make a Prezi, in PowerPoint! As told by a Prezi Expert…
For 7 years I've run a Prezi Training and Design Company based in London, UK. On a near daily basis, businesses contact me to see if my team can help their presentations to stand out. They're often drawn to Prezi as it's still perceived to be the cool new kid on the block, even though it's been around since 2009. They're interested in the concept of Prezi, and generally know that you can organise all your slides within a single overview, a bit like a whiteboard, and then present them in an appealing way. They also like that you can click from your overview into any topic of your presentation, in any order, allowing for a more interactive flow to your story or pitch. Prezi users call this style of delivery 'conversational presenting'. All-in-all, it sounds like a welcome change from your typical slide experience.
So, it's recently been a surprise to my prospective new clients when I tell them that for the last 6 months we've actually made a significant amount of Prezi-style conversational presentations — not using Prezi, rather good old PowerPoint !
For example, here's a prezi we built for one of our favourite clients, Bilco :
Now here's the same presentation, this time built using PowerPoint :
Pretty similar playback, don't you think?
Here's why we've turned to PowerPoint to make Prezi-style presentations:
Prezi Inc., the company behind the Prezi software, released an entirely new version of the tool to all users back in May 2017. It's called Prezi Next, and it's marketed as a unique conversational presenting tool for Sales and Marketing professionals. It's now the only version of the Prezi software available to newcomers. Unfortunately, there are some critical issues with the product that often conflict with the demands of our customers, resulting in many of our pitches leading to the question: can we do this better in PowerPoint?
The answer to that question is increasingly 'yes', and this is why my team and I have expanded our previously Prezi-only services and expertise to include the design of enhanced PowerPoints for our clients, and training others how to get the Prezi effect in PowerPoint to make modern, professional business presentations of their own.
Here's how we use PowerPoint to make Prezi-style presentations:
PowerPoint has two very useful new features within the Office 365 subscription, these are the zoom and morph functions, and are the key to making Prezi-style presentations within the PowerPoint editor.
Zoom for PowerPoint:
With the zoom function, you firstly assign related slides into different sections of your presentation, then using the Summary Zoom option from the Insert menu, you create an additional interactive slide that enables you to navigate to any of these sections, in any order you choose, just like a conversational-style Prezi. You can reposition and resize your clickable section 'buttons' within your summary slide, and restyle them by uploading your own image or icon to change the look & feel of your overview. You can also change the duration of your transition and add other effects from the Zoom Format tab.
In addition, there's a variant of the feature, called Slide Zoom, that allows you to set further Prezi-style transitions once you've zoomed into one of your sections, meaning you can create more complex sub-level structures and drill down into deeper levels of content within your deck.
We've found that the conversational style of presenting is easy for our clients to master when using PowerPoint, as they can just click the mouse to either advance to the next slide or to manually navigate to a specific point of interest.
Check out more on Zoom for PowerPoint here .
The Morph Transition:
Skip ahead to 2:00 in the video below for the Morph demo!
With the morph transition, you can also create Prezi-style movements like zooms and rotations on your slides. To do so, you firstly need two slides with at least one object in common (most people just make a duplicate slide). You can then reposition, resize, or rotate the common objects on your second slide and set the morph option from the transition menu. As you present, PowerPoint will automatically animate the movement of objects from their position on your original slide to their position on the altered version.
Here's a version of the Bilco presentation from above, this time built in PowerPoint using a combination of the Summary Zoom feature and Morph transitions:
Just like in Prezi — utilising on screen movement, when meaningful, is an effective way to reinforce certain notions and concepts and bring your content to life. For example, you could zoom in on a slide to focus on an important inflection point on a graph, zoom out of a key stat to show its perspective within a bigger picture, rotate 180° to highlight an opposing viewpoint to your own, or shift the direction of travel through your slide content by 90° - to convey a change in your approach to a problem.
Check out more on the morph transition here :
So are we Prezi Experts fully converted PowerPoint fanboys now?
Not entirely. It has to be said that these two new PowerPoint features are not a complete panacea to the many issues business users have with Prezi Next. Here are some problems to consider:
The zoom function is currently only available for PC versions of PowerPoint in Office 365, meaning we've had to face the indignity of ditching our Macs and dusting off some old Thinkpads we had lurking around the office.
Whilst practically everyone has PowerPoint on their work computer, not all business users have an Office 365 subscription, so not everyone will be able to create a slide deck in the Prezi-style without upgrading to the latest version. For comparison, a single-user business licence of Office 365 costs £7.90 per month (and includes Word, Excel and Outlook); a Prezi 'Plus' licence (the minimum level we'd recommend for business use) costs £19 per month for a single user.
If you're utilising a combination of the morph function and the zoom transition (not the zoom feature) to navigate between slides in a Prezi-style, the zoom out motion is just not as elegant as it is in Prezi, as the 'camera' zooms out from the centre of the slide, not from the position of the object you've just zoomed into. This movement can sometimes feel a little disconnected, clunky, or distracting to the eye. You can see this in our second example above.
If you're building in a lot of action buttons or using the morph feature heavily to create Prezi-style movements within a linear presentation scenario, you'll likely have to duplicate a lot of slides. For complex designs you'll need to stay very focused to ensure that if you change an element on one of these slides, you may need to replace all of its duplicates. This can get pretty time consuming for larger decks.
The zoom function would benefit from an option to make your clickable section summaries or slide zooms fully transparent, something we miss from Prezi that would make it easier to place zoomable, sub-levels of content directly onto specific areas over an image, chart or graph within your deck - a bit like creating clickable, invisible 'hotspots'. At the moment our simple workaround is to create the zoom as normal, then right click on it and choose insert image, then to insert a fully transparent image you've prepared elsewhere to act as an invisible placeholder.
All that being said, PowerPoint has always done a great many things you'd expect from a presentation tool exceptionally well - with many of its features essential to the creation of structurally complex, branded business presentations. Now, with the addition of the zoom and morph features it also matches Prezi's USP in the way you organise and present your information, meaning it's more frequently the best option available to fulfil the presentation needs of our clients.
In conclusion…
As a passionate preacher for Prezi over an exciting 7 years of my career, returning to PowerPoint felt a little peculiar at first; but it's been great to work with the impressive new features and all the old ones I missed. Perhaps sentimentally, I have respect for the admirable way Prezi Inc. have disrupted the stale business presentation space on their 8 year journey to date, and how they've brought a more interactive form of presenting into the mainstream. I hope in the near future I can again answer 'no' to the question of can I do this better in PowerPoint, more often than not. Until that time, my team and I will continue to expand our enhanced PowerPoint design and training services to our existing and new clients, and further explore opportunities elsewhere for the creation of conversational, Prezi-style presentations that are truly fit for business use.
Thanks for reading, and I hope you've found this post useful! If you'd like us to help you with a presentation, please get in touch.
Contact: [email protected]
Chris Connick. Official Prezi Expert & PowerPoint Specialist Director & Head of Design, Slide Academy Ltd, London UK.
More from Chris Connick
Authorised Prezi Expert. Director & Head of Training at Prezi Training & Design Ltd. London, UK.
About Help Terms Privacy
Get the Medium app
Chris Connick
Text to speech
Important Notice
You are using an out of date version of Internet Explorer!
This browser may prevent this website from displaying and functioning as intended.
Please click here to upgrade.
convert your Prezi into a PowerPoint PPT for slideshare
For those of you familiar with Prezi, you might be scratching your heads when it comes to publishing your hard work online, notably the popular social network Slideshare .
If you work in Marketing and don't know about Prezi, check it out right now . Prezi is the answer to that feeling you get when somebody opens their laptop and plugs in the projector (ie. nap time).
Even for the uninitiated, Prezi is an excellent tool for producing an attractive presentation quickly and easily. Prezi has some useful features, but it seems as though Linkedin are adamant to draw the line between traditional presentations and Prezi's.
How to Convert your Prezi into a PPT
Prezi doesn't allow a direct Powerpoint (PPT) conversion, but there's a nifty process that will have your persuasive presentation up in no time!
1. Create your Prezi
Simply visit Prezi.com and register a free account to begin creating your Prezi. There are premium accounts available for those with a budget.
2. Download your Prezi as a PDF
Prezi has a few handy exporting tools, including the ability to Download as PDF . Click Share > Download as PDF and Prezi will begin converting your presentation into a PDF.
3. Convert your PDF to JPG's
There are a number of options available to convert your PDF into an image format, but there's a handy tool that does this job very well called Any Free PDF to JPG converter . Alternatively, use Adobe Reader or Mac bundled software Preview .
4. Create a presentation with JPG's
Create a presentation with your favourite presentation software Microsoft PowerPoint, PowerPoint for Mac or Apple's own Keynote software. Create a blank presentation template and insert your shiny new JPG's.
5. Upload your PPT to Slideshare
Now that you have a fresh presentation ready to go, you can save and upload to Slideshare as per usual. Be sure to add any notes or links to your Slideshare upload, as this will help your work become more discoverable.
That's it! If you're not convinced, check out our original Prezi and the post-conversion PPT presentation uploaded to Slideshare.
We're Here to Help!
Now that you're here, why not learn more about our  creative marketing , web design and  SEO services ?
facebook Share on Facebook
twitter Share on Twitter
linkedin Share on LinkedIn
How to Make a Prezi
Introduction: How to Make a Prezi
What is a "prezi"? A prezi is a presentation of text and visuals that you zoom in and out of. It is very similar to a power point, except you do not make slides. Instead, you make one big prezi and zoom in to different views. You can show a prezi to others on a computer through your prezi account, or you can link to them. You can also embed them in blogs. I have used the prezi website for school projects (mainly blogs) before, and I think it is an interesting alternative to the traditional power point presentation.
Step 1: Making a Prezi Account
1.Click "Sign Up" in the upper right-hand corner of your screen. 2. In this instructable, I will demonstrate with a free account, so click "Free". 3. Fill out the form, making sure to agree with the terms of use, and click "Register and Continue". 4. Welcome to Prezi! You should arrive at this welcome screen. Choose to either watch a video, view other people's prezi creations, or create a new prezi.
Step 2: Creating a Prezi
1. If you are starting from the welcome screen, click start. 2. If you are starting from your page, click "New Prezi". 3. Select a style, name your prezi, and write a description of it. 4. Click "Create". 5. Click "Open Me". 6. Click "Open Me" again.
Step 3: How to Add Text, Pictures, Frames, Etc.
1. Watch the instructional video on your screen.
Step 4: Embedding Prezis
1. From your page, select a prezi you would like to share. 2. Click "Share". 3. Copy and paste the embed code.
Step 5: Sample Picture of a Prezi
Here is a prezi I made for school and another one I made shown embedded in a blog.
Be the First to Share
Did you make this project? Share it with us!
Recommendations
Game Design: Student Design Challenge
Make it Glow Contest
4 years ago
cant wait to see it
How do you insert or import a you tube video into Prezi?
7 years ago
can i download a prezi?
8 years ago on Introduction
Now prezi has a different structure
http://techalltop.blogspot.com/2014/11/facebook-app-for-android-apk-free-download.html
11 years ago on Introduction
Can you please update this? It has a new look.
12 years ago on Introduction
You should add the prezi that you made to htis instructable by embedding its code into the "add video" option when creating an instructable. then they can interact with it as the go through it.
Reply 12 years ago on Introduction
well I can see why you did not now. Even though it is an embed code and that it uses flash just like youtube videos, it did not work for one reason or another... something I think instructables should fix ASAP! could make some great looking instructables with it!
 coool! might use this for m science project!
Like what you're reading?
How to make a video presentation with Prezi in 6 steps
Get your team on prezi – watch this on demand video.
Meghan Ryan October 16, 2020
If you're not able to be there in person, the next best thing is to present virtually in a video presentation . Over the years more and more people have started to work remotely and communicate virtually, and video presentations have become one of the main ways of presenting. People present live in virtual meetings or share their recorded videos in email or on social media so that others can watch them on their own time.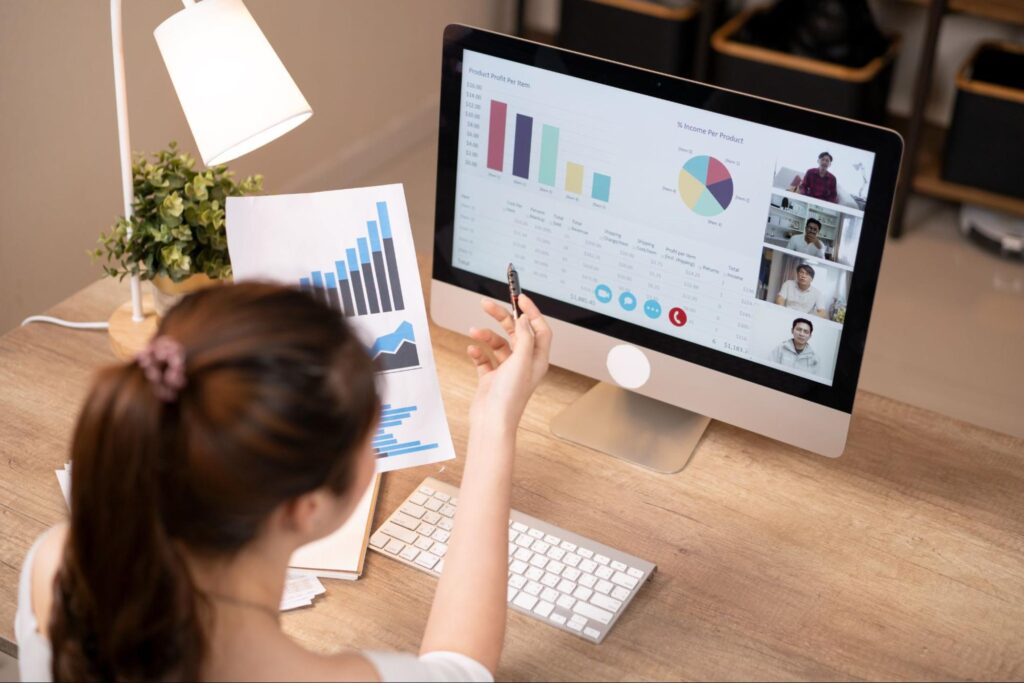 Prezi Video is the online video presentation tool that puts you and your content side-by-side on-screen, helping you stand out and grab your audience's attention without losing the human connection. Read on to learn how to make a video presentation with Prezi Video.
Steps for how to make a video presentation
1. prepare ahead of time.
You need to prepare for your video presentation before you can nail it. Start with the basics. How to make a video presentation really boils down to a few simple questions: 
What's the goal of your video presentation?
Why do you need this video presentation?
Who is your audience?
What information do you need to include in your video presentation?
What format or features would best serve your presentation?
How do you want to brand your video presentation?
Try creating a mind map to outline your thoughts around a single idea. Then, compose your main message by using storytelling principles to keep your message focused and interesting for your audience. Get more advice about preparing for a video presentation with the how to present on video series from Jessica Chen , the founder of Soulcast Media, and read our guide to learn more about what you can do to prepare for a video presentation
2. Turn an existing presentation into a video
You can easily create a video from a presentation with Prezi Video. Use an existing Prezi presentation, or create a new presentation in the Prezi Present editor and press "create video" when you're ready to record. You can also turn your PowerPoint presentation into a video by uploading your slides and editing them in the Prezi Video editor.
3. Set up a home studio
How to make a video presentation doesn't require the most expensive equipment, but there are a few steps you can take to look and sound your best on camera. Position your camera at eye level so that it feels like you're making eye contact with your audience. Clean up and declutter the space around you that'll appear on camera. If you think the space behind you is too messy, try using a virtual background with Prezi Video . Good lighting and background will make you look more energetic and professional, so situate yourself in front of a light (a window that lets in natural light is best). Find more tips about lighting, backgrounds, and audio quality in our article about home studio setups .
4. Use presenter notes
It's helpful to have notes next to you while you're presenting for reminders and cues. Take advantage of presenter notes in Prezi Video – add notes to your presentation before recording to highlight key information and talking points. These are super useful for practicing before you record, and you'll be the only person who sees them when you're presenting. Keep in mind that you shouldn't be looking at your notes every second during your video presentation. Instead, presenter notes should only serve as a hint. Look at your camera as often as you can to make your audience feel seen and involved. 
Now comes the fun part – recording your presentation! This is easy to do in Prezi Video. After you're done adding and editing your content, press "next step" and then press the red button at the bottom of the screen. You can always pause the recording to collect your thoughts and trim the video once you're done. Don't like what you see? No problem — you can discard the draft and record again.
6. Share your video presentation
Once you've wrapped up recording, it's time to save your video and share it. You have plenty of options here: share a link, embed your video , or download the video file and share it on social. Learn more about sharing and live streaming with Prezi Video in our article about sharing your video .
Tips for making video presentations
Now that we've covered the step-by-step instructions for how to make a video presentation with Prezi, let's dig into a few of our tried-and-true tips for making it better. Here are the video presentation tips that everyone can start utilizing in their presentations today.
Keep your video short and to the point
Understand the goal of your video presentation and what you want to cover beforehand. Your audience's time and attention are limited, so, you don't want to make a long video that tries to cover everything. Keep your video concise and focus on one or two things to captivate your audience.
Use interactive elements
One way to engage your audience is to implement interactive elements, such as GIFs, polls, Q&A, music, and quizzes, into your video presentation. These elements will make your video presentation more interesting and let you interact with your audience.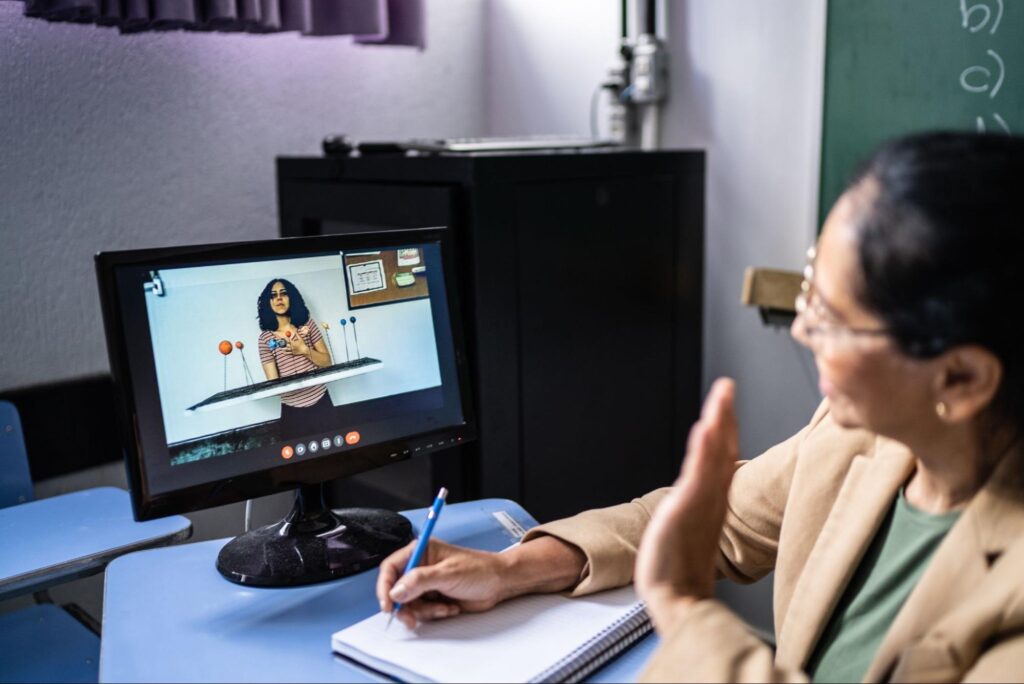 Summarize your point at the end
After watching a 10-minute video presentation, your audience might have forgotten what you covered in the beginning. Adding a summary in the end reinforces the main points that people should take away. Based on the recency effect , a strong ending creates a strong impression in your audience's mind.
Preview and practice before recording
Going through your presentation and practicing several times beforehand can help you talk smoothly and more confidently during the actual presentation. Also, preview your presentation so that you can spot potential issues and pinpoint areas that you can improve.
With remote work and online learning being so prevalent these days, it's a great time to start honing your online presentation skills and learn how to make video presentations that have a big impact. Start today by creating your first video presentation with Prezi Video .

Give your team the tools they need to engage
Like what you're reading join the mailing list..
Prezi for Teams
Top Presentations
How to Get Design Ideas on Powerpoint
When you're building a PowerPoint presentation: naturally, you want the presentation to stand out from the rest and capture the attention of your audience with your design ideas. To do so, you'll need a striking presentation design to display your content in an interesting, attractive manner. For your presentation to come to fruition, we need to put on the "designer hat" because stellar design ideas are key.
Sometimes just having an expert look things over can go a long way. The team at Presentation Geeks can do a free consult based on your existing PowerPoint deck and provide you a same-day estimate for revamping it.
Amazing design ideas for PowerPoint won't appear out of thin air. That's why we've gathered up these five reliable strategies for you to get design ideas in PowerPoint. Let's put an end to generic design presentations and start making PowerPoints that truly pop!
1. Build From Pre-Existing PowerPoint Templates to get your design ideas out!
If you are fairly new or it is your first time using Office 365 PowerPoint, and you are not a PowerPoint designer, It would be best to make sure you review the pre-existing templates, they are, without a doubt, the quickest and easiest method for getting design ideas in PowerPoint.
These templates aren't the most innovative design options out there, they can serve as excellent design suggestions, that can automatically turn on the designer creative juices and get the design ideas following. No one starts out as a designer in PowerPoint: pre-existing templates can help you gain the perspective that you need to become a full-on presentation designer.
Before you start sifting through PowerPoint templates, you will need to keep in mind that there are two main template types: slide layouts and master slide layouts. A slide layout is a term that PowerPoint uses for a template for just one slide. A template for an entire presentation is called a master slide layout.
Look through the preset PowerPoint templates will automatically show you what design suggestions looks good as far as colour scheme, text size, text placement, image placement, and other factors that affect the overall design of the slides.
Keep in mind that you don't have to keep these templates exactly the same you can use them to use as design ideas or first time starting point – you can edit them for a more custom design.
Edit Templates For Unique Design Ideas in PowerPoint
You can make all sorts of edits to pre-existing Office PowerPoint templates select under the "View" tab, which gives you access to PowerPoint's full scope of editing tools. To add elements to a design template, first select "View", then select and click "Slide Master" in the dropdown menu or the button on the ribbon. Then select the "themes" tab to the right and select the template you want to use.
From here, you can add all sorts of design elements to the slide, including images, charts, tables, media, etc, select the "insert placeholder tab" If you're using a master slide layout and want to change the title, footer, or background, you can do so by unchecking the designated boxes under "Master Layout" and "Background".
While exploring pre-existing PowerPoint templates can be a great way to get a sense of what you're looking for, don't rely on them exclusively. Since these templates are incredibly easy to use, herds of people have already used them (and, more than that, have used them countless times before).
So, be wary of the fact that a presentation built from pre-existing templates is likely to look derivative. Instead, say to yourself that you want the templates to "show me design ideas" and think about how you can use them to customise and not look the same all the other presentations.
2. Hire A Professional Design Agency
With a professional design ideas team like Presentation Geeks on your side, you can stop worrying about brainstorming design ideas and how to get design ideas out- instead you can move on with the rest of your to-do list.
Professionally Designed Presentations Get Results
3. explore design ideas using office 365 powerpoint designer.
When you're at square one with a presentation, and you are looking for ideas use PowerPoint designer, it is a fantastic starting point and it has an awesome selection of design ideas.
The first checkbox is " Automatically show me design ideas" . Where you can ask for design suggestions at any time, select "design ideas" in the Design tab" and the second checkbox is " Automatically show me design suggestions when I create a new presentation".
PowerPoint will show suggestions for your presentation deck in the designer pane when you create a new blank document. Having both of these options checked will enable you to use PowerPoint designer and generate new design ideas especially if this is your first time.
Adding a professional touch with some clean design ideas and simple movement animation can instantly elevate how great your presentation looks.
Or even better, convert it to a video to showcase it on a website or kiosk like this one from the University of Georgia that our team designed .
PowerPoint Designer improves slides for Microsoft Office 365 users by automatically generating design ideas to choose from, however, the first time you use the PowerPoint designer you may be asked for your permission to get design ideas.
If you can not see the design ideas button, or if the design ideas button is missing from the design tab, you may need to select the Design > Design Ideas button on the ribbon. This will depend on the version of office you are running eg: Office 365 or another version of PowerPoint.
Now you are ready to rock 'n' roll and use the PowerPoint designer! Return to your slides and start typing words onto a slide, PowerPoint designer will suggest a range of design ideas using high-resolution images with corresponding theme styles and colours to bring that slide to life.
As of April 2019, PowerPoint designer hit a major milestone with one billion slides file options created since its release. With a billion slide file options, PowerPoint designer offers both variety and convenience for those wondering how they can get design ideas on PowerPoint.
4. Draw Inspiration Like a Designer from Magazines and Websites
Awesome design ideas for your Office 365 PowerPoint presentation can be found far beyond using the PowerPoint designer itself. Some of the best design ideas – from colour themes to graphic layouts to fonts and more, are found in other content mediums, namely magazines and websites. BRING ON THE DESIGN IDEAS!
Current issues of magazines are great indicators of current design trends. Nowadays, you'll typically see clean, modern layouts with carefully selected colour schemes and thoughtfully placed graphics. If you see a magazine page or feature with a particularly pleasing design, make sure you take note of the design ideas you think you can use. Almost every designer will take note of design trends.
Using Office 365 PowerPoint see how you can use the design ideas that you have seen or select the design ideas button in Office 365 PowerPoint and select similar design ideas – Don't forget using Office 365 Powerpoint you can all use a wide range of editing tools available.
Get inspired with slide ideas from our portfolio
Website design is a booming industry that encompasses countless talented, passionate designers. So, surfing the web for leading blogs and company websites can be another excellent source of PowerPoint design inspiration.
Make sure to take note of the layout, font, colour scheme, and use of images that make your favourite website designs stand out. You will soon notice all the latest designer website trends.
But it's not just website design that can help influence your design ideas in your PowerPoint design. Perhaps you're heard of LinkedIn Presentations. Learning how to design an engaging LinkedIn Presentation can help connect with your audience in a more visual and engaging way. Your impression numbers and click-through rates will see an exponential increase just by utilizing some simple design tips.
5. Try Out Designer Templates From Media Sites
You can find a plethora of unique PowerPoint templates online, namely from leading media sites like Shutterstock and Envato. These websites are home to thousands of different services such as: images, videos, vectors, music tracks, templates, and other digital resources.
Many people use these sites for help to get design ideas or to use in a creation of a website, but you can also use them to find fresh, new PowerPoint slide templates created by a professional PowerPoint designer.
The drawback to when you select a PowerPoint design template sources is the price: you'll have to pay for any templates that you want to use when you download and there is a lack of support – the lack of support can be a problem if you don't know a PowerPoint designer and if you have downloaded an older version that is not Office 365.
If price and/or support don't bother you, Envato has multiple subscription plans to suit the needs of individuals, teams, and enterprises. The individual and team Envato plans are priced well under $20 per month.
Shutterstock offers some opportunities to get free graphics – people who sign up for the site with a free account get one free image per week. You can also pay for a Shutterstock annual plan, which grants you 10, 50, 350, or 750 images per month, depending on your choice.
If you're not up to pay for the templates on Shutterstock or Envato, you can simply search through these sites to select design ideas. From there, you can use the design ideas and build your slides from scratch or clicking the design ideas button with you use PowerPoint designer – this process is more time-consuming than simply downloading a template, but it will save you some dough.
Author: Ryan
Related posts.