Format a resume with a template Video
Format using tables Video
Tools for better resumes Video
Format a resume with a template
Here's how to download and use a template to create a sharp resume. We'll show how you can cut and paste parts of your old resume and make the fonts and spacing look perfect.
Whether you're online or offline go to FILE > New and search for "Resume."
Preview and click the one you want to open.
You can start typing right away or cut and paste text into the document.
After pasting old text, it might look funny, or not formatted correctly. Select Ctrl to see Paste Options and choose one like Keep Text Only . Then the text use the font and formatting of the new resume.
Six steps to developing a great resume
Look up words in the thesaurus
Most people submit resumes online these days, but there are still reasons why you need a paper resume.
A big one is at the interview. You want to come in with copies of your resume so you can hand it to the person.
So they don't have to scramble to find the copy of theirs or look for on their computer.
So I'm going to show you a couple of different ways of formatting a resume.
First of all it's going to be with a template.
I'm going to open up Word 2013 here, and it opens to this new gallery view that shows off templates.
If you have an earlier version of Word, you just want to go to FILE and New and you'll be able to search for resume or search for templates.
I'm going to type in "Resume".
If I was offline I get about a dozen or so resumes, here online I can get the full power of Office.com .
I can get a couple hundred I can look for.
Some with categories, occupations… Let me just click on this thumbnail, I can see a little bigger thumbnail, and I can click through these arrows to find one I like.
You can also see customer ratings which is Ahh..You know that way you can see what's populate what people like.
I'm going to use this one here called the Timeless design . Open that up. And it populates with my name.
Today I'm Daryl McFarland. And it gives you some instructions of how to use the template if you need that or you can just start typing away with your new objective here for your resume.
Now with resumes, most of the time people have older resume, they may cut and paste in, they want to format it so let's look at that for a few moments here. I'm going to open up some text that I have here.
And just cut and paste this objective.
And you want to ahh.. make sure you know each resume has to have a different objective for each company.
Don't want to be general. You want to be specific with your resume.
So, here I have the text that I want but, of course, it looks a little different. The font size is wrong.
There is a couple of different ways to change the formatting. You can look at styles. Some people use Format Painter .
But when you cut and paste, if you don't touch any other keys, you get this little box here at the end, with a little clipboard that says Ctrl by it.
Ctrl is the shortcut. So let me click Ctrl . And it opens up Paste options. And it gives me several options I can use.
I can use this one called Keep Text Only . And look, it shrinks down my text. Perfect. So that's good. Let's do it one more time.
We're going to grab some of these old skills I have and I'll update them as I work this new resume. Again, little too big.
Now notice this last line I have some bold text in it.
I want to keep that bold text but if I chose the option -- Keep text only , it strips out all formatting.
So hyperlinks and everything is striped out so I don't want to use that.
I want to go over here and Merge Formatting , and there, it keeps the bold and also makes the text look proper for this template.
Templates in general especially in resumes, templates have what we call control content.
If you look up here we have boxes for street address, telephone, email.
That just gives you some structure to the template, you can delete those if you want.
Also down here in the experience area we have this.
If you don't want it, again you can just simply right-click and remove content control and it'll strip that away.
A lot of times people just want to update a resume with a different look.
You can do that really quickly with the DESIGN tab. Let's go over there.
So click DESIGN and I get all this formatting options here at the top and I can just mouse over and my resume changes, it previews.
Now some of these look good. Some of them really don't look good.
But it's a quick way to kind of get a different look for your resumes.
Because sometimes we just want a fresh start with a new resume. You can also do that with Themes over here on the far left.
Themes are a great way to control color, font size, spacing.
I use it a lot for PowerPoint and not as much in Word, but you can set a difference to your resume and just click the one that you want. So that's working with templates.
In our next video, we're going to use formatting, well, we're going to format without a template.
Need more help?
Want more options.
Explore subscription benefits, browse training courses, learn how to secure your device, and more.
Microsoft 365 subscription benefits
Microsoft 365 training
Microsoft security
Accessibility center
Communities help you ask and answer questions, give feedback, and hear from experts with rich knowledge.
Ask the Microsoft Community
Microsoft Tech Community
Windows Insiders
Microsoft 365 Insiders
Was this information helpful?
Thank you for your feedback.
Skip to main content
Skip to footer
Resume Genius
The World's Smartest Resume Builder
Home Resume Help How to Make a Resume on Word
How to Make a Resume on Word
Confused about creating a Word resume? Follow our tips on how to make a resume on Word tailored to your professional background.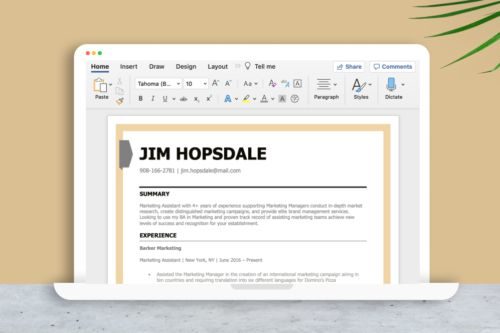 How to make a resume on a Word document
Most resume templates you'll find online are already formatted for Microsoft Word. But if you're looking for how to make a good resume on Microsoft Word that's simple yet professional, we've got you covered.
MS Office makes it easy to create a professional, well-formatted resume for any industry and offers a number of attractive resume templates for you to customize that meet your needs.
We'll show you how to create a resume on Word in seven easy steps.
1. Pick a template for your Word document resume
Creating a resume in Word starts with choosing the right template. Open Word and search for "resume" by selecting the search icon in the top right-hand corner.
This will bring up a range of options. Choose "templates", which will display your choice of resume templates, and then select the one that you like best:
For our example, we chose Microsoft Word's "Bold" resume template.
2. Write your name and contact information at the top
Now that you have the template open, start by editing your resume header at the top of the page:
At the very least, you should include your:
Here's what a properly formatted header looks like in Word:

Optionally, you can also include your current job title in your resume header to immediately advertise your professional background.
3. Write a convincing resume introduction
Next, add a new section on your Microsoft Word document resume directly underneath your header for your resume introduction .
The best introduction for most job seekers is a resume summary . That's because resume summaries can be modified for a wide variety of industries and experience levels.
A good resume summary lists your main work-related achievements and skills in one to five sentences, functioning as a sales pitch showing that you're the most qualified person for the job.
Here's an example of what a well-written summary looks like on a Microsoft Word resume:

4. Summarize your work experience
Your work experience section is the core of your resume, as it proves that you have the qualifications and skills to do the job. It'll also take up the bulk of your resume.
To start, click on the section of your Microsoft Word document labeled "Experience".
Then, list your work experience in reverse chronological order, meaning that your most recent job title is placed at the top of the experience section. Remember to only include experience that is relevant to the job that you're applying for.
For each job you list, provide the following basic information:
Company name
Company address (city and state)
Dates of employment
You should also write three to five resume bullet points describing your duties and achievements under each job title. Remember to use strong action verbs to show off your skills and to highlight your resume accomplishments by quantifying them using numbers and percentages.
Here's an example that you can follow to write your own work experience section:

In this example, the candidate's job title, company name, location, and dates of employment are displayed clearly. The use of bullet points, action verbs, and hard numbers to quantify their accomplishments gives hiring managers a good idea of what they can bring to the table.
5. Add your education history
Next, fill out the resume education section on your Microsoft Word template.
If you already have a few years of work experience, you should keep your education history brief. All you need to do is include the following details for each school you've attended:
School and its location
Degree and major
Graduation date (or anticipated graduation date)
Awards, honors, and GPA (if it's 3.5 or higher)
However, if you're writing a resume with no work experience , or you're a recent college graduate , consider adding more detail to your education section.
For example, including extracurricular activities or relevant coursework in your resume's education section helps give employers a better idea of your skills and qualifications.
Here's an example of a well-written resume education section:

6. List your relevant job skills on your resume in Word
Add a skills section on your MS Word resume to show that you have the expertise needed to do the job you're applying for.
Make sure that you highlight any skills mentioned in the job listing and include a range of hard and soft skills to show employers you have a variety of strengths to offer.
Here's an example of what your skills section should look like once you've filled out your Microsoft Word resume:

You can also choose to simplify this section further by listing your skills without using full sentences. This can help save space, especially if you're using a two-column format.
Additionally, make sure to list the same skills as the ones in the job listing. This is an essential step to pass Applicant Tracking Software (ATS), which filters out job applications that don't meet employers' requirements.
Including key skills for your resume from the job description ensures you have an ATS-friendly resume  that doesn't get automatically rejected before landing on the hiring manager's desk.
7. Include career accomplishments and awards at the bottom
Finally, consider adding an additional section to your Microsoft Word resume for things like awards , accomplishments , or volunteer work .
This will usually go at the bottom of your resume, like so:

Tips for a professional resume format in Word
You'll probably need to make some adjustments to get your resume in Microsoft Word just right. Here's how to make a few key resume formatting tweaks:
Adjust your margins
Keep your resume information visually balanced throughout the page by paying special attention to your resume format in Word. If you're having trouble keeping your resume length to one page, try adjusting your resume margins .
You can do this in Microsoft Word by selecting "Layout" and then clicking on "Margins":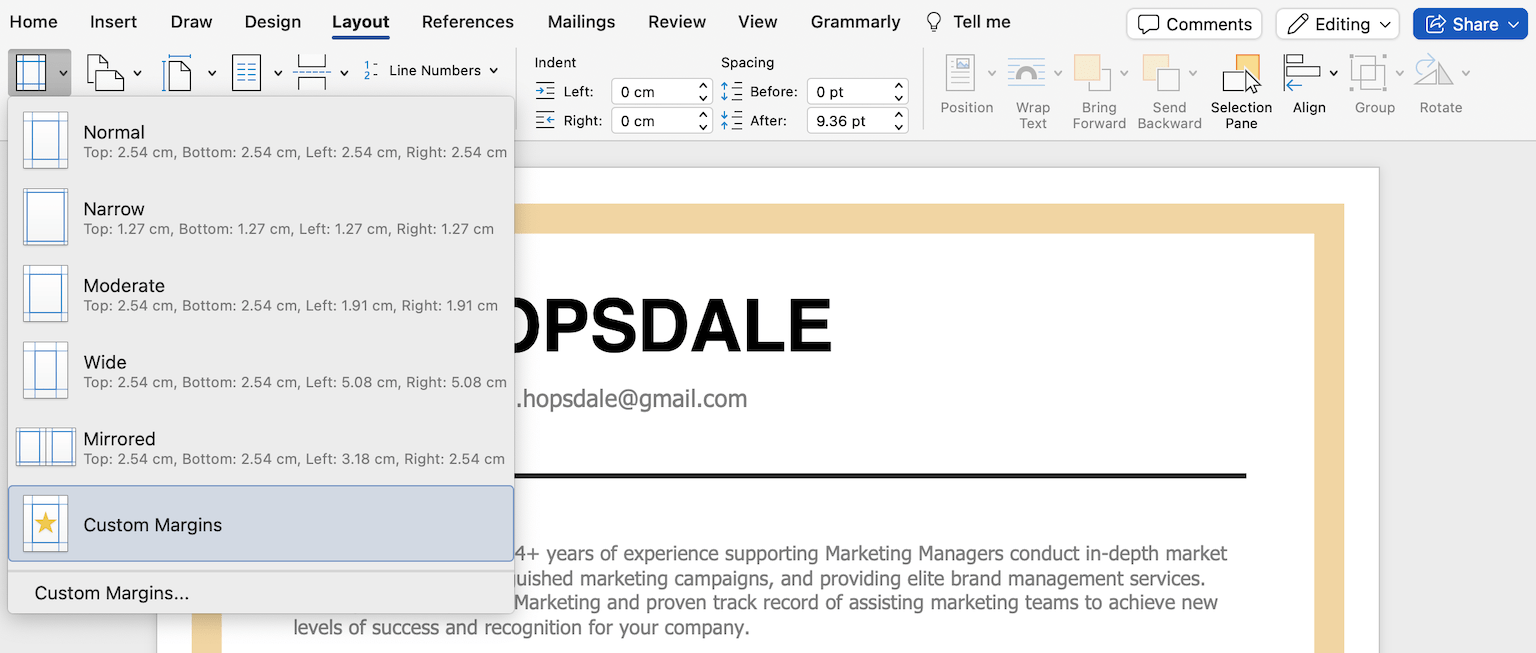 Change your line spacing
If you need to fit more information into a section, consider adjusting your line spacing, which is the amount of space in between each line of text.
The easiest way to do this is to click the "Line and Paragraph Spacing" icon and choose "Line Spacing Options":

Add horizontal lines
Horizontal lines help break up information on your resume and make it easier for employers to read it, and there are a few different ways of adding them to your Word document resume:
The most basic way is to press shift + the hyphen key to create an underscore, and then hold it until you have a line of the size you want, in the position you want it. You can also use the asterisk key to do this.
If you need the line to stretch across the width of the page, press the hyphen key three times, press enter, and one will appear. You can do the same thing with tildes, asterisks, and equal signs for a slightly different look and feel.
Finally, you can click on the "Borders" icon and choose "Horizontal Line", and an adjustable line will be added for you.
Click to rate this article

Written by Dominique Vatin
Dominique is a Content Writer at Resume Genius, where she enjoys crafting content to better equip job seekers. She graduated from Yonsei GSIS in Korea with a Master's... more
Related Articles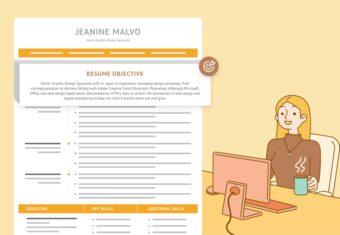 54+ Resume Objective Examples & Writing Help
October 20, 2022 | By Aaron Case, CPRW
How to Make a Resume for a Job in 2023
February 3, 2023 | By Conrad Benz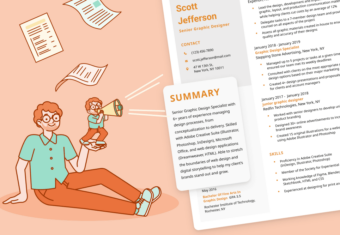 Professional Resume Summary Examples (& How to Write)
March 9, 2023 | By Conrad Benz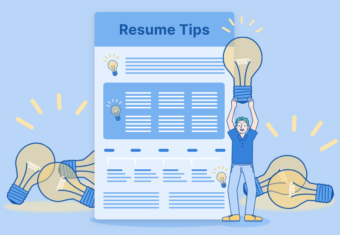 30+ Best Resume Tips to Help You Land a Job
August 18, 2022 | By Conrad Benz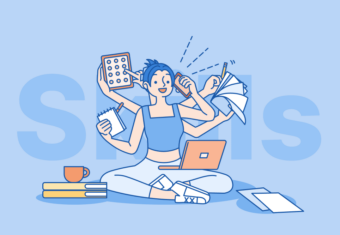 112+ Job Skills for Your Resume: List & Examples
December 21, 2022 | By Corissa Peterson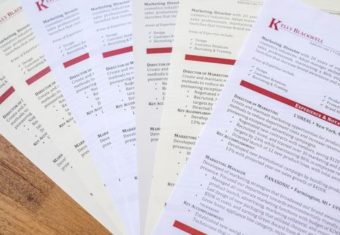 Resume Paper: 5+ Best Resume Paper Types
February 16, 2022 | By Nick Herschel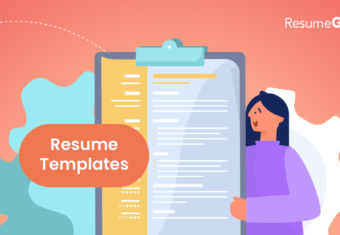 February 4, 2023 | By Geoffrey Scott, CPRW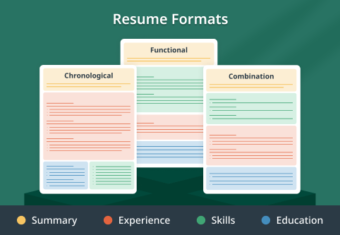 The Best Resume Format in 2023
February 3, 2023 | By Ida Pettersson
Resume Tools
Resume Builder
Resume Examples
How to Make a Resume
Resume Format
Resume Summary Generator
Resume Help
Cover Letter Tools
Cover Letter Builder
Cover Letter Templates
Cover Letter Examples
How to Write a Cover Letter
Cover Letter Format
Cover Letter Help
What Is a CV?
How to Write a CV
CV Templates
CV Examples
Career Tools
Thank You Note Samples & Templates
Resignation Letter Samples
Letter of Recommendation Templates
Business Letter Formats
Career Advice
Forgot Password
Terms & Conditions
Privacy Policy
Accessibility
© 2023, Sonaga Tech Limited. All rights reserved
ResumeGenius.com is owned and operated by Sonaga Tech Limited, Hamilton, Zweigniederlassung Luzern with offices in Luzern Switzerland.
You control your data
We use cookies to tailor the experience of creating resumes and cover letters. For these reasons, we may share your usage data with third parties. You can find more information about how we use cookies on our Cookies Policy . If you would like to set your cookies preferences, click the Settings button below. To accept all cookies, click Accept.
Cookie settings
Click on the types of cookies below to learn more about them and customize your experience on our Site. You may freely give, refuse or withdraw your consent. Keep in mind that disabling cookies may affect your experience on the Site. For more information, please visit our Cookies Policy and Privacy Policy .
Choose type of cookies to accept
These cookies allow us to analyze our performance to offer you a better experience of creating resumes and cover letters. Analytics related cookies used on our Site are not used by Us for the purpose of identifying who you are or to send you targeted advertising. For example, we may use cookies/tracking technologies for analytics related purposes to determine the number of visitors to our Site, identify how visitors move around the Site and, in particular, which pages they visit. This allows us to improve our Site and our services.
These cookies give you access to a customized experience of our products. Personalization cookies are also used to deliver content, including ads, relevant to your interests on our Site and third-party sites based on how you interact with our advertisements or content as well as track the content you access (including video viewing). We may also collect password information from you when you log in, as well as computer and/or connection information. During some visits, we may use software tools to measure and collect session information, including page response times, download errors, time spent on certain pages and page interaction information.
These cookies are placed by third-party companies to deliver targeted content based on relevant topics that are of interest to you. And allow you to better interact with social media platforms such as Facebook.
These cookies are essential for the Site's performance and for you to be able to use its features. For example, essential cookies include: cookies dropped to provide the service, maintain your account, provide builder access, payment pages, create IDs for your documents and store your consents.
To see a detailed list of cookies, click here .
This site uses cookies to ensure you get the best experience on our website. To learn more visit our Privacy Policy

How to Make a Resume in Word in 2023: Formatting Guide
Creating a resume in MS Word doesn't need to be a nightmare. Make a resume in Word that every hiring manager will remember with ease.
As seen in:
It can't be that hard to write your resume in Word, can it? Then why are you stuck? Overwhelmed with hundreds, no, thousands of pages and videos on how to make a resume in MS Word? Who has the time to sift through that mountain of informational junk to find the hidden gems?!
Worry not. We've left no stone unturned, and condensed down all you need to know about how to make a resume in Word.
In this guide you'll learn:
How to access a ready Microsoft Word template design and make it your own.
How to create a resume in MS Word from scratch faster than you can say Microsoft Office, even if you're totally new at it.
How to format a resume to make it look better and more professional than most other resumes.
But instead of reading through all this, you can just swing on over to our resume builder which will do it for you. Not only is it more user friendly than MS Word, you can download your finished resume in a .doc file which will make writing your resume a sinch.
Let's get started!
Want to save time and have your resume ready in 5 minutes? Try our resume builder. It's fast and easy to use. Plus, you'll get ready-made content to add with one click. See 20+ resume templates and create your resume here .
Create your resume now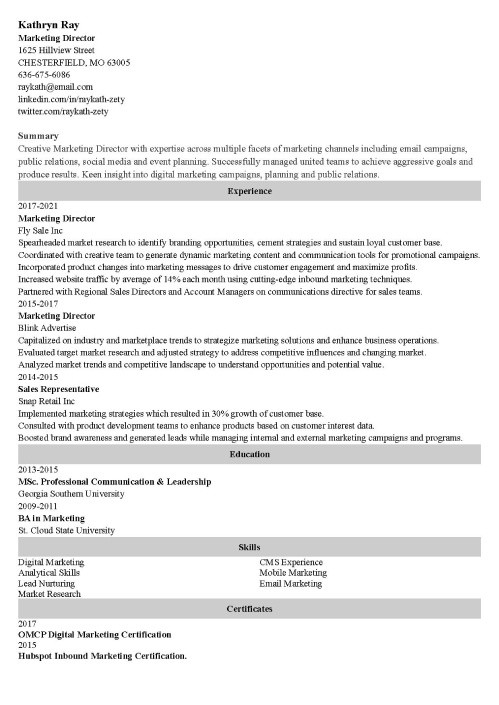 Sample resume made with our builder— See more resume examples here .
First, you might want to check if submitting a resume in *.doc is a good idea: Is a Resume in PDF the Best Option?
Check out our resume templates to choose the best for you:
Free Resume Templates
Best Resume Templates
Apple Resume Templates
Blank Resume Template
Simple Resume Templates
Functional Resume Templates
Student Resume Templates
Recent Graduate Resume Templates
Entry Level Resume Template
One Page Resume Template
Google Docs Resume Templates
Creative Resume Templates
Cool Resume Templates
Modern Resume Template
Minimalist Resume Templates
Plain Text Resume Templates
How to Make a Resume in Word
Now get comfortable, we're going to go through, step by step, how to make a resume in Word from scratch.
Access MS Word Templates
Accessing MS Word templates may seem complicated, but it really is just a few simple steps that we'll show you them below.
Open a new document.
Click on the "more templates" option.

Choose "Resumes and Cover Letters."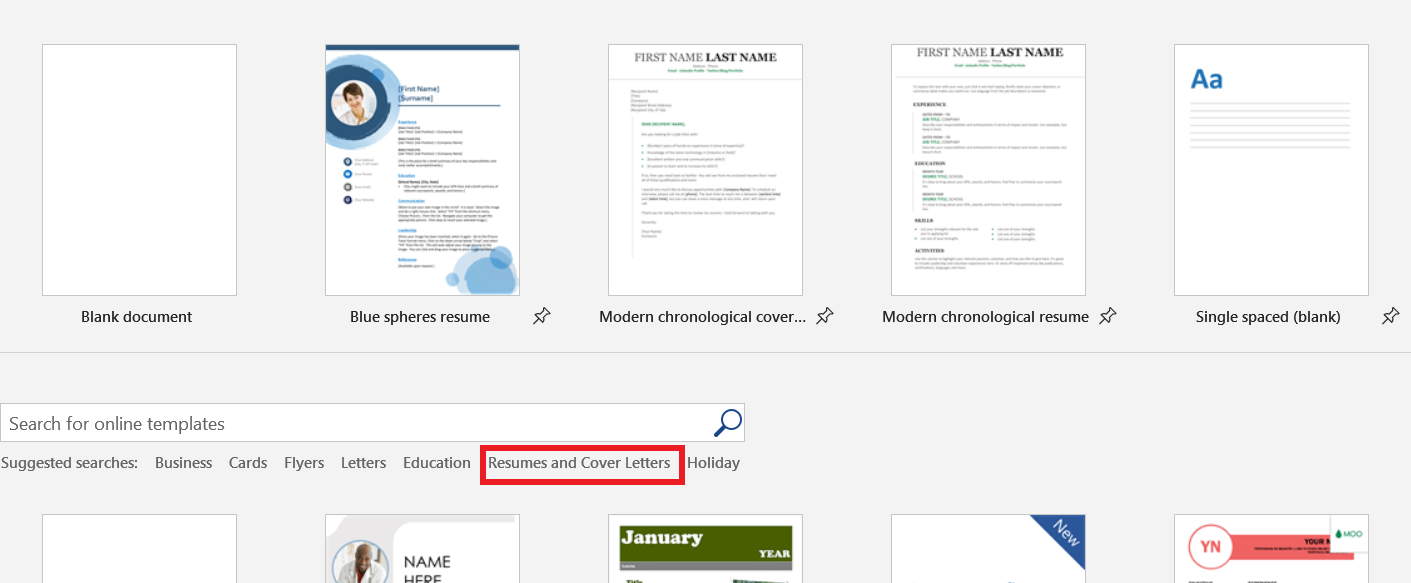 Choose the resume template that suits you best and click on it.
Click "Create."
Your chosen resume template appears as a Word document and you're ready to edit it with your personal information and experience!
Not sure which resume template packs the most punch? Browse through our selection and tips here: 25 Resume Templates for Microsoft Word
Make a Resume Header in Word
Going top-down, we start first with the resume header (and the Captain Obvious award goes to…).
The resume header should include the following:
current job title
phone number
links to any online profiles or professional online sites that you have.
It should end up looking like this:

But hey, how did that nice line get there?
It's simple so let's leave that for later, once you've finished all your sections. If you're super impatient, jump down here to learn how to add a line in a Word resume.
How to Format a Resume Header in Word
As your name is both important and the first thing the hiring manager sees, make sure it's bigger than the rest of your text (14-16 pt).
Depending on the font you use, decide whether bold will make it look better and draw more attention.
Feel free to bold the titles of the information that you're listing (like in the above example) to make it a little clearer to read.
Add a Resume Objective/Summary
Double space from the last line in your resume header.
Write "Objective" or "Summary" depending on which one you're using. As it's a section title, make it a little larger than the rest of the text (14-16 pt). Also, depending on the font you're using, make it bold.
Beneath the section title , write a couple of sentences concerning your resume summary or objective.
Unsure whether a resume objective or summary is right for you? These two handy guides will help solve that problem: Resume Summary Examples and Resume Objective Examples
Your resume objective/summary section should look like this:

Write Your Experience Section in Word
Now we're diving into the bigger sections of your resume that will take a bit more time and effort to get just right.
Again, double space from the last line and add the section title "Experience" in larger text like the previous section titles.
Next, add the date, title of your job position at the time and then the name of the company.
Next, add a few lines describing your relevant job responsibilities in bullet points.
If you have key achievements that you'd like to include, add "key achievements" after your job responsibilities and also list them in bullet points. Since "Key Achievements" is a sub section header, remember to make it bold, underlined, or slightly larger than the surrounding text to help it stand out more.
Need more pointers on how to add work experience to your resume? This guide will point you in the right direction: Resume Work Experience, History, & Example Job Descriptions
Your finished work experience section should look something like this: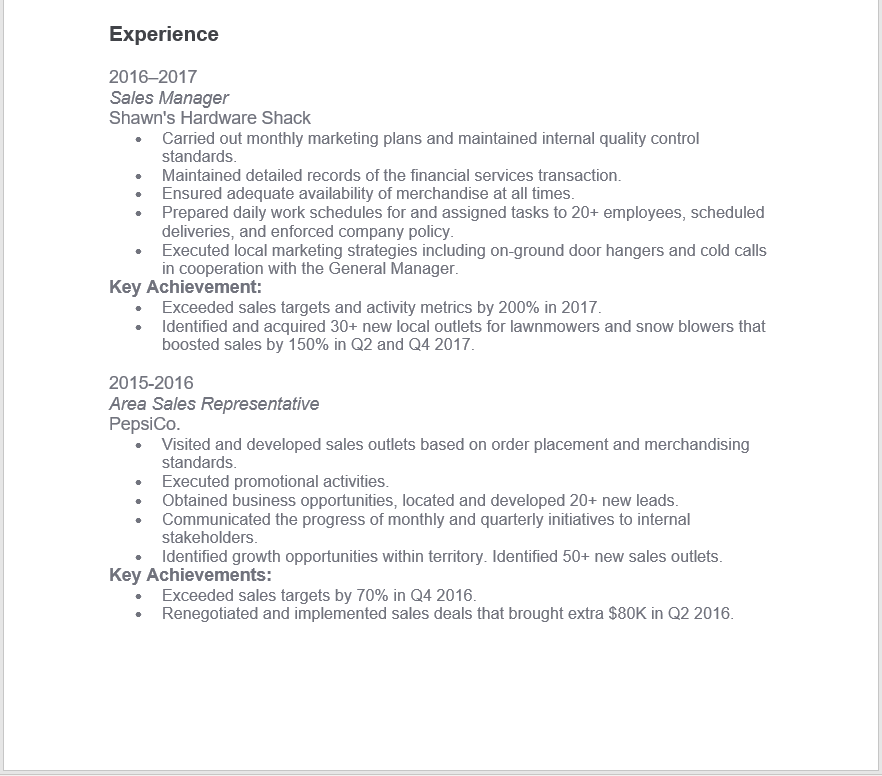 Add Your Education Section
The hardest part of your resume is over and done with, phew! Now on to your education.
Follow the same rules as before so double space and enlarge the font for the resume section title "Education."
Next, add the date you graduated (or plan to graduate), the name and location of the school, and the title you acquired.
If you're feeling a little lost on how to add your education to your resume, you'll definitely find these guides super helpful: How to Put Education on a Resume and How to List Continuing Education on a Resume
Your education section should look like this:

Add Skills to a Resume in Word
You're already at your skills section now!
This section is an easy one as you won't have to do much other than list.
Again, double space from the last line and use the same format for your "Skills" section header as you did for the rest.
Now simply list your skills. You can do this as a simple list or just some kind of formatting like bullet points. That's all there is to it!
When you're done, your resume skills section should look something similar to this:

It's important to remember that you can't just mention every skill you have including competitive bubblegum chewing. It needs to be relevant.
This guide will tell you exactly which professional skills are key to getting your dream job: Key Skills to Put on a Resume
Add Additional Sections to Your Resume
You're already near the end, yay!
The additional section isn't mandatory in your resume, but it is a great place to show off your achievements, certificates , interests , languages , and other things that don't really fit elsewhere in your resume.
Add the relevant section headings, i.e. "Achievements", "Certificates", "Languages", "Interests", etc. and then form a simple list beneath.
Here's an example:

That's it!
Afraid that your resume doesn't have enough impact? Check to see if it's optimized to the job description with this handy guide: 6 Tips on How to Tailor Your Resume to a Job Description
When you're all done, if you pull all the pieces together, your complete resume should look more or less like this: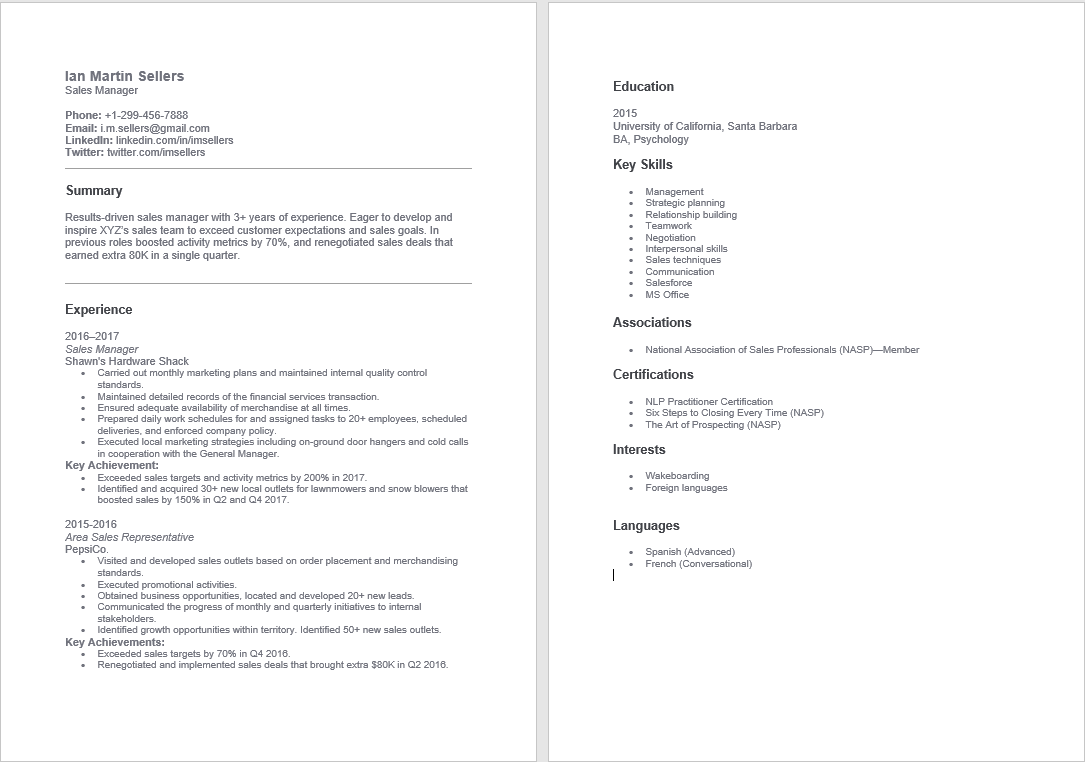 Unsure if your resume is complete? Double check that you have all the crucial pieces: Parts of a Resume: What are the Important Elements?
Now, that looks okay , but it's not exactly something to write home about. Want a resume in Word that will really stand head and shoulders above the rest?
When making a resume in our builder, drag & drop bullet points, skills, and auto-fill the boring stuff. Spell check? Check . Start building a professional resume template here for free .
When you're done, Zety's resume builder will score your resume and tell you exactly how to make it better.
How to Format a Resume in Word
You've already learned a little about formatting a resume in Word throughout this guide, but let's recap and add in some new tips for good measure.
Resume Fonts in Word
It may seem like something not really worth the worry, but a bad font can tank your resume faster than an unnoticed iceberg.
Use professional, modern fonts and stay away from fonts that are overly creative, hard to read, or simply comical (I'm looking at you, Comic Sans!).
For more in depth knowledge about what fonts are a "go" and which are a "no," check out this great guide: Best Fonts for a Resume
Resume Margins in Word
Word usually has neat margins set up by default so you're probably good to go from the start.
Just in case, though, remember that the standard margins for resumes are 1 in. on all sides.
Want to muse more over measuring your margins? This guide will do just that: Proper Resume Margins
Resume Line Spacing in Word
Again, Word will usually have you covered by default, but it's good to know that 1.15 line spacing is best in a resume.
If you want to see what your line spacing is set to in a Word document, go the toolbox in the Home tab and select the icon that looks like a paragraph with arrows on the left side. A drop down menu will appear with different spacing options.
Resume Headings in Word
As we've already covered, the resume headings should stand out in some way. They definitely should be slightly bigger (14-16 pt) to set them apart from the rest of the 12 pt text.
If the legibility of the font allows, feel free to underline or bold the resume section headings as well.
Don't go overboard though. This does not look good on a resume: WORK EXPERIENCE
How to Make a Line in Word for Your Resume
Making a line is one of those things that seems simple, but ends up giving you an aneurysm and a half when you try to do it.
There are actually three ways to create a line in Word—via hyphens, borders, or horizontal lines.
Type in three hyphens (---) and then press "Enter." Viola! You have a line!
Go to the Borders option in the Home toolbox and click on the drop down menu. Choose the first option "Bottom Border" and Word will automatically insert a line.
Go to the borders in the Home toolbox and click on the drop down menu. Choose "Horizontal Line". Click and Word will insert a line.
Now you know more than one way to make a line in Microsoft Word!
Lines, like other format options, should be used once in a while to emphasize the main points. You don't want to turn your resume into a web of lines created by drunken spiders.
Plus, a great cover letter that matches your resume will give you an advantage over other candidates. You can write it in our cover letter builder here. Here's what it may look like: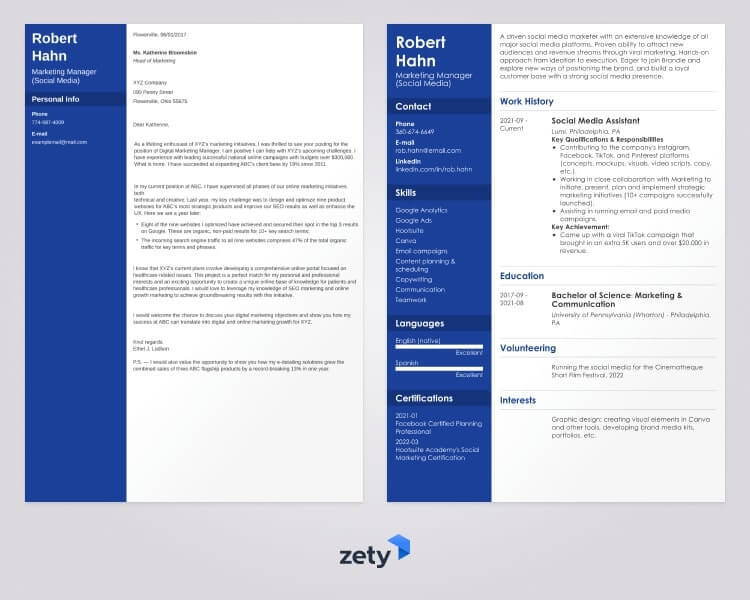 See more cover letter templates and start writing.
Key Takeaway
If you've ever wondered how to create a resume template in Word, well you just have! Now you can create several different tailored resumes for your dream jobs!
Wasn't all that bad, was it?
Creating a resume in Microsoft Word may not be super easy, but it doesn't need to be a complicated design or be a nightmare to format. You can definitely create a resume in one, relaxed sitting.
Just keep in mind to:
Keep your resume sections in order.
Format your resume section headings a little larger than the rest of the text.
Double check if your font, margins, and line spacing are professional and legible.
Use lines and format design sparingly in your resumes to emphasize instead of clutter.
Have you found this guide helpful? Any options or templates we've left out that you think could be useful? Let us know!
Don't miss out on exclusive stories that will supercharge your career!
Get a weekly dose of inspiration delivered to your inbox
Similar articles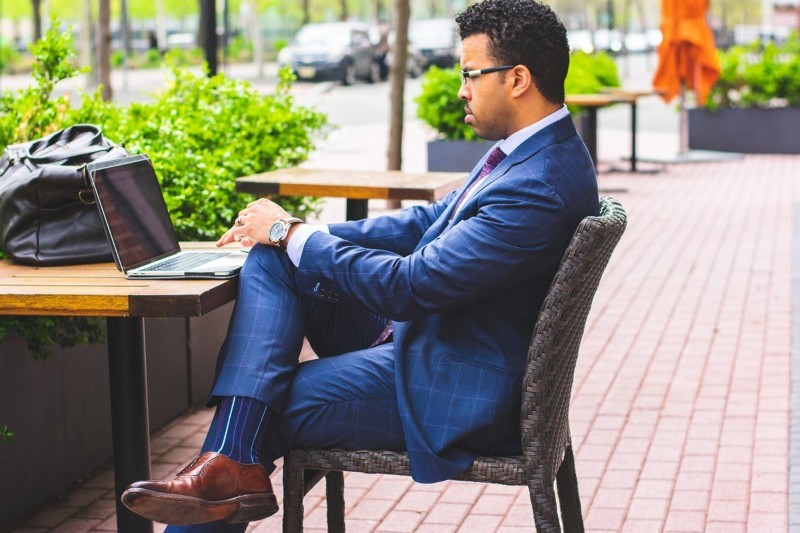 The Perfect Resume in 8 Easy Steps: Write & Download Now
Great skills? Amazing layout? Good work history section? What's the secret behind a *perfect* resume? You've come to the right place to find out.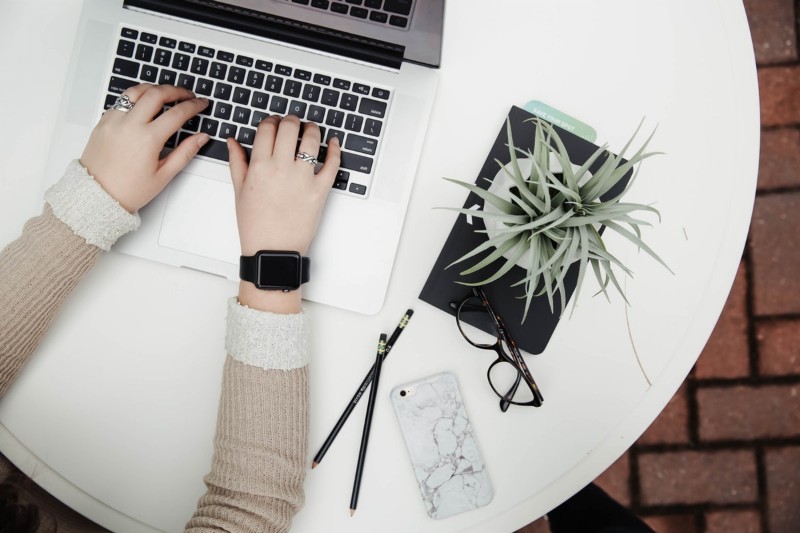 How to Make Your Resume Stand Out: Real Examples for 2023
You feel your resume isn't good enough to beat the competition. And you're not alone. See these transformations of Zety readers' resumes and learn how to fix yours.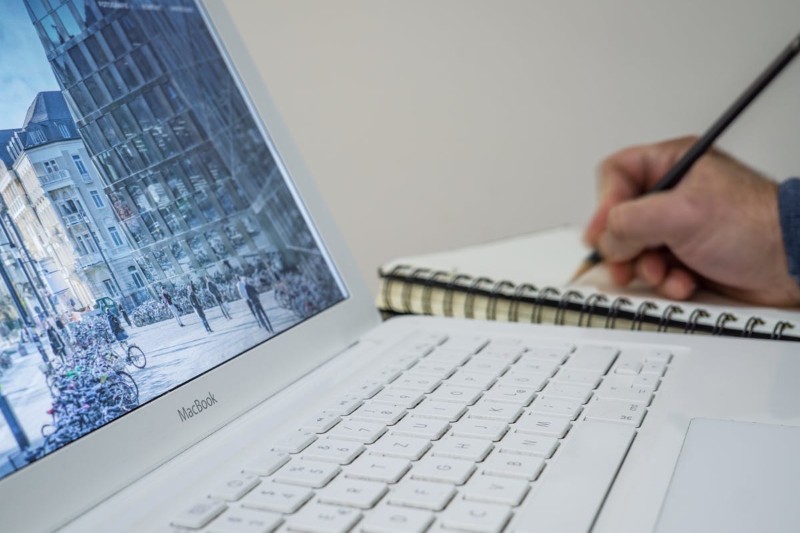 What Makes a Good Resume? 11 Things Your Resume Needs
Ever wondered what makes a good resume good? We found the 11 things your resume needs to be the very best.
How to Create a Resume in Microsoft Word (Step-by-Step Guide)
If this is your first time creating a resume in Microsoft Word, the process may seem overwhelming. Luckily, this article is here to help! In this step-by-step guide, we will cover how to create an effective resume from start to finish using Microsoft Word.
How Do I Make a Resume in Microsoft Word?
There are two primary methods for making a resume in Microsoft Word:
‍ From Scratch: This gives you the ultimate creative control. However, it also requires you to familiarize yourself with all of Microsoft Word's tools and layout options. Building a resume from scratch can be more time-consuming but also more customizable.
‍ From a Template: Microsoft Word offers several pre-made resume templates. By using these, all the formatting and layout creation is handled for you. You simply have to fill in your own information.
To use a template, go to File > New and then select a template from the Resume and Cover Letter section.
How Should I Format My Resume in Microsoft Word?
The format you choose will depend on your experience level!
There are 3 basic resume formats to choose between:
‍ Reverse-Chronological: Details your most recent job and works backwards from there. This format focuses heavily on work experience. ‍
Functional: Focuses on skills and education rather than work experience. This is a good option for recent graduates or applicants with minimal work experience. ‍
Hybrid/Combination: Combines elements of both the Reverse-Chronological and the Functional. This is a good option for applicants with gaps in their employment history.
Choosing the best format for your needs is key. For more help on this subject, check out our guide on How to Choose the Correct Resume Format in 2021 !
Beautiful resume templates to land your dream job
Make a Resume in Microsoft Word in 7 Easy Steps
First, let's make sure you can navigate the Microsoft Word ribbon!
The ribbon is the toolbar found at the top of the screen.
It should look something like this:
The main parts of the ribbon you should familiarize yourself with on the Home tab are Font , Paragraph , and Styles .
These are how you will edit the appearance of your text and headers.
You should also familiarize yourself with the Layout tab .
This tab is where you will adjust your margins and add columns!
Once you have taken your time to figure out where all of your tools are, it's time to begin building your resume!
Important Note: These steps detail how to create a resume in Microsoft Word from scratch. By using one of the program's pre-made templates, you can bypass many of these steps and simply fill in the pre-made format.
Step 1: Create Your Layout
Let's begin by visiting the Layout tab .
Here, you can set your margin size and decide if you want to use columns.
Here is a breakdown of these two elements:
‍ We recommend using 1-inch margins on all sides.
This will give you enough white space to keep your resume looking neat without sacrificing too much space.
It will also ensure your formatting looks good on printed versions of your resume. ‍
Columns and Sidebars:
‍ From the columns tab, you will find five options:
The One , Two , and Three options are how you will create separate columns.
The Left and Right options are how you will create sidebars! Sidebars are useful because they leave more room for the main text and sections.
From the Home tab , you can edit the following elements of your layout:
‍ Alignment:
‍ Choose between left, center, or right alignment.
We recommend using the left alignment.
Whichever you choose, it is a good idea to keep your alignment consistent across the board. ‍
Line Spacing:
‍ We recommend using 1.15 – 1.5 line spacing for the body text.
For section titles and headers, use 1.5 – 2.0 spacing to help them stand out from the rest of the text. ‍
‍ Use a simple and highly legible font. Try to use only 1-2 fonts throughout your resume.
We recommend the following seven fonts:
Step 2: Make Your Title Header
Your title header should contain the following information:
Your Job Title
Contact Information
Professional Social Media Links
Use an H1 header to write your name at the very top.
Use the Normal style to write the rest of your information (see "How Do I Add Different Sections of the Resume on Microsoft Word" below for more information on header styles).
It should come out looking similar to this:
Copywriter Email: [email protected] Phone: (123) 456-7890 Website: Janesmith.com LinkedIn: linkedin.com/in/janesmith
Check out some of our free resume examples to see alternative ways of formatting your title header!
Step 3: Write an Objective or Summary
Following your title header will be your resume objective or summary.
This will be a short statement between 1-5 sentences detailing your desired job title, experience, and career goals.
You will want to write this statement in the Normal style .
However, you may want to use a slightly larger font than the rest of the text in other sections.
This will help your objective or summary statement to stand out.
Here is an example of how this might look with the title header example from before:
Resume Objective: I am a copywriter with over 5 years of experience. working with corporate clients. I am seeking the position of Head Copywriter at your company, bringing with me over 10 major corporate clients.
Step 4: Create Your Base Format
By creating a base format, you can save the document as a separate file to return to and fill in again and again.
This will help you to tailor your resume to fit specific jobs!
The idea of the base format is to provide outlined sections with the correct spacing and number of bullet points.
You are essentially creating a skeleton for your resume that you can edit and adjust over time.
By doing so, you ensure you have already allocated the proper amount of space on the resume for each section.
For example, this is what your base Work Experience section may look like:
Work Experience
Job Title 1 , Company Name Date – Date · Descriptive Sentence · Descriptive Sentence · Descriptive Sentence Job Title 2 , Company Name Date – Date · Descriptive Sentence · Descriptive Sentence · Descriptive Sentence ‍ Job Title 3 , Company Name Date – Date · Descriptive Sentence · Descriptive Sentence · Descriptive Sentence
As you gain more work experience, you can return to this base format and make changes as need be.
Because you have already outlined the section, you won't have to worry about reformatting the entire resume to make a few simple changes.
Step 5: Determine Your Section Organization
Once you have built the base format of your resume, it's time to determine if your sections are in the optimal location.
For instance, if you are creating a Reverse-Chronological style resume you will want your Work Experience section to come first.
Comparatively, if you are creating a Functional style resume you may want your Skills or Education section to come first.
The order and organization of your sections will impact the impression your resume makes on hiring managers.
Step 6: Fill in the Information
Now that you have created the base format of your resume and chosen the optimal organization, it's time to fill in your information!
When filling in your information, be mindful of the following 3 factors:
‍ Be Concise: Always use simple sentences that clearly describe your strengths and accomplishments. Avoid complex sentences or overly complicated vocabulary and jargon. ‍
Use Bullet-Points: In each section, use bullet points to separate each thought or idea. This will make your resume more visually appealing and easier to read. ‍
Choose Compelling Language: Try to avoid repeating the same words or phrases over and over. Mix it up, use keywords, and find the best action verbs to make your resume sound even better!
Not sure how to make your language more compelling on your resume? Take a look at our list of 350+ Action Verbs to Make Your Resume More Effective in 2021 .
Step 7: Double-Check Your Sections
Once you have completed steps 1-6, look back over your resume and make sure you have included all of the key sections.
You should also take some time to consider what additional sections you could include.
Here are the key sections every resume should have:
A title header with your name and contact information
An objective or summary statement
Work experience
As we have covered, the order of these sections will vary depending on the format you have chosen.
However, each of these sections should always be included in your resume.
There are also some additional sections to consider adding.
Here is a quick list of extra sections that can add some extra flair to your resume:
Awards and achievements
Certifications
Unpaid experiences, such as volunteer work or internships
Relevant hobbies
How Do I Add Different Sections to a Resume on Microsoft Word?
The way to create different sections on your resume comes in two parts:
Use an H2 header to create the section titles (Work Experience, Education, Skills, etc.)
Use the Normal style to create the body of text below the H2 header
Here is a breakdown of how to use the H1, H2, H3, and Normal styles within your resume:
Select the Styles window from the Home tab .
From here, you will have options to create headers.
Your heading options are as follows:
‍ Heading 1: Use this heading as your largest title. This is what you will use to write your name at the top of the page. Use a bolded font between 16 to 20 pt in size. Use 1.5 to 2.0 line spacing to help the title heading stand out. ‍
Heading 2: Use this heading to create your section titles. Use a bolded font size between 14 to 16 pt. in size. Make sure these headings are smaller than your title heading. Use 1.5 to 2.0 line spacing to help these headings stand out from the rest of the text. ‍
Heading 3: Use this heading to create your job titles. Your job titles should be only slightly bigger than the rest of the text. Use a bolded font between 12 to 14 pt. in size. Use between 1.15 to 1.5 line spacing. ‍
Normal: Use the Normal style to create the body text underneath the heading. Use a regular font between 11 – 12 pt. in size. Use between 1.15 to 1.5 line spacing.
What are the Pros and Cons of Using Microsoft Word to Craft Your Resume?
Microsoft Word is a handy tool to have, especially if your computer comes with the program pre-installed.
Here are 3 pros and 3 cons to using Microsoft Word to create your resume:
‍ Total Creative Control: When creating a resume on Microsoft Word directly from your computer, you have total control over the design and format. ‍
More ATS Friendly: Applicant Tracking Systems are designed to read .doc files, the file format used by Microsoft Word. ‍
Can be Edited by Recruiters: If you are using a recruitment agency, a Microsoft Word file can be easy to edit by recruiters before sending it off to employers.
‍ The Microsoft Word Learning Curve: If you are unfamiliar with Microsoft Word, there can be a pretty steep learning curve that can cause you frustration. ‍
Time Consuming: Building a resume from scratch can be highly beneficial, but also highly time-consuming. This can become problematic if you need to create a resume quickly. ‍
Temperamental Templates: Microsoft Word offers tons of free resume templates. On the surface, this is super useful. However, these templates can be tricky to use. One wrong move can mess up the formatting in a big way and be an even bigger headache to try and fix.
Why Should I Use an Online Resume Template or Resume Builder?
By using a resume template from an online provider, such as Easy Resume, you are more likely to find a template that fits your exact needs.
Plus, online resume templates and resume builders often have more design elements that are easier to use compared to Microsoft Word.
Are you interested in using our online templates or resume builder? Check out our beautifully designed resume templates to build your optimal resume!
Final Takeaways
Microsoft Word offers a lot of capabilities to help you build your ideal resume.
Here are five key takeaways for creating a resume on the program:
Create a base skeleton for your resume that you can use again and again for different jobs.
Use different heading styles to help your resume title and section titles to stand out.
Use the column tool under the Layout tab to create sidebars. Sidebars are great for smaller sections, such as certifications or awards!
Always use concise and compelling language.
Consider using a template to build your resume faster.
At Easy Resume, we have designed our resume templates and online resume builder to fit your needs. No matter your level of experience or skill at making resumes, we have the tools to help.
Don't forget to check out our expansive collection of FREE resume guides and examples while you're here!
Browse more resume templates that fit your role
Ed is a co-founder of Easy Resume. His background in scaling teams at tech startups over the last decade has given him extensive experience and knowledge around how to hire top talent and build successful teams. He enjoys mentoring, coaching, and helping others reach their career goals. When he's not writing about career-related advice, he's playing with his dog, Lilo, or going on long hikes in upstate New York.
Get inspired with more resume examples
More advice that will accelerate your career path, 15+ key healthcare skills to list on your resume in 2022 (with examples).
Healthcare is a massive and important industry that contains all sorts of professionals. To land a job in healthcare, you must understand what relevant skills employers are searching for. In this guide, we will cover key healthcare skills to include on your resume and why doing so is so important.
15+ IT Skills to List on Your Resume in 2022 (With Examples)
IT is a massively growing industry with tons of potential for professional growth. It's no wonder why so many applicants are flocking to these jobs! In this guide, we will cover what IT skills are and offer you examples of some of the top skills to include on your resume.
50+ Key Technical Skills to List on Your Resume in 2022 (With Examples)
Including technical skills on a resume is an absolute necessity. These types of skills show employers your quantifiable qualifications. In this guide, we will cover exactly what a technical skill is and some of the best examples to include on a resume.
20+ Key Computer Skills to List on Your Resume in 2022 (With Examples)
With the world becoming more digitally focused, having strong computer skills is more important than ever. In this guide, we will cover what computer skills are and which ones are best to include on your resume.
Read our how-to guides on making your resume perfect
How to write a resume header.
Your resume header is the very first thing an employer will see. Not only does it need to contain the correct information, but it needs to stand out as well! In this guide, we will teach you how to write the ideal header for your resume.
How to Write Your Resume in Reverse-Chronological Order
When setting out to write the perfect resume, choosing a format is an important decision. Reverse-chronological resumes are the standard format, so knowing how to craft one is key! This guide will teach you how to write the best reverse chronological resumes.
How to List Contact Information on Your Resume in 2022
Learn how to format contact information on your resume and what information to share with the hiring manager.
How to Write a Two-Page Resume (with Examples & Tips)
Don't know whether you should write a one-page or two-page resume? Find out when it is appropriate to write a two-page resume and learn how to write it correctly.
Professional resume templates to help land your next dream job.
Facebook • Twitter • Linkedin • Pinterest • Crunchbase
EXPLORE Coupons Tech Help Pro Random Article About Us Quizzes Contribute Train Your Brain Game Improve Your English Popular Categories Arts and Entertainment Artwork Books Movies Computers and Electronics Computers Phone Skills Technology Hacks Health Men's Health Mental Health Women's Health Relationships Dating Love Relationship Issues Hobbies and Crafts Crafts Drawing Games Education & Communication Communication Skills Personal Development Studying Personal Care and Style Fashion Hair Care Personal Hygiene Youth Personal Care School Stuff Dating All Categories Arts and Entertainment Finance and Business Home and Garden Relationship Quizzes Cars & Other Vehicles Food and Entertaining Personal Care and Style Sports and Fitness Computers and Electronics Health Pets and Animals Travel Education & Communication Hobbies and Crafts Philosophy and Religion Work World Family Life Holidays and Traditions Relationships Youth
HELP US Support wikiHow Community Dashboard Write an Article Request a New Article More Ideas...
EDIT Edit this Article
PRO Courses New Guides Tech Help Pro New Expert Videos About wikiHow Pro Coupons Quizzes Upgrade Sign In
Premium wikiHow Guides
Browse Articles
Quizzes New
Train Your Brain New
Improve Your English New
Support wikiHow
About wikiHow
Easy Ways to Help
Approve Questions
Fix Spelling
More Things to Try...
H&M Coupons
Hotwire Promo Codes
StubHub Discount Codes
Ashley Furniture Coupons
Blue Nile Promo Codes
NordVPN Coupons
Samsung Promo Codes
Chewy Promo Codes
Ulta Coupons
Vistaprint Promo Codes
Shutterfly Promo Codes
DoorDash Promo Codes
Office Depot Coupons
adidas Promo Codes
Home Depot Coupons
DSW Coupons
Bed Bath and Beyond Coupons
Lowe's Coupons
Surfshark Coupons
Nordstrom Coupons
Walmart Promo Codes
Dick's Sporting Goods Coupons
Fanatics Coupons
Edible Arrangements Coupons
eBay Coupons
Log in / Sign up
Job Application Documents
Resume Preparation
How to Create a Resume in Microsoft Word
Last Updated: February 13, 2023 References Approved
This article was co-authored by Alyson Garrido, PCC . Alyson Garrido is an International Coach Federation accredited Professional Certified Coach (PCC), Facilitator, and Speaker. Using a strengths-based approach, she supports her clients with job search and career advancement. Alyson provides coaching for career direction, interview preparation, salary negotiation, and performance reviews as well as customized communication and leadership strategies. She is a Founding Partner of the Systemic Coach Academy of New Zealand. There are 7 references cited in this article, which can be found at the bottom of the page. wikiHow marks an article as reader-approved once it receives enough positive feedback. In this case, 82% of readers who voted found the article helpful, earning it our reader-approved status. This article has been viewed 1,605,060 times.
Resumes detail a person's work experience, education, skills and achievements. A good resume that is clear, concise and easy to read is essential when looking for a job. Resumes should be word processed and should be neat and tidy. Microsoft Word offers you the option of creating your resume through templates, but you can also create your resume from scratch using Word's formatting features.
Sample Resumes
Creating a Resume from a Template (Word 2003, 2007, 2010, 2013)
In Word 2007 you will have to click on "installed templates."
In Word 2010 it will be "sample templates."
In Word 2011 it will be "new from template." [1] X Research source
In Word 2013 the templates will be displayed when you click on "New."
In Word 2013, after clicking on "New" you will see a number of templates and a search bar which says "search for online templates."
After searching you will see a number of different resume templates to try out.
Here you will be able to look through a number of templates for resumes and cover letters that you can download for free and edit in Word.
You may have to sign in with your Microsoft online account to use these templates. [2] X Research source
Be sure to look carefully at the detail of your resume and proofread it thoroughly.
All of the versions of Word from 2003 to 2013 all come with some pre-installed templates for resumes.
Click on the "Other Documents" tab, and then select "Resume Wizard."
Follow the wizard's instructions. The wizard will walk you through the resume creation process step-by-step
If you do not see this option, it was not installed when you installed Word, and you will need to run the installation program again to install it.
Creating a Resume Without a Template
Education and qualifications.
Work and volunteer experience.
Skills and qualities.
It should also include your full contact details and state that references are available upon request.
Most chronological resumes only cover the last 5 to 10 years of your employment history.
You may wish to include positions earlier than this if they are appropriate to the job you're seeking.
This is the format most American employers prefer to see resumes in.
A combination resume might list your key skills at the top before providing a short account of your experiences.
This type of resume can be helpful for those entering the job market with little work experience, or for those trying to change careers. [6] X Research source
The CV is commonly used when applying for positions in Europe, and also when applying for positions at colleges and universities worldwide.
CVs can be thought of as living documents that records all your work and achievements, which will generally grow and develop over time more than a resume. [7] X Trustworthy Source University of North Carolina Writing Center UNC's on-campus and online instructional service that provides assistance to students, faculty, and others during the writing process Go to source
Writing Your Resume
If your resume extends beyond one page, ensure that your name is in a header on every page.
Your email address should appropriate for a job application. Use your own name or initials if possible.
Don't use something jokey such as "sly-dude," "foxymama," or "smokinhot."
For example, you might write that your objective is "To contribute to the design of new word processing software."
Alternatively it may state the position you hope to attain, such as "A position as in healthcare policy and research."
Objectives have become less common, and you may prefer to provide this information in your covering letter . [8] X Research source
You can include a bullet point or two to provide a little further information on your specialism, if it is appropriate for the position you are applying for.
If you achieved any honours or awards as part of your studying or training include these here.
Use bullet points to make sure it is clear and easy to read or scan through for key words relating to the position you are applying. [9] X Research source
You can include volunteer positions if they relate to the job you're seeking or if you have little paid experience. [10] X Research source
You can title this section as "Other Relevant Skills", or just "Skills."
This could include proficiency in foreign languages, knowledge of particular computer software and programmes, and any other specific skills not previously mentioned. [11] X Research source
Take care to avoid repeating yourself. You don't need to say you have "excellent communication skills" more than once.
Allow reasonable margins around the edges of the page. Word's default settings are usually sufficient for this.
Left-align your section headings. You can use single-spacing after a heading and before the section content, and double-spacing before a heading.
Get your resume down to one page if at all possible. You can try adjusting your line spacing in the Paragraph dialog box, but don't lose your neat formatting trying to get it down to one page.
Rethink your words and try to express yourself more concisely.
Expert Q&A Did you know you can get expert answers for this article? Unlock expert answers by supporting wikiHow
Support wikiHow by unlocking this expert answer.
Video . By using this service, some information may be shared with YouTube.
Always tailor your resume to the type of position you're seeking. You may have to add, rearrange, or delete accomplishments or entire sections according to what the position requires. ⧼thumbs_response⧽ Helpful 6 Not Helpful 1
Don't wait until you're looking for work to update your resume. Any time you have a promotion or significant accomplishment, add the new information to your resume. ⧼thumbs_response⧽ Helpful 5 Not Helpful 1
The appearance and format of your resume is a reflection of your competence; be sure it represents you at your best. ⧼thumbs_response⧽ Helpful 5 Not Helpful 1
Be sure that all the statements in your resume are both factually and grammatically correct and that all words are spelled correctly. ⧼thumbs_response⧽ Helpful 4 Not Helpful 1
You Might Also Like
↑ https://kb.iu.edu/d/agst
↑ https://templates.office.com/en-us/Resumes-and-Cover-Letters
↑ http://cla.umn.edu/student-services-advising/career-internship-services/job-search-resources/resume-guide/formatting-0
↑ http://writingcenter.unc.edu/handouts/curricula-vitae-cvs-versus-resumes/
↑ http://www.career.cornell.edu/story/resumes/parts.cfm
↑ https://www.careercenter.illinois.edu/sites/default/files/docs/flyers/Career%20Center%20Resume%20Flyer.pdf
About This Article
1. Open Word and click File . 2. Click New . 3. Click a resume template. 4. Type your own data into each field. 5. Save your resume as a new file. Did this summary help you? Yes No
Reader Success Stories
Jan 19, 2017
Did this article help you?
Asrar Ahamed
May 16, 2020
Amisha Khatri
Nov 23, 2016
Jan 9, 2017
Aug 12, 2017
Featured Articles
Trending Articles
Watch Articles
Terms of Use
Privacy Policy
Do Not Sell or Share My Info
Not Selling Info
wikiHow Tech Help Pro:
Level up your tech skills and stay ahead of the curve
Search Search Please fill out this field.
Career Planning
Finding a Job
Free Resume Templates for Microsoft Word
Alison Doyle is one of the nation's foremost career experts.
Why Use a Resume Template?
Free microsoft word resume templates, how to access microsoft resume templates, tips for using a resume template, more microsoft resume templates, frequently asked questions (faqs).
Pichsakul Promrungsee / iStock / Getty Images Plus
Do you need to write or update your resume? A resume template can help you create a document that will impress every employer, whether you're writing your first resume or revising your current one . Microsoft Word has resume templates available for users. All you have to do is find one you like, click on it, and start writing.
Here's information on how to use a resume template, how to find the best templates to use, and tips for using a template to write your own resume.
Key Takeaways
Microsoft Word resume templates are available for download via your computer or their online templates resource. 
Many templates are free, but some premium versions are available only to Microsoft 365 subscribers.
Carefully customize your resume by matching your qualifications to the job description.
A template can serve as a useful guide when creating or revising your resume. A template provides the basic structure for a resume. All you have to do is simply edit the document to include your personal information.
By using a template, you get a sense of what information to include in your resume and how to arrange it. You also get a sense of what information you do not need to include.
Using a template can reduce the amount of time you have to spend formatting your document, which allows you to focus on adding content and polishing up your resume so it's perfect.
Download a free resume template (compatible with Google Docs and Word Online) to use to write your resume.
The Balance
There are two ways to access Microsoft resume templates: on your computer or online through Microsoft's templates page. 
To access these resume templates from your computer:
Open Microsoft Word and go to File > New .
Type resume into the search box.
Click on a resume template that you want to use.
Click Create to open the resume template in MS Word.
To access Microsoft resume templates online:
Visit Microsoft's templates page .
Click Resumes and Cover Letters .
Choose a resume from the list. Many templates are free, although some will require a Microsoft 365 subscription for access.
Click Download to save the resume template to your computer or click Open in Browser to open the template in Microsoft Word Online.
Once you have downloaded or opened a resume template file, type over the text in the document to create your own, personalized resume:
Keep It Simple
When picking out a template to use, choose a simple template that's easy to edit and format. Fancy formatting and fonts may get lost when you upload or email your resume document. A basic resume is also easier for the hiring manager to read.
Be Concise 
Your resume doesn't need to include everything you ever did. If you have a lengthy employment history, you don't need to include it all. Employers typically don't expect to see more than 10-15 years of work experience on a resume.
Try to keep the resume no longer than one page , if possible, especially if you are applying for an entry-level job. However, more experienced candidates might make a longer resume.
Make the Document Unique to You and the Job
Be sure to change all of the information in the template so that the finished document is specific to you and your skills. It should include:
Contact Information
Employment History
Skills and Qualifications
Add a Profile and Headline
You may also want to include a profile and a headline, though these sections are options.
Also, make sure to tailor the document to the job you are applying for. For example, if you are applying to be a teacher, include any work or volunteer experiences that involve teaching others or leading a group of people. Include keywords from the job application in your document, as well. This is another way to connect your resume to a specific job.
Choose a File Format
The employer may request your resume in a specific file format. Typical options are Microsoft Word (.doc or .docx) or a PDF file.
Give It a Unique File Name
Save your resume with your name as the file name. This way, employers will know to whom it belongs. For example, save it as firstname.lastname.doc or lastnameresume.doc.
Check the Details
When you're typing or copying and pasting over the content of a template, be sure that you have replaced all the information in it with your contact information, experience, and education. Double-check to make sure that everything on the final version of the resume is about you.
Along with checking the details, take the time to carefully proofread your resume before you click upload or send. A polished resume will impress an employer.
More free Microsoft resume templates are available as a download for Microsoft Word users to use to create their resumes. Microsoft also has templates for cover letters, curriculum vitae, and more career-related correspondence.
Microsoft Word resume options include:
Basic resumes
Job-specific resumes (marketing, tech, etc.)
Career-specific resumes (college student, recent grad, internal transfer, etc.),
Resumes labeled by format (chronological resume, functional resume, etc.).
Are Microsoft Word resume templates free?
Microsoft offers some resume templates online for free. Other templates require a Microsoft 365 subscription. 
Is it OK to use a Microsoft Word template for a resume?
A resume template can be a useful tool. Use a template to guide your writing and to ensure that your formatting is consistent and professional. However, your finished resume should be entirely your own. Take care to customize your resume for each job application. 
CareerOneStop. " Want Your Resume To Be Read by Employers ?" 
Microsoft Office. " Resumes and Cover Letters ." 
By clicking "Accept All Cookies", you agree to the storing of cookies on your device to enhance site navigation, analyze site usage, and assist in our marketing efforts.
Step-by-Step Guide on Creating your Resume Using MS Word
Microsoft Word is the best program to use when creating your resume. Here's how to do it so that your resume gets past the Applicant Tracking System (ATS) and impresses hiring managers.
Microsoft Word comes with some very attractive templates that are ready to use and allow you to fill in the blanks. The bad thing is the templates offered by Word are not usually ATS-friendly. It is best to create your resume from scratch. You can do so without being an expert at using Word or knowing all of the formatting options the program offers.
A simple online search about creating a resume from scratch returns millions of results. Choosing the right set of instructions can be daunting. So, instead of going down that rabbit hole, follow this step-by-step guide on creating a resume using MS Word.
MS Word resume templates
It can seem like an easy answer to pick a template offered by Word. You open the program, click templates, and are presented with hundreds of options. However, considering that ATS can't properly parse information from resumes that have text boxes, columns, images, and charts, those templates are not going to serve you well .
Submitting a non-ATS-friendly resume is the best way to have your resume rejected for a job. When your resume is rejected by the ATS software, the human beings at the company don't even know you exist. It is one of the top reasons job seekers are ghosted by companies.
Format your overall document before you start typing
Believe it or not, an ATS will scan resumes for everything from keywords, experience, and education to margin width and font. There are some pre-typing formatting options you'll need to set to ensure that the ATS can read your document.
Set your margins so that they are no narrower than 0.5 inches all the way around. Alternatively, you can use 0.75 and one-inch margins if you prefer.
Choose the font you want to use . You can use more than one font in your resume to distinguish between headers and body text, but use no more than two separate fonts.
On the "Paragraph" formatting ribbon, set your line spacing to "Multiple" at 1.06 and enter "6 pt" in the "Before" box to ensure that your lines are squished together. You want to create some white space in your resume.
Setting the right formatting options ahead of time can save you some headaches when you're finished typing the text.
As you type out your resume information in your resume, use the "Font" and "Styles" formatting ribbons to customize things like font size, colors, headers, and section separators. Your resume should contain the following sections :
Other (e.g., Affiliations, Licenses, Certifications, Volunteerism)
Your contact section
Type your name on a line by itself. Typically, you want your name to be larger than the other text on the document. You can even put it in all caps or small caps to help it stand out. On the next line, type your city, state, zip code/postal code, phone, email, and any online portfolios you want hiring managers to know about.
It is no longer customary to include your full address. There have been instances of discrimination against job seekers based on their home addresses. It is critical, though, that you include your zip or postal code. Hiring managers can query the ATS for resumes within a radius of a zip code. If your zip code is missing, your resume doesn't get included.
If you use the "Intense Quote" style, your name and contact information will be set apart from the rest of the document with a border along the top and bottom of the text. Highlight your name to increase the size of the font and make it bold.
Title and summary section
As you write the title and summary of your resume, make sure that it is future-facing and targeted to the job to which you want to apply. Type the title on a line by itself and, like your name, put it in all caps, small caps, larger text, and bold text so that it stands out from the rest of the words on the page. It's also a good idea to center it on the line. You can also change the color.
Some rules to use when applying color to your resume:
Color draws attention to the important parts.
Use bright colors (e.g., blue and green) for headers and contact information.
Use complementary colors (e.g., lighter shades of blue and green) for subheadings, position titles, and degrees.
Avoid using red on your resume as red is associated with stopping. You don't want to give someone a queue to stop reading your document.
The summary paragraph should be three to five sentences in length with a focus on what you bring to the table in alignment with relevant keywords from the job description. Be specific, but be concise. Focus on how much experience you have, a few things that you're really good at, and include at least one achievement.
Your skills section
Your contact section, title, and professional summary won't have headers. The skills section is where you'll start including headers to separate content. Type the word "Skills" on a line by itself. Follow the same style for each of the other sections in your resume.
Then, on the next line list out your professionally relevant and job-specific skills. Keep the list to no more than 12 skills and be sure to use a strong mix of hard and soft skills .
Your professional experience section
This is where the bulk of your resume content should appear. In order to properly write your experience section, you should use the chronological resume format . This simply means that you start with your current or most recent job and work backward. There are some general rules of thumb to keep in mind when writing the experience section of your resume.
How to lay out the information for each job: Start with the name of the company and the timeframe you were employed there. It's best to use the MM/YYYY format for your jobs. After that, list your position title followed by three to five achievement bullets. Make sure that each bullet starts with a verb so that you have an action-based resume.
Stick to the last 10-15 years of experience: A great resume represents approximately 10 years of experience. It's okay to go back 15 years, but it's recommended that you avoid going further than that. You can certainly list older experiences under an "Early Career Experience" title, but the roles in that list won't contain bullets detailing your accomplishments.
Use stacking to list multiple roles at the same company: When you have progressed through more than one position within a single company, you'll list the company name first with the total amount of time you were employed there. In the next line, you'll list the last role you had with the company and the time you held that position followed by your achievement bullets. After those bullets, list the previous role you held with the company with the time you were in that role but don't list the company name again. Here's what that looks like:
ABC Company | 03/2007-Present
Senior Leader (05/2015-Present)
Experience that relates to the job to which you're applying.
Example(s) of projects or situations where you used this skill.
1 to 2 accomplishments or measurable results showing your expertise with this skill.
Associate Leader (03/2007-05/2015)
Your resume isn't meant to be a record of your professional life's events.
Talk about achievements that will intrigue a hiring manager to call you for an interview.
Anytime you can use numbers, it's best to do so.
Your education section
End your resume with an education section, which includes your education, professional development, and any credentials you may possess. List graduation dates only if you're still in school or graduated within the last year. You should also spell out acronyms (e.g., Master of Business Administration rather than MBA). You can put the acronyms in parentheses after the full spelling. This holds true for degrees and school names.
If you didn't graduate, you can still list your higher education on your resume. After you type out the degree you were pursuing and the name of the school, put verbiage that indicates the degree is unfinished. Here's an example:
Bachelor of Science in Business Management | ABC State School | Expected completion: MM/YYYY
When you didn't finish and know you're not going back, simply put the number of credit hours you completed in the place of the "Expected completion" text:
Bachelor of Science in Business Management | ABC State School | 98/120 Credit Hours Completed
Additional sections that may appear on your resume
Some jobs require you to be a member of a particular organization. You may have completed some career-related research or have articles published to which you want to call attention. Put a relevant header for any extra information that you want on your resume and type out the information.
Formatting headers
Now that you have the content written, it's time to make it look pretty. It's easy to update the text of each header title by enlarging the font and using bold. You can do more, though.
Shading: Highlight the "Skills" header and click the down arrow next to the paint bucket icon on the "Paragraph" formatting bar. This will allow you to change the shading behind the header. Be sure to use something that complements any color you've already used and don't let the shading make it so you can't read the header text.
Borders: With the word "Skills" still highlighted, click the down arrow next to the borders button on the "Paragraph" formatting bar (it's right next to the paint bucket icon). Choose to add a top or bottom border (or both) to your header. The choice is completely yours to use one or both borders.
Whatever formatting you decide to finish with on the "Skills" header needs to be repeated on all headers to ensure a level of consistency within your resume. The only header that wouldn't need formatting is the line you created if you decided to list "Early Career Experience." You can simply bold that and leave it as simple text.
Now you have a beautifully formatted, from-scratch resume. In the end, all you needed to know how to do was bold text, change the font, and format shading and borders.
If you have questions, TopResume has a team of expert resume writers standing by.
Recommended reading:
The Hidden Dangers of Using Microsoft Word Resume Templates
What's an ATS-Friendly Resume? And How to Write One
How to Write a Chronological Resume (Tips + Examples)
Related Articles:
How to Write a Cover Letter (With Example)
Do Hiring Managers Actually Read Cover Letters?
How to Create a Resume With No Education
See how your resume stacks up.
Share this article:
Let's stay in touch.
Subscribe today to get job tips and career advice that will come in handy.
Thanks! Career advice is on its way.
Your information is secure. Please read our privacy policy for more information.