13 Creative Writing Games For Kids To Nurture Their Imagination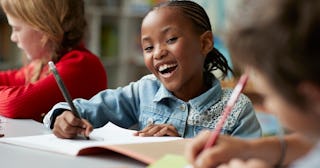 Writing is such an important part of your child's development and education . Of course, you probably already remember how important essay writing was during testing time when you were in school. That hasn't changed. When you also consider all the poorly written work emails you get in a day, it makes it even easier to understand how dire it is for kids to learn to communicate effectively when they write. There's more to writing than just school work and business communication, though. Journaling is an excellent way to teach kids to explore their feelings. Creative writing is also wildly important for kiddos as it nurtures their imagination .
How do you encourage a child to write? It's not always easy, but making it fun can certainly help.
1. Telephone Pictionary
There's actually a board game , called Scribblish , that follows this same concept. However, you can play the game without shelling out money. Start by having your child write down a secret sentence. Maybe it's a short quote from a Disney movie or just something they're feeling. Next, they'll pass it to a friend or sibling and that player will try to draw what the sentence says. They'll fold over or tear off the original sentence. When it gets to the next person, they'll try to translate the drawing into a sentence. This can follow as many steps as you want. In the end, it's just like playing telephone and super fun to see how convoluted things got from the original message.
2. Personalized Card Messages
Getting ready to send that Amazon gift card to your brother in another state? Set down your child and ask them to write a letter to their uncle. If they're stuck, make gentle suggestions by asking them about their favorite memory with their uncle or reminding them of the last present he sent.
3. Start a Journal
The traditional way of doing this is to just buy your sweetie a fun new journal and some cool pens. Then let them decide what to write inside. You could also make it a journal you share — a safe place for them to tell you their feelings and secrets or ask you questions they might be embarrassed to ask out loud. You could even write shared stories by taking turns filling a page each night.
4. Popcorn Storytelling
Remember popcorn reading in class? Think of this like that. You can start a story with a sentence or two, then pass it on to one of your children. Whether they take two minutes to write out the next part of the story or just tell you what happens next, they're still "writing" and creating something new. After two minutes, it's someone else's turn.
5. Secret Storytime
Similar to popcorn writing, but with a bit more structure. Start with a piece of paper and have the first kiddo write down the name of a person or character, then fold it over and pass it along. The next kid will name another person, fold it, again, and pass it on. Keep passing until each of the following questions are answered:
Where did they go? What did they do? What did they say? How did it end? The last player unfolds the paper and uses the answers to tell the story.
6. Mad Libs
Mad Libs have been around for decades and are still pretty popular. Now only is it a fun storytelling adventure, it's also a chance to each your kids grammar and sentence structure. Start by working your way through a couple books. Next, make up your own Mad Lib for your children to fill in and, eventually, encourage them to make one for you.
7. Vocab Challenge
You can use your children's vocabulary words from school or have your own set of words at home. Help them learn a fun new word each morning and then ask them to come up with a sentence that uses that word. For older kids, ask them to take all their sentences from the week and use them (and new sentences) to create a story.
8. Screen time, School time
It's summer. You don't want everything they learned to go to waste. But, you also don't have a brain full of activities to fill the two months' worth of days they're off. There's nothing wrong with a bit of screen time. However, if you're feeling guilty, making it a "learning opportunity." "You can watch Moana, but then you have to write five sentences about it." As they get older, challenge them with more specific questions to answer. "What did she learn?" "Why was her grandma so important to her journey?" You get the idea.
9. Grocery Time
This isn't exactly a game but, with enough enthusiasm from you, it might seem like one. Ask your kiddo to help write out the grocery list. This could be as imaginative as asking them what they'd like to buy or as useful as helping them write out and spell the things you actually need to get. Bonus: Including them in your meal planning and grocery buying might actually mean less dinner table stubbornness. Maybe.
10. Caption Contest
Make copies of funny family pictures and put them in a scrapbook. Let your kids have fun writing the captions for each picture.
11. Guess Who!
Remember the game of Guess Who where you had to use descriptors to eliminate people until you accurately guessed who the other person was? A simple twist on this game is to show your kids different pictures of people or characters they know, then ask them to write out five sentences that describe their person. Afterwards, they'll take turn reading their descriptions to one another and guessing who they got.
12. Dialogue Writing
This can go multiple directions. You could print off a comic strip with no dialogue and ask your children to decide what happens and what is said. You could even print out completely blank comic strips and let them write or draw their own comics. Another option, though, is to simply say, "What do you think so and so would talk about while out to dinner?" This could be something like Mickey and Minnie or even Grandma and Dad. Start simple, but mix things up as they get better about it. "What would you talk about while stuck in traffic with your music teacher?" "What do you think I would say to the President?"
13. Invest In Story Cubes
There are so many iterations of story cubes and so many ways to play! The basic concept is simple, though: Little cubes that you roll like dice and help get your brain working.
Related: There's A Way For Schools To Do Homework That Doesn't Suck
This article was originally published on Jan. 29, 2020
How To Get Pregnant
Infertility
Pregnancy Week by Week
Second Pregnancy
Giving Birth
Post Pregnancy
Breastfeeding
Development
Browse Names
Play & Activities
Coloring pics
Food & Nutrition
Health & Fitness
Style & Beauty Care
Collaborations
New Parents
Single Parenting
Relationships
Baby Eye Color Calculator
Online Pregnancy Test
Chinese Gender Predictor
Implantation Calculator
hCG Calculator
Period Calculator
ovulation calculator
pregnancy due date calculator
Child Height Predictor
Pregnancy Weight Gain Calculator
Breast Milk Calculator
Child Growth Percentile Calculator
Baby Cost Calculator
BMI Calculator For Kids & Teens
Contraction Calculator
Immunization Scheduler and Chart
C-Section Checklist
Online Twin Pregnancy Quiz
Numerology calculator
Child Blood Type Calculator
Nakshatra Calculator
Diaper Bag Checklist
Baby Name Combiner
Home » Kid » Play & Activities
15 Creative Writing Games And Activities For Kids
Help your children develop their writing skills with the help of games and practice.
harshita makvana B.Com, PG Dip
Specialty: Child Education, Storytelling, Activities and Learning
Experience: 7 years
Harshita is a graduate in commerce and holds a PG Diploma in Patent and Copyrights Law from NALSAR University. She has also pursued CA and has more than three years of internship experience in auditin... more
Image: Shutterstock
Mark Twain said, "Writing is easy. All you have to do is cross out the wrong words." Although children may not find it that easy and entertaining, you can inculcate the habit through interesting writing games for kids . It is a fun and distinct way of piquing their interest in this skill by letting them enjoy it as they learn. In this post, we have a list of the best games and activities to help you engage your children in writing while having fun.
Fun Writing Games For Kids
Writing games need not be all plain, boring or intense. You can try some creative ways to make writing pleasant and enjoyable. Try these fun games for children to begin their lessons in writing.
1. Secret Pictionary
A game of Pictionary is fun to play when there are more than three players. You can play this game even without the Pictionary cards as all you need is a pencil and a blank paper.
The first player writes a random phrase and passes it on to the next player.
The second player has to draw an image based on his/her perception of the phrase written by the first player. Fold the first phrase, and pass it to the next player.
Now the third player has to understand the drawing by the second player and write a line or a phrase based on the drawing. Fold the paper to cover the first phrase and the first drawing, and pass it on.
This shall go on with the phrase and drawing alternately until it reaches the last player.
Unfolding all the pages at the end of the game will reveal a very funny short story.
2. Telephone oracle
Image: IStock
Asking your questions to the Oracle is like sitting with a funny magic ball. Come up with wacky questions and gear up for equally wild answers.
Every player has to write one question each which they want the Oracle to answer, at the top of the page.
Now every player has to pass their papers to the person on their left.
Each player has to answer the question according to their perception.
Now the players have to conceal the question written on the top portion by folding it and then pass on the papers again to their left.
This step is tricky but interesting. Every player has to write a possible question after reading the previous answer they see in their paper.
Fold the paper such that only the latest question is visible and pass it to the left side player.
The same rounds continue till the bottom of the page and end with an answer.
At the end of the game, all the players unfold their papers to read their original question, the answers they have received, and everything in between. Kah-ray-zee! You will be surprised to see the crazy answers to your original question.
Free Worksheets and Printables for Kids
3. finish the story.
Your search for creative writing games for kids ends here. This is a delightful and engaging game for their playtime.
The first player writes two lines on a paper and folds the first line so that only the second line is visible to the next player.
The second player has to guess the first line, read the second line, add another line to the story and fold the paper such that the first two lines are covered and only the last line is visible.
All the players continue adding their lines to the story.
The end result will be a very funny tale with no meaning at all.
4. Consequences
This writing game is just so much fun that you will get addicted and play multiple rounds of it. You will need a pen, paper and a minimum of 6 players to play consequences.
The first player has to write the name of a male, on the paper. After writing, conceal the name by folding the paper.
The second player has to write the name of a female and then fold it again, to conceal it.
The next player has to write about where they met and fold the paper.
The fourth player has to write about what he said and fold to conceal it.
The fifth player writes what she said, and conceal it.
The last player has to write about what happens in the end.
Then, unfold the paper to read a very funny story .
Note that children can write any name, be it their favorite hero or friends in the school, parents or just anybody.
Interesting Writing Activities For Kids
These activities will not only help in bettering the writing skills but also prove useful in the day-to-day life of the family. Children get to explore their creative side.
5. Grocery list writing
This is one such fun writing activities for kids which require minimal effort and is helpful in learning the names of many grocery items like types of bread, toiletries, spices, etc.
Grab a pen and paper, and head to the kitchen pantry.
With the assistance of parents, kids have to note down each item and the quantity required.
Make an elaborate grocery list and head out for shopping.
6. Writing letters
Writing letters is old school but is still relevant. So, why not introduce your kids to the old-world charm with this letter writing activity?
Decide which form you wish to write — a formal letter or an informal one.
Accordingly, choose whom to address the letter.
Keep the letter content crisp if it's a formal letter and give it an emotional feel if you are writing an informal one.
7. Advertisement writing
This writing activity can keep their creative juices flowing.
Pick an item to write about. For example, children may choose to write an advertisement for their favorite candy.
Let them write an entertaining advertisement to sell the product.
Kids can get innovative and may design brochures, leaflets or even a hoarding style ad.
8. Dialogue writing
Dialogue is a conversation or interaction between two or more people. This activity can also improve their style of conversation. You can begin with simple dialogues.
Write an introductory line to begin the activity.
The next player has to reply to the previous line.
Keep adding dialogues after each line. In the end, you will have your very own record of the conversation.
9. Written debate
This activity is similar to dialogue writing, but will have an argumentative tone. This writing activity will help in enhancing their conversational and presentation skills.
Pick a subject and write down your first argument on the paper.
Let your child reply to the argument, putting forth his/her point.
It goes on like a debate but in a written format.
10. Writing instructions
Learn direct speech through this activity.
Choose a subject to write instructions about. For example, an experiment on lighting a bulb.
Kids must write about the tools required and elaborate instructions about how to light a bulb, in detailed steps.
The style of writing must be communicative and simple to follow.
11. Writing a poem
Poetry does not have any boundary or age. This writing activity best suits children who are artistic.
Select a theme to write about.
Kids can use rhyming words or just express their emotions in whichever poetic style they like.
12. Writing a message on the envelope
Be it a birthday greeting or a thank you note, this activity will help the child write short messages on cards and envelopes.
Pick a card or envelope depending on the occasion.
Write a short crisp paragraph to convey the message.
Add a salutation, "To" address and a "From" address.
13. Newspaper summary writing
This activity is ideal for older kids. It helps in understanding their level of reasoning and perception.
Assign a newspaper headline for them to read and follow.
Kids have to go through the entire news article, read and understand it in detail.
Now the challenge is to write a summary about the same news article in their style.
14. Five lines about their hero
Children will enjoy playing this game for sure as it involves their favorite superhero.
Find out who your child's favorite superhero/ idol is.
Ask them to write any five things about him/her, which they admire.
15. Drawing words
This activity does not involve writing directly but inspires to write and makes learning enjoyable for kids. Make their imagination run wild with this game.
Choose a word to draw. It can be any word like sun, moon, precious, beautiful, mountain or anything.
Let the child draw the word in their style. Do not insist on drawing it perfectly.
Frequently Asked Questions
1. How does writing help in the growth of a child?
Writing helps in a child's growth by promoting language development, improving communication skills, enhancing creativity, promoting critical thinking and problem-solving skills, and fostering emotional intelligence. It also helps children develop fine motor skills and self-discipline. Additionally, writing can serve as an outlet for children to express their thoughts and feelings, leading to increased self-awareness and self-esteem.
2. What are the benefits of writing games for kids at home and school?
Writing games for kids offers numerous benefits, such as improving language skills, encouraging creativity, boosting confidence, enhancing critical thinking, and developing fine motor skills. Writing games can help children develop their language skills, including vocabulary, grammar, and sentence structure. These games can also challenge children to think critically and encourage them to be imaginative in their writing, leading to a more positive attitude toward learning.
Writing is an integral part of children's education that helps them express themselves better. It is a life skill that relates to communication and allows children to better understand and remember a particular concept. Writing skills should be developed in children from a young age. However, many children are not enthusiastic about writing because they feel it is a difficult task. In such circumstances, you may introduce writing games for kids that do not look like a task and offer them good practice. So, if your children are averse to writing, introduce games such as Secret Pictionary or Finish the Story and activities such as Dialogue Writing or Message Writing. Regular writing practice will enhance children's skills a great deal.
Infographic: Fun Writing Games For Children
Illustration: Momjunction Design Team
Get high-quality PDF version by clicking below.
Key Pointers
Pique your children's interest in writing by introducing Pictionary of secret phrases followed by drawing.
"Finish the story" will enhance the child's creativity as they take turns to add sentences to the story.
Dialogue or advertisement writing, word drawing, etc., for your children as you scroll down.
Harshita Makvana B.Com, PG Dip
Latest articles.
Skip to primary navigation
Skip to main content
Skip to primary sidebar
Skip to footer
HOMER Blog I The essential early learning program for ages 2-8. Try it free!
Parenting tips and independent play activities from the learning experts at HOMER.
12 Writing Games To Help Kids Learn To Write And Have Fun Doing It
Writing can feel daunting to young learners — there are so many letters to memorize, sounds to recall, and words to spell! You might be wondering what the best writing games are to help your child learn to write.
HOMER has got you covered with these simple and engaging writing games! With minimal equipment required, these activities can be set up within minutes and provide unlimited fun.
Before we dive into our favorite writing games, let's discover why writing is important in child development.
Why Writing Is Crucial To Development
From their early scribbles to drawing recognizable letters, writing is a useful form of self-expression for children and allows their ideas to flow more easily.
What's more, the alphabetic code is reversible, so children who use sounds to determine words for writing are simultaneously advancing their ability to sound out words and read coherently. Win-win!
This is a lifelong skill that your child will use every day, so it's important to know how to best nurture and develop these emergent literacy skills from a young age.
By playing the writing games outlined below and taking the time to practice, your young writer will be an expert in no time!
Why Games Are Important For Learning
You know that it's important for your child to develop writing skills, but you may be wondering why you should incorporate games into their learning.
Why can't your child just sit down with a pen and paper to practice writing?
Less Stressful Learning
Here's the stitch: Being asked to sit down and practice writing skills can be daunting for some kids. It can also be frustrating when they come across letters or words they struggle with.
Games, on the other hand, decrease stress levels and get children excited about learning.
While playing learning games, your child will not only be practicing their writing skills, but they'll also be more focused on completing the fun activity than on getting frustrated that they can't write the uppercase Q, Z, or J.
When children see that learning doesn't have to be tense or highly stressful, it can also change their perception of educational activities. In fact, they may be more willing to participate in future educational games.
Motivation is one of the biggest advantages of playing writing games.
Kids are more likely to pay attention to the instructions and participate when they see the activity is fun. This is much more effective for teaching writing (and other) skills than simply handing them a worksheet.
Some educational games also allow children to play in pairs or groups. Interacting with peers or family members in this way is an excellent opportunity to develop critical social skills , such as listening to others, communicating effectively, and taking turns.
Friendly Competition
Kids can be very competitive — with their friends, siblings, and sometimes even with mom and dad. Playing writing games can foster a spirit of fun, healthy competition.
If you involve multiple children in these activities, the child who wins can learn to congratulate their fellow competitors and not just brag about their accomplishment. And the one who loses can learn to celebrate another person's win and try harder next time.
Problem-Solving Skills
By nature, most games require participants to incorporate problem-solving skills, planning, and creativity. That's a lot of mental work!
Playing writing — and other types of educational — games can help your child develop these essential life skills.
Now that we're clear on why writing games are important, let's get into the activities you can introduce to your child today.
We've divided these into three sections — writing games for preschoolers and kindergarteners, first graders, and second graders. So, feel free to scroll to the relevant section for your child (or children), and let the games begin!
Writing Games For Preschoolers And Kindergarteners
1) Disappearing Letters
What you'll need.
A chalkboard
A paintbrush
A cup of water
Start this activity by writing a repeated letter, a word, or your child's name on the chalkboard using your chalk. If you're writing a single letter, start by writing it five times in a row.
Dip the paintbrush in the cup of water and have your child trace over each of the letters, erasing them one by one.
Once your child has mastered one letter, move on to multiple letters until they're comfortable using this activity to "write" their name and short consonant-vowel-consonant (CVC) words such as dog and cat.
This activity is great for working on developing your little one's fine motor skills as well as their spelling abilities , which will aid them as they take pencil to paper!
2) Hands-On Writing
A tray or bin
A fun material such as sand, flour, or shaving cream — anything that can hold a shape
A pen and piece of paper (optional)
To start this activity, grab a tray or bin that's deep enough to hold your chosen material.
Fill your tray and bin with sand, flour, shaving cream, or anything else that can be used to form a shape. This is what your child will use to develop their writing skills!
Say a letter to your child (or write the letter on a piece of paper for them to copy, if needed) and have them write the letter into the sand, flour, or shaving cream with their finger.
Eventually, you can work your way up to having your child write whole words, like their name or things they love (the names of their friends and family or even their favorite foods or toys).
Don't worry too much about what the letters look like — even scribbles are OK! Whatever your child writes to produce a letter or word is great progress.
This activity lets you make writing a fun, sensory experience! Try using different materials to keep your child engaged and to learn more about the world around them while they practice their writing skills.
You could also use a fingerpainting method for this game for some colorful fun — enjoy getting creative with this writing game!
3) Yarn Letters
Blank sheets of paper
Child-safe scissors
Grab the blank sheet of paper and help your child draw a letter of the alphabet with a pencil. Then, hand them the yarn, scissors, and glue, and help them trace the letter by cutting and gluing the string onto its shape.
Performing this task is an effective way for your child to develop their fine motor skills, a key component of writing. In addition, this hands-on activity allows children to continue learning their letters.
Writing Games For First Graders
4) Roll The Dice
A piece of paper
A pen or pencil
This writing game is all about creating a fun story with your child using dice to determine how many words you get to add each turn!
Start by having your child choose a main character, a setting, and a problem. For example, your character might be a cat, your setting might be a garden, and the problem might be that the cat needs to find some food.
Write the first sentence of your story based on the character, setting, and problem you've chosen with your child. Using our example above, the first sentence might be, "Once, there was a cat in a garden who couldn't find any food."
After you write the first sentence, have your child roll the dice. Whatever number the dice lands on is the number of words they'll add to the story — not one word more or less!
You can assist your child by sounding out tricky words and helping them write if needed. Once they've added their words, it's your turn to roll the dice and write your next round of words based on the dice number.
Take up to five turns each before finishing your story together by choosing an ending. Then read your story aloud to see how it all flows!
5) Speech Bubbles
A piece of paper for drawing or a printed cartoon
For this activity, start by having your child draw a picture with a character or two. You could draw this scene together or even print off some characters from the internet to color and decorate together.
Once you've finished drawing and decorating your characters, it's time for each of you to draw and fill in a speech bubble to create thoughts for your character (or a conversation if you drew more than one character).
For example, if your character is a dog, maybe he's standing by an empty bowl. What might a hungry dog say? Some options could be, "Where's my food?" or "I hope they bring pizza!".
Let your child's imagination run wild with possibilities for filling in the speech bubbles and enjoy this writing activity together by writing down the silly suggestions, too!
Speech bubbles are one of the most fun options for writing games as they're quick, easy, and short for young writers.
This may help your child feel less intimidated as they explore more words to add to their vocabulary and practice forming their letters correctly.
6) Birthday Cards
Colored pens or crayons
Blank birthday card
Birthdays are a day most people look forward to. For kids, this day usually means lots of gifts, games, a birthday cake, and, of course, a birthday card.
Help your child create a unique birthday card for their friend, neighbor, cousin, sibling, mom, or dad — whoever they want! Once they select the recipient, get the supplies you need and help them write a sweet message for their loved one.
This is a wonderful activity for your child to practice putting their thoughts on paper. They can also add flowers, hearts, and anything else that will help to make the card extra special.
Note: This activity can be used for any occasion, not just birthdays. Is it the holidays? Has the family been invited to a graduation party? Do you have a family member who's not feeling well?
All of these are excellent opportunities to create a special card for a loved one.
7) Map Out The Story
A blank sheet of paper
Colored pencils (or crayons)
The aim of this writing game is simple: create a setting for a story.
Children love when a storybook they're reading includes some pictures and a map to bring the story to life. With this activity, they get to create their own!
All your child needs to do is draw a map of the story setting of their choosing, labeling the different areas. This can be a story they've read or one that's just popped into their head. It really doesn't matter as long as they're excited about it.
To help them get started, you can ask prompting questions, like:
Does your story take place on land or in water?
If it's on land, what and who lives on that land?
If it takes place in water, what types of interesting creatures are there?
What's the weather like?
How many characters are there?
Where do these characters live?
What do the characters do?
Are there any landmarks?
Once your child is clear about the world of the story, it's time to draw and create it. Now you can also help your child write a story that takes place in their invented world.
For this activity, we're not expecting incredible artwork or penmanship. Instead, the main focus is to have kids practice gripping pens or pencils and writing.
Writing Games For Second Graders
8) Grocery List Writing
A piece of paper for making your list
Make the task of writing your grocery list into a game!
You can do this as part of a make-believe or role-playing game with your child, or you can create a real grocery list together before the shopping gets done.
Try planning out some meals for the week ahead, and then make a list with your child for each of the ingredients needed. Explain that writing a list helps us to remember all the things we need to buy, and discuss what items you might need to purchase.
Keep it simple and help your child by sounding out words as they write. Once the list is written, your child can enjoy checking off each item one by one after it's been put in the cart!
9) Household I-Spy
Two pieces of paper, one for you and one for your child
Two pens or pencils, one for you and one for your child
A timer or timer app
One of our favorite writing games is this version of I-Spy with a twist!
Grab your paper and write each letter of the alphabet down the left-hand side. Once you and your child have both written the alphabet on your paper, set your timer for 10 minutes.
You'll then race from room to room to find and write down as many objects as possible that begin with each letter of the alphabet. Write each object next to its corresponding letter and fill in as many as you can within the time limit.
You could also set a handicap for this writing game to raise the stakes! For example, if your child's time limit is 10 minutes, cut yours in half so that you have to find as many objects as possible in five minutes.
10) Accordion Storytelling
The first player will start the story at the top of your clean sheet of paper by writing two sentences on separate lines. They can write about any topic they want.
When they're done writing, they'll need to fold the paper over the first sentence and pass the paper on to the next player. This means that the first sentence won't be seen. The next writer will only be able to see the second sentence on the page.
This player will need to write their own two sentences based on the line they can see. After that, they'll fold down the first line of what they wrote and pass it on to the next player, too. The paper will continue to be passed around and folded like an accordion.
The round ends once all the paper has been folded up, and there's no space left to write. Once you've reached this stage, open it up and read the story aloud together.
What interesting story did you come up with? Get ready to have a good laugh!
Note: You can take turns reading one sentence each, or you can nominate one person to read the whole story to everyone.
This is a great game to play with the whole family or even just two people, although it is the most fun with at least three people. And it will encourage creativity and writing skills.
11) Pen Pal Writing
Writing letters to pen pals is very traditional. In a nutshell, it involves two people in a long-distance friendship who communicate by writing letters to each other.
Now, with the advancement of technology, very few people still do this via snail mail. But it can be a great way to encourage children to write.
Who can your child write to? They can choose a friend who's moved schools, a cousin who lives in another state, or their grandparents. It can be anyone they'd like to send a message to!
This is a fun way to help children learn about mailing letters and how the postal system works. They also get to create memories and can keep the letters their pen pal writes to reflect on for years to come!
12) Rewrite The Ending
Children will need to exercise their imaginations to play this game.
To get started, read a book aloud to your child. (This can be an old favorite or a new story.) Once you've finished reading, encourage them to create their own version of the ending.
It can be challenging for children to imagine their favorite stories in a different way, so you might need to help your child think outside the box:
What if the frog never turned into a prince but into a big elephant instead?
What if the three little pigs learned karate and decided to fight the wolf?
Could the little mermaid have a twin sister she just discovered?
This activity lets your child exercise their imagination while also practicing their writing skills. If this is done with multiple children, it will be fun to see what exciting versions of the script each child comes up with.
Enjoy Learning To Write With HOMER!
We hope you've found some new favorite writing games from our activities in this guide!
From creating sensory play activities with sand and fingerpaints to writing a grocery list together, there are so many ways to get creative with your child and make writing a fun shared activity.
For even more writing fun, unbox a learning adventure with our Explore Letters Kit . Watch your child build their literacy skills, using their imagination to lead them through a variety of writing and spelling activities!
View all posts
Enter your email to download PDF and receive updates from OSMO
Scan to get started.
The Assessment App is available only on the Apple App Store . Please scan the QR code below with your iPhone device to download the app.

Best Writing Games For Kids To Practice At Home And School
Writing is an important skill that we use in our daily lives. Children need to practice writing every day to improve their skills. One of the best ways to entice children to practice writing is to involve them in some fun writing games for kids.
List of Writing Games For Kids
We've compiled a list of simple writing games for kids that are sure to get even the most reluctant of them to write.
Pictionary writing games for kids
Things you need for Pictionary writing games for kids: Pencils and sheets of paper Instructions
This is one of the most fun and creative writing games for kids and is best when you have a bunch of kids. Ask the kids to sit in a circle.
Hand the first player a sheet of paper and ask them to write a random sentence at the top of the sheet. Pass the sheet to the next player.
The second player should read the phrase and draw a picture related to the sentence on the paper. Then, they fold the paper to cover the sentence and hand it to the next player.
The third player should observe the drawing and write a sentence describing the drawing. Ask the child to fold the paper to conceal the drawing and pass it to the next player.
The next player draws an image based on what they understand from the drawing and passes it to the next player.
This continues until the last player gets their turn to play or there's no space on the sheet of paper. Finally, unfold the paper sheet to compare the original sentence with the drawings and sentences and have a laugh!
Rapid-fire writing games for kids
Things you need for rapid-fire writing games for kids : White sheets and pens
Instructions
Rapid-fire writing games for kids are more exciting when you play with friends! As the name suggests, the players are supposed to play the game at a quick pace.
Divide the kids into two teams with an equal number of participants in each team. Nominate one child in each team just to assign the words.
The nominated child should call out any random word like trees, lakes, mountains, dogs, etc. The other kids from both the teams should write any phrase related to the word within ten to twenty seconds.
The team with the most meaningful sentences related to the topic is the winner. Continue the game until each child gets a chance to win.
Creative story writing game for kids
Things you need for story writing games for kids : A long sheet, writing pad and pen
Kids have a very active imagination and are natural-born storytellers. In this game, channel their storytelling abilities towards writing. These kinds of creative writing games for kids improve their creative thinking, visualization, handwriting and vocabulary skills.
This writing game can be played in school or at home with the family.
Hand the child a sheet of paper and write the first sentence of a story. The children will have to use their imagination and complete the rest of the story. And it's ok if it's just 1 or 2 lines too.
Some children might struggle initially, but slowly they'll get the hang of it.
Creative writing using different consequences for kids
Things you need for play consequence-based writing games for kids : White sheets and pens
First, explain to the child that most stories have two main characters, the 'protagonist' and the 'antagonist.'
The conversations between the protagonist and the antagonist in the story leads to certain consequences.
Write the name of the protagonist and antagonist on the board and a particular consequence. For example, Jack and Jill fell down the hill.
Then ask the children to think creatively and write a sentence on where and how the two characters met.
Then, encourage them to think of and write about the conversations that take place between the two characters that led to that particular consequence.
In the end, ask the kids to read out their stories to see their take on the conversation.
Letter-writing activities for kids to improve their writing skills
Things you need for letter-writing activity for kids : A long sheet of paper and a pen
Letter writing is an important part of learning English, learning how to write letters is one of the best writing games for kids.
First, teach your kids about the different types of letters and their formats. Then ask them to write letters or messages to their friends and family.
There are two types of letters: formal and informal letters. Formal letters are used for formal communication like letters addressed to your teacher or employer.
Informal letters are letters, which are written to friends or loved ones. These letters have a casual tone with a personal touch.
There are specific formats for both formal and informal letters. Formal letters have from address, to address and date. They begin with a salutation (respected sir/ma'am) and end with thank you or sincerely and regards. The matter in the letter should be short and to the point.
Informal letters have a date and place, written on the right side. They begin with a salutation (dear) and end with a complimentary closing (with love).
Writing A Journal
Things you need for writing a journal: A new journal, colorful pens, stickers etc.
Hand your child the new journal, the colorful pens, stickers etc.
Explain to them the importance of maintaining a journal. Then ask them to write their thoughts or anything they wish in their journal.
It can be a safe space to talk about their feelings or talk about their dreams. They can even write a story or a poem.
Comic Strip Dialogue
Things you need for comic strip dialogue writing: Printed comic strips with your child's favorite character with blank speech bubbles and pens
This is one of the best writing games for kids who love comics and storytelling.
Hand your child the printed comic strips with blank speech bubbles and some colorful pens.
Then ask them to use their imagination to fill in the speech bubbles and create a story.
Ask The Oracle
Things you need to play this writing game for kids: Sheets of paper and pens
This is one of the most entertaining writing games for kids that also tests their creativity.
Have the kids sit in a circle and hand each of them a sheet of paper and a pen.
Ask each child to write a question that they want the Oracle to answer at the top of the page.
Then ask them to hand the paper to the child on the left.
Now ask the children to read the question and write a suitable answer according to their perception. Now, ask the child to fold the paper to conceal the first answer and hand it to the child on the left.
The next child writes another answer based on their understanding of the question above.
Continue the game until there's no space left on the paper. Finally, ask each child to read the crazy answers written to the original question.
These 8 writing games for kids are sure to get your little ones more eager to practice their writing skills. Check our kids learning section for more such games and learning activities.
Frequently Asked Questions on Best Writing Games For Kids To Practice At Home And School
What are the best writing games for kids to practice at home and school.
The Best Writing Games For Kids To Practice At Home And School are Creative writing activities for kids, letter writing, story writing competitions, instant writing games for kids, etc.
What are the benefits of Best Writing Games For Kids To Practice At Home And School?
The benefits of Best Writing Games For Kids To Practice At Home And School are that they are helpful in teaching kids the importance of writing and improving their spelling skills for better learning outcomes.
Subscribe to Newsletter
Let's keep in touch! Stay current with our projects, blog posts, and more.
Novak Djokovic Foundation newsletter
Program updates
The Early Years Blog
Online education
Fun Writing Games to Encourage Your Kids to Write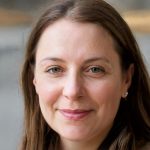 No one ever said that parenting was easy, especially if you're one of those parents who is struggling with helping their kids with school work. Many children are not fans of writing or any activities that involve writing. Luckily for you, this list is a lot of different and exciting writing games to create a love of writing in your kids so they can write more and have fun doing it.
1. Telephone Pictionary
This game is really engaging and will promote creativity with your children while at the same time pushing them to write. If you have more players it will go better, and all you need is paper and pencils. Every player simply writes a sentence on the paper and passes the paper on. The next player will draw what is represented by the sentence and fold down the paper so only the drawing is visible, then passes the sheet.
The next player will write a sentence that describes the drawing and fold the sheet to keep only their sentence visible. The paper keeps going around in this way until it's full. Then, all players can compare the original sentence with what happened later for laughs.
2. Story Telling
In this game, you also only need paper and pencils, and all kids will get to write a story together. Onboard, you can write the first sentence of the tale. Then, over the next two minutes, the children will write down the next step of the story. After two minutes, their paper goes to someone else who will continue the story. These papers go around a few times until such time as the story is done. Then, you can enjoy sharing the different and funny stories that were created.
3. Fill in the Blanks
For this game, you need some story sheets with blank spots. According to Rick Steele, an educator at Academized and Ox Essays , "to play, you just have to give the sheet to your child and they will fill in the blanks however they want by using their imagination. Then, you can read the finished story together afterward."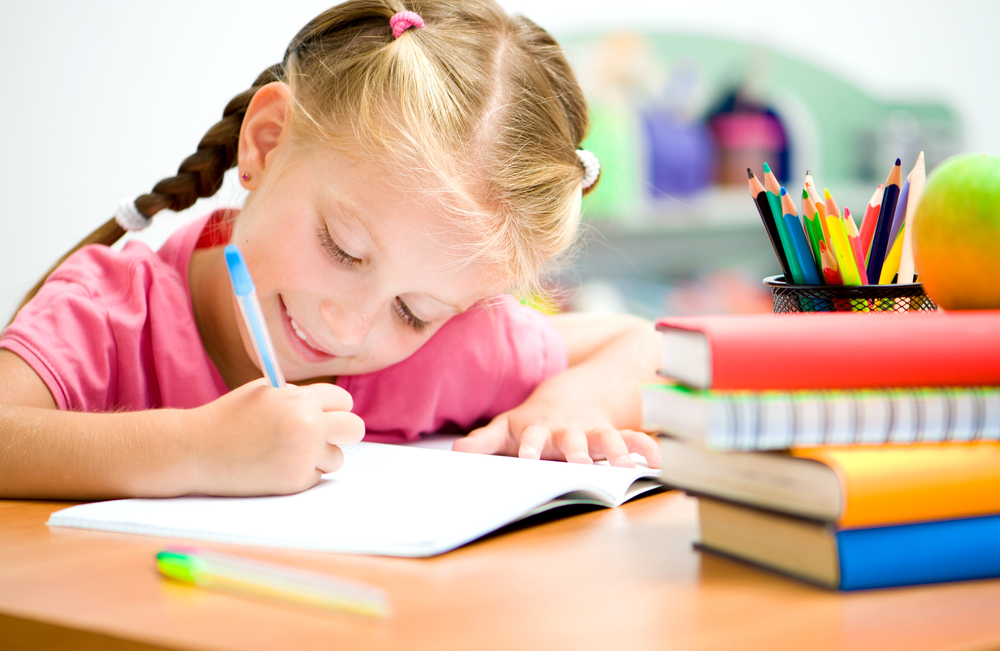 It can be difficult to get your children to write if they don't like it, but there's a lot of writing games that can make the process more exciting.
4. Birthday Cards
Every time there is a family birthday or special event, or during the holidays, you can get your children to write the birthday card. This will make them speak their thoughts about their family members as well as encouraging them to write in the process.
5.Cursive Name Writing
This game can be exciting to learn to write in cursive . You can take a sheet and fold it in half. Ask your children to write their names in cursive in large script, along the top of the folded crease. They can trace over the writing time and time again, then they can go over the folded piece until they create a mirror image on the other side of the sheet. Then they can cut out their names until the writing looks like a large bug.
6. Challenge for Vocabulary Terms
This game is better for children that can write comfortably and are more than six years old. You can give your child a new word and tell them what the meaning is. Then, Henrietta Fillon, a tutor at Big Assignments and Elite Assignment Help , says " you can challenge them to write a sentence with the new word in it. You can also ask your child to write a complete story about this word if you have time for it. You can also ask for drawings if they don't enjoy writing much ."
7. Comic Strip Fun
This activity is better for older children who already know how to read and write, especially if they like storytelling . You can get some comic strips for your children and ask them to fill out the dialogue bubbles (which should be blank, to begin with). Then, challenge them to make it more exciting. They can also draw with crayons to make more colors and liven up the comic strip.
It can be difficult to get your children to write if they don't like it, but there's a lot of writing games that can make the process more exciting. By spending time with your children to focus on learning to write, they will prosper and learn to enjoy writing.
About the author: Ellie Coverdale, a writer for UK Writings and Essayroo , shares her thoughts and opinions on education and writing. She loves fostering a desire to read and write in children and stresses the importance of writing skills for all people, regardless of age. In her spare time, she teaches writing skills for Boom Essays .
You Might Also Like
Respecting children's boundaries, elena will go to preschool thank you for making this season of giving so special, working memory in children: what parents should know.
Hi I'm a parent that is struggling with my 9 year old daughter in her writing skills any advice or help u can help in.
Just let her play this game.
This is an excellent blog. Continue to share. I adore them. Are you looking for a low-cost assignment writing service as well.
Leave a Reply Cancel reply
Save my name, email, and website in this browser for the next time I comment.
Cookie Policy
Our website uses cookies to improve your experience.
Accept Read More
Do you practice intentional homeschooling? 5 Ways to Bring Focus and Fun into Your Day
Activities & Games to Get Kids Writing
Play is one of the best ways to teach and encourage writing. It takes away the pressure and fear writing can sometimes offer. Games and creative writing activities encourage kids to experiment with language, storytelling, organization, and ideas. Through play, writers learn spelling, vocabulary, how to create imagery, develop a plot, and even revise. Play also offers fun ways to learn skills that can be pretty boring. When play and writing go hand in hand, writers who love to write are filled with ideas, and reluctant writers might just forget they don't like writing.
While using writing games or writing activities may take more time than printing off a worksheet, in the end, play = practice = confidence = learning and growth!
10 Games and Activities to Get Kids Writing
1. story cards & dice.
One of my favorite ways to help kids gather and organize their ideas, Story Dice create hysterical narratives. They also teach the importance of plot development, characterization, building conflict, and revision.
Writers can build stories together or individually. They roll the dice and use the images to help them find their words and visualize their story.
We also love Story Cards. We have several packs of eeboo Story Cards. They are beautiful and offer sweet story prompts. My daughter loved them as a young child and continues to love them as a pre-teen.
2. Story Maps
Do your kids love it when a book they're reading includes a map? Mine do! They flip back and forth from text to image, looking for the places their characters go.
A great way to help writers play with the setting, get ideas for a story, flesh out the plot, or even retell a story they've read is to create a map.
To get writers started, I like to ask them questions to consider:
What lives on your land?
What types of vegetation is there?
What types of bodies of water?
What is the climate?
How do your characters travel from one place to another?
Where do your characters live?
What obstacles are on your land?
What is your land called?
Where do people/creatures gather?
Are there important landmarks?
We go over these questions together and share ideas. Then they get to work drawing and creating the place their story will take place.
My unit study, Courage Is… explores story maps. One of four creative writing projects you'll find, it is definitely one of my students' favorites.
3. Accordion Stories
Play with two people or twenty; an accordion story is fun because you never know what's happened or going to happen until the end when the paper is unfolded and the story is read.
Sidenote- I did this activity in my adult class recently, and it was hysterical!
How to play –
Each writer starts out with a piece of lined paper. On the top of the page, they begin a story or poem by writing on two lines of the page. This can be a continuous sentence or a couple. The important part is they write on two lines.
Once they finish, they fold down the first line so it can't be seen and pass the paper, the second line showing to the next writer.
The new writer writes two more lines, based on the one line they can see, fold down the top two lines (the other writer's line and their first one), and passes the paper, their last line showing to the next writer.
And so it goes until the paper is folded up tight like an accordion.
Once complete, open the page up, and a story is waiting. Be ready for a good belly laugh!
4. Scavenger Hunt
A scavenger hunt is one of my favorite learning tools. I've used scavenger hunts to get kids learning Pre-K through High School. They help kids get to know each other , learn about the backyard or schoolyard science , find items in a library, a book, or an old school dictionary. A scavenger hunt can also get kids writing!
The first step to any scavenger hunt is deciding what skills you hope your kids will learn. Descriptive writing, parts of speech, vocabulary, spelling- a scavenger hunt can help kids practice lots of things.
The second step is simple. Take a piece of paper and fold it equally into eight squares.
Next, decide where this scavenger hunt will take place: inside, outside, both, or in a special location.
Fill in the squares, or have your kids create their own!
Ready for your kids to get learning? Encourage kids to get four in a row or see who can fill in the most boxes. Have kids work together or apart. Be sure to explain any terminology they might not know. No fun looking for a verb if you have no idea what one is!
5. Play with Poetry
Free verse poem.
One of our favorite ways to write free-verse poems is with magnetic poetry tiles. Super fun, there are all sorts of kits you can buy like: Art Poetry , Psycho Kitty Poetry, and Pirate Poetry .
A free verse poem is pretty much an anything-goes poem, but it might be good to share some examples of what free verse poetry is and isn't with children to see what they notice.
While you're reading poetry together, you might talk about how imagery, stanzas, and a subject or main idea are typically found.
Children might also enjoy crafting their poems in prose first. Then they can decide what words to cut, where to create stanzas, and what needs more description.
If you're looking a poetry class, I love teaching poetry to kids and teens and offer workshops on Outschool and Curiosity Encouraged.
Describe something you love or can't stand. What does it look like, smell like, how does it make you feel?
Describe your perfect day, moment, or memory.
Write about dreams or wishes.
Write about fears or scars.
Acrostic Poem
An acrostic poem uses the letters in someone or something's name to begin each line or stanza of a poem. A younger child might choose one word, whereas an older child might choose a descriptive word or phrase.
Acrostic poems are written vertically. Young children might write one word. Older children a phrase, sentence, or stanza.
Concrete Poem
Also known as a shape poem, kids choose an object that represents the subject of their poem. They then use words to create that shape. For younger kids, it could be the same word or just a few repeated. Older kids can challenge themselves to write a poem in their chosen shape.
Often a silly poem, a limerick is fun to write because it follows a rhyme scheme. Lines 1, 2, and 5 rhyme, and lines 3 and 4 rhyme, making the rhyme scheme AABBA.
A haiku is a Japanese verse poem that has three lines, with each line having a certain number of syllables- 5,7,5. Tapping or clapping out syllables is helpful (as is knowing what a syllable is). A couple of these poems would be nice or one with an illustration.
Simile Poem
A simile compares two things, often unlike, using like or as. Metaphors, alliteration, or other types of figurative language could also be included or substituted.
Illustrations, placing poems on homemade cards, framing a poem, or writing one on decorated paper are additional ways writers can add to their poetry.
6. Play Writing Games
I am always on the lookout for new writing games. We recently came across a handful at one of our favorite second-hand stores. They give us a good dose of fun and practice!
Poetry for Neanderthals
Banana Grams
My First Banana Grams
Scrabble Slam
Snap It Up- Reading and Phonics
Telestrations
Apples to Apples Jr
Scattergories
Wacky Words
7. Create Comic Books
Kids who like to read comic books might be motivated to make their own !
8. Give National Novel Writing Month a Try
Each November, writers from around the world set to work on one goal- a novel. The National Novel Writing website has a TON of great resources, including a workbook just for young writers . We worked through one last year and it is not your average boring workbook!
Of course, you can give novel writing a try any month!
9. Write to a Pen Pal
A few years ago, when my oldest was in elementary school, and I was looking for a way to encourage writing, I created a Pen Pal group on Facebook. Made up of friends near and far, for a couple of years, my kids wrote to my friend's kids, and my friend's kids wrote to other friends' kids. It was super fun and, best of all, got kids writing!
Now I offer a homeschool pen pal group on Creative ELA. Each season, homeschoolers are paired up, given prompts (to take or leave) and encouraged to write at least twice to one another. We'd love to have your kids join us! Join Creative ELA to learn more.
10. Keep a Favorite Book Going
Have you ever finished a book you wished would keep going? Thought a character should have acted in a different way or wanted to change a story's ending? FanFiction gets readers writing!
Students in my Creative Writing Workshop class often enjoy writing fan fiction, but they don't have to. The beauty of a writing workshop is writers can write in any genre they want. Each week we meet to learn about writing, write, and share our ideas. Through games, writing prompts, and a lot of laughter, students grow confidence and interest.
Need more resources? I offer writing games, mini-lessons, free classes, and so many ideas over on my free homeschool community, Creative ELA.
Share this:
About Kelly Sage
Leave a reply cancel reply.
Your email address will not be published. Required fields are marked *
Notify me of follow-up comments by email.
Notify me of new posts by email.
This site uses Akismet to reduce spam. Learn how your comment data is processed .
Find a Resource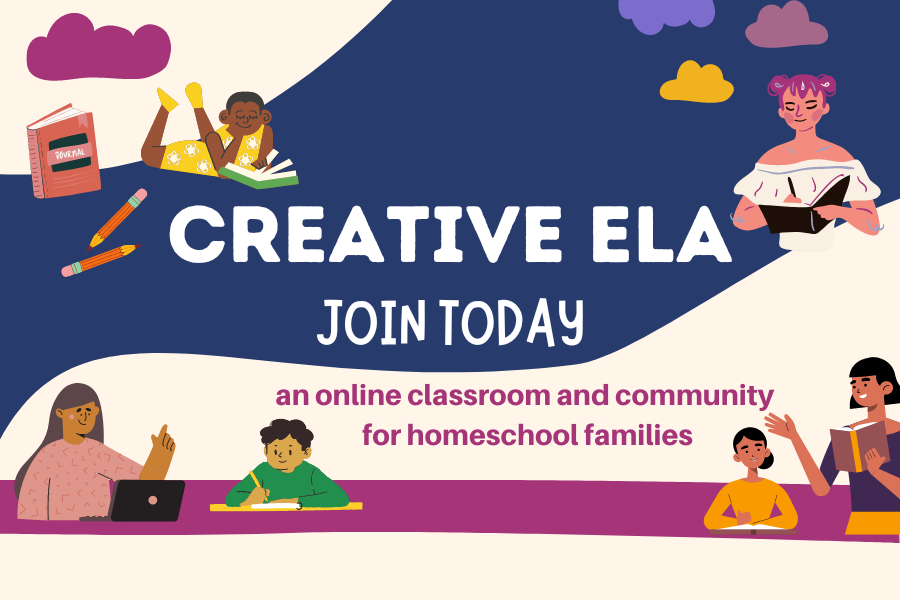 Hi, I'm Kelly. Curiosity Encouraged is where I share my passion for helping kids love to learn. It's where I share the many things I've learned as a teacher, homeschooler, mother, and writer. Thank you for being here!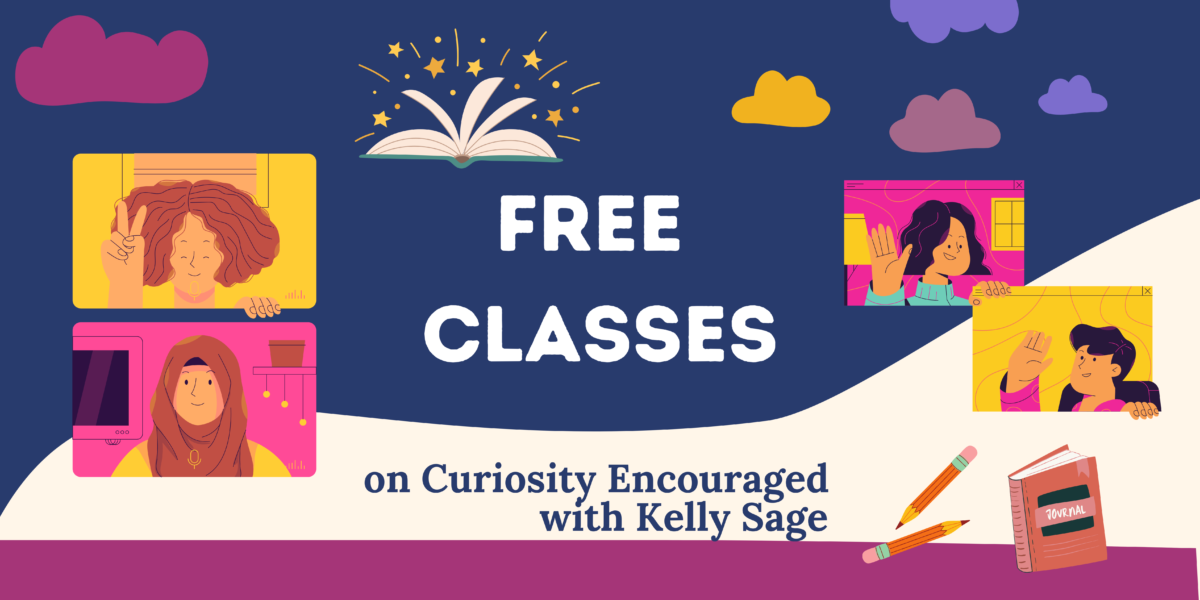 Create a Homeschool Journal
Create a Family Rhythm
Shop My Store
Curiosity Encouraged is now affiliated with Bookshop ! We love how they support small businesses.
WE LOVE . . .
Stay Connected:

Vishal's account
Play & Activities
8 Writing Games and Activities for Kids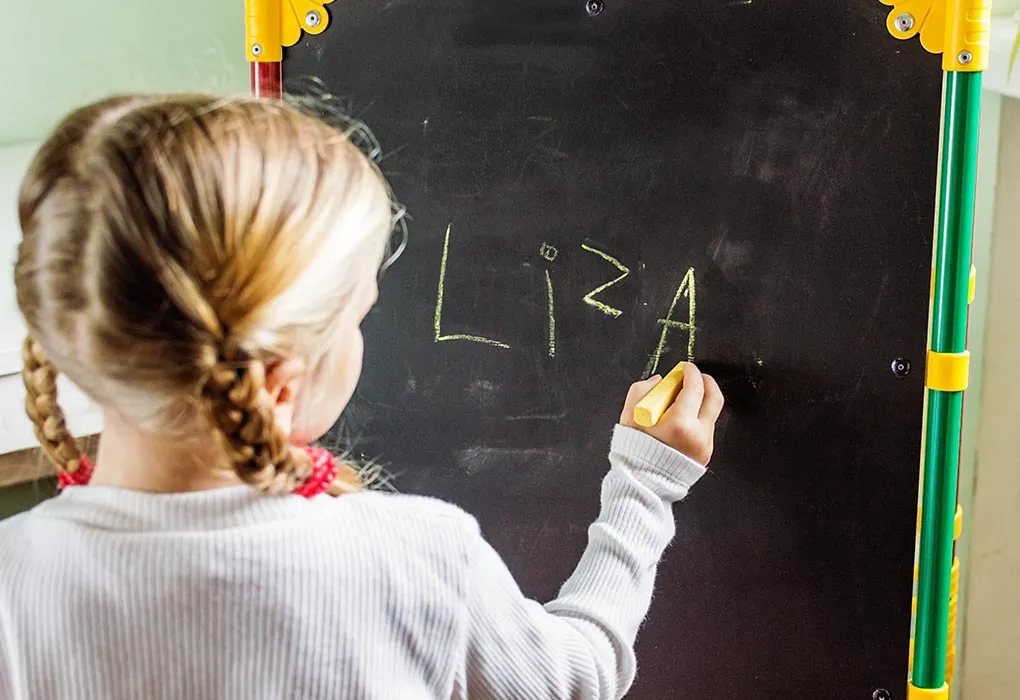 Video: 5 Fun Writing Games & Activities for Kids to Develop their Interest in Writing
Fun writing games and activities for children to encourage them write more.
Being a parent is challenging and no walk in the park. This is especially true for those parents who struggle with their children's schoolwork. Most children, undoubtedly, dislike writing and related activities. Here we discuss some stimulating ways to nudge your child into writing more, yet having fun so that it doesn't get weary.
You will find below a list of games and activities that will encourage your child to willingly write more and enjoy it:
1. Telephone Pictionary
This is an interesting game that will spark the creativity in your child while encouraging them to write . The game is more fun with a larger number of players.
Material You Need
Plain sheets of paper
Pencils for each player
How To Play
Each player writes a sentence on the sheet and passes the sheet anti-clockwise.
The players now draw what the previous player has described in a sentence and fold the top of the sheet down so that only their drawing is seen.
The sheet is passed to the left again.
The players now write a sentence describing the drawing and fold the sheet such that only their sentence is seen.
The sheet gets passed around in the same manner until there is no room for writing or drawing on the sheet.
Open the sheets and compare original sentences with final drawings and have fun laughing at the transformation.
2. Pass Around Story-Writing
This game involves telling a story, which is a story writing games for kids , but it comes with a twist that will make writing a fun exploit.
Write on a board the first sentence of a story.
The children then have to come up with their continuation of this sentence to build on the story.
After two minutes, they pass their paper to the next child, who continues the story for the next two minutes.
The paper is passed on again in the same manner for a few times until each story is completed.
Enjoy reading the unique and interesting stories that come about from this game.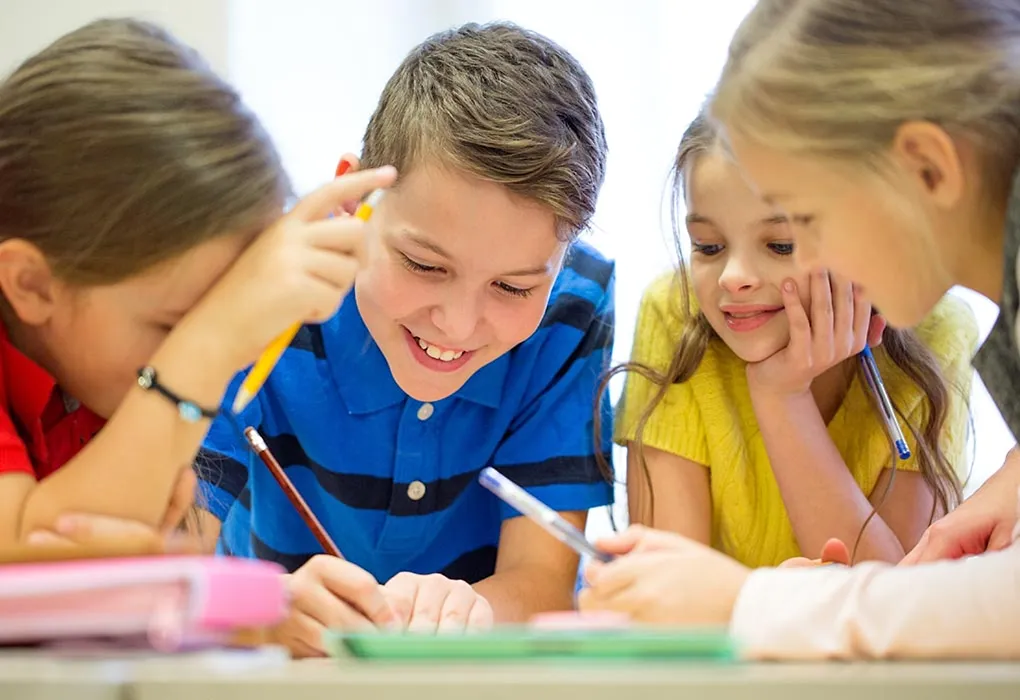 3. Fill in the story
This game involves giving your child a story with blanks in between.
Sheet with a story printed, with blanks in between
Hand your child the sheet with the incomplete story and ask them to fill the blanks.
Make them fill out the blanks using their imagination.
Read the completed story together.
4. Birthday Messages
This is a great way to have your child willingly write something fun.
How To Do It
When there is a birthday in the family, have your child write out the birthday message. It will encourage them to voice their affection for family members and get some writing done in the bargain.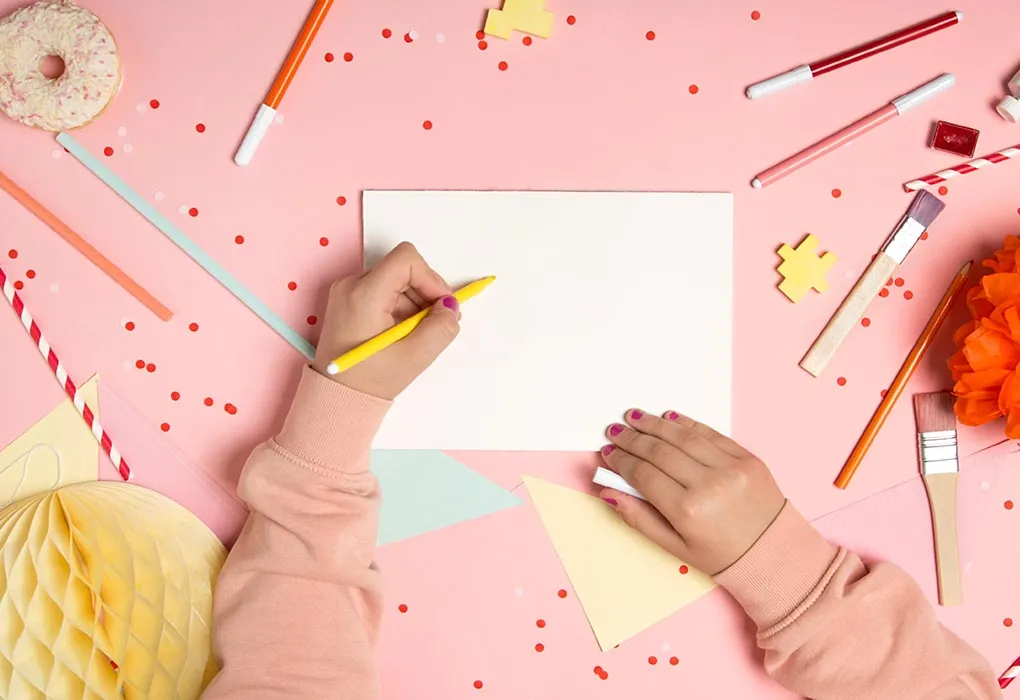 5. Cut Out My Name
This activity helps children to take an interest in cursive writing and can double up as handwriting games .
Take a blank sheet and fold it into the half.
Let them write their names in cursive hand. Make it flowing and large. The writing should be along the crease of the fold.
Make the children trace over the writing many times over.
Let them fold the paper along the same crease again.
Have the children run over the folded piece many times until the writing creates a mirror image on the other half of the sheet.
Get the kids to cut out the names, leaving a slight amount of white space around the writing. The resultant image should look like a large bug.
Students can paint and glue these name "bugs" onto their cupboards.
6. Vocabulary Challenge
This is a game suitable for children who are over 6 years of age and can comfortably write.
Give your child a new word and explain the meaning.
Now ask them to write a sentence using the newly learned word in it.
If you have time on hand, get your child to write an entire story around this new word.
Ask them to include drawings or sketches of characters if you want them to truly not feel the pressure of writing.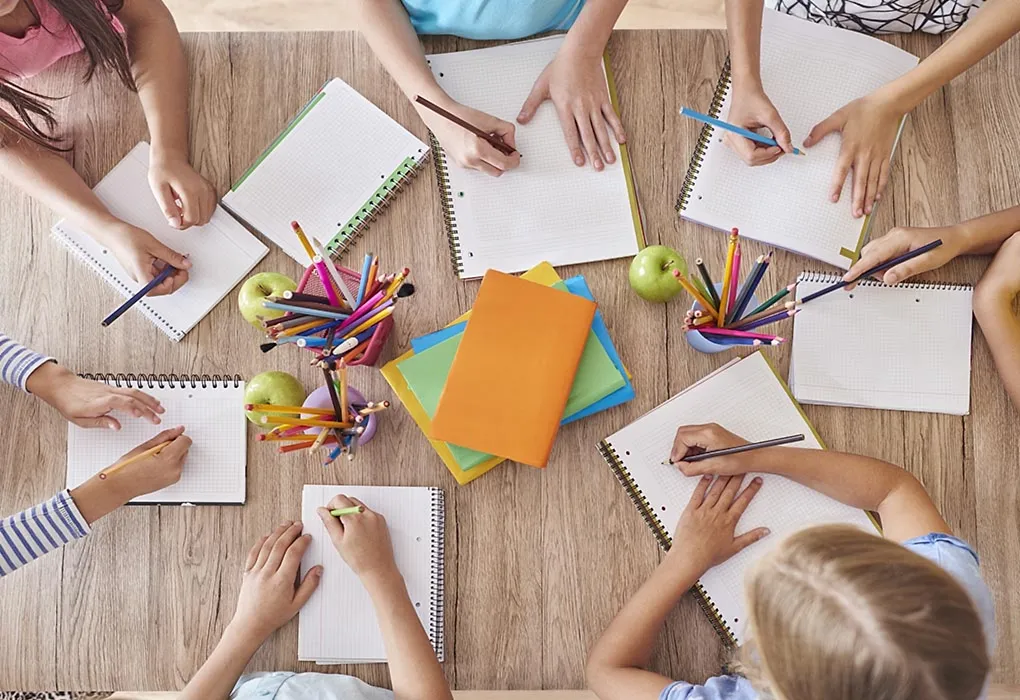 7. Comic Strip Dialogue Activity
This is a fabulous activity for slightly older children who can read and write easily. It is a wonderful creative writing activity for kids who might enjoy spinning a tale or two.
Printed comic strip with blank speech bubbles.
Give the child the comic strip and have them fill out the blank dialogue bubbles.
Give them a challenge by asking them to make it exciting.
If your child is old enough, you can have them use felt pens and crayons to make the cartoon strip more colourful and lively.
8. Guess-Who-It Is Cards
This is a popular activity that can be done with slightly older children who are between 5-8 years. It involves guessing the personality on a set of placards.
Placards with Cartoon characters or movie characters known to the child.
How You Will Do It
The children are shown a placard and asked to write a detailed description of the character and its features as seen in the picture.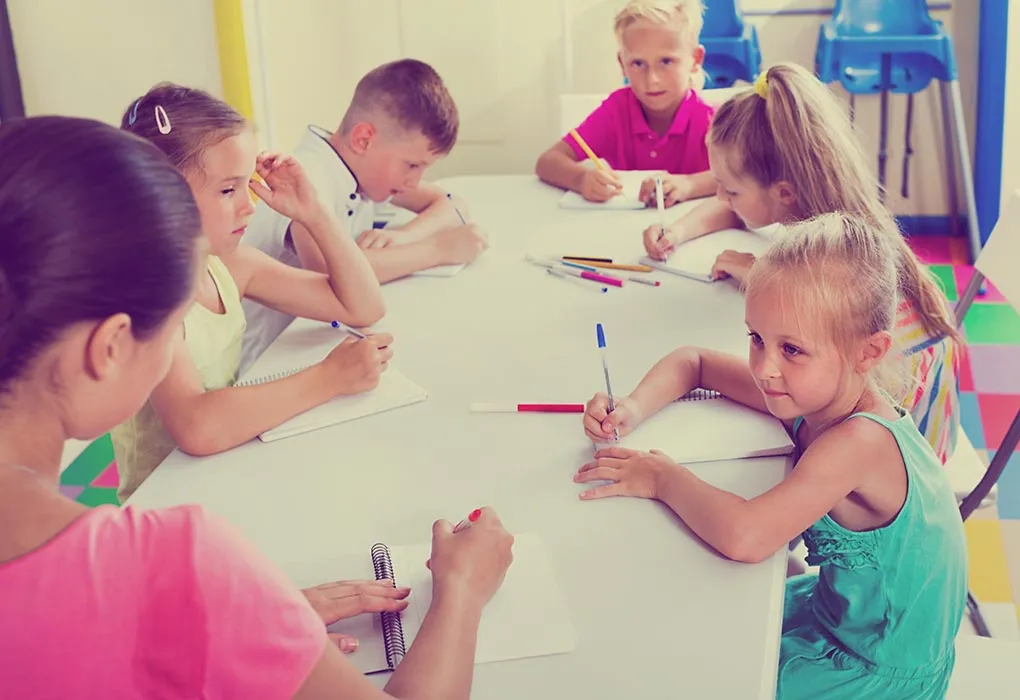 As hard as it may be to make children commit to writing, as parents you can make a mundane task come alive by masking it through these fun games and activities. Parents who devote quality time to improving their children's skills will certainly see a marked difference in their child's learning capabilities because not everything can be taught in schools. Your child will benefit from the attention and individualistic treatment you give to each of these games, tailoring it to your kid's requirements.
Also Read: Reading Games and Activities for kids
RELATED ARTICLES
MORE FROM AUTHOR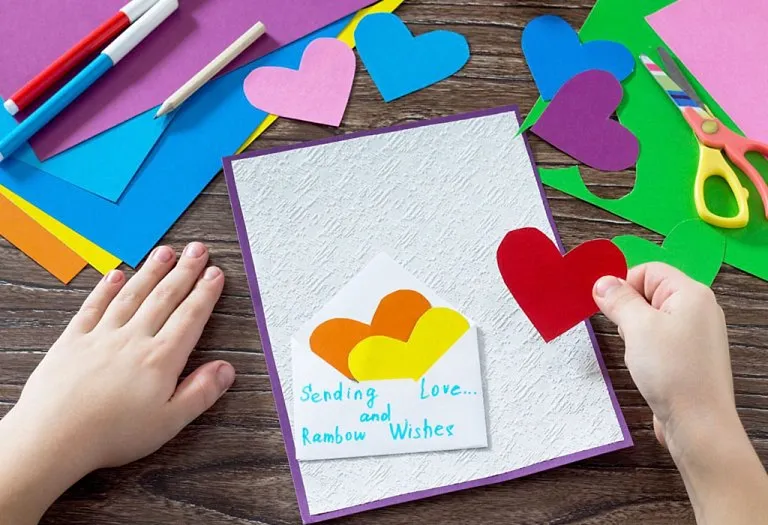 22 Unique DIY Valentine's Day Crafts and Ideas for Kids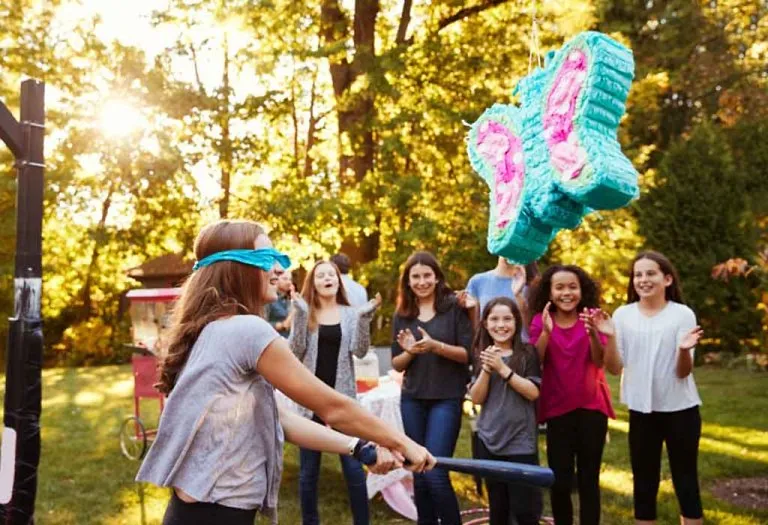 Best Cinco de Mayo Party Ideas for Kids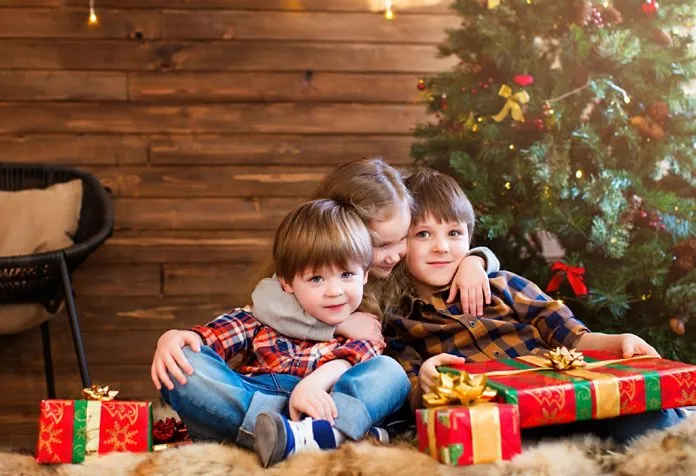 12 Christmas Tree Decorations Your Kids Will Love Making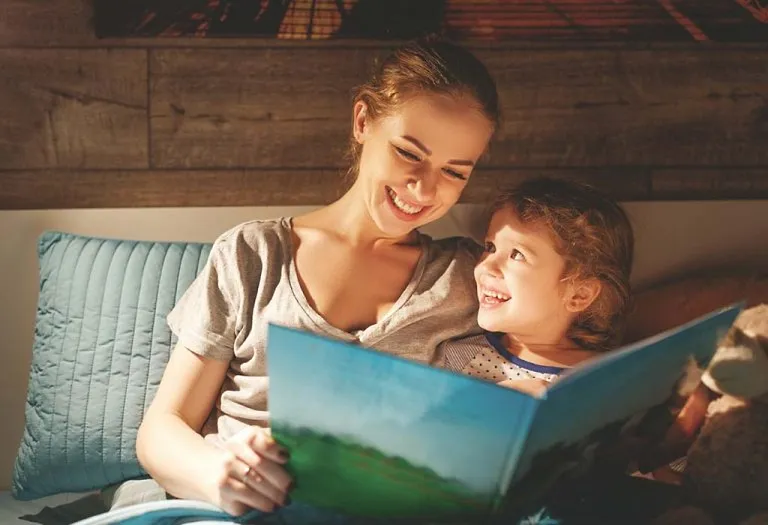 10 Interesting Music Books for Kids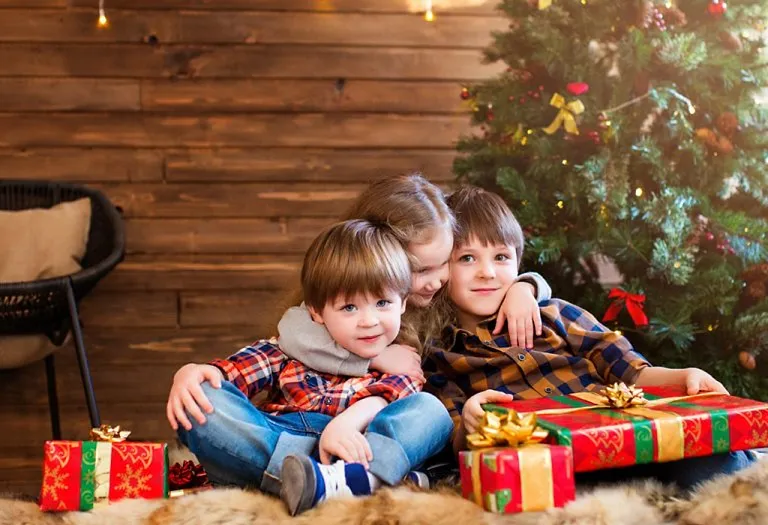 24 Interesting Facts and Information About Christmas for Kids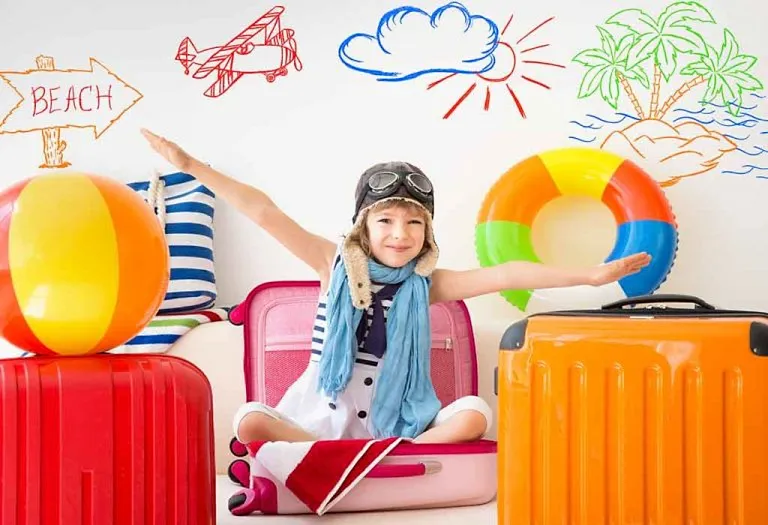 Best Vacations For Kids - 16 Exciting Places To Visit With Your Child
Stay connected.
--> 2,119,157 Fans Like
--> 8,666 Followers FOLLOW
--> 87,300 Subscribers Subscribe
POPULAR ON PARENTING
175 Rare Baby Names For Boys And Girls With Meanings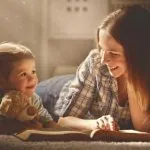 Top 22 Short Moral Stories For Kids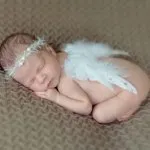 170 Baby Boy & Girl Name That Mean 'Gift from God'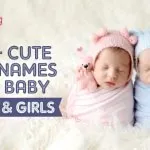 600+ Unique & Cute Nicknames for Boys & Girls
Latest posts.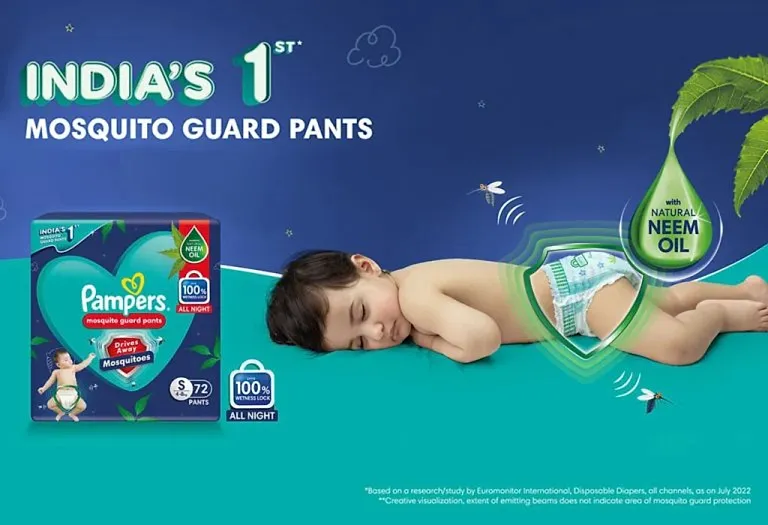 Best Diaper Tricks and Tips That Guarantee a Happy Baby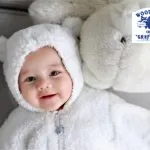 The 10 Best Solutions for a Colicky Baby – As Told by Parents Who Have Survived It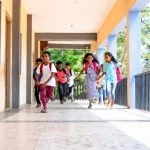 Protecting Adolescents From Common Food and Waterborne Diseases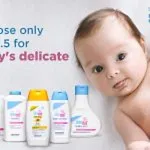 Why an Ideal pH 5.5 is Important for a Newborn's Skin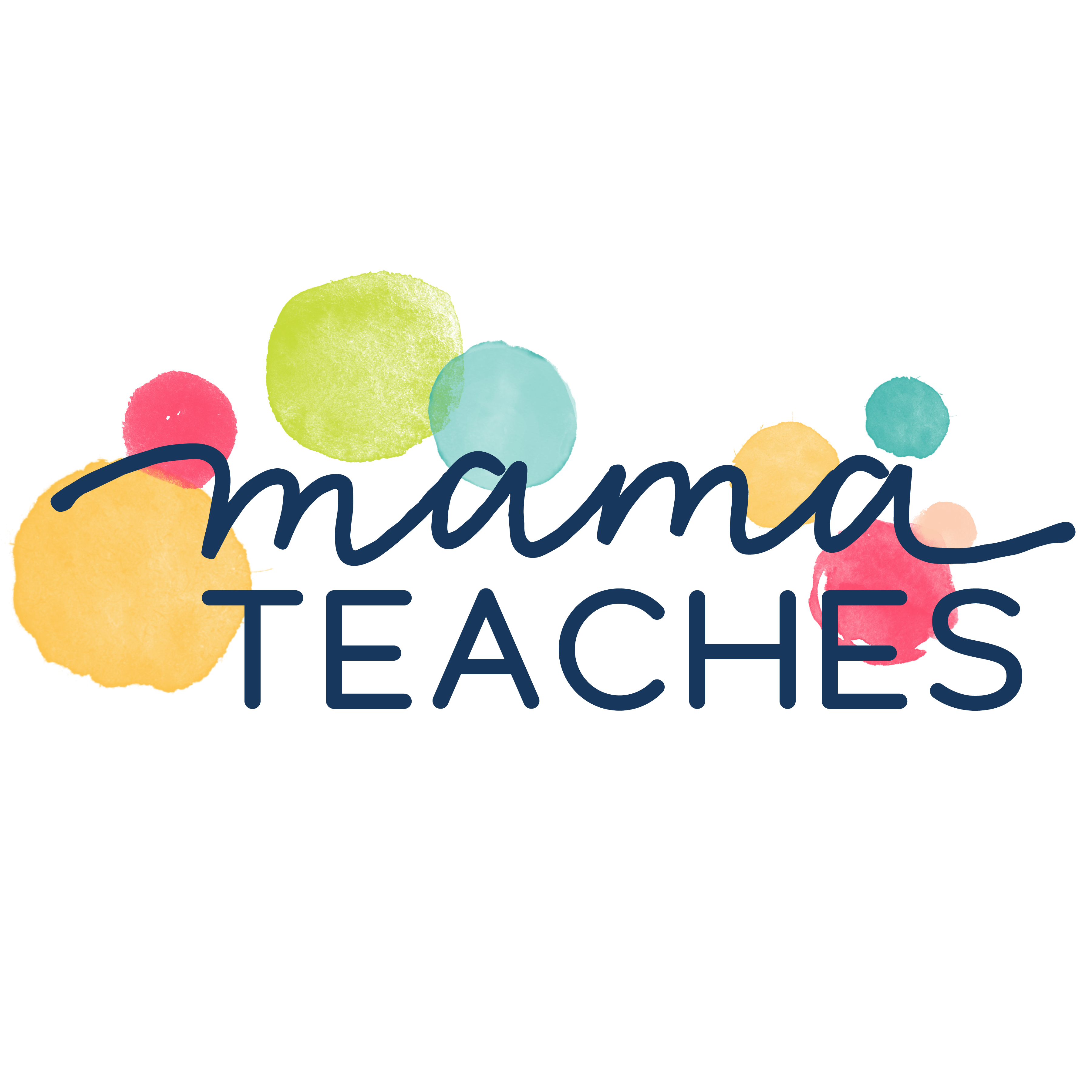 Writing Games for Kids
Share with your friends!
You want your kids to spark to writing, but how do you do that? Enter these entertaining and fun writing games for kids!
9+ Creative Writing Games for Kids
I know what you're thinking, "Games and writing? Those words don't go together!" But any imaginative challenge that gets the pen moving can be a game. The goal is always to inspire children to write—and even have fun in the process!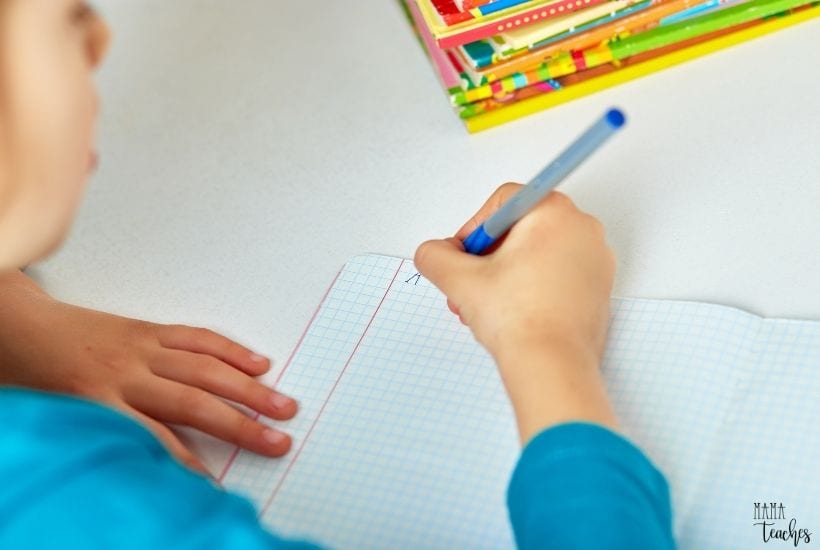 Design an Ad
Children love to persuade! What better way than to have them write their own advertisement? You can bring in sample products or let them come up with their own. They can create their own cereal, or imagine their own sneaker with amazing properties.
Story Generator
Roll your way to a story! Create six characters and number them. For example: 1. Chameleon 2. Firefighter 3. Magician, etc…. Then create six settings and number those: 1. Forest 2. Transylvania 3. Library, etc…. Give the child two dice. Roll the first die to get a character and the second for a setting. Now create!
Newspaper Article
Create your own newspaper that reports real or imagined events! Your students can learn to write articles with the 5 Ws (who, what, when, where, and why) for Dragon University, Mermaid Academy, or for your real-life local school or community.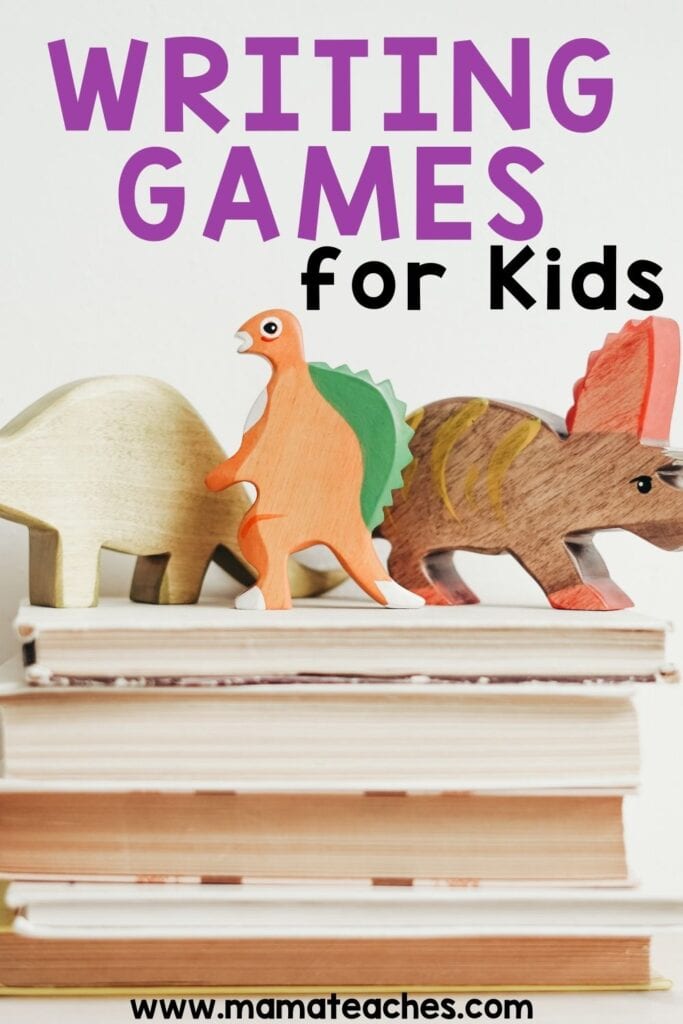 Pass Around the Story
You need two or more people for this game. Come up with a story starter, like "Ever since that day in the summer, I have been afraid of crickets. Here's what happened." Then one student composes the next sentence. Then another student does the sentence following. Keep passing around the story!
Comic Story Inspiration
Find a comic and black out the words. This comic should be three to six pictures in length. The student should write a story that explains the comic—who are the characters? What did they think, feel, and say? What was the problem?
Game Poetry
Give your students some Bananagrams and ask them to form words for two minutes. When they are done, they must use those words in a poem (along with other words of their choosing).
Interview Story
This game take two or more people. Have a list of questions ready:
Who is in this story?
Where does it take place?
When does it take place?
What problem do the characters face?
How does it end?
One person acts as the interviewer and asks the questions of the others. You can write the answers down, and then at the end ask someone to tell the story.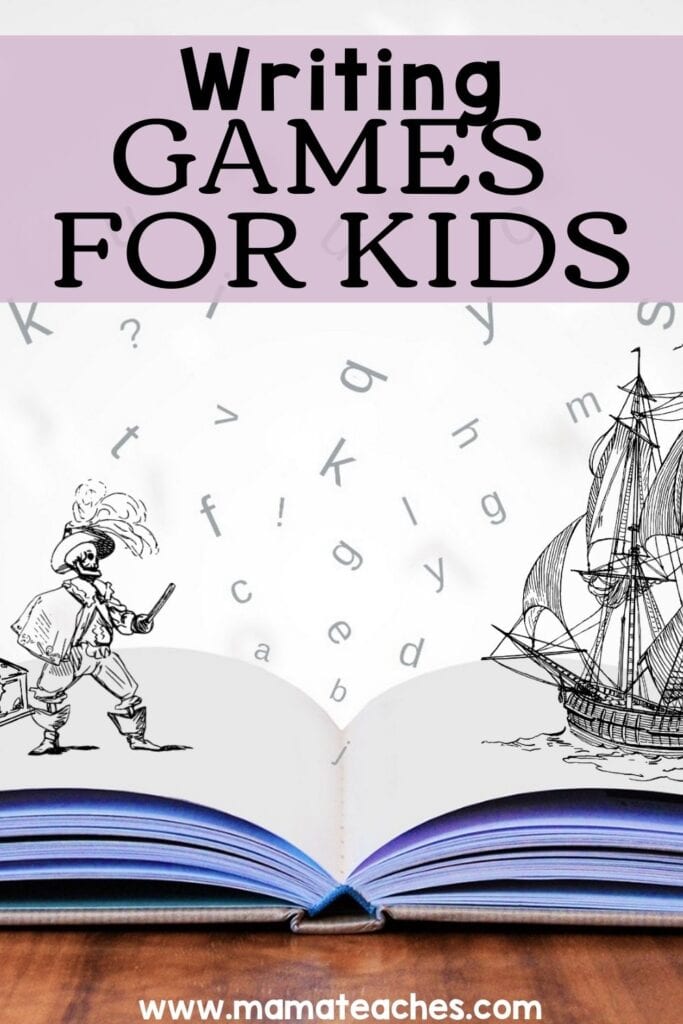 Story Unveiled
This game is like Pass Around the Story but with a twist (you need a group for this game). Begin with a story starter. The next student writes the second sentence of the story. Now fold the paper so only the second sentence is visible. The next person looks at the sentence he can see and writes a sentence to follow it. Now fold the paper again so the first two sentences are covered and only the most recent sentence is visible. The next person writes a sentence to follow it. Repeat this process until the story is complete. The result will be wild and fun!
Adjective Stretch
This game teaches students to use specific adjectives to create a strong mental picture for the reader. Come up with a basic sentence like, "The donkey munched the hay." Now add adjectives that describe the donkey. You can ask prompting questions like, "What color was he?" "How did his fur feel?" "What did he smell like?" "How was he feeling?" The result will be a sentence with a string of vivid adjectives: "The stinky, pudgy, cranky, furry gray donkey munched the hay."
Story Cubes
Do not underestimate the power of Story Cubes . Roll these cubes and create a story with the resulting pictures. Story Cubes come in categories to capture every student's interest. From basic sets like action and mystery to trademarked sets like Harry Potter, Star Wars, and Batman, Story Cubes should be in every writing teacher's drawer.
Fun Writing Games
Writing doesn't have to elicit groans. Add some zest and laughter with these fun writing games for kids.
You May Also Like:
Fun Writing Activities for Middle School
Teaching Creative Writing
Teaching Writing: Ways to Say Said
This site uses Akismet to reduce spam. Learn how your comment data is processed .
Skip to primary navigation
Skip to main content
Skip to primary sidebar
Teaching Expertise
Classroom Ideas
Teacher's Life
Deals & Shopping
Privacy Policy
20 Creative Writing Activities for Elementary Students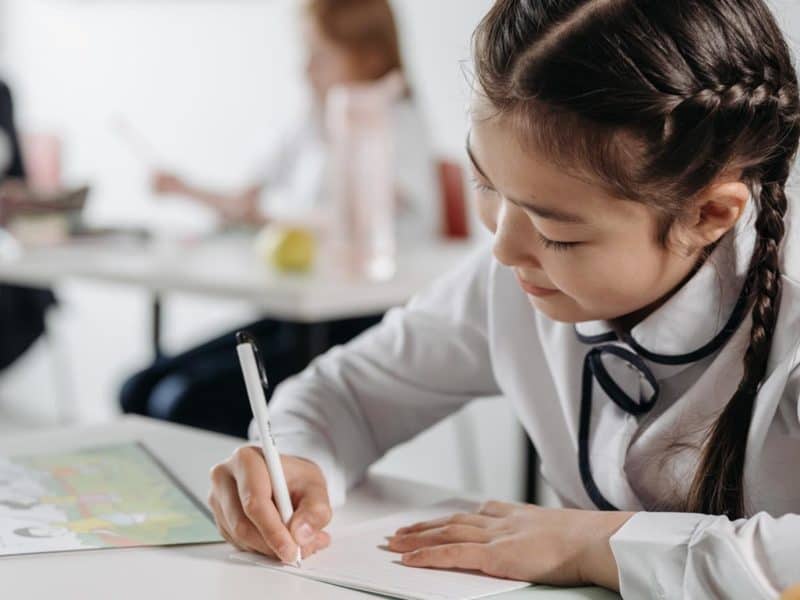 March 29, 2022 // by Milka Kariuki
Writing activities have an emotional toll on young learners, given the sheer volume of letters to learn by heart, words to spell, and sounds to remember. Your students will be more excited doing tasks they consider easier, such as character description. Perhaps it's time you considered introducing fun activities to help the learners in their writing. Here are 20 of our go-to fun activities for creative writing skills among elementary kids.
1. Writing a Comic Strip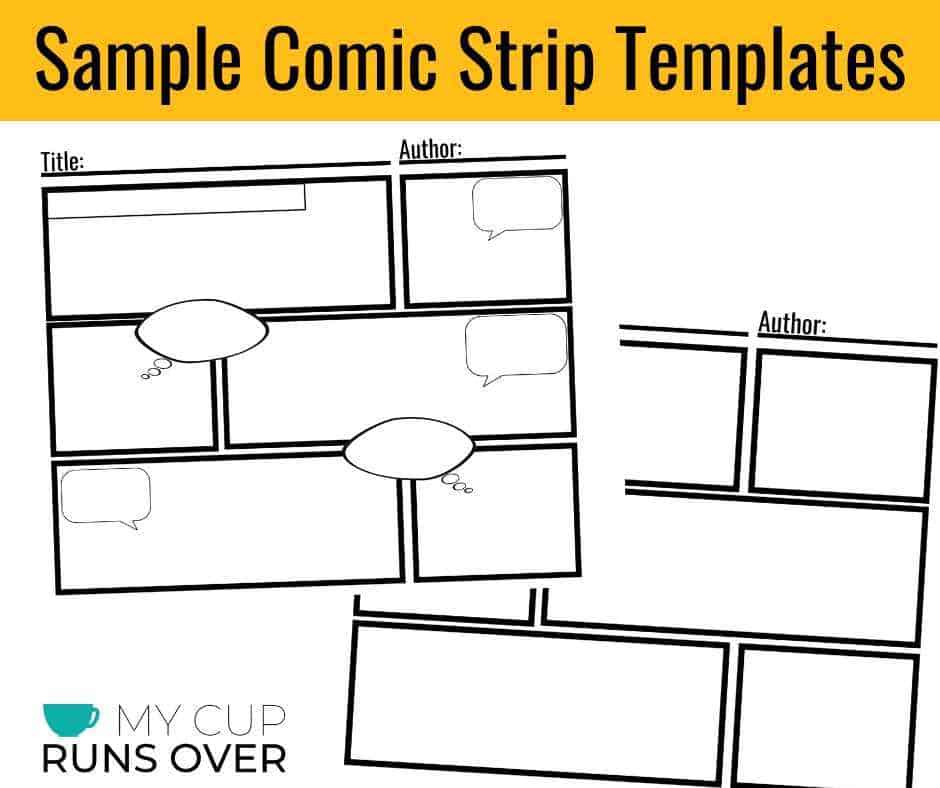 Create a comic book idea, leaving the speech bubbles around the characters empty for the students to fill. Alternatively, you can source the comic from your favorite magazine or author and rub out the dialogue between the characters for the learners to complete.
Learn more: My Cup Runs Over
2. Mad Libs
Have the students copy a few paragraphs from a famous book. Ask them to erase words they wish to remove and replace them with a blank line. Under the space, the students should give a hint to indicate the required type of phrase or word.
3. Vocabulary Challenge
Select a new word for the learners and explain its meaning to them. Ask them to create a sentence using the new term. Tell them to practice writing an entire story based on this word. 
Learn more: First Cry Parenting  
4. Using an I-Spy Jar
Ask a reluctant writer to practice writing their names by fetching and arranging all the letters that make it. For an older writer, ask them to pick an object from the jar, redraw it and give a brief description of what it is or the scene.   
Learn more: Imagination Tree
5. Identifying Objects
This reading and writing game is suitable for pre-kindergarten  and kindergarten-aged students. Ask them to color the object highlighted in the descriptive sentence. It enhances their fine motor skills, memories, and emotion.
Learn more: Kids Learning with Mom  
 6. Picture Dictionary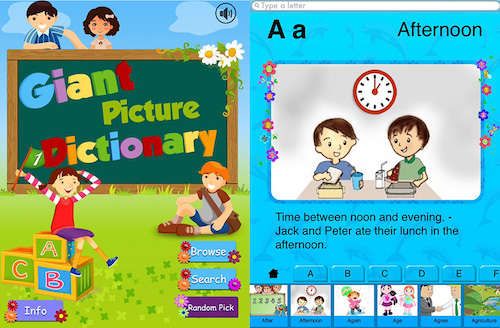 The goal of picture dictionaries will help early learners who are struggling with creative writing exercises and reading skills. Ask children to match the words provided at the top to the activities being performed in the pictures. This reading and writing activity can be developed for individuals, families, or the classroom.
Learn more: Childrensbooks 
7. Journal writing
Journal writing works for learners who excel in creative stories or drawing. Have your students engaged in daily writing tasks. For instance, what food did they eat for lunch or a boring character in a favorite piece of writing?
8. Roll a Story
Roll a story will have the learners enjoy rolling dice to discover the character or scene they will be exploring in their writing. Examples of a scene they can get include casino, school, or ancient pyramid.
Learn more: Teachers Pay Teachers
9. Copy-writing
On a drawing paper, make a word entry and ask the pupils to highlight it with a paintbrush or crayon. These creative writing exercises' goal is to enhance the learner's artistic, emotional, and fine motor skills .
Learn more: Little Learners
10. Pass-it-on Story Writing
This writing game engages the language input of creative writing classes. Write the first scene of a story on a piece of paper. Have the learners come up with a sentence that continues the story. The paper is then passed on to the next child until every student has written something.
Learn more: Minds in Bloom
11. Sentence Scramble Writing
This writing activity's goal is to help children to improve their writing and sentence-building abilities. Ask the child to cut out the words at the bottom of the paper and rearrange them correctly to form a sentence.
Learn more: Twinkl
12. Picture Writing Prompts
Creative writing prompts activities test not only imagination but also a learner's ability to make conversation on behalf of characters. Provide an entry with a picture accompanied by 3-4 writing prompts to guide them in exploring the scene. A sample question for the scene above will be, "Do the lambs feel safe with the lion?"
Learn more: Homeschool Adventure
13. Cut Out My Name 
Help your kindergarten students in writing their names with this fun writing activity. Print out the learner's name. Next, print the letters of the pupil's name and mix them with a few random characters. Cut them apart and ask them to sort out the letters in their name.
Learn more: Simply Kinder
Writing cards helps students to engage in purposeful moments. Provide the learners with blank holiday or birthday cards. Ask them to draw or write something to the card's receiver. Alternatively, students can design their cards and write down the desired message.
Learn more: Learn with Homer
15. Grocery List
Sit down with the child and help them write a list of healthy food items or other household objects you require. In the grocery store, have them cross out the items as they are added to the shopping cart.  
Learn more: Kids Night in Box
16. Label a Diagram
Engage your child's reading and writing abilities by printing out a diagram of simple objects such as flowers, insects, or external human body parts. Provide a list of the answers to the parts and ask them to write the word that matches each in the blank space.
Learn more: Classroom Freebies Too
17. Disappearing Words
On a chalkboard, write down a word. Ask the learners to erase the word with a wet sponge. This way, the learners will learn how to design the letters of the alphabet. Although this writing activity is the opposite of copywriting, they both serve the same purpose.
18. Write a Story Based on the Ending
Test your student's creativity by providing them with writing prompts that focus on an entire book, a song, or a famous story. For instance, ask students to write a story based on the ending, "And they lived happily ever after." 
Learn more: Kid Pillar
19. Found Poetry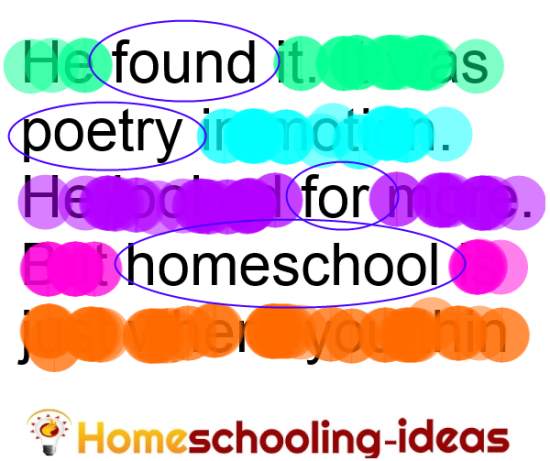 Collect words or a group of words from a favorite story or song. You can either write them on a piece of paper or cut them out of a printed page. The overall goal is to rearrange the words differently to make an interesting poem with a unique writing style or genre. 
Learn more: Homeschooling Ideas  
20. Sticky Notes Story
Learners may have much to say in conversation prompts but get stuck when doing the actual writing. Sticky notes will help them in aspects of writing. A student can write anything ranging from a favorite author, a favorite food, or fantasy elements.
Learn more: Teaching Made Practical
Related posts:
You'll also like:.
No related posts.

10 Fun Classroom Writing Games to Improve Literacy Skills
The best writing games to engage students
A colleague of mine recently shared these ten great writing game ideas to improve literacy skills in the classroom. They are simple to play and can be applied to nearly all year levels.
These are some of the best writing games that require minimal or no setup time and are an excellent option for substitute teachers looking to quickly break the ice with students or English teachers just seeking fresh ideas to brighten up their lessons. Enjoy.
Remember that if you are looking for more excellent free resources and structured guides to teaching all aspects of English, especially writing, be sure to visit literacyideas.com .
Sentence Stretching
Start with a short sentence or group of words. Pass it around to about 6 people, with the rule that each person must add (a word or a group of words) or change ONE word ( to another word or a group of words) to make the sentence more specific and more enjoyable.
Rebus writing
Students write sentences or longer texts and substitute drawings for nouns.
COMPLETE DIGITAL AND PRINT FUN WRITING UNIT
25 FUN and ENGAGING writing tasks your students can complete INDEPENDENTLY with NO PREP REQUIRED that they will absolutely love.
Fully EDITABLE and works as with all DIGITAL PLATFORMS such as Google Classroom, or you can PRINT them for traditional writing tasks.
It's in the bag
Place an object in a bag- ensure the students don't see it. Students feel the object in the bag and use words to describe how it feels. They take it out and add /alter their adjectives.
Touch and tell
An object is passed around a group of students. Each student suggests an adjective to describe it.
Alternative
Students provide an adjectival phrase or clause to describe the object
Students randomly select from a box a picture of an animal, person or object that moves. They brainstorm action verbs for the chosen object.
The students can supply verbs and adverbs
They can supply adjectives or adjectival groups
Read a text ( this case narrative ), and at a particular point, stop and ask students to select a character and suggest, for example:
What the character is doing, thinking, and feeling ( focus on processes)
Change the meaning- change one word
Students locate and change one word that will alter the sentence's meaning.
They share their alterations and discuss which part of speech was the most important in changing the meaning .
Locate and classify
Read a text and ask students to write nouns on cards ( red), adjectives (blue), and articles in orange. Rearrange words to create different noun groups. Students can also locate verbs ( green card) and adverbs (yellow). Rearrange all the words to create new sentences.
Students can locate adjectival phrases, clauses, or adverbial phrases and write these on other coloured cards.
Grammar toss- Sentence making
Players must throw a 1 before they can begin. The winner is the first person to make a sentence that includes all of the following:
A group of words that tell what or who ( singular)
A group of words that tell when
A verb in the past tense
An adverb telling how
A group of words telling where
They can then rearrange the sentence parts to see how many ways they can make another meaningful sentence.
Other parts of speech can be used for each number thrown.
Toss and write
Before the activity, a cube is prepared. Upon each face of the cube, a task is written that requires specific grammar knowledge. For example:
Make a sentence
Make a question
Provide two adjectives
Provide two verbs
Create a noun group (e.g. article, adjective/s noun)
Provide a noun and an adverb
Students select a subject ( noun) from a tin. They throw the cube, and whichever side of the cube faces up is the task they must attempt.
OTHER GREAT ARTICLES RELATED TO WRITING GAMES
7 fun writing activities for the reluctant writer
how to write a scary story
7 Fun Writing Sub Plans for Substitute Teachers
Look no further for fun and engaging writing ideas that will make you the coolest substitute teacher in town.
The content for this page has been written by Shane Mac Donnchaidh.  A former principal of an international school and English university lecturer with 15 years of teaching and administration experience. Shane's latest Book, The Complete Guide to Nonfiction Writing , can be found here.  Editing and support for this article have been provided by the literacyideas team.